Travel and Culture: Two weeks along the Pacific Coast Highway from LA to Seattle Part 2- SF to Astoria, Oregon
By Cornelia Seckel
ART TIMES Spring 2016
Part 1 of this series was published in the Winter 2015 issue of ART TIMES. You can read it online at arttimesjournal.com and http://bit.ly/1XT3PUo
Heading out of San Francisco, after stopping at the Oxbow Market in Napa, we headed back to the coast and on to Calistoga and the Dr. Wilkinson's Hot Springs for Mud Baths.
We just couldn't stop laughing as we each climbed into the baths completely immersing ourselves into this heavy and very dense mixture of volcanic ash, peat and mineral water. Calistoga has pure volcanic ash and mineralized hot springs water. Combining these two elements with Canadian peat makes the mud treatment as effective as possible and is designed for maximum heat penetration and buoyancy. While the volcanic ash cleanses and smooths the skin, the peat buoys you up and allows the mineral water's soothing heat to penetrate more deeply. And it sure did.
Our eyes were covered with cucumber slices, our faces with some sort of facial cream and we just soaked in 2 feet of peat yet I felt like I was floating. After 20 minutes or so as we struggled to get out of the tub and the peat was plastered all over us we were laughing uncontrollably. All this time later when I think of those mud baths I am smiling and laughing. We showered getting all the bits of peat off our bodies and were each led into a whirlpool for a mineral soak. After a while we were wrapped, actually swaddled in several warmed sheets for some more quiet zoning out. What a fabulous experience and one that I still and will carry with me.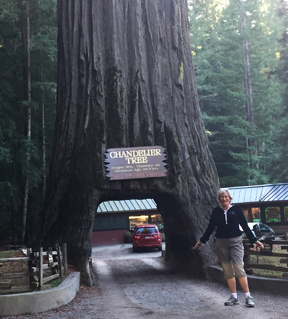 We thought we might do 300 miles and get to Crescent City. It would be quite a feat as on previous "travel" days we often stopped numerous times going perhaps 100 miles in a day as we enjoyed the views of the glorious Pacific Ocean and the hills. We drove north from Calistoga and were in the woods where the altitude was as high as 2000 feet along the redwood highway on route 101. The Redwoods are as magnificent as I remembered. In Leggett, CA we drove through Chandelier Tree, (height 315 ft; diameter 21 ft. and approximately 2400 years old) a Coastal Redwood or Sequoia semperviren. These trees have no tap-root, but instead a shallow root system (4 to 6 feet deep) that spreads out for up to 250 feet from the base. In 1936 or 37 the hole was cut into the tree for cars to drive through as an additional tourist attraction in the Redwood Forest.
We arrived in Crescent City and had time to enjoy a walk on the beach before heading out for dinner. Our accommodation requirements were very specific: good internet connection, on the beach with ocean sounds all night and we found that at the Crescent City Motel.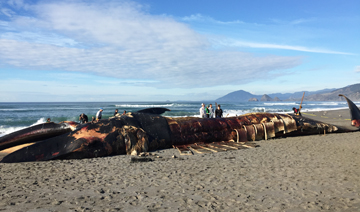 After breakfast we continued up the coast getting about 5 miles to the stop. Just 45 miles north of the California border we saw numerous cars pulled off to the side of the road. Being curious I walked down to the beach to discover that a large, blue whale measuring approximately 80 feet and weighing nearly 100 tons was dead on the beach in Ophir about 7 miles north of Gold Beach on Monday November 2. It is thought that the whale had been dead for a few days in the ocean and came ashore after weekend storms. The stench was pretty bad. Students from Hatfield Marine Science Center were stripping four-inch-thick strips of blubber from the carcass with other volunteers, the first step in getting to the whale skeleton that will probably take 2 years to be exposed. It will then go to the Oregon State University Marine Mammal Institute in Newport.
Check out the video I made: it is posted on the ART TIMES YouTube Chanel https://youtu.be/zemKIMILGQk
My friends Jacky and Jörg from Berlin, Germany, had been on the west coast and drove the Pacific Highway from SF up into Oregon. Jacky had several very strong suggestions for us, places absolutely not to miss and we didn't.
As Jacky urged, we stayed at the Sunset Motel in Bandon and the rock formations were exquisite. I was surprised to see Gorse, a thorny evergreen bush with bright yellow flowers. I had seen it in Ireland and England. Lord George Bennett founded the town of Bandon. He was from Ireland and imported Gorse, an ornamental shrub. The problem is that Gorse is extremely flammable and twice fire destroyed the town. Gorse can still be seen around the city and the surrounding countryside. People are very careful and the city code has strict regulations about this very pretty but dangerous bush.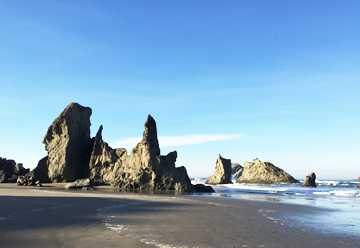 From the Oregon Department of Geology and Mineral Industries:
The spectacular landscape of Oregon today was shaped over millions of years by fire and flood, earthquakes and eruptions, and the movement of oceans and continents on a huge scale. Where most people see an unchanging landscape, geologists see rocks that tell the story of an ever-shifting world. It is a story that began several hundred million years ago, an eternity for humans, but only about 4% of the Earth's 4.5 billion year history. And what a story! Imagine an oceanic and a continental plate colliding, pushing hundreds of miles of ocean floor deep into the body of the Earth. Imagine some of the largest lava flows in the history of the world blanketing the state, thousands upon thousands of volcanic eruptions, and floods that carry enough water to equal the combined flow of all the rivers in the world. This is the Oregon that geologists see.
We had a wonderful night's sleep and in the morning a walk on this gorgeous beach where we found some agates and took lots of pictures— a pattern we were repeating every morning. The other place Jacky urged us to visit was Face Rock creamery and she was absolutely correct again. We bought some wonderful cheddar, tasted everything we could including the ice cream and it was just before 11am. It also turns out that Oregon has a huge Cranberry industry. Unfortunately the harvesting was over, otherwise we'd have headed out to the nearest bogs to see the process.
From the Oregon Encyclopedia: The Oregon cranberry is prized for its deep red color, which growers say puts the red in the juice. Historically, native cranberries grew in the northwestern region of the state, harvested by indigenous people who shared the fruit with explorers. White settlers later harvested wild cranberries because they were a good source of vitamin C, which prevents scurvy, and the berry's naturally waxy coating allowed for long keeping.
Oregon has roughly 3,000 acres of cranberries and each one has, on average, 40,000 plants.
Out of 856 million pounds of cranberries produced in the United States in 2014, 39.5 million were produced in Oregon. Wisconsin grows the lion's share with 538 million pounds, followed by Massachusetts at 210 million. Cranberries are the fifth-most valuable berry crop in Oregon, coming in just above raspberries and strawberries. Wine is first with a value of $107 million.
Heading up to Newport, our destination for the evening, we stopped in Coos Bay, a natural harbor, where early on schooners sailed in and out carrying freight and passengers. When the first Euro American settlers arrived they found not only coal but a great natural harbor, huge stands of trees, an abundance of wildlife and a mild climate.
Although Spanish and English ships sailed along the Oregon coast as far back as the 16th century, Hudson's Bay Company fur traders were the first Europeans to reach Oregon's south coast and Coos Bay in the 1820s. A small group of Americans reached Coos Bay in 1853, and established the first town of Empire City. Coos Bay is Oregon's largest coastal estuary and shipping port and from the beginning of the white settlement the Coos Bay region was tied into a coastal market for lumber, coal, salmon, and agricultural products centered on San Francisco and Portland. Goods could be shipped and imported from around the world. The ancestors of today's local Indian tribes (the Confederated Tribes of Coos, Lower Umpqua and Siuslaw Indians, and the Coquille Indians) lived here long before Europeans landed on the eastern shore of North America. The Coquille Tribe, as owner of the Mill Casino on Coos Bay, is today one of the region's largest employers.
We walked around town looking for the perfect bakery and eventually we found one. One of the stores we went to was an elaborate head shop and then I remembered that marijuana is now legal, as of July 2015, in Oregon for all—not just medicinal use. I don't think I'd ever seen such a large collection of pipes and bongs.
We had the most delicious chocolate croissants at the Empire bakery on New Park Street in Coos Bay. This place was recommended as we were looking for walnut cranberry sourdough bread. The coffee was excellent and we did not leave the parking lot before we tasted the bread, had some coffee and part of the pastry.
There are numerous museums and other attractions making this a fine destination.
• Coos Art museum in Downtown Coos Bay• Coos Historical & Maritime Center • Coos Bay Iron Works • Oregon Coast Music Festival • Blackberry Arts Festival • The Egyptian Theatre built in 1925 and the only Oregon moviehouse that still has its original theatre organ installation. For more about Coos Bay http://coosbay.org/
We continued up the road with Newport as our destination. Along the way we stopped in Florence to enjoy the ocean air and the stunning views. Every town seems to have several galleries and artists' co-ops. These are coastal towns and my guess is that the galleries, for the most part, are geared to the tourist. The landscape or Seascape is so gorgeous that many artists must be attracted to work here.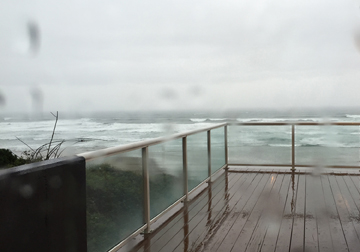 Heidi had picked out an Inn in Newport but when we got there neither of us felt good about the place. Heidi got online and located another Inn that didn't meet all of our requirements but did meet the good internet connection and ocean sounds all night criteria. Our third requirement was immediate access to the beach. Access to the beach wasn't so easy but the luxuriousness of the Elizabeth Street Inn totally made up for not being able to step out the door and onto the beach. There was Salmon chowder for us to enjoy when we checked in and cookies after 8pm. The room had very fluffy robes, a fireplace and there was a jacuzzi, indoor swimming pool, and exercise room (none of which we used). Heidi did use the laundry room and we would have clean clothes for the next leg of our trip. Each day I had to check ART TIMES email and as often as I could, I posted blogs about our trip. I had also been posting pictures and comments to Instagram, a new social media outlet for me, which I found to be quite easy.
Devils Punchbowl State Park

| | |
| --- | --- |
| | |
We left our beautiful accommodations in Newport at the Elizabeth Street Inn and headed to Astoria. On our way we stopped at Devils Punchbowl State Park where we saw very interesting rock formations at Otter Rock. The community got its name from a rock off its coastline that was once a haven for otters. Today, the offshore rocks are part of the Oregon Islands National Wildlife Refuge and serve as a home for a variety of marine birds, including the endangered brown pelican, seagulls, cormorants and common murres. Devil's Punchbowl is known for its unusual geology and impressive surf action and therefore got the reputation by some as the "Waikiki of Oregon." Otter Rock's history as a surfing destination is legendary and is considered a favorite place for surfers of all levels, attracting surfers from around the world.
People we met urged us to go to the Tillamook County Creamery Association, a place neither of us knew about. The area of Tillamook County is ideal for dairy farming because of the temperature, climate and abundant rainfall, nearly 90 inches of rain for a year. There's also a large seafood industry and timber industry and, of course, the recreation industry from all the tourism. There is a commitment to sustainable practices for the water and for the land as misuse of these affect the timber, the seafood, and the dairy industry as well as the recreation industry.
The creamery, founded in 1909, is a co-op comprised of family farmers as well as the individuals who work at the co-op. The cheese factory gets over 1 million visitors a year. We were able to watch the production of cheese, taste a variety of cheeses in various stages along the process and to try out their ice cream including the latest, and our favorite Oregon Hazelnut & Salted Caramel
In 1894 well known cheese maker Peter McIntosh brought his cheddar cheese-making expertise to Tillamook County, where he taught the locals all he knew. Over 120 years later, they still use the same cheddar cheese recipe developed all those years ago!
There was a very comprehensive video by Dale Baumgartner, head cheese maker for the past 17 + years. He took us through the process and we learned that within 24 hours of the milk leaving the farm it is turned into cheese. 100 pounds of milk = 10 pounds of cheese— 171,000 pounds of cheese made in a day. Aging of the cheese is a slow process and they don't force the process with additives.
We left Tillamook after a cheesy lunch and continued on. We were seeing lots of signs about Myrtlewood and couldn't resist stopping in Garibaldi at a factory outlet where we spent quite a while choosing the perfect bowls and plates and learning about Myrtlewood which can grow up to100 feet.
The Myrtlewood industry began in the late 1800's along the Southern Oregon Coast.
This tree is a member of the laurel family and is an evergreen. Myrtlewood is found in Southwestern Oregon and Northern California. It extends from about Florence, Oregon to the north portion of California. It has yellowish-white blossoms, and blooms in February or early March. The tree is so symmetrical it appears as a carefully pruned, cultivated tree.
Myrtlewood logs, when green are 70% moisture so the log will not float. The wood is 20% harder than oak, and harder than black walnut or hardrock maple. No other wood is so strongly accented by figured grain and color.
Myrtlewood has a color spectrum that has been variously described as ranging from "golden hues to velvet black with warm brown, yellows, greens and reds", from "ebony to a rich maple color", from "soft gray to mauve". There wasn't a piece of wood in the store that wasn't interesting and beautiful. No wonder it took so long to make choices.
Oregon's Largest Myrtlewood Tree is approximately 88 feet tall and 42 feet in circumference. Its canopy is nearly 70 feet wide. The tree is about 10 miles up the Rogue River east of Gold Beach.
We've reached the end of our time along the Pacific Highway, and we took our last walk along the beach before heading east and crossing the Columbia River. We stayed at the Benjamin Young Inn in Astoria Oregon, a Victorian home built by Benjamin Young in the middle 1800s. His daughter went to medical school and practiced here in the house and in town; her certificate from medical school is dated 1907. We had a delightful dinner at the J Paul supper club and learned that many musicians & artists live here and work at a variety of jobs (as they do everywhere). The dock is very active: there are tugboats, barges and other ships in this docking area. Out of the window from the B&B there were several tankers anchored in the Columbia River waiting clearance for entrance in Portland. Some are heavy (with cargo) some are light (without/ and awaiting cargo) coming from and going to various places in the world.
The last leg of this wonderful journey will appear in the Summer issue of ART TIMES.
This report plus more about the trip can be read on my blog: Culturally Speaking Journal