Theatre: How to Love Musicals and Still Be Hip
By Wendy Caster
ART TIMES Winter 2015
An odd thing happens to some people when faced with the existence of musicals. They start saying very strange things:
· "I don't like musicals, except Cabaret and Chicago."
· "I don't get why they sing; singing isn't realistic."
· "Musicals are silly and stupid."
· "I liked Fun Home because it's like a real play."
· "Musicals are cheesy. Period."
And then my favorite:
· "I only like good musicals."
And then they cut off the conversation, as though they think we musical fans are wimps who can't take it. They're so sure that their one-sided, closed-minded opinion is so cool, and so right, that nothing more need be said. Example: When a friend said he didn't like "show tunes," I tried to tell him that "show music" has been a better term at least since Stephen Sondheim started writing. He said, "Don't be so defensive," and changed the subject. I wish I could recreate in writing the sneer in his voice when he said, "show tunes."
There are other people who don't like musicals, and who identify their preference as a preference, and not as proof of their superiority. One person I met said, "I like plays. I like music. I just don't like them together." We had an interesting conversation.
So, let's address some of the comments above.
Re: "I only like good musicals." Is this person (actually, there have been many) suggesting that I like bad musicals? Condescending much? You never hear people say, "I only like good books." "I only like good movies." or "I only like good art." Liking books, movies, or art doesn't threaten one's status. It's only liking musicals that seems to slot someone into the extremely unhip territory of middle-brow-dom, or lower. It doesn't help that some people think musicals haven't developed since the 1960s; others think that Phantom of the Opera represents the modern musical although it's almost 30 years old. Even people who can't help but admire a piece like Cabaret don't always understand that there are other brilliant musicals.
Then we have "I don't get why they sing; singing isn't realistic." Here are some of the things these same people can get: Brechtian distance. The use of masks. Karen Finley sticking yams up her butt. All of these are theatrical devices to express and elicit emotion, as is singing. Do some people like/admire some of these more than the others? Fine. But the one(s) they prefer aren't automatically superior or hipper. And theatre and movies aren't even supposed to be reality. The lizards in Albee's Seascape aren't really reptiles; Medea doesn't actually kill her children; the actor who plays the Elephant Man isn't personally disfigured.
A cousin of the "singing isn't real" comment is that movie musicals don't work because, "Where is the music coming from?" Well, it's coming from the same place as the lights, sounds, score, dialogue, story, visuals, and special effects.
Re: "Musicals are silly and stupid." Some are, many aren't. Exhibits for the defense: Cabaret, Chicago, Caroline Or Change, Company, Sweeney Todd, A Little Night Music, Follies, Hamilton, Spring Awakening, Fun Home, Falsettos, See What I Wanna See, Light in the Piazza, Hello Again, A Fiddler on the Roof, Once, Passion, Raisin, 1776, Sunday in the Park With George. Granted, this list of brilliant shows does not represent every musical ever written, but isn't great art always the exception? Millions of books are published each year. How many are worth reading? Hundreds of films come out each year. How many are worth seeing? Somehow, books and movies are judged by their best work, while musicals are judged by their worst, or at least their most average.
Re: "I liked Fun Home because it's like a real play." And it's even more like a real musical!
Re: "Musicals are cheesy. Period." I guess in some people's minds they are, and I respect that, but it's not a fact! (For proof, see list of shows above.)
Some people simply don't like the sound of "show tunes." Okay, but: (1) their preferences aren't the be-all and end-all of artistic quality, and (2) they seem to think that all musicals sound like Oklahoma.
And here's the oddest thing of all: I have heard virtually all of the people I know who officially "don't like musicals" singing along with songs from, oh, The Sound of Music, Mary Poppins, Guys and Dolls, and other classics. Singing with great joy, I should add. When I asked my friend C, who was singing along to "16 Going on 17" how this fit in with his anti-musical stance, he said, "Well, it's '16 Going on 17''' as though that was a sufficient answer. And, actually, it was.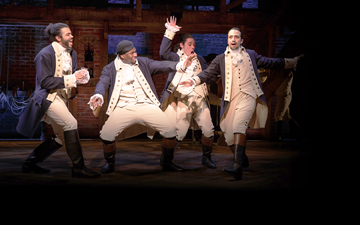 C has been open to trying musicals, partially because I dragged him to them. I started with Chicago, knowing that if the songs, story, and dancing didn't get him, the scantily clad performers would. Before the show began, I said to C, "I am now going to tell you the secret of why people sing in musicals. Because they're musicals. It's that simple. It's a device. And it can be an incredibly powerful one." My friend enjoyed Chicago and became more open to the idea of musicals. (He gets major credit for not immediately deciding that Chicago was an exception and that all other musicals would stink.) Then one day we were hanging out with a friend of his, someone whose hip credentials are beyond argument, someone edgy and famous. And it came out that she really likes musicals. She's so hip, she could say so out loud without risking losing cool points. And I could see C's final musical-related reluctance fall away. When he last came to visit me, we saw Fun Home and Hamilton, both of which blew him away. Look at what he would have missed if he had been less open-minded!
I've noticed that many of the people who don't like musicals take only painfully dramatic works seriously. In fact, the grimmer the work, the more they appreciate it. To them, happy ends by definition cannot be art. This is not a new stance; drama has been treated with more respect than comedy for decades (perhaps centuries?). However, there are plenty of musicals grim and painful enough to meet anyone's needs. Every time I see Sweeney Todd, I end up thinking, "Why do I love this so much? It hurts!" But, of course, its brilliance and beauty are what grab me, time and time again. And right now, Fun Home is devastating people eight performances a week on Broadway (while also being funny, smart, insightful, and thrilling).
So, how can one like musicals and still be hip? It's simple: Be so hip that you don't care what other people think, what other people understand or misunderstand, what today's style "leaders" have to say. Give all different sorts of entertainment and art a chance. Be so hip that you don't care if you're hip. There's nothing hipper.
( Wendy Caster is an award-winning writer living in New York City. Her reviews appear regularly on the blog Show Showdown. Her short plays You Look Just Like Him and The Morning After were performed as part of Estrogenius festivals. Her published works include short stories, essays, and one book. )