Theatre: From Bootlegs to Time Machines
By Wendy Caster
October 1, 2016
Not long ago I sat through a mediocre production of Samuel Beckett's Happy Days. It ended with an optimistic visual image that Beckett would have despised. Or would he? I fired up the Internet for some research—and stumbled across a brilliant, heartbreaking, gorgeously acted video of the play directed by Beckett himself! (The magical actress was Billie Whitelaw, who worked closely with Beckett for a quarter of a century.) Watching it was miraculous, as though a time machine had appeared in my living room.
The Internet would seem to be the opposite of theatre. The Internet has eternal records of people's every folly; theatre has ephemeral evenings of careful decisions, committed work, skill, and art. The Internet fits into your phone; theatre takes an entire building. The Internet happens whenever you want; theatre happens at a particular time and place. And, most importantly, the Internet is canned, while theatre is live. And yet…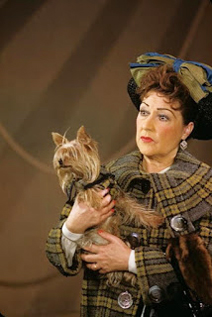 Say, for example, you wish you could see Ethel Merman in Gypsy. Who doesn't? Google Ethel Merman Gypsy and then click on "videos," and you'll find audiotaped bits from the original production, as well as silent film, plus Merman singing "Everything's Coming Up Roses" on TV at various ages. A few clicks here and there, and you'll find yourself at an odd and entertaining "supercut" of " Some People" sung by Patti LuPone, Bernadette Peters, Liza Minnelli, Tyne Daly, Angela Lansbury, and Judy Garland! A few clicks more will lead you to supercuts of songs from Rent, Funny Girl, Anything Goes, Company, and many others.
And I bet you wish you could see Hamilton (or see it again). Well, do a search for Hamilton on YouTube! You'll find excerpts and covers and TV features and Ham4Ham performances. (Ham4Ham refers to songs performed outside the theatre for people trying to win lottery tickets. The Hamilton cast participated, as did actors from other shows. Many of these videos are great fun.) With a little bit of luck, there will be enough material to entrance you until you can score some tickets—or the movie comes out.
Then you might want to check out the New York Times' wonderful "In Performance" section, which includes songs and scenes recreated for the Times in front of small and happy audiences. My favorite is Kelli O'Hara singing " To Build a Home " from Bridges of Madison County, acapella. When I begin to despair about the human race, this reminds me that people can produce sheer beauty. (Okay, Kelli O'Hara can produce sheer beauty, but you get my point.)
Speaking of Bridges of Madison County: go to YouTube, and you may find a video of the complete Broadway production. It's not a legal video, and it may not be there. Copyright owners have the right to ask YouTube and other sites to take down their work, which is only fair—it's their work! In fact, Happy Days is no longer up. Part of me feels that I should avoid pieces online that might be bootlegs, but a bigger part of me cherishes them. (I would gladly pay for legit copies of these items.)
And be sure to check out the incomparable, invaluable Seth Rudetsky. His " Obsessed" videos include interviews with and performances by a wide range of fabulous contemporary performers (Alice Ripley, Brian Stokes Mitchell, Laura Benanti, Jessie Mueller, etc.). And his " Deconstructed" videos are both fascinating and educational. Seth picks a favorite song and discusses the writing, singing, and acting involved. He talks a mile a minute, so it can be difficult to catch everything he says, but what you do catch is always worthwhile.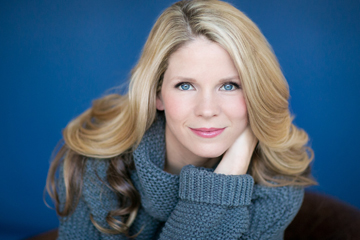 And if you'd like get back on the (imaginary, damn it!) time machine, take a visit to Theatre Guild on the Air, a terrific library of radio plays performed in the 1950s in front of an audience of US Steel employees. Each show ran about an hour, so the plays are abbreviated, but they retain quite a lot of the beauty and meaning of the originals. And, dare I say it, I actually thought Ibsen's A Doll House (starring Dorothy McGuire and Basil Rathbone) lost nothing from the extreme edit. Other shows are based on novels or movies. It's a complete treat. Where else could you hear Tallulah Bankhead in All About Eve? James Mason in A Bill of Divorcement? Helen Hayes in Mary of Scotland? Gertrude Lawrence in Lady in the Dark? Montgomery Clift in The Glass Menagerie? These are treasures.
And don't forget to check out the following: Theatremania.com, Playbill.com, and BroadwayStars.com. They are full of videos and interviews and news items—and links to videos, interviews, and news items. Also stop by All That Chat. It's a chat board peopled by very very very opinionated folk, many of whom are also incredibly knowledgeable (and many of whom are also incredibly obnoxious, but you learn quickly who to ignore). Discussions lean toward musicals, but plays are also discussed, and many of the Chatters work in the business. You can learn about everything from theatre history to the best seats in various theatres to the latest gossip. It's common for ATC to have news before anyone else. And it is particularly useful on days that tickets go on sale for popular shows; people post about how long it took them to get tickets, where their seats are, what they paid, and any info they picked up along the way.
In short, the Internet is a feast for theatre lovers. One caveat, however. Don't start poking around when you're on a deadline or need to go to bed soon, unless you have willpower of steel. One wonder leads to the next and the next and the next….
( Wendy Caster is an award-winning writer living in New York City. Her reviews appear regularly on the blog Show Showdown. Her short plays You Look Just Like Him and The Morning After were performed as part of Estrogenius festivals. Her published works include short stories, essays, and one book. )