Theatre: A Matter of Scope: International Festival V. Fringe
By Justine Bayod Espoz
October 1, 2016
August in Edinburgh is unlike any experience I've ever had, both as a performing arts professional and as an aficionado. For nearly an entire month, the Scottish capital becomes a living, breathing, pulsating stage, where everyone both a player and an audience member. In the city's hallowed, historic theaters, the Edinburgh International Festival (EIF) struts its stuff by programming the large scale and visually impressive works of prestigious companies, while the Edinburgh Festival Fringe turns cityscapes into alternative venues for up-and-coming artists and small-scale companies.
Each festival has its value, its charm, its audience and its place, and while the Fringe presents thousands of productions and the EIF presents only about 75, quantity seems not to be a defining characteristic of quality. Both festivals have definite hits and unavoidable misses, although one always expects something more polished and pristine from the EIF, and something a little more rugged but feisty from the Fringe.
The Canadian dance troupe Holy Body Tattoo, which disbanded in 2006, reunited in 2016 to remount their final production monumental at the behest of Adelaide Festival Director David Sefton, this time accompanied live by Godspeed You! Black Emperor, the post rock band that composed the original score. The piece has since been programmed at a rash of important venues and festivals including the EIF. As is to be expected, the production is impeccably polished, with a complex lighting design and a simple yet elegant and effective stage design – pillars or podiums on which the dancers stand - mimicking a modern skyline of high rises in which each member of society has his own segregated pocket, an urban society where we're physically so near one another yet so painfully isolated. But most polished of all, and most deserving of praise are the dancers themselves who dole out repetitive, abrasive choreography with inexplicable and tireless finesse.
Every other aspect of this balletic brick, choreographed by the company's co-founders Noam Gagnon and Dana Gingras, is a clichéd near-parody of contemporary dance, with clearly talented dancers scratching, scrubbing, pulling their hair and writhing spastically for the better part of two hours. Throw in some running in circles, dancers uncomfortably smiling or grimacing at the audience, loads of chimp-like aggression, images of wind farms and highways, music that's more noise than melodic and projections of unrelated, pseudo-intellectual phrases, and you've hit the pretentious fiddle faddle jackpot.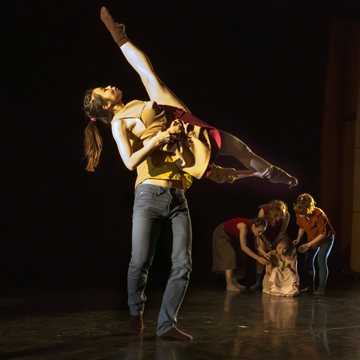 The hair-raising monumental experience sent me running from the expansive Edinburgh playhouse, right into the black box studio at Dance Base, the Fringe's only venue dedicated exclusively to dance. In the latter, far more intimate space, Resident Island Dance Theatre, the Taiwanese company established in 2011 by choreographer Chang Chung-an, presented its piece Lost in Grey. Like monumental, the piece focuses on the pressures of modern life and the subsequent isolation and stumbles into many of the same pitfalls: more hair pulling, more frantic handwringing and scratching, more spasticity. Despite the unmistakable similarities, there were some things that Lost in Grey managed to do better. The experimental rock soundtrack managed to be less strident and a bit more lyrical. The costumes wove in warm golds, blues and reds, giving a little more visual dimension than the grey, black and white business suits that made monumental so coldly and tritely post-modern. And whereas Gagnon and Gingras seemed intent on creating fervent, relentless activity that amounted to little more than a lack of nuance, Chang Chung-an gave each of his dancers their own personal, metaphorical podium and a little room to breathe, which generated a more balanced piece with room for a touch of emotion.
Ultimately, the flaws in both works outnumbered their virtues, yet I found myself far more disappointed by Holy Body Tattoo. There was an overwhelming feeling of being duped, as I left the Edinburgh Playhouse, but only a mild dissatisfaction when exiting Dance Base. So I had to ask, if the same mistakes were made, why such a different reaction? That's when I realized it was a matter of scope.
The EIF is meant to present only the biggest, brightest and best, and while even the best are known to err from time to time, it's acceptable as long as the misstep was taken while innovating. What is less acceptable is to churn out derivative material – no matter how well executed – and try to pass it off as groundbreaking. That is a mistake made by green youngsters, trying their hand at something new while still discovering their personal style, not a mistake made by seasoned professionals. Expectation is directly proportional to prestige, while tolerance for error is inversely proportional. In other words, we expect the EIF to always bring the A-list programming and will more readily tolerate less than the best when we attend the Fringe. Ultimately, the more prestigious the company or festival the thinner the line they walk, while younger companies and alternative festivals are freer to try, fail and try again, albeit with less money and support than their more revered counterparts. The only saving grace in all of this is that, thankfully, there is no accounting for taste. There will always be someone in the audience who has enjoyed the experience, big or small, expensive or cheap, contemporary or traditional, celebrated or rebuked.