Special Report: An afternoon with Susan Vreeland
By Cornelia Seckel
ART TIMES Summer 2014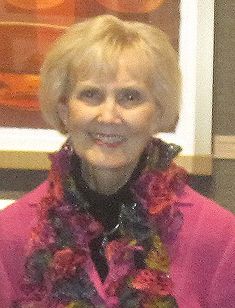 Several years ago I read Susan Vreeland's The Passion of Artemesia, Girl in Hyacinth Blue, The Forest Lover and then more recently listened to Clara and Mr. Tiffany and Luncheon of the Boating Party. I was enchanted with Clara and Mr. Tiffany (not that I didn't thoroughly enjoy and learn from her other books), a historical novel that told the story of Clara Driscoll, director of the Tiffany Studios' Women's Glass Cutting Department, in New York City. She designed and directed the designs of lamps, mosaics, windows, and other decorative objects for close to 20 years. The novel is also about Louis Comfort Tiffany, the plight of women artists in the late 19 th century the emerging of the NYC we see today- the subways, the parks, the tenements and immigrants, museums and much more. This is my preferred way to learn about history. In Clara and Mr. Tiffany I learned about making stained glass windows and lamps— creating the design, choosing the glass, making the frame and the final production. Reading Susan Vreeland's books about artists is not only good reading but intensive courses in art history, art technique and the lives of artists.
Susan and I began an email correspondence after her publicist, Barbara Braun, a woman I knew from my local art scene, mentioned ART TIMES to her and that I was quite taken with Clara and Mr. Tiffany. I knew Barbara was a book agent but at the time, I don't think I knew she was Susan's agent. So I was surprised to get an email from Susan who wanted to advertise her new book Lisette's List in ART TIMES, feeling that our readers were surely her readers. Those of you who have been reading ART TIMES for any length of time know of our very strong policy of separating advertising and editorial— a line not often drawn by publications e.g.: a full page ad of an artist's show and an interview appearing several pages before or after the article. So, as much as I was taken with Susan's work and surely couldn't refuse advertising I had to consider whether to write about her. It definitely wasn't the promise of an ad — a "quid-pro-quo" — that led me to wanting to write about Susan, it was wanting to know more about the woman.
Susan was coming to NYC to meet with her editor regarding publicity for her new book Lisette's List (published by Random House and available August 26, 2014). We decided to meet at the Salmagundi Club in NYC, much better than a Barnes and Nobel or a coffee shop. The American Watercolor Society's 147th Annual Show was hanging in the newly refurbished Grand Gallery. Susan had never been to the club and loved watercolors. It was a perfect place to meet. It was much more of a meeting and learning about a new friend than it was an interview. Although not a painter, Susan's passion is art and she feels that it stems from an experience with her step great-grandfather, the painter Herbert Henry Smithers. She recalls vividly that she was just 9 years old, loved to watch him paint as he worked in the backyard of their home in Southern California. One day while she was watching him he took her hand in his hand that was holding a watercolor brush. She said "He filled the brush with color and brought it to the paper making a stroke- seeing how color could blend without a line, like crayons she said. She felt the electricity — creativity and was hooked" and a calla lily was formed. There is a passage in Luncheon of the Boating Party when Renoir places Alphonsine's hand in his as he adds paint to the canvas. Alphonsine's response in the book mirrors Susan's when she was a child.
Susan taught school for 30 years and wrote about artists for a local (arts) newspaper. Eventually she could devote herself entirely to writing. Her characters become part of her and while talking about Lisette's List she tears up about the "hunger to bless and hunger to hurt" as portrayed by her characters. Her books are her children.
I asked her if she ever painted and she said that she had worked in clay but found it was too difficult to manage clay work and writing. Clay is not forgiving, she said, it dries up. Her first love is writing although she did say that she would like to be in a place where there was a painting workshop, just fall into it. Susan and her husband were heading off to Europe. They travel as often as she can so that she can be in a place to "see it, smell it, to take it into herself". I asked if she had a pencil and pad with her and gave her a mechanical pencil that would serve her if she was able to do some sketching. She surely takes notes as she travels— ideas, people, conversations, locations all "grist for the mill". There are many experiences and artists' lives that don't make it into a full novel but show up as short stories as in her book Life Studies or as part of a book. Susan's research is extensive and one piece of information leads her to the next and the next. The research she has done for any one of her books could be doctoral dissertations.
Susan is mostly attracted to women's stories although several of her books are about male artists and she is focused mostly around the early 1900's. When I asked how Clara and Mr. Tiffany came about she said that it was 2007 and she was in NY promoting Luncheon of the Boating Party. While in New York, she went to the New York Historical Society and there was the exhibit A New Light on Tiffany: Clara Driscoll and the Tiffany Girls. As she walked through the galleries she wondered if it could be a novel. It would be a New York novel and her main character would be Clara Driscoll, head of Women's Glass Cutting Department. She would write about the early history of NYC, the tenderloin, central park, women in the workplace, life of single men and women in boarding houses, social mores, immigrants, NY society and much more.
The idea for all her works is specifically about love. It must be that the artists' work speaks to her and that the artist's life offers something of substance that has universal importance. Then it is worthy of her effort and getting this story out to the world.
Susan is often asked to lecture at organizations, book clubs, museums, universities and schools, book fairs and festivals, writers conferences, teachers conferences, libraries and library support groups, and community reads. Teaching and sharing her experiences is very important to Susan and she offers half hour speaker phone chats to book discussion groups of ten or more which have read one of her books. Her website (susanvreeland.com) is a great resource. Not only are there discussions for each of her works, a bio, a listing of past and upcoming events, access to her newsletter and an essay Susan wrote about writing which I have quoted below.
"Emily Carr, the Canadian painter and subject of my book, The Forest Lover, wrote this reminder to herself in her journal: "You yourself are nothing, only a channel for the pouring through of that which is something, which is all. Your job is to keep that channel clear and clean and pure so that which passes through may be unobstructed, unsullied, undiluted, and thus show forth its clear purity and intention."
Susan continues "Similarly, the more I lose any willful egotism or a hurried frame of mind and give myself the gifts of solitude and time so that I may listen with an open, humble heart, the more likely I am to recognize good material, fresh ideas, felicitous phrasing, from what the universe is offering. Henry James advises writers to try to be a person upon whom nothing is lost. To me, that cultivation of receptivity is based on knowing that we don't create the thoughts that come to us. We select them. This is in line with what Ralph Waldo Emerson tells us: "All writing comes by the grace of God." "
This is important advice for all of us, and a lesson in living our lives. Spending the afternoon with Susan was just excellent!
(Note: a short video of Susan talking about her work can be found on www.youtube.com/user/arttimes)