For the Love of Dancing

By J. Alexandra Marshall
ART TIMES Sept/ Oct 2010
Photos courtesy of the author

For as far For as far back as I can remember (which, granted, isn't very far at all), the East Coast and the West Coast have always been at odds. Stereotyped or not, these two U.S. bookends have come to represent vastly different sides of the Lincoln penny: the toned, tan and scantily-clad women of California are replaced by an onslaught of Sperry Top-Siders and popped Polo collars in Connecticut (I'm wearing a polo as I type); in San Francisco everyone races their cars along six-lane highways to work, and in New York cabs litter the crowded streets; 2Pac versus Notorious B.I.G. in the 1990's; Hollywood versus The New York Times; the list goes on and on. And yet, with all of this apparent coastal tension, there does seem to be one place where the two worlds manage to coexist peacefully and, indeed, happily: the dance floor.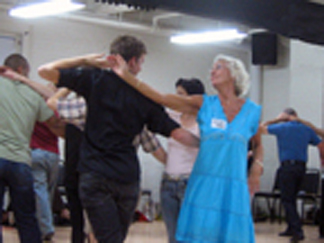 East Coast Swing is best described as the test-tube baby on the prolific dancing family tree, having been created in the studio as an easy-to-follow dance for the masses. More circular in its steps than West Coast Swing, East Coast Swing is said to resemble the movement and repetition of the Jitterbug. In contrast, West Coast Swing, like so many other dances, originated "on the street" and gradually made its way into more competitive and sophisticated settings. It began as a modified version of the Lindy Hop and got its name from its birthplace in California, where it gained popularity among professionals and recreational dancers in the 1950's. Over the years, it has been known by many names, including Sophisticated Swing and later Western Swing; Arthur Murray is most often credited with the permanent change to West Coast Swing. "East Coast Swing and West Coast Swing are kissing cousins," says Jun Ogata of Hyde Park, New York, and who currently dances both styles of swing.
In June I spent time at Robert Royston's West Coast Swing intensive weekend, where fourteen couples spent two days learning, practicing and enjoying their passion for dancing. Over the past two decades, Royston has distinguished himself as an internationally-ranked dancer and a sought-after instructor. He began his professional career in 1990 and went on to win the World Country Championship and the U.S. Open Swing Championship for four consecutive years between 1995 and 1998. Since then Royston has gone on to choreograph for Broadway hits (Swing!), movies (Love N' Dancing and Gamer) and music tours (Taylor Swift). Today he continues to dance, choreograph and teach Two Step, Lindy Hop, Polka, Cha-Cha and Swing.
At just-turned 18-years-old, Cooper Davis was the youngest dancer I met at the intensive. A Santa Rosa, California native, Davis firmly denies the stigma that men lose their masculinity when they dance West Coast Swing; where he comes from, young, hip dancers of both sexes aren't unusual. And although the majority of "couples" (AKA: partnered) dances do emphasize more traditionally feminine characteristics, such as grace in the movements and strong use of the hips, West Coast Swing is an undeniably power-driven dance. A good leader – male or female, tall or short, young or old – will be able to guide the follower through a series of evocative walks, spins and turn-outs, utilizing the strength of his or her own core and balance to create the illusion of speed and the reality of subtle maneuvering across the dance floor. Power and motion spring from the dancer's center, not from extension of muscles in the arms.
Royston quoted Martha Graham both in our interview and during a lesson, reminding his dancers that, "If it doesn't come from the hips, it's a lie." He explained in acute detail the importance of the placement of the hips during movement, using a participating dancer to show how bringing the hips together creates a single axis individual; conversely, leaving space between the hips allows the dancers to transform their separate bodies into a double axis of movement. Unlike the traditional notion that hips exist as an expression of female sensuality, West Coast Swing allows both men and women to focus on their bodies as catalysts of power and strength, harmonizing the elasticity of the ligaments with the solid control of the muscles and the core.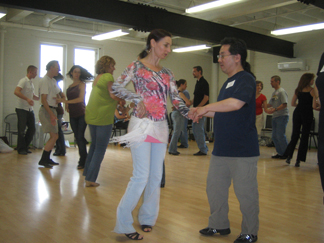 The feminine stereotype surrounding partnered dances can be traced to the post-World War II generation of baby-boomers. Pre-1945 partnered dancing was a common way for singles to unwind and interact with members of the opposite sex. When the Big Bands began to die out after the end of the war, however, the entire order of organized dancing was flipped on its head. By the end of the 1950's the Twist and other provocative dances were sweeping the nation, quickly edging out the more conventional dances of the 30's and 40's. Even in today's dance world, distinctions are often made between feminine movements for followers and masculine movements for leaders. For example, a simple forward or backward step can be broken into two basic forms: the American leg (where the leg lands bent and then is pushed straight) and the International leg (where the dancer lands a decisively straight leg). Royston pointed out that although professionals use both steps, the International leg appears slightly more feminine, especially on a back step, and is therefore more common among followers than leaders.

Ogata began his dancing career by taking ballroom lessons, but in the last two and half years he has become increasingly involved in swing dancing and Lindy Hop. Mr. Ogata told me how difficult he found it to progress beyond the basics in ballroom; for him, the swing world provided more opportunity for creativity and socialization. The more romantic atmosphere of ballroom dancing can also be challenging for a single dancer, and many studios encourage dancers to enroll as a couple. At the West Coast Swing intensive, young people danced with older people (some into their 60's and 70's), and the few brave female leaders led other women in their dances. The rotation system employed by Royston in his lessons ensures that every follower will get a chance to dance with every leader, allowing them to adapt to varying heights and skill levels. Sean Ryan of Bridgewater, New Jersey explained to me how limiting – and ineffective – it can be to learn with just one partner; the constant alternation of dancers prevents newcomers from adopting the bad habits of their significant other, and allows them to identify their own mistakes before focusing on how to correct them. Several others pointed out to me that West Coast Swing is a great dance for both singles and couples: in a couple, the dancers learn how to adjust their movements to match new techniques and styles; both singles and couples get a chance to form an expanded social network.
As TV shows such as Dancing with the Stars and So You Think You Can Dance become increasingly popular worldwide, more people want to know where they can find a dance class suitable for their age and experience level. The intensive I attended was hosted by Hudson Valley WCS at the Center for Creative Education in Kingston, New York, a popular destination for Hudson Valley residents looking for local dances and lessons. Other resources for beginners in the region include Woodstock Tango and Hudson Valley Community Dances for classes in Swing, Zydeco, Contra and English Country. Ryan chooses to travel out of New Jersey and into Manhattan for many of his dances, where he is more likely to find 20 and 30-somethings among the diverse crowd of dancers. He suggests Club 412 (You Should be Dancing), which specializes in Argentine Tango, Afro-Caribbean dance, Cuban Salsa and even Belly Dancing, as well as more traditional Swing, Ballroom and Hustle. To beginners, Ryan suggests taking lessons from as many instructors as possible, "To do your best, and be ready for what comes up." For Californians living near Santa Rosa, Davis recommends Nordquist's Dance for young dancers, where lessons are available for 7th-12th graders in East and West Coast Swing, Night-Club 2-Step, Tango and other dances. WnY Warehouse in Novato is another great location for California dancers of all levels; WnY focuses mainly on Swing dance, but also offers dances and lessons in Hip-hop and Zumba fitness. Wherever you live, the easiest way to find local dance workshops and weekend events is to look online. Find somewhere you are comfortable with and test out different dances to learn which ones you enjoy the most; West Coast Swing isn't for everyone, so try ballroom if you and a partner are looking for a more intimate setting, or Lindy Hop for a more aerobic dance experience.
For more advanced dancers, or if you just want to learn more about the international expansion of West Coast Swing, Royston looks to England as the biggest overseas forum for dance aficionados. West Coast Swing is currently the fastest growing dance in the U.K., which is home to the European Championships (formerly the U.K. Championships), an annual competition celebrating its 6th year in April 2011. In that same month Moscow will hold its Open Swing Championships, and St. Petersburg is gaining recognition as a significant hub of swing dance activity. France, Belgium, the Ukraine, Italy, Australia, New Zealand and Brazil are also among the most prominent up-and-coming locations for international swing dance competitions, and Royston warns American dancers not to treat them nonchalantly.
When I asked people at the intensive why they dance and what motivates them to continue dancing, the most common response was the health benefits. Mindy Carter of Wappinger's Falls, New York, described dancing as the ultimate stress reliever, an activity that allows her to "get out of my head" and trust her own body movements. Carter reminded me that dancing has been proven to help prevent and delay Alzheimer's disease by developing new neurological pathways and maintaining a level of constant mental engagement. And the benefits don't stop there: "Nothing can get me out of the house and willing to break a sweat…more than dancing" says Carter, who admits that she is more likely to use her gym membership before and after dance weekends and competitions. Ryan was among the many people who attributed a healthier body and weight loss to his time on the dance floor, explaining that West Coast Swing is a full-body workout that focuses on the legs and even cardio training: an evening of dancing can be tantamount to a session in the gym, he says. And, of course, there are the social benefits of partnered dancing: for the equivalent price of a movie ticket, says Carter, you can participate in an activity that promotes social interaction, radiates excitement and gets you moving. At the end of our interview, Royston told me that, "The world would be a much better place if everyone couples-danced." His logic is compelling, and his passion? Extraordinary.
(J. Alexandra Marshall is a senior at Gettysburg College where she is studying English, Writing and German. Marshall has previously been published in Passport Magazine, and is looking to pursue a career in magazine editing and publication after her graduation in May 2011. She currently lives in Lakeville, Connecticut.)