Daniel Smythe Profile:
A Thousand Ways to Kneel and Kiss the Earth
By Christopher Florentz
ART TIMES online April 2010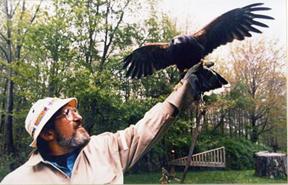 Daniel Smythe with Hawk
When my friend Daniel Smythe, artist and master falconer died last fall in upstate New York, he left a legacy of inspiration for artists and all those who take the road less traveled. Dan's lifelong commitment to his work is best reflected in the words of the Persian poet Rumi: "Let the beauty you love be what you do. There are a thousand ways to kneel and kiss the earth."

Dan knelt and kissed the earth every time he created a work of art or traversed the Catskill Mountains with his hawks. His primary medium was sculpture. He was also a prolific sketch artist and he occasionally painted when the spirit moved him. Dan saw the beauty that is everywhere present in the natural world with uncommon clarity. Gathering natural elements in the hills and valleys around his Grahamsville studio, Dan infused iron, wood and stone with singular spirit.

Like the Ancient Mariner, he fearlessly explored distant seas within the context of his art. Some of his work had environmental themes and examined the fragile balance between man and nature. Dan also probed the dimensions of our humanness, from his sculpture Ascent of Man to his tender and sensual treatment of a woman with child. Other of his work, such as the wings of Icarus, showed his fanciful side.
After graduating from the University of Pennsylvania, Dan served in the Army. He used to say that one of the most difficult things he ever had to do was tell his physician-father that he was changing his college major from pre-med to art. After the Army Dan turned to his life's work in earnest, receiving his MFA in sculpture from Pratt Institute and taking up residence in Soho. He taught at Hunter College and periodically worked in commercial art.

During his New York City years Dan had a modest measure of success. His work was included in a show at the Guggenheim and in solo and group exhibits. For a time he was represented by a Manhattan gallery. But America has never treated her artists too kindly. Dan was living proof. In the trendy art world, styles of work can fall in and out of vogue overnight. Disenchanted with the arbitrariness of the New York art scene and the rising cost of living, he left the city for Grahamsville in the 1970s.
Dan lived with his wife Carol amid the Catskill Mountains for more than 30 years, becoming the quintessential regional artist. If it bothered him to go from being a rising talent on the New York art scene to a regional artist in upstate New York, I never heard him say it. Dan was too busy making his art to think about such things.

We first met in New York City in 1977 while working together on a seasonal project. It was several years after he had moved to Grahamsville. He had a way of sauntering with his backpack slung over one shoulder and looking every bit the mountain man who had somehow been dropped down in the middle of Manhattan's endless canyons of glass and steel. Dan was the kind of person who filled a room with his presence.

When I asked him what type of art he made, he said he was a sculptor. Then he asked me what had prompted my question. I told him it was the sketchpad peeking out of his backpack. He nodded and smiled. Over the next 32 years that Dan and I were friends, the ever-present sketchpad was his trademark.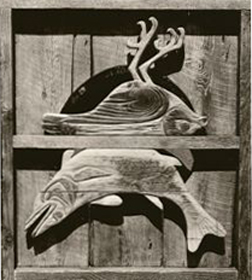 "Last Sunrise" photo by Michael Gold
Soon after we met I invited him home to dinner. My wife at the time, also an artist, made chicken stew in our apartment in Greenpoint, Brooklyn. Over dinner we talked about art and politics and the things we cared passionately about. Dan never forgot that night. He was moved by a simple gesture. Our friendship, which would not only endure the years but also the miles that separated us, had been sealed with a home-cooked meal.

In the ensuing years whenever I made the trip to Grahamsville we'd sit by his wood-burning stove talking late into the night about everything from minimalism and mythology to global warming. No visit was complete without stopping by Dan's studio where he would show me his latest work.

Falconry was another of his passions. He bred and raised Harris hawks and I can still see him trekking over hill and dale with his kestrels. He once described an early morning hunt in a letter to me:
"My hawk and I moved out into the gray mist with the grass heads silvery with frozen beaded moisture. Few moments are as delicately beautiful as the slow clearing of mist on a fine February morning – the sun breaking through the denser vapors on the golden maple boughs makes as glorious a scene as any that summer can show."
During his long and difficult illness, Dan had to stop creating sculptures and give up falconry. But he never put down his sketchpad. "My work in the past five or so years may be lacking the energy I put into my sculpture work of earlier days," he wrote to me. "But my recent work in drawing may reveal an esthetic journey that might be considered somewhat mystical for the lack of a better description."
Fighting valiantly to hold onto the fading light of one last sunset, Dan continued to draw right up until the end. Two weeks before his death we were driving down South Hill Road. I took my time behind the wheel, drinking in the inspiring vista that is framed by Thunder Hill and Red Hill. "It's a beautiful view," Dan said. Over the years he'd walked along South Hill Road between his home and his studio or hunting with his hawks thousands of times. "Carol's father used to love the view from here." He sounded wistful, as if he knew he'd witnessed his last change in seasons.

I know that I will never again see a hawk soaring overhead without thinking of Dan. He showed me how to kneel and kiss the earth, and I will fondly remember a meal shared, cloud shadows on a mountain at midday, denouement in a work of art, friendship in its truest and purest form that began with a sketchpad.

(Christopher Florentz lives in Mount Laurel, NJ)