Profile: Barbara Bassano, Soprano; Michael Bassano, Tenor
By RAYMOND J. STEINER
ART TIMES July/ August, 2008
Overture
OF ALL THE arts, the most difficult for me to write about is music. I suspect that this is mainly so in light of the fact that, for the most part, it is an artform of which I know relatively little. I don't know "names" in the business, I don't know titles of famous pieces, I have never been able to read music. What I do know is that of all the artforms, music communicates most directly to the human spirit. Unlike writing (of all forms), dance, or pictorial and sculptural art — all of which must first pass through the eyes and intellect to "reach" our seats of comprehension and appreciation — music need only pass through our ears to penetrate our souls. Like all genuine arts, music transcends the written and spoken language, able to speak to all who can hear (or even feel its vibrations), no matter the geographical place or historical time. Most now believe that the rise of creativity was coeval with the first appearance of homo sapiens — some insist, indeed, a more appropriate and descriptive species name would be homo aestheticus since to be human is to be creative, and that, in all probability, some form of "music" was its earliest manifestation). My sense is that this is true. Although I never learned to read music, I was part of a "country/western" band in my youth (I played the guitar, mandolin, and banjo "by ear") and have always been responsive to melody and harmony (I even look for it in visual art). Even today, though I no longer play a musical instrument, I cannot imagine working in my writing/painting studio without my CD player loaded with classical music. Yes, I have my favorite "pieces" — am often moved to tears by some even when I hear them over and over — but cannot for the life of me tell you the title of these pieces, or who wrote them, or whose talents are reproducing them for me in the confines of my workspace. All I know is that classical music "speaks" to me, "moves" me, even heals me. Let me now turn to Barbara and Michael Bassano, soprano and tenor respectively.
First Movement
From this somewhat lengthy preamble, it is obvious that I am not qualified to "critique" either of the Bassanos from a music critic's perspective — I simply do not have the credentials to do so. However, I do know people, which, incidentally, is how I first met them — as ordinary people; in my case, as diners at one of my favorite 'hang-outs', Café Mezzaluna, Bistro Latino/Gallery, a short distance outside of Woodstock, New York. In passing, Mery Rosado, proprietress extraordinaire of the café (and long-time friends of the couple), introduced Barbara and Michael to me as "singers" and we briefly exchanged greetings as we went to our respective tables, the Bassanos to the large, ever-ready, "family table" where intimates like to gather, and me, to my usual corner table where I can sit and read — or just sit and watch the passing scene. Café Mezzaluna is a mecca for many "artistic" types — poets, musicians, painters, writers — and I gave little other thought to the Bassanos at that time, barely registering just two more creative personalities among the many I've met there. Mostly what penetrated my thoughts as I lingered over my favorite cappuccino (nick-named the "snobbucino" in honor of me and my usual stand-offishness by the Mezzaluna regulars) was Michael's expansive affability reflected in the wide smile he offered in greeting, and Barbara's quiet, dark beauty and more reserved acceptance of the introduction. So much for first impressions.
Second Movement
Many "snobbucinos" later — a year might have passed — Mery invited Cornelia and me to a dinner date with Mike and Barbara. I demurred, claiming I had too much to do and, besides, the "date" was too far in the future for me to make a commitment. I am not an overly sociable person — and definitely not a night person — so as the "date" neared, I began to dig in my heels with Cornelia now joining in the Mezzaluna chorus for me to "come on, it'll be fun!" I relented under the double-barreled pressure, knowing in my heart that not only was I in for a long and trying evening (I'm an early retirer and early riser, doing most of my writing in the morning hours), but also a long and trying schlep down to the T&J Villagio Trattoria down in Port Chester, New York, a nearly two hour's drive from my home. I dreaded the "dinner date", knowing I would be my usual uncommunicative or flippant self, the only consolation being that it would eventually have to end. Again, so much for impressions.
I quickly learned that the "dinner date" came in caps — as in, "A Dinner Date with Mike & Barbara", followed (in program notes) by "Parlami d'amore" — An Evening of Fine Italian Dining, Entertainment and Romantic Song featuring Soprano Barbara Bassano, Tenor Mike Bassano, William Glazier, piano, Floyd ("Uncle Floyd") Vivino, comedian, and Angelo Muto, accordion.
Whoa! I said to myself. This is no ordinary, run-of-the-mill breaking of bread over strained and tiresome conversation! This is a full-fledged production! In fact, "A Dinner Date with Mike & Barbara" is a production of "The Music Grows Miracles Project (MGMP)", the official name of the Bassano's partnership. Shows you how receptive I was to all the cajoling and pressuring — I'd simply closed my ears to just what a "dinner date" with the Bassanos really meant.
And it meant a lot! A full-course Italian feast began the festivities (I hadn't had calamari that good since I visited a restaurant alongside the Ligurian Coast in Cinque Terre!), the "soup-to-nuts" meal a heavenly delight with ever-filled carafes of red and white vino and Angelo Muto's soft accordion music making everything go down pleasantly — and almost too quickly (never dreamed I'd say such a thing!) — as we shared a table and joking conversation with four other couples. Dinner done and the body satisfied, "Uncle Floyd" then came out and aided our digestive systems with a repertoire of jokes that still have me chuckling when they come to mind. I hadn't had such a sustained stretch of belly laughs in a long, long time. If I thought that the timing of "Uncle Floyd" in his telling of humorous stories was right on, the evening of surprises had barely begun, for after the laughter died down, the lights dimmed and out stepped Mike Bassano in full tux and black tie. The skillful introductory riffs from the piano by William Glazier hardly prepared me for what was to follow.
Now remember, I'm no music critic (I couldn't, for example, identify the music Glazier was playing). But what came out of Mike's mouth as he strode onto the floor forcefully set aside any lingering memories of food and laughter. Michael Bassano's voice is huge, powerful, commanding, all enveloping, insistent, soul-stirring — in brief, he very nearly floored me with his voice alone. Mike is a big man — large-chested, burly-looking, a physical presence that is hard to overlook, emphasized by his wide-stanced pose and outstretched arms — but the magic of his smile never left his face as he filled the spacious dining-room with sound. I felt him in my groin — certainly not a very graceful "music-critic" phrase — but there it is. He hit me in my center.
Then, before I had a chance to properly comprehend what the meal, the music, the comedy, and now that voice, had displaced in me, out from my left strode Barbara, slowly wending her way through the people-filled tables, eyes downcast, pensive — almost demure — her black and white gown molded to her form. Slowly turning toward the audience as she reached the opposite side of the room, she raised her eyes and thus began the "parlami d'amore" between her and Mike. The hair raised on the back of my neck as her voice slowly built in range and volume. Although I've only read about such things in romance novels, I have to say that her eyes actually smoldered as they darted from the audience — to Mike — and back again to us. Now the hair on my arms was responding. The lump of emotion that Mike had implanted in my groin slowly gravitated upward to some place behind my heart. It was hard to breathe. (Where had all that guffawing gone that "Uncle Floyd" had released only minutes ago?)
The contrast between the two, between Mike's four-square 'thereness', and Barbara's contained grace, was striking and palpable. In Barbara's words, "When Mike sings, you can smell the earth, 'hear' nature, feel its energy." Indeed, Michael Bassano exudes potency, his body barely able to restrain the elemental force straining to be released. Barbara, however, is like a coiled spring, her kinetic energy marshaled, subtly channeled through hidden streams and paths before being judiciously released at the precise moment that will allow it maximal impact. The exchange between them is nothing short of electric, mesmerizing, seductive. Though "outside", we are made to feel part of the sexual attraction that is blossoming and building before our eyes and ears. We, like they, are captivated by the "parlami d'amore" — in short, the audience is thoroughly and hopelessly 'hooked'.
I know now that they were singing arias, a series of love songs from different operas, playing their words and emotions off each other — but especially off their audience. I recognized snatches of melody here and there — but again, I cannot tell you from where they came or who had composed and written them. Technically, I know that he is a tenor and she is a soprano — the program notes told me that, but I don't have a clue as to what that really means other than the fact that they are "different" voices — all I know is that a "Dinner Date with Mike & Barbara" was a very special treat indeed. The dinner, the comedy, the music and the song eloquently combined to offer the audience the full gamut of physical, mental, emotional, and spiritual experience — I can put it no other way. I'd never felt more uplifted, more enlightened, more civilized — more fully human, than I did after sharing a dinner date with Barbara and Michael Bassano. If my music education hadn't advanced one iota, my aesthetic sense fully informed me that I'd just been treated to an expansion of self that I rarely experience in my day-to-day activities, and that Michael and Barbara Bassano carved out new centers of aesthetic appreciation within my soul.
Third Movement
But there's more. Last month, Barbara and Michael came to our home to share in a birthday celebration — it was my 75th — and, after the festivities were beginning to wind down, a candled-filled cake was brought out to the outdoor tent set up on our lawn. As Cornelia raised her knife to make the first cut, I was held back from making any of my usual wisecracks by a singular occurrence — first Michael, then Barbara, each offered their own tributes — he sang "Nessun Dorma", she, "La vie en Rose." I was stunned. My breath caught, my ears turned red, hair rose all over my body, as first his, then her eyes stayed riveted on mine as they offered their gifts. "Nessun dorma" ("None shall sleep") is an especial favorite — I'd finally learned the name when I saw "Turandot" in Berlin a few years ago — and never fails to bring a catch to my breath and tears to my eyes whenever I hear it. "La vie en Rose" — for years I thought the song was about a Viennese rose and only recently learned that, roughly translated, it meant "a life in pink" — a reference to what we call "looking at the world through rose-colored glasses". These private performances (on top of several beautiful gifts of paintings from fellow artists) made it, like my "dinner date with Mike & Barbara", another very memorable day. Such freely given exchanges of talents between artists is a special enjoyment that few ever get the chance to experience.
Barbara and Mike at home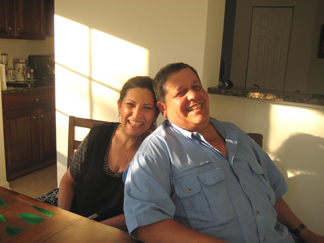 And so, this more-than-a-profile of Barbara and Michael Bassano. How could I not want to know more about these extraordinary entertainers? I recently spent a long afternoon with them at their home in Pennsylvania, sharing a light lunch, walking their grounds, probing their private lives to see just how a Barbara and a Michael came to be. I wanted to see them "on their own turf", much as I would interview artists in their own studios when I profile them. But an artist has paraphernalia — easels, palettes, paints, taborets, paintings both hanging and leaning on walls. All of it "speaks" to me. But Michael and Barbara's instruments are their voices, their body gestures, their facial expressions. Furthermore, their home in Pennsylvania is a relatively new home (she's from New Jersey, he's from the Bronx) — they actually work (record, practice) in a studio in New York City, although both sing "around the house." So, here's the kicker — after being treated to and profoundly moved by both public and private performances, here I was back to square one — seeing them simply as "people" albeit now in their home rather than at a café.
Coda
And, when you come right down to it, that's probably just fine. Relating here who each studied or performed with before they became "Mike & Barbara" — a fortuitous event that took root one evening when Mike heard Barbara singing the role of Musetta in a dinner club production of "La Bohème" in New York City and which eventually blossomed into "The Music Grows Miracles Project" — will give you little preparation for what's in store for you when you hear them in concert. Their résumés will give you the statistics — the separate paths each took before coming together. You wouldn't be surprised, for instance, to learn that Michael was once a cop — he looks like one — or that Barbara not only sings, but acts, dances and has a degree in French — she exudes "star" qualities. Both have been singing since childhood, though Mike's venues were often somewhat "rougher" than were hers. What is of importance — I think — is that their respective pasts gave each of them what they absolutely needed in order to recognize their perfect counterparts in offering the world their unique variety of classical entertainment.
Given the opportunity of "A Dinner Date with Mike & Barbara", you really ought to jump at it— you'll certainly be treated to a few miracles of your own.
(For more information about "Mike & Barbara", visit their website at www.mikeandbarbaramusic.com or E-mail them at MikeandBarbara@rcn.com).