Peeks and Piques! Flamenco Vivo Carlota Santana
By Raymond J. Steiner
ART TIMES May 2016 online
Fiery! Sexy! Soul-stirring! The Harlequin Cascade© dance floor at the Kaatsbaan International Center, Inc. at Tivoli, New York rang out in staccato vibrato as heel, toe and full foot stomps of steel striking wood beat out the rhythm streaming from strumming guitars, drums, wind instruments, voices — and yes, bodies — in full synch with the mood, the dynamics, and force of undiluted Andalusian passion that filled the packed auditorium. Although the stage, the hall, was filled with people, each stomp, each body thrust or graceful hand-movement seemed personally directed to me — meant specifically for my engagement, my eyes, my soul, my excitement (I couldn't keep my feet still) — in short, the performance of Flamenco Vivo Carlota Santana at Kaatsbaan was truly spectacular.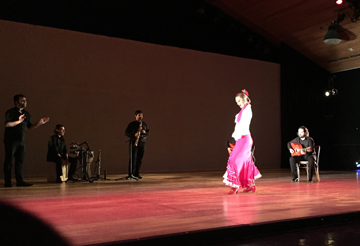 Frankly, I was probably as surprised at my reaction as I was delighted. I say "surprised" because I must confess that though I appreciate music and the visual arts, I rarely feel 'moved' by dance. I do enjoy classical ballet, but have little tolerance for watching people in long-johns flinging themselves across slippery dance floors or street 'dancers' spinning on heads or shoulders on sidewalks. So, not being a dance aficionado, I'm not exactly qualified or knowledgeable enough to critically assess the performance but I do know what it said to me! When the performers danced in unison, it was hard to focus on an individual — when solo, mesmerizing! The dancers — and musicians as well as singers — often engaged members of the audience with direct (almost confrontational) eye contact, as if inviting each one up onto the stage to dance — or challenge — them in performance. As comely (and sexy) as both the men and women were, it was hard to keep one's seat. Carlota Santana and her troupe travel and perform around the world*— so if they are appearing in your area be sure not to miss seeing and hearing them.
Viva Carloto and her wonderful troupe of performers and viva Gregg Cary and Bentley Roton for their dedicated efforts to bring the culture of Dance to the Hudson Valley through Kaatsbaan!
*Perfomance at BAM (Brooklyn Academy of Music) May 3-8
Read more from Steiner at: rjsteiner.wordpress.com