Music: Previewing This Year's Round Top Music Festival
(All photographs © Norman Kolpas 2015)
By Norman Kolpas
ART TIMES Summer 2015
While I wish it weren't true, it can seem at times that a politically liberal cultural bias exists when it comes to perceptions of Texas. Mention classical music, for example, and the state that gave us President George W. Bush and Governor Rick Perry doesn't automatically leap to mind.
Sure, you might instantly think of the late great pianist Van Cliburn, a Texan who, at the age of 23, brought the U.S. a Cold War triumph through his 1958 victory at the inaugural Tchaikovsky Piano Competition in Moscow—and who, soon thereafter, inspired a now-renowned, Fort Worth-based quadrennial piano competition named for him. Or, if you're a cello aficionado, you may well have in your CD collection performances by Lynn Harrell, who spent his formative years in the Dallas area before rising to prominence as one of the world's greatest performers on that instrument. But symphony orchestras? Stateside, most non-Texans would be more likely to head to Chicago, Cleveland, New York, Los Angeles, or San Francisco to get their fixes before considering the classical corps in Dallas, Houston, or at least eleven other Lone Star locations.
And music festivals? A similar bias may hold true. An NPR online list of the "10 Can't-Miss Classical Music Festivals" would sooner turn your attention to the likes of the Grant Park Music Festival in Chicago, Utah's Moab Music Festival, the Aspen Music Festival in Colorado, New York City's Mostly Mozart, or Southern California's Ojai Music Festival. The London-based Sinfini Music website suggests a similar selection in its list of "Top Ten US Classical Festivals."
Yet, as I learned first-hand on a recent journey, one of the most alluring classical music experiences in the nation actually awaits deep in the heart of Texas, an hour and a half's drive west-northwest of Houston in the tiny town of Round Top, current permanent population 93 people. That's the home each year, for five weeks from early June to mid-July, of the Round Top Music Festival, which offers performances this year from June 6 to July 11. It features concerts from the Texas Festival Orchestra, made up of 92 of the finest young classical musicians from across the nation, selected from more than 600 applicants, who spend a total of six weeks living amidst the Round Top Institute's verdant 210-acre grounds, rehearsing seven days a week under the direct tutelage of top professional musicians and conductors from around the world.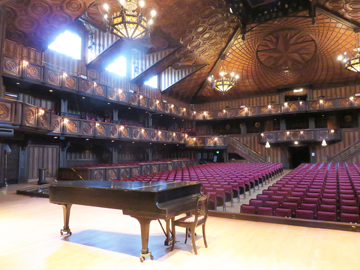 Round Top, in the abbreviated form by which it's more colloquially known, had its start and continues its exceptional standards under the guidance of concert pianist James C. Dick, its founder and artistic director. Born and raised on a farm in Hutchinson, Kansas, he went on to study piano on scholarship at the University of Texas in Austin, graduating with special honors in 1963. From there, Dick was awarded a Fulbright Scholarship to study in London under the great English pianist Sir Clifford Curzon, then went on to win prizes at major international competitions before launching into a now-distinguished career that has seen him perform in some of the world's great concert halls, giving solo recitals as well as guest concerto performances with top international orchestras under the batons of legendary conductors including Eugene Ormandy, Christopher Hogwood, and Lorin Maazel.
That combination of international success and heartland values led Dick in 1971, then still in his early 20s, to establish the Round Top Festival Institute on a six-acre property in the idyllic Texas town. He started small, first establishing a summer program that welcomed a mere ten promising young pianists; but soon, the number of those admitted rose to 25, evolving in the process into a chamber music program. A young Chinese-American cellist named Yo-Yo Ma, then just 18 years old, debuted at Round Top in 1973, returning again the following year.
In 1978, the great pianist Leon Fleisher, who 14 years before had lost the use of his right hand due to a neurological disorder and was confined to performing a limited left-handed repertoire, came on board to create its orchestra program while transitioning his own career into conducting. He continued his association with the Round Top Festival Institute until 1982, in the process further burnishing its reputation while the institute built its Festival Concert Hall, which opened for performances in June 1983.
The hall stands as a unique site in the classical music world, a singular vision of James C. Dick himself. He collaborated with local craftsmen to realize the 1,000-seat space, which today also houses the institute's offices, a library and archives, and a small museum. From the outside, the building is reminiscent of a grand 19th-century hall in the European tradition. Inside, it seems most like a Texas spin on the arts-and-crafts style, with lustrous woodwork in intricate octagonal and other geometric patterns that feel almost like a three-dimensional representation of a classical music composition.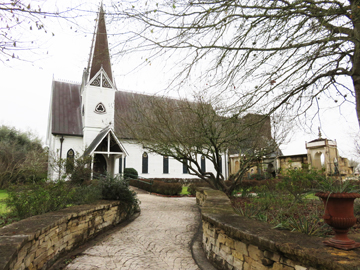 But another motive beyond beauty alone stands behind the interior décor here. Visible wherever the eye might come to rest on the walls and ceilings of both the auditorium and the stage, all the intricacies of the joinery on display were part of a continuous, years-long process of fine-tuning the natural acoustic properties of the hall without resorting to electronic enhancements of any kind. And the results are further enhanced by the fact that the vast ceiling is suspended 12 feet below the building's actual roof, creating a deeply resonant acoustical chamber.
"Little by little, we heard how the hall was responding to performances," notes Alain G. Declert, Round Top's program director for the past 25 years. "People who come to attend concerts here agree that this is probably the best acoustics you can find. Most of the time in concert halls, musicians playing in the orchestra complain that they can't hear each other. Here, they can. And at the same time, that quality of sound projects into the hall, too." In short, the Institute's young musicians and its audience alike hear classical music as it is meant to be heard, in the finest natural detail imaginable.
Which means that the 2015 program should present a rare listening experience to classical music aficionados, whatever their tastes. The concert on the Saturday, June 6, at 7:30 pm, for example, features Symphony No. 5 in d by Dmitri Shostakovich and, appropriately for this year's opening evening, James Dick himself as soloist in George Gershwin's Concerto for Piano and Orchestra in F. The five Saturdays that follow include works by Tchaikovsky, Leonard Bernstein, Ravel, Berlioz, Wagner, Mahler, Mozart, Stravinsky, and Beethoven; and James Dick returns again on the final evening, July 11, to perform Rachmaninoff's Rhapsody on a Theme of Paganini.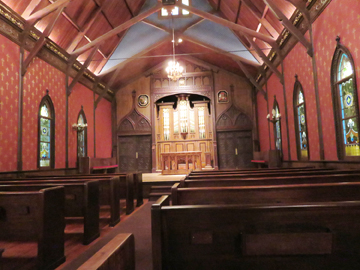 Those six programs may sound impressive in themselves, but the Round Top Summer Music Festival provides even more opportunities to hear music at its finest. Each Saturday afternoon includes two separate recitals or chamber music concerts, one in the main auditorium at 3:30 pm and another at 1:30 pm in the charming and historic Edythe Bates Old Chapel, a short stroll away. Most weekday afternoons allow a chance to observe master classes held in the chapel at 1:30 pm; the final week includes chamber music performances in the main auditorium on Tuesday, Wednesday, and Friday nights; and there'll be a Patriotic Concert the Sunday afternoon after Independence Day, featuring works by Bernstein, Aaron Copland, Richard Rodgers, George M. Cohan, and other more contemporary American composers.
That's enough to inspire a stay of at least a long weekend or up to a full week or longer. And that time spent would be well rewarded in ways reaching far beyond the appreciation of music. Over the years, the grounds of the Round Top Festival Institute, known as Festival Hill, have grown to encompass some 210 beautifully landscaped acres dotted with newly built structures and historic small-town Texas buildings, including the Edythe Bates Old Chapel, that were purchased, moved there, impeccably restored, and repurposed.
Surrounding Fayette County has beautiful landscapes of its own worth exploring. And, even more so, adjacent Washington County, known as the birthplace of Texas, and its county seat of Brenham, provide such pleasures as antique shopping, great barbecue, fascinating historical museums, exquisite wildflower-thronged scenery, and a host of charming hotels, inns, guesthouses, and B&B's within about a 30-minute drive of the Festival.
It's more than enough to make even the most discriminating members of the culturati reassess their preconceptions, redraw their cultural maps, and book their itineraries for Round Top, Texas.
Round Top Music Festival (June 6–July 11), Round Top Festival Institute, Round Top, TX, 979-249-3129, www.festivalhill.org . ( Round Top Festival Institute also hosts other concerts and cultural and business events, both public and private, throughout the year. See the website for a calendar of events and further details.)
(Norman Kolpas is a Los Angeles-based writer on art, architecture, travel, dining, and other lifestyle topics. His work has appeared in publications including Southwest Art, Mountain Living, Sunset, The Times of London, and the Los Angeles Times. Norman also teaches nonfiction writing in The Writers' Program at UCLA Extension.)