Music: Music on the Rocks? A Multitude of Experiences Draw People to a Central Virginia Summer Music Festival
By Mary Burruss
ART TIMES Spring 2014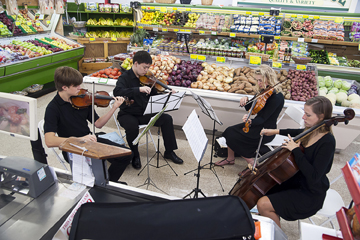 At 77 degrees, it is an unusually cool summer day in central Virginia where 90-plus degrees is the norm for mid-August. A steady mist-like drizzle makes it seem even cooler as I stroll down through Wintergreen ski resort to a large white tent set up at the top of a slope for the Classics III Concert of the Wintergreen Summer Music Festival featuring the Wintergreen Festival Orchestra, guest conductor, Josep Caballé-Domenech and oboist, James Austin Smith. I am eager to hear this orchestra following the impressive student performances earlier in the afternoon. The Wintergreen Festival Orchestra assembles each July at the Wintergreen Summer Music Festival and is a combination of accomplished musicians hailing from all over the country including the Metropolitan Opera Orchestra, Atlanta Symphony Orchestra, Evansville Philharmonic Orchestra, Orchestra of St. Luke's in New York City and Richmond Symphony. A tad late, I scoot into an empty outside isle seat as WPA's Artistic and Executive Director Larry Alan Smith, an award-winning composer, conductor, and pianist, introduces the program. From the first notes, I am glad I made the trip to the edge of the Blue Ridge Mountains to this little-known event.
Smith, a Professor of Composition at the Hartt School of the University of Hartford in West Hartford, Connecticut, Artistic Director of the Associazione Musicale Peligna in Sulmona, Italy, and Music Director for Bowen McCauley Dance in Washington, DC, creates and plans the Festival each year which began in August of 1995 with a series of in-home concerts. It has grown into a four-week summer music and arts festival with more than 225 events including orchestra, chamber music, jazz and solo concerts, an informal, educational seminar series with lectures on topics from music to nature and science, cooking classes, wine tastings, visual and literary arts presentations, a film festival, as well as dance and theatre performances. Special cocktails are created for the Festival coinciding with the overall theme. Popular Juilliard professor, Mozart expert and composer, Michael White, an eight-year veteran of the Festival, teaches two weeks of music seminars for adult learners. "The Wintergreen Summer Music Academy, also held at the same time as the Wintergreen Summer Music Festival, attracts talented students nationally and internationally," Smith said. "Approximately 40 extremely talented young musicians and composers are selected to attend the Academy each summer."
Based at Wintergreen Resort, the Wintergreen Summer Music Festival offers a good excuse to experience the amenities of the resort such as golf, tennis, hiking, horse back riding, indoor and outdoor swimming, spa treatments (A spa junky, I indulged in a Lemongrass and Green Tea Treatment which had my skin feeling baby soft and me feeling relaxed and refreshed) and spectacular mountain views. The area also boasts several wineries, craft beer breweries, live performances including Staunton's famed American Shakespeare Center plus loads of historical sites like Thomas Jefferson's Monticello, The University of Virginia grounds and the Woodrow Wilson Presidential Library. "We come every year and stay for a month — we love the area and the Festival so much," beamed a middle aged couple from Connecticut I met on a Saturday morning sights and sounds nature walk lead by visual artist, Karen McCoy and composer, Robert Carl.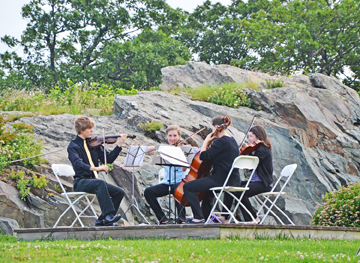 While the bulk of activities take place on Wintergreen Mountain, to add to the fun, the Festival's events occur in a wide variety of venues throughout central Virginia. Of course there is the large tent on a mountain side previously described but one could experience a quintet in an old red barn at a nearby farm, a recital in the halls of area art museums, chamber music al fresco on the charming pedestrian mall in Downtown Charlottesville, or a soloist perched on a craggy mountain overlook. "We really try to find interesting and unusual ways to present concerts and appeal to people's sense of adventure," said Lois Conrad, Past President of Wintergreen Performing Arts over lunch at Wintergreen's Devil's Grill on the golf course.
Named one of the five best festivals in the Central Virginia region in 2012 and in 2013 by the Virginia Tourism Corporation, the Wintergreen Summer Music Festival coordinates all the Festival's activities via a central theme. The theme of the 2014 Festival will be, "AMAZONAS: The Rhythms and Colors of South America" said to Edith Wittig van Wageningen, the WPA Marketing Committee Co-Chair who commutes between Wintergreen and her home in Houston, Texas. From July 7-August 3, 2014, the Festival will explore music from South America as well as some of the world's greatest classical music played by performing artists from South America. "Exotic, alluring, enticing, fascinating and striking . . . just a few of the words that come to mind as one thinks of the diverse cultures of South America," Smith said. Over 200 events and performances will highlight South American music, dance, theatre, film, poetry, literature, history, food and wine. Four guest conductors will lead the various performances: Carl St. Clair, Music Director of the Pacific Symphony in California and the National Symphony Orchestra of Costa Rica; Christopher Zimmerman, Music Director of the Fairfax Symphony Orchestra in Virginia and Fargo-Morehead Symphony Orchestra in North Dakota and Principal Conductor of the American Youth Philharmonic Orchestra in Washington, DC; Andrés Franco, Resident Conductor, Fort Worth Symphony Orchestra in Texas and Mei-Ann Chen, Music Director of the Memphis Symphony Orchestra and the Chicago Sinfonietta. The piano is the focus instrument of the Festival this year, the guest performer list as of this writing is brimming with South American pianists such as Brazilians Luiz de Moura Castro, Paulo Steinberg and Fabio and Gisele Witkowski plus Argentinean, Mirian Conti. The full slate of 2014 Wintergreen Summer Music Festival guest artists will include South American musicians performing as soloists with the Wintergreen Festival Orchestra, in addition to groups devoted to the popular music of South America. For something a little different, Venezuela born, Alcides Rodriguez, Bass Clarinetist of the Atlanta Symphony, will perform a maracas concerto with the Festival Orchestra by Festival Composer in Residence, Ricardo Lorenz. Paraguayan born classical guitarist, Berta Rojas, will also play a concerto with the orchestra.
Based on the amazing music I heard last summer under the big gleaming tent perched on the grassy ski slope, I know this year's Festival will be fabulous but all musical impressiveness aside I am looking most forward to dancing to the Latin beats under the stars with my friends. As Smith summarizes, "If you can't travel to Brazil for the World Cup in 2014, come to the crest of the Blue Ridge for AMAZONAS. As usual, there will be something for everyone!" Indeed.
• In 2012, WPA expanded to present a winter "Valley Season" featuring a Christmas concert by The Virginia Consort and a Concert Series consisting of three additional concerts in 2014. They also sponsor the Blue Ridge Mountain Music Fest, a one-day festival featuring the rich musical tradition of the Virginia Piedmont. In its ninth year The Blue Ridge Mountain Music Fest IX showcases Nothing' Fancy, Sierra Hull, The Virginia Ramblers along with Pete and Ellen Vigour & Kim and Jimbo Cary as musical guests.
•As a diverse performing arts and education organization with its season expanding throughout a full year, WPA makes a substantial economic contribution to Nelson County, where tourism fuels the economy, and to Central Virginia.