Music: CD and DVD Reviews
By Frank Behrens
ART TIMES Online August 2012
DOCUMENTARY
KATHLEEN FERRIER Although her professional career lasted for only eight years, Kathleen Ferrier is considered one of the greatest singers of the last century. As one critic commented, she was strongest in that part of the voice in which most singers are weakest—the chest tones. Ferrier was the ultimate contralto.
To celebrate this remarkable British talent, Diane Perelsztejn made a film titled simply "Kathleen Ferrier," and it is now available on a DVD from Decca. Taking 68 minutes to tell the story of Ferrier's career, the film traces her early rise as a pianist, which led her to perform as a vocalist, which brought her to the attention of the major conductors of her time.
Her love was the Lieder of Brahms and Mahler, her dislike was opera. Her personality was always radiant, her artistic standards the highest possible. She seems to have been a fun person. However, the somewhat sedate mood of the film and the use of still shots rather than film in the non-singing sequences reduce the effect the director was obviously striving for. I have similar DVDs dedicated to the lives of Jan Peerce and Beverly Sills, for example, which are really humorous and lively. "Kathleen Ferrier" could have been a little more in that tone.
A good bonus is a CD included in the jewel case with 51:23 minutes of selected recordings by Ferrier. There are 3 by Bach, 4 by Brahms, and a rare set of selections from a performance of Gluck's "Orfeo ed Euridice" that came from a private collection. Here she is accompanied by Ann Ayars, Ethel Barrymore Colt, and the Westminster Choir.
Lovers of the person and of the history of great singers will want this set.

OPERA AND OPERETTA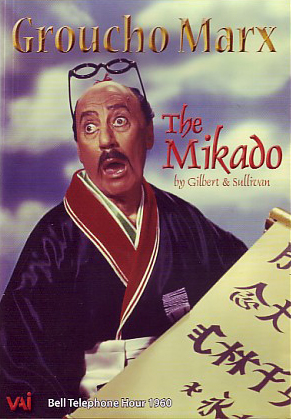 MIKADO What to say about a telecast of "The Mikado" from 1960 that is now available on a DVD from VAI? It is part of the Bell Telephone Hour series and crammed into 50 minutes, once commercials are taken out, and two of the lead singers cannot sing Sullivan's music. Why bother, since it amounts to a series of selections, only five of which are complete?
Groucho Marx as Ko-Ko is the reason for why this disc will be immensely popular—and indeed why I purchased it for my collection. Fulfilling a lifelong ambition, Groucho put his heart, soul, and what little represented his singing voice into the role—and the results are strange.
His "singing" pays little heed to pitch, rhythm, or what the orchestra is playing; and when push comes to shove, he hits a low note of indeterminate value. But of course, that is the point of giving him the role. As with Hyacinth Bucket, a bad voice can be endearing (in Groucho's case) or very funny (in Patricia Routlege's case). The strange thing is that his dialogue scenes are simply not funny. Now and then, he breaks into a Charleston or plays with a fan. But for the most part, he seems not sure what to do and gives a straight performance where one expects hilarity.
The other non-singer is English Music Hall veteran Stanley Holloway, who finds his basso role of Pooh-Bah beyond his vocal abilities. Tenor Robert Rounseville (Nanki- Poo) and soprano Barbara Meister (Yum-Yum) make a good pair of lovers, while veteran operetta star Dennis King makes a colorful and full-voiced Mikado.
Another reason to buy this disc is Helen Traubel as the ugly Katisha. Her contralto is a wonder to be heard and she is given her full solo in Act II. Her great scene in Act I is cut entirely, so her "Alone and yet alive" is doubly welcome. The character of Pish-Tush is omitted entirely and his explanatory song "Our Great Mikado" is spoke-sung by Pooh-Bah.
This production was originally telecast in color; but that kinescope has been lost and a black and white one is substituted. But a bonus on this disc is a 12-minute sequence from another Bell Telephone Hour in which Martyn Green appears in highlights from "HMS Pinafore"—and that is in color. Why Green is costumed as a visitor to the Ascot races rather than the "Ruler of the Queen's Nahvee" is beyond me.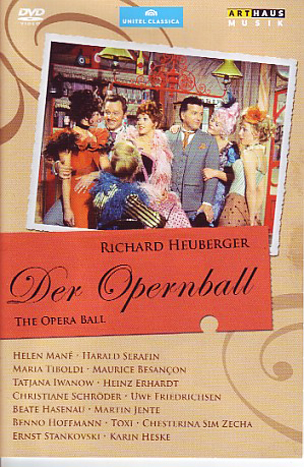 OPERNBALL Yet another little gem from the German television series of operettas that were telecast back in the 1970s. This time, it is Richard Heuberger's sexual romp named "Der Opernball" (The Opera Ball), first performed in 1898 and shown as a television version in 1970. It is now on an ArtHaus DVD and joyfully recommended.
The plot is a color-by-numbers affair that leans heavily upon "Cosi fan tutte" and "Die Fledermaus." In the Paris of the turn of the 19th century, three wives determine to test their husbands' fidelity by sending each an invitation from a fictional countess. The maid of one of them, Hortense (Christiane Schroder), joins in to test her boyfriend's worthiness. Of course, one husband falls for the wrong wife; and a French farce of couples behind closed doors ensues. It is predictable but funny.
The couples--the Dumenils (Maurice Besancon, Maria Tiboldi), the Aubiers (Harald Serafin, Helen Mane), and the older Beaubissons (Heinz Erhardt, Tatjana Iwanow)—are nicely differentiated (one of the men is English, for example); and, as is essential to comedy and farce, the women control the action.
There is a framing device, which is not in the original but which does no harm, in which Toulouse-Lautrec is telling the story to one of his models. It also justifies the scenery, which is all painted in Lautrec style. But giving the women the smallest of domino masks and having their husbands not recognizing their own spouses is a device that demands better costuming—or larger masks.
The music, conducted by Willy Mattes, is very enjoyable and one or two tunes might linger in the memory after a single hearing. One of them, "Let us go into a private chamber," reminds me of an early Jerome Kern song. There are generic songs about how wonderful Parisian women are (Villon wrote one several centuries earlier) and how silly men are.
There are several snatches of ballet in the second act, and I wish more time was given to them. But there is a lot of plot to cram into the 100 minutes running time of this film, and I can see why something had to be shortchanged.
Among those operettas previously released by ArtHaus are Lehar's "The Land of Smiles," "Gypsy Love," "Paganini," and "The Count of Luxemburg"; Kalman's "The Circus Princess"; and Fall's "The Dollar Princess." I recommend that one collect them all.
VIDA BREVE Manuel de Falla could not find a Spanish theatre to stage his short opera "La Vida Breve" (1905). But after it was successful in France, it was finally performed in Spain. Since then, very few recordings of the complete work have appeared, while the dance episodes alone are quite popular. That is why I was very interested in a full production on a CMajor DVD.
Here Lorin Maazel conducts the Orquestra de la Comunitat Valencia, chorus, dancers and soloists. Alas, the director has decided to have nothing but large flats painted to look like molten metal and several chairs instead of realistic scenery. So instead of having the much abused Salud (Christina Gallardo-Domas) watch her Paco (Jorge de Leon) celebrate his marriage from outside his house, there is no house and she is put inside among the guests and dancers. The effect is nightmarish but utterly confusing.
The title "The Short Life" does presage a very pessimistic work. Much of what we hear for the first 20 minutes is an offstage chorus singing "It is bad to be born an anvil instead of a hammer"; to which Salud replies, "Long live those who laugh." She is happy in the arms of Paco for about 4 minutes of stage time, and spends the rest of the work plotting revenge.
Yes, it is very much like "Cavalleria Rusticana," in which the soprano loves the worthless tenor, cannot enter the church, and gets a sort of revenge at the end. However, "La Vida Breve" has those marvelous flamenco dances in Act II. A very nice touch is having the singer at the wedding look like a twin of Salud both in build, face, and costume.
Soprano Cristina Gallardo-Domas is attractive in an earthy way that has a sensuality that "works" in this drama. Of course, her rival, Paco's bride Carmela (Sandra Ferrandez) is a pretty blonde. Maria Luisa Corbacho as the Grandmother is warmly received during curtain calls, but there is not much by way of character for her to build on.
The singing is in the style of the zarzuela, that particularly Spanish form of musical drama that Placido Domingo tried to revive, at least on recordings. At times, the score is slow moving, at other times hauntingly beautiful, now and then (especially the dances) exciting.
This CMajor DVD is certainly worth the viewing. And now, how about "El Amor Brujo" in its complete form?
MISCELLANEOUS
1917 It would not be fair to say that Archeophone's latest entry to their spectacular "Phonographic Yearbook" series is better than all the others, because that would be disparaging to the others. To say that it is just as good is praise enough, because of the excellence of all the other CDs that celebrate the hit songs of each featured year.
Their salute to the songs of "1917" is subtitled "Yankees to the Ranks," and indeed includes such songs as "Over there," "Good-bye Broadway, hello France," "Pack up your troubles in your old kit bag," and even "The star spangled banner" with its seldom heard second stanza.
Love songs are as old (at least) as ancient Egypt, and 1917 carries the tradition with such recordings as "For me and my gal," "'Till the clouds roll by," "Oh Johnny, oh Johnny, oh!" and "What do you want to make those eyes at me for?" (Notice the increasing use of slang in early 20th-century lyrics, as in that last title!).
Among the novelty and other songs not concerned with love or the war are "Hush-a-bye ma baby (The Missouri waltz)," "M-I-S-S-I-S-S-I-P-P-I," "Indiana," and "Livery stable blues." A medley from a musical named "Katinka" is played in fox trot mode by the Victor Military Band.
Some of the expressions like "a lucifer to light your fag" might strike us as confusing and certainly misleading. But fear not, a lucifer to the British is simply a match and a fag is a cigarette. You must have a 1917 mind and vocabulary to appreciate some songs from the past—and from Britain to boot!
Several CD collections use current singers. However, you ain't heard nothin' yet until you hear these numbers rendered by the top singers of the time: Van and Schenck, Ada Jones, Marion Harris, Nora Bayes, John McCormack, Billy Murray, and Henry Burr. Especially fascinating are the vocal ensembles: the American Quartet, the Peerless Quartet, the Shannon Four, and the Sterling Trio.
As always, the booklet alone is worth the price of the album. It is loaded with background information and pictures about 1917, and then it gives a good deal of information about each of the 25 selections on the CD. Who could ask for anything more!
Other Phonographic Yearbook CDs are dedicated to the 1890s (2 volumes), 1906, 1907, 1908, 1912, 1913, 1914, 1915, 1916, 1920, 1921, 1922. For other Archeophone series, see their website at www.archeophone.com.
VICTOR HERBERT As a resource base for the opera and operetta classes I teach, I need as many CDs and DVDs as possible. So when I saw "Victor Herbert: Collected Songs" in a boxed set of 4 CDs from New World Records, I quickly had thoughts of "Naughty Marietta," "The Red Mill," and "Babes in Toyland."
To my surprise, most of the 102 selections in this set are songs not written for Herbert's operettas. The program opens with German Lieder, and then there are songs written for films, songs written for the Ziegfeld Follies, few of which are known to me and all of which are fascinating. There is even a section at the end of CD 4 of unpublished songs. The texts of the German songs are in the informative booklet with English translations. The songs sung in English can be seen on or downloaded from the New World Records website.
So after an initial disappointment, I realized what a treasure chest of special material I now have to give added interest to talks about Herbert and his successors. There is, of course, great variety in the music. Between the somber Lieder and the patriotic "When Uncle Sam is ruler of the sea" and "Old Ireland shall be free," there is fluff like "The twirly little girlies at the end of the line" and songs with much early 20th-century sentimentality.
There are 16 vocalists to give further variety to the program, accompanied by piano. This set is highly recommended to students or just plain lovers of the early musical theatre. Well done, New World Records!
TCHAIKOVSKY Piano versions, sometimes called redactions or transcriptions, of fully orchestrated works will never be a substitute for them. But I love to hear them for a better look into the inner structure of the originals.
Take for example the Divine Art CD titled "Tchaikovsky: Rare Transcriptions and Paraphrases, Volume 1, Orchestral and Opera." Here pianist Anthony Goldstone plays selections by Tchaikovsky: "Marche slave," "Potpourri on Themes from the Opera 'The Voyevoda'," "Theme and Variations from 'Orchestral Suite No 3'," and the delightful "Serenade in C major for string orchestra."
The first transcription is by H. Hanke, the second by Tchaikovsky, and the last two by Max Lippold and Goldstone. If one has never heard the originals, these selections are all wonderful; and then one can go on to marvel at the fully "fleshed out" orchestral versions on other recordings. And what awaits in Volume 2, Divine Arts?
Frank Behrens: fbehrens@ne.rr.com