Hear the Song, Read the Book
By FRANK BEHRENS
ART TIMES Sept/ Oct 2009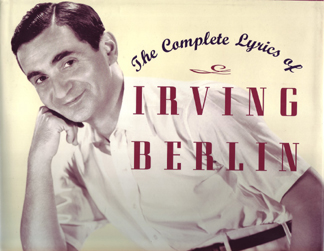 I have on my shelves several very large and heavy tomes with titles that contain the "Complete Lyrics" of some well-known lyricist. Sometimes I think, paraphrasing Robert Louis Stevenson, "what can be the use of them is more than I can see." As the years pass, I do indeed find several uses for them, each one helping me to understand better the development of the American popular song and musical.
By definition, a "popular" song is written for "the people." That is to say, not for a small elite audience but for most of the public whose lives need a little or a whole lot of reassurance that their thoughts, hopes, fears, points of view, are shared by most of the population. Hearing them expressed in rhymes to a memorable melody bucks one up, lets him know (or at least think) that he is not alone.
In his book "Word Crazy: Broadway Lyricists from Cohan to Sondheim" (Praeger, 1991), Thomas S. Hischak points out that the music is so integrated with the words in many songs that "it is a disservice to the lyricist to have his words sitting there on the page naked without benefit of the music." Be that as it may, but I feel that some naked lyrics can stand without shame on their own.
In "The Complete Lyrics of Irving Berlin" (Knopf, 2001), we see for the most part seemingly ingenuous lyrics, using mostly "strong" rhymes. Picking at random, I see in his 1912 "When I lost you" the end rhymes of the refrain: roses, blue, rainbow, dew, me, through, gladness, sadness, you. Skip to the 1950 "Call Me Madam" to find a stanza with these end rhymes: princess, guy, day, princess, guy, pay, another, bring, another, sing, window, sang, say, today. This only seems to show little improvement in his rhyming skills over the years.
However from the same show we get these: analyzing, surprising, nice, patter, matter, twice, shoulder, older, glove, take, ache, love. The "weak" rhymes make things a lot more interesting, as does the a-a-b-c-c-b-d-d-e-f-f-e scheme.
Yes, I know it is unfair to pull out three of the more than 3,000 lyrics Berlin wrote. But my point is that reading his lyrics is not nearly as rewarding as reading those of Noel Coward, Cole Porter, and Larry Hart. His songs seldom "tell a story," an exception being "Cohen owes me ninety-seven dollars" from 1915. Berlin's specialty was to express an emotion in the simplest terms
Like many of Gilbert's lyrics, much written by those three can stand alone as pure poetry, a claim that cannot be made for most of Berlin's. Cole Porter's "The tale of the oyster" from his "Fifty Million Frenchmen" can be read as a party piece and bring down the house if read well, with its wonderful punch line, which I'll not reveal here. (You can find it on pp. 87-88 of the Knopf "The Complete Lyrics of Cole Porter" or hear it on the New World CD of the complete score.)
Now and then, Gilbert would set up a challenge to himself by necessitating rhymes for such unrhymable words as "executioner." Those familiar with "The Mikado" will recall his solutions: ablutioner, diminutioner, so you shun her. Porter posed a greater challenge in having to make a long list of things that rhyme with (to give one example for now) "can-can."
His solution was to finish each end-phrase in the first refrain with the word "can" while having the penultimate syllable rhyme with it. The first few results run thus: Dapper Dan can, Irish Callahan can, Afghanistan can. In the second refrain, he gives us the following: swell can, Ravel can; custodian can, Republican can; Cézanne can, Sudan can, Aga Kahn can, caravan can.
That is, of course, nothing compared with his use of titles in "Brush up your Shakespeare, in which he now and then cheats as in "kick her right in the Coriolanus" to get a rhyme for "heinous."
Again, a good actor could render many Porter lyrics as straight poems with no recourse to the music at all, except of course for the natural meter of the verses. So a book of Porter lyrics is something of a Golden Treasury of Sophisticated Poetry.
Mention should be made of Ogden Nash, whose poems are remarkable but whose lyrics for such shows as "One Touch of Venus," "Two's Company" and "The Littlest Review" are little quoted out of context. Perhaps "Poems are like liquor but lyrics fade quicker"!
In the next essays, I would like to peek into the lyrics of Larry Hart (of whom I have already written much), Ira Gershwin, and Noel Coward. Until then, perhaps some of my readers could submit their favorite lyrics from Broadway, Hollywood, or Tin Pan Alley—songs that can stand naked without the outer garb of melody.
fbehrens@ne.rr.com