Music:
CD and DVD Reviews
By Frank Behrens
ART TIMES Online October 2012
A great variety has arrived, especially some sparkling Mozart operas in the traditional style and even some vintage musicals from the television half a century ago (and more).

ORCHESTRAL
STEREO INTO THE 60s I've simply run out of ways to introduce yet another entry into the fabled "The Golden Age of Light Music" series that now holds 92 CDs on the Guild Light Music label. Having reproduced just about every monophonic LP from Great Britain, they now have released their latest disc titled "Stereo into the 60s."
What I appreciate most about this series is hearing pieces for the first time by composers of whom I know nothing. Next, I love to hear orchestral versions of popular songs from Tin Pan Alley, the British equivalent of TPA, and film scores. On this CD, the last category is represented by "Night and day," "Bidin' my time," "What is there to say," and themes from "One Eyed Jacks," "Ruby Gentry" and "The Alamo."
Among the orchestras are those conducted by Cyril Ornadel, Frederick Fennell, Mantovani, David Rose, Morton Gould, and Billy Vaughn. All in all, the perfect disc for casual listening—as are all collections from this Golden Age series.
LAWRENCE OF ARABIA Now and then a film will have a tune or melody that catches the public's fancy. The theme from "Laura" and "Lara's Theme" come to mind. With the coming of the LP, other highlights from a film score were included; among which my favorites were Rozsa's scores for "The Jungle Book" and "The Thief of Baghdad."
Recently, that same composer's entire score for "El Cid" appeared; and it was fraught with repetition, using a few themes far too many times. This is not noticeable when watching the film but very much noticeable when hearing just the music.
Tadlow Music has released a CD of "Lawrence of Arabia, World Premiere Recording of the Complete Score." While Maurice Jarre's music does have its beautiful moments—especially that haunting main theme—not all of it is worth recording. But a CD can hold more than the old LP, and it does no harm to take the less memorable moments along with the wonderful ones.
The City of Prague Philharmonic Orchestra is conducted by Nic Raine. The program notes, black print on textured tan background, are quite difficult to read; but I am sure the Art Department is pleased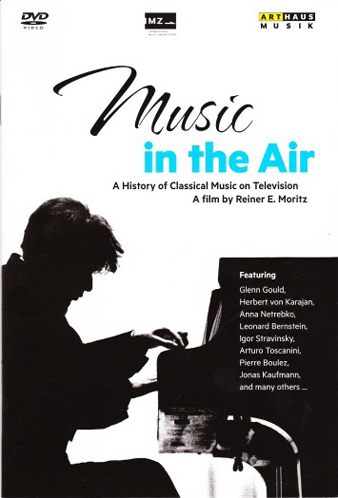 MUSIC IN THE AIR "Music in the Air" is the title of a 1932 musical by Jerome Kern. It is also the title of a wonderful ArtHaus Musik DVD that is subtitled "A History of Classical Music on Television, a film by Reiner E. Moritz."
Starting with the 2011 New Years Concert from Vienna, it then looks back at the earliest BBC telecasts from 1936 and 1937 (!), when the rules of shooting a concert for very small (and very few, back then) screens had to be invented. From there, as much as the 85-minute running time can permit, the story touches upon Toscanini's concerts from NBC, Leonard Bernstein's Young People's Concerts, Herbert von Karajan's love affair with his hands, the first "live" telecasts, Benjamin Britten's opera "Owen Wingrave" (written especially for television), rehearsals and master classes that brought education along with the music, and ending pretty much with classical music on television as it is today.
There is simply no room to list here all the artists, conductors, and others that appear only too briefly as the narration unfolds. There are also shots of a Swedish "La Traviata" performed in a train station! Mind boggling, at the least. Now and then, some musician waxes eloquent on matters musical, using all sorts of abstract nouns; but these moments pass quickly.
The picture is in widescreen (except for clips from older telecasts), and there are subtitles in five languages (none when the dialogue is in English).
WORLD TURNED UPSIDE DOWN The old story goes that the defeated British troops at Yorktown sardonically played "The world turned upside down" as they laid down their arms. True or not, Gourd Music decided to name their CD collection of music from Colonial America "The World Turned Upside Down" and a nice little disc it is.
The12 tunes are played by Barry Phillips and Friends (their names are on the packaging) playing guitar, fiddle, mountain and hammered dulcimers, wooden flute, whistle, mandolin, bouzouki, English horn, oboe, recorder, harp, and several other instruments that help impart an authentic sound to the material.
Among the selections are "The Rights of Man," "Billings suite," "Pretty little horses," and "Sweet Richard," as well as the title song. My only complaint is the short playing time of 42 minutes. But delicious imported chocolates (shall we say?) do come fewer to the box than do more common brands.
By the way, I have most of these selections with the lyrics on other recordings; but I do prefer the relaxing sound of the music only as played by Barry Phillips and Friends.
MAGICAL PLACES I am forever praising CDs from Divine Art that feature the dual piano team of Caroline Clemmow and Anthony Goldstone, who specialize in piano arrangements of popular classics. Their latest is titled "Magical Places, Evocative Symphonic Poems for Piano Duet," offering up musical portraits of several places in Europe and Russia.
In the order presented, there are Mussorgsky's "Night on Bald Mountain" (edited by Rimsky-Korsakov), Alfven's delightful "Swedish Rhapsody No. 1," Ibert's three "Escales" (Ports of Call, as it is better known to us), Lyadov's dreamy "The Enchanted Lake," Britten's "Four Sea Interludes from Peter Grimes," and Ireland's "The Forgotten Rite." Four of these transcriptions are recorded for the first time.
I hope for a second series that will take us to Finland, France, Germany, and other countries overlooked in this collection. But until then, I advise that my readers give this Divine Art disc a try.
TELEMANN I can no sooner explain why I like one food over another than I can explain my preference for some composers of the same period over the rest. That I have enjoyed the music of Georg Phillip Telemann (1681-1767) since I discovered him in the old days of the LP is a fact. And so I was delighted to learn that Brilliant Classics has issued an 8-CD boxed set tersely titled "Telemann Overtures" played by the Collegium Instrumentale Brugense, conducted by Patrick Peire.
In the Baroque era, "Overture" meant a suite of dance tunes, consisting of several of the following (French spelling was used): menuet, gavotte, pasacaille, rondeau, fugue, gigue, passepied, chaconne, and so on.
The instrument combinations were quite varied. The first Overture consists of two trumpets, timpani, strings; the second of just strings; the third of two oboes and strings; the fourth of two oboes, recorder, two violins, and strings. All include a basso continuo accompaniment. No lack of instrumental color here.
Now and then a theme would be chosen for the movements. The second selection, for example, is titled "Burlesque de Quixote" and each movement depicts musically a scene from the novel. So actually it is not strictly an Overture; but it is a suite.
The thin booklet gives some more information about these pieces in general. However, there is no master track listing, so one must look at the back of each CD envelope to find what is being played or the piece the listener wishes to hear.
To those who just wish some relaxing music from the past, there is a treasure of selections in this Brilliant Classics set.
INSTRUMENTAL AND CHAMBER
ULLMANN Viktor Ullmann (1898-1944) composed seven piano sonatas, the last three of which were composed during his incarceration in Terezin, the "showcase" concentration camp designed to show the world how "well" the inmates were treated.
Now available on a Steinway & Sons CD, "Viktor Ullmann, Complete Piano Sonatas," these works are played by Jeanne Golan. What distinguishes each sonata from the others are the composer's musical references to other composers: Mahler in No. 1, Janacek and Czech folk song in No. 2, variations on a Mozart piece in No. 3, Bartok in No. 4, Schoenberg and Slavic folk song in No. 5, Gershwin (!) in No. 6, and Jewish folk music in No. 7. His last work was meant for one of the sonatas but offered as a separate short piece, "Menuett." It is subtitled "Totentanz" (Dance of Death) all too appropriately, because Ullmann was shortly afterward sent to be murdered in Auschwitz.
After being banned by the Germans during the war and forgotten after the war, these works have re-emerged and stand ready for an evaluation 76 years after the composition of Sonata No. 1. Thank you, Steinway & Sons, for providing the chance to do so.
BAROQUE CONVERSATIONS/INVOCATIONS We live in an age of unpleasant contrasts, where the young purchase blue jeans that are already at the point at which we used to throw them out: a huge hole in the knee, tattered bottoms of the legs, and discoloration. We live in a world of noise, where bad music must be played at top volume for those who would reject better music after the first bar. Other problems are raised with modern classical field in two recent CD releases.
"Baroque Conversations" on the Sony Classics label features pianist David Greilsammer juxtaposing four modern pieces with two surrounding Baroque pieces, so that we have four sandwiches, so to speak, of the new inside the old. His goal is to see what they share and how well "they go together." To my ears, they have nothing to say to one another. Courtly dances have nothing to do with dissonant clashes of notes. Others might think differently, especially teachers of musical history.
The Baroque composers are Rameau, Soler, Couperin, Handel, Frogerger, Gibbons, Frescobaldi and Sweelinck. The modern ones are Morton Feldman, Matan Porat, Nimrod Sahar, Helmust Lachenmann. I am not, please, saying that these modern selections are "bad" in any way. But when the lovely Couperin ends and the loud pounding of the keyboard of the Porat starts, the contrast is totally jarring and (to me), artistically ill advised.
Of course, one might program out the modern pieces—or the Baroque ones—but then there would little point in hearing the disc at all.
A problem of a different sort can be found on what seems to be a private label, Our Silent Canvas. Here Christopher Bono has composed "Invocations," as a transformation of Bono's personal experiences into a form that can be shared with strangers—as the composer puts it.
Each of the three movements—"Exhaust," "Fish, Father, Phoenix," and "Sunday Stills the Willow"—is dedicated to his father. I found the first vaguely interesting, but I simply stopped the 16-minute second part after its "technique" became more than annoying. Taking his cue from another modern composer, Bono throws in bits of his father's voice and the sounds of animals to create a "dreamlike" world. For me, it was a grating experience. The CD repeats this movement without the sounds at the end, but I had no desire to hear it again in any form.
"The Missing" for string quartet is a study in dissonances, that begins promisingly but then assails the ear with an series of screeches from the instruments that seem to recall the same musical effect that accompanied Janet Leigh's being murdered in the shower at the motel in "Psycho." But that is the intended effect, one might argue. I cannot argue back.
To be honest, I am sure that there might be many who appreciate this music. And perhaps the day when I agree that knees showing through holes in jeans are attractive might be the day I can enjoy this music. Perhaps I was just born too early. And perhaps the emperor simply has no clothes.
MUSICAL THEATRE
MUSICAL THEATRE ON DVD My deep thanks to Video Artists International (VAI) for preserving on DVD musical comedies that were seen on television back in the 1950s.
There is Cole Porter's "Kiss Me, Kate" from 1958, historically as well as entertainingly important thanks to Alfred Drake and Patricia Morrison in their original roles. There is Rodgers and Hart's "A Connecticut Yankee" from 1955 with Eddie Albert and Janet Blair. This was "live" television, mistakes and all. My favorite is the time when a knight's beaver kept falling over his eyes and he could barely open it on the third closing. I will report on the others telecasts when I get to view them.
The most recent entries form a neat contrast to how the originals were handled. First of all, each show was allowed 77 minutes for the musical itself and a good deal of cutting had to be made. That is acceptable. Second, the picture and sound are obviously 1950-ish, far from the state of the art features of today's technology. That adds to the charm of watching these videos.
"Dearest Enemy" is a 1925 early effort by Rodgers and Hart that contained only one song that outlasted the original run, "Here in your arms," but the rest of the score is by no means inferior to most musicals of the times; and Larry Hart's clever rhymes show the promise of even cleverer ones to come. It was telecast in 1955.
The cast has Cornelia Otis Skinner as Mrs. Murray, who became a legend when she delayed General Howe from surprising George Washington by throwing a party; and Anne Jeffrey as Betsy, who distracted his second in command (played by Robert Sterling). Cyril Ritchard steals most of his scenes as a jolly and prancing Howe. The party is history, the rest is Broadway.
It is helpful that Jeffrey's operatic voice was nicely matched by Sterling, whose voice is strong enough to keep up with hers.
From what I could research, this television version seems very faithful to the original play, except (I suspect) for the framing device of having Howe and three other generals look back years later at how a bunch of lovely colonists lost the war for Britain.
On the other hand, Oscar Straus' "The Chocolate Soldier," shown earlier in 1955, suffers a sea change that is truly a disgrace. It is faithful to the original in Act I, and then the plot changes to a farce in which the title character poses as a general. Operetta revivals have almost consistently showed no respect for the original work. Hollywood would take, for example, "Naughty Marietta," keep the songs, throw away the plot, come up with a new scenario, while still calling it "Naughty Marietta" to attract audiences.
I question why the producers of the television thought fit to hire writers, Neil Simon among them, to come up with an "American version" of a European classic. Badly miscast from a vocal point of view is Eddie Albert as the common sense fugitive who prefers chocolates to bullets and falls for the young girl in whose bedroom he has taken refuge. His duets with the female lead point out his vocal weakness somewhat painfully.
You see, that girl is played by American Metropolitan Opera star Rise Stevens—and that is a great reason for wanting this DVD. Although she looks a bit old for a young girl, her mezzo is fabulous. "My hero" never sounded as good! Akim Tamiroff, who plays her father, cannot sing at all, while his English is often hard to follow.
Less fabulous is the silly dance given to the country's troops (no name is given to either country in the war) that goes on far too long. The ballet sequence with Bambi Linn and Rod Alexander, as well danced as it is, is not at all integrated into the plot.
One word about the packaging of these discs. VAI gives the complete cast on the back cover with some program notes that are quite interesting. Better yet, there is an insert that gives the tracking numbers for each song and scene of dialogue (so you can jump around to your favorite songs). It even gives the timings. A good job all around.

MOZART AT SALZBURG FESTIVAL ArtHaus Musik has collected three Mozart opera DVDs under the supertitle "Mozart at Salzburg Festival." Among them, they represent three stages in the evolution of opera productions at that august location.
"Le Nozze di Figaro" comes from a 1966 performance and is in the tradition of opera as it was presented then: full scenery, period costumes, and no "concept" to distract from the plot or characterizations.
The cast is a solid one with Ingvar Wixell (Count), Claire Watson (Countess), Reri Grist (Susanna), and Walter Berry (Figaro). Their acting is believable, as are (once again) the period costuming and scenery. Although, or perhaps because, the film is in black and white, it adds to the charm of a human story told in a human setting. The conductor is Karl Bohm.
"Die Zauberflote" was filmed in 1982 and is still traditional but with many a fanciful touch by director Jean-Pierre Ponnelle. But of course, the fanciful is what this work is all about and acts as a bit of sugar-coating for the Freemasons message that is a little overdone in the dialogue and lyrics.
The cast includes Marti Talvela (Sarastro), Peter Schreier (Tamino), Ileana Cortrubas (Pamina), and Christian Boesch (Papageno). I was not entirely happy with the miking, especially that for Edita Gruberova as Queen of the Night. She was quite far upstage and elevated for each of those wonderful high notes to be heard with clarity.
But all in all, this is a no-nonsense production that can stand against the Egyptian-oriented setting from the Metropolitan Opera. Both that and this Salzburg performance are conducted by James Levine.
"La Clemenza di Tito" (2003) is an excellent example of the director who hates the work. That is to say, when one does not trust the work done traditionally to please a modern audience, one decides to stage it in a surreal setting with modern dress and props. Yes, Mozart staged it in modern dress, which happened to be the gorgeous court costumes of his day. The eye was not cheated as is today's eye as it gazes upon white shirts and black slacks with a chorus dressed as modern tourists. And how different can the effect be since every other director in Europe and many over here are doing the same thing?
So I will not comment further on this production, nor on any of the other like productions being done then and even today.
Each set has subtitles in several languages and "Tito" is in widescreen.
OTELLO The most recent addition to the ArtHaus Musik series of DVDs that have restored telecasts of operas from the Deutsche Oper Berlin back in the mid-1900s is one of Verdi's masterpieces, "Otello," shown in 1962. The big draw here is Renata Tebaldi as Desdemona, whose reputation motivated the rest of the cast to learn their lines in Italian. Time did not allow the same for the chorus, and so the latter sing in German. But the English subtitles even things out.
The direction is simple, practically simplistic. In the opening scene, the chorus is divided into large blocks of singers, each one of which plunges forward on cue, and then withdraws for the next block's plunge. When Otello appears, the spot is not on him for the first lines for his "Esultate," and his heavily darkened face fades into the background.
Worse, none of the leads seem involved in their roles, including Tebaldi. Hans Beirer (Othello, as it is spelled in German) sings to the audience, forcing his beloved to do the same. (They do face for a quick kiss, and then back to the audience.) William Dooley's Iago is as mild as can be—and it is not part of the characterization. Indeed, there is hardly any characterization, and his "Credo" has no force whatsoever. The minor characters fare a little better.
Otello and Desdemona are much more dramatic in Act IV, where the two must be a little over the top; but by then it is too late.
The scenery is what it was back in the 1960s, odds and ends of what was available in the warehouse from other productions. But this more or less adds a period charm to the proceedings. Yes, I want this DVD because of Tebaldi. She looks and sounds gorgeous. She also looks as if she were wishing she were back in Italy!
Tebaldi is in top voice. The others, unable to find a character, sing well but lack all sense of drama.
The running time is 150 minutes and the subtitles are in five languages.
DOCUMENTARY
CAROL CHANNING The E-one DVD titled "Carol Channing, Larger Than Life" is less a biography than a series of love letters to the star who was at the time of filming 90 years of age. The framing device shows a still lively Carol reminiscing about past glories as she goes from place to place in Manhattan, barely able to walk without assistance, and accompanied by her adoring husband Harry.
There is even a scene in which she is rehearsing a dance number (!), more or less held up by some very careful young dancers. I know what she was trying to prove, but it did seem mostly unnecessary. You can't, as they say, go home again.
Among the many notables who have fond recollections of Channing are Barbara Walters, Jerry Herman, Chita Rivera, Tommy Tune, Betty Garrett, and Debbie Reynolds. Much emphasis is put upon her role in "Hello, Dolly"—a bit too much for my taste—and some of the footage of her in the grand entrance scene in some past revival does not show any great dance talent on her part.
But it is very hard to dislike Carol, whose nearly over the top "show biz" professionalism makes her the legend that she is. The extreme close-ups, however, do her no favors.
The bonus amounts to a series of 15 outtakes, the funniest one being about how Carol ruined Joan Crawford's wedding in a way that I leave to my readers to find out by watching. Barbara Walter's account of her sister's relationship with Carol is more revealing than all the unstinted praise the others heap on Carol for her performances.
"She is a force of nature" is a cliché I could have done without. So were Yul Brynner, Marlon Brando, and even Bette Davis. But love letters are seldom reasonable.
The running time of the feature is 89 minutes, the picture is in widescreen format, and there are easy to read subtitles.
Frank Behrens: fbehrens@ne.rr.com