Music: CD and DVD Reviews
By Frank Behrens
ART TIMES Online October 2011
ORCHESTRAL
MANFRED Deeply disappointed that the Age of Reason made people no happier than they were before (except for some physicists and mathematicians), many thought that a return to Nature in the raw would tell us more about Nature itself than does all of Newton's calculus. And so was born the Romantic Movement, with its poets in capes that billowed out in the wind as they stood on a craggy peak and looked out over the sea.
Lord Byron was one of the movement's exemplars and his play "Manfred" is a good example of Romanticism. A young lord, disgusted with it all, wants to jump off the Jungfrau and is stopped by a more optimistic chap, who brings him to ground level. Along the way, supernatural beings pop up to debate with him; and there is a good deal of talk that holds little interest for most readers today.
It did, however, impress Robert Schumann enough to compose a score to an abridged German translation of it. It calls for several speakers and a large chorus, and was completed in 1852. In 2010, Schumann's opus was performed at the Tonhalle Düsseldorf with Andrey Boreyko conducting and Johannes Deutsch directing the production. It is now available on an ArtHaus Musik DVD.
And what a production it is! Using all sorts of laser light effects, it gives the audience not only a concert but a light-show. A long elliptical screen is positioned above the orchestra, onto which are projected abstract colors, arches, moutainscapes, and a large superimposed face of Johann von Bulow, who reads the part of Manfred in German, mostly in an annoying whisper. Of course, one of those telephone-operator head mikes is in full view and simply looks silly.
All the actors are seated to the audience's right of the orchestra; but when they stand up to speak, it is hard to tell from the video who is supposed to be which character. The English subtitles, taken from the Byron original, do not identify the speaker and it is all pretty confusing. I kept the text open for part of the performance, but the cuts made me give it up.
Schumann's score is more incidental music that fully symphonic (others will contradict me) and I found my attention strained during the 89-minute running time.
It is certainly worth the hearing, I must admit, but it will take patience.
PREVIN A European company called ICA Classics has been issuing classical concerts on DVDs. One of their most recent contains three selections from BBC telecasts from the 1970s in which Andre Previn conducts the London Symphony Orchestra.
The first selection, filmed at Royal Albert Hall in 1973, is Rachmaninoff's "The Bells." I must admit that this is my first hearing of this work, and I did not like it at all. Although it is performed here in English and uses Poe's own words (Rachmaninoff used a loose Russian translation) and although I had the text open before me, I could not understand a single word sung by the huge chorus. Indeed, I had the same problem with soprano soloist Sheila Armstrong, who sang the Wedding Bells section, less problem with tenor Robert Tear's Sleigh Bells and with baritone John Shirley-Quirk's Iron Bells. The Alarm Bells was for chorus only.
If any DVD needed subtitles, this surely is the one.
More important is that Rachmaninoff's score shows no delicacy in Sleigh Bells and no joy in Wedding Bells. The slow ponderous tempi make them sound almost funereal. So all in all, this selection is heavy going in all senses.
(Note: Poe's poem, the best example in English verse of making the words sound like the subject, has been praised by some and mostly dispraised by others who consider it just overdone and silly.)
On the other hand, I laughed all through Prokofiev's "Lieutenant Kije Suite," because I knew the plot of the satirical film for which it was written. The Tsar mistakes an interjection for the name of a solider, and his courtiers are required to invent a fictional "Lieutenant Kije." So the music portrays his birth, marriage, other moments, and finally his funeral. Perfect!
As an encore piece, Previn conducts the overture to Bernstein's "Candide."
I never thought Previn to be a really great conductor, and this DVD shows him to conduct with an almost passive expression. But I can take that over the theatrics of Bernstein as conductor and others of his kind.
The running time of the three pieces is 62 minutes and the picture is in 4:3 format.
MEISTERSINGER As if to prove Mark Twain's comment that "Wagner's music isn't as bad as it sounds," there is a Chandos CD titled "Meistersinger, an Orchestral Tribute." Neeme Jarvi conducts the Royal Scottish National Orchestra in a program of music by Wagner. It starts with a 48-minute arrangement of music from the not-all-that-comic opera, more famous for its overture in the concert hall than for full productions in the opera house. While I seldom play my recordings of the full work, I often enjoy a collection of Wagner overtures; so this arrangement suits me fine.
I must add that I somehow feel that this orchestral arrangement has more humor than I find in most full recordings of the opera. It is divided into 11 tracks, each one identified in the track listing. Most considerate.
The other works that fill this CD (the running time is just below the 80-minute time limit) are "A Faust Overture," which should be compared with the Prelude and opening bars of Gounod's "Faust" as well as the first movement of Liszt's "Faust Symphony"; "Two Tragic Entr'actes," which Wagner left as only sketches and therefore of great interest; and "Overture to Columbus," which introduced a once popular play by Theodor Apel.
I really appreciate the mixture of obscure works, a familiar one, and an arrangement of an even more familiar one. I would like Twain's opinion on this Chandos offering and am sure it would have been witty.
OCEAN'S KINGDOM The theatre section in the New York Times of September 11 had a long article about Paul McCartney's ballet "Ocean's Kingdom." There was much to be said about its history, orchestration (not all by McCartney), and choreography that proved interesting reading. However, now that Telarc has released only the score on CD, I can report only on what I hear and ignore the visual aspects entirely.
After all, one can listen to the score to "Swan Lake" with great enjoyment while not knowing a thing about the scenario. Indeed, I saw a ballet company perform "Gaiety Parisienne" with a "plot" that had no resemblance to the original.
The work is divided into 4 parts. The first is called "Ocean's kingdom" (14:07 min.) My first impression was that of hearing Debussy's "La Mer" and Vaughan Williams' "Sea Symphony," without anything extraordinary or even original, underlined with a back and forth rocking in the bass that is the sine qua non of musical pictures of the sea. It sounds impressive and might sound even more so when one views the ballet, but close listening reveals (again) nothing special.
The second part is titled "Hall of Dance" (16:19) and it is jolly enough. But again, it strikes me as terribly derivative, calling to my mind Copland's "Hoedown" movement from his "Rodeo," the "Slaughter on Tenth Avenue" from Rodgers and Hart's "On Your Toes," and most of Bernstein's score to "West Side Story." But there are some lovely moments that seem to be McCartney's own.
"Imprisonment," which follows, is a sort of moody Adagio, which seems far too long at 13:36 min. to hold its own on a CD. There is much more variety in the last movement, "Moonrise" (12:29 min.), in which the very end of Stravinski's "Firebird" is recalled: a series of crescendos, a drop back to more serene passages, another crescendo to a higher pitch of excitement, and so on.
So to be honest, although I realize that judging a ballet by just the score is not really fair, this CD was issued with just that score and is on that basis to be criticized. But McCartney is sure to be praised by his fans for the attempt and for the ballet as a whole.
GUIDE TO BRITAIN The folks at EMI Classics have from the LP days been issuing a series called The British Composers, most or all of which has been transferred to CDs. Most recording companies are in the habit of garnering bits and pieces of earlier sets and reissuing them with some thematic tie-in. So if they have or once had (say) Domingo under contract and have issued several complete operas with him as lead tenor, one can bet that "Domingo Sings Opera" or some such name will appear on one or more CD covers.
Well, EMI's "Guide to Britain" is one of the more successful collations. There are 50 selections spread onto two CDs. Each one celebrates a specific locale on the British Isles or some aspect thereof. The program is organized into music that refers to London, Essex, Cambridge, East Anglia, Derbyshire, The North, Scotland, Wales, Shropshire and Worcestershire, and so on. Some selections are complete, some are excerpts from longer works. The cover listings identify the latter.
Among the selections mentioning cities or parts of cities are "Knightsbridge march," "The lass of Richmond Hill," "Come you not from Newcastle?" "Swansea Town," "An Oxford elegy," and "In Windsor Forest."
Among the areas around the cities that are celebrated are "The Lincolnshire poacher," "A Shropshire lad," and "Folk songs from Somerset." Concerning spots within
the cities, there are "Yarmouth Fair," "Briggs Fair," "Barwick Green," "St Paul's suite," and "Covent Garden."
Other aspects of the Isles are represented by "Bushes and briars," "The ash grove," "Brook Green suite," and "The trees they grow so high."
The more familiar composers included in the program are Benjamin Britten, Peter Warlock, Percy Grainger, Hubert Parry, Ralph Vaughan Williams, Malcolm Arnold, Gustav Holst, Edward Elgar, and Arnold Bax. The selections by the lesser known names might encourage one to seek out more of their works.
Several of the selections include vocal parts, and here the singers are top-notch: Robert Tear, Janet Baker, Benjamin Luxon, Ian Bostridge, Ian Partridge, and the Choir of King's College, among others.
All in all, this is an excellent collection of its sort and might even be used to add some interest to geography lessons (if they are still being taught in this country).
COMPOSER CONDUCTS 1,2 Now that the epic Guild Light Music series The Golden Age of Light Music has about 80 CDs, I find it more and more difficult to praise this series without repeating myself. So lately I have been making gentle fun of how hard pressed they must be not only to come up with so many titles but how to arrange the material so that each disc has some sort of unifying theme.
If all the selections are by the same composer, there is little problem. A title like "Animal Antics" clearly announces that each selection will have something to do with teddy bears having a picnic or the like. So when I received copies of "The Composer Conducts" Volumes 1 and 2, I had no idea what would be on it but I got the idea of the basic tie-in.
There are 26 selections in V. 1, 5 of which are in stereo; and the years of the recordings are from 1951 to 1960. To my knowledge, I have never heard a single one of them, except for the Leroy Anderson "The phantom regiment." The timings range from 2:01 minutes ("Montana round-up") to 7:04 ("Symphony in jazz, 1st movement"). Each is a little musical portrait of its subject, be it "Jet journey," "Puppets on parade," or "Sports arena."
I note with interest that several new orchestras appear on this disc, while many of the orchestras that dominated the older Guild CDs are absent.
The 22 selections in V. 2 include music from films, both British and American, such as "Things to Come," "Pinky," and "The League of Gentlemen." Few of the other selections will sound at all familiar: "Dawn fantasy," "Salute the soldier," "Amethyst march," "Naval occasion," "The Dancing Years," and so on.
However, familiar or not, both Volumes of "The Conductor Conducts" are filled with music that is at the least interesting and at the most highly enjoyable. And because most of these selections appear in no other version, one cannot fairly judge the old adage that a composer is the worst conductor of his own music.
Still, this recent Guild disc is as much a delight as all that have gone before!
BACH KEYBOARD CONCERTOS It is always good to enjoy a recording of Murray Perahia at the keyboard, especially (as the press release points out) with the music of J.S. Bach. Sony Classics has released a specially priced box set of 3 CDs with Perahia playing the 7 Bach Keyboard Concertos, with 3 others on the third disc. The recordings were made in 2001-2002.
It is disconcerting to read in the program notes that all the 7 are arrangements, the originals of which have been lost. This gives Perahia a little leeway to emphasize in his interpretations (the press release again) "the irrepressible and infectious vitality, the ever present and equally contagious sense of dance, with its jubilant physicality and irresistible momentum, the rapturous lyricism, the sensuous love music." (Who would think they wrote like that any more?)
All such hyperbole aside, our artist does seem to be having a good time, even in the slower movements, as he leads the Academy of St Martin in the Fields from the keyboard. However, about how many other pianists can one say the same? Still, Perahia know what he is about.
The contents of disc 3 are "Concerto for Flute, Violin & Harpsichord in A minor," "Brandenburg Concerto No 5," and "Italian Concerto in F major." So we have here a very enjoyable album of familiar material.
INSTRUMENTAL
ARRANGEMENTS Often arrangements in a modern style of classical works do indeed work on both levels. Two examples have come my way that might start something of an (intellectual, I hope) debate.
(1) Jazz arrangements of the classics are no new thing, but the CDs that feature the Jacques Loussier Trio have been quite popular in both classical and jazz camps. This time, Loussier has chosen the "Kinderszenen (Scenes from Childhood)" by Robert Schumann to translate respectfully 13 of those scenes in terms of jazz and even bossa nova. Schumann purists will naturally object, while jazz enthusiasts might love the results even without their even having heard of the original pieces. It is all very enjoyable, but I feel Schumann gets considerably short changed in the translation. This program is on the Telarc label.
(2) "An Evening in the Village: The Music of Bela Bartok" on the Fine Mighty Records label succeeds mostly because the treatment of Bartok's East European melodies is not a far cry from the American bluegrass approach. Here Jake Schepps (on his own label, Fine Mighty Records) takes 19 pieces or sections of pieces by Bartok and reinterprets them in his particular style. As much as I love Bartok's folk music and as little as I admire blue grass style, I can find Shepps' arrangements even a bit more exciting than the original, if a little less mysterious.
So these two recordings, so alike in their purposes, produce for me far different results for one reason: the original of one is enhanced by the approach, while this is not so in the other case. Not quite QED, but it is the best I can express it.
ISBIN A most enjoyable CD has come my way from Sony Classical with the title "Guitar Passions: Sharon Isbin & Friends." Isbin, a highly respected guitarist, is joined by 5 other guitarists, soprano saxophonist, an organic percussionist, and a vocalist. Various members of her ensemble join her in 12 selections that are a salute to guitarists whom she has admired and who have influenced her playing. Some are arrangements to compensate for lack of a full orchestra.
The back cover, black print on a white background, gives only the last names of the composers. The booklet, the art department at Sony decided, has their full names in small white print over a red background. I will not ruin my eyes trying to read any of it. (My continuing war against this nonsense is a losing one, I suppose.)
But the music is exciting and often beautiful, and I can recommend this disc to all lovers of the guitar and Latin/Spanish music.
VOCAL
ENGLISH FOLK SONGS How I admire some of the smaller recording companies that can take chances with local or otherwise not widely known groups. Adding to that my love of English folk songs, it is understandable that I wanted to hear a Regis CD titled "The Songs of England."
The program is divided into three sections. Selections 1-7 and 20-23 are sung by John Potter and Lucie Skeaping, accompanied by The Broadside Band. 8-9 are sung by Jo Freya. Unlike recordings of the same material by opera singers who overwhelm the simplicity of the music, this Regis CD has cast far more "authentic" sounding performers. In short, one feels a time trip into (say) Jane Austen's time would bring the traveler to voices like these three.
To these American ears, Freya's regional accent does demand close listening or the use of an anthology of English folk songs to follow the words. Potter and Skeaping are just fine in their assignments, with one exception. "Rule Britannia" and "God save the King" as duets lack the required pomp and circumstance that two voices cannot achieve. "The British Grenadiers" seems to cry out for a solo.
Some of the other selections are "Greensleeves" (of course), "The roast beef of old England," "Sweet England," "Drink to me only with thine eyes" (not quite a folk song), and "Lovely Joan." There is a nice mixture of familiar and less familiar songs here, and all are quite enjoyable.
The program notes cram a lot of information about the songs onto two small pages, but nothing is said about the performers.
HENRY BURR Those who have been following my reports on Archeophone releases know that they are dedicated to transferring acoustic (pre-electric) cylinders and discs to CDs. Some collections are devoted to a single time period, some to a single year, some to orchestral and/or vocal groups, some to single singers. Among the latter are Bert Williams, Nora Bayes, Sophie Tucker, and Henry Burr.
I am quite sure that the last name means little, even to those familiar with the great names of the vaudeville stage. This will be no longer the case after hearing, "Henry Burr Anthology: the Original King of Pop."
This Canadian-born tenor turned out about 5,000 recordings for over 100 labels; and this disc provides 27 examples, recorded from 1903 to 1928. Along the way are favorites such as "Silver threads among the gold," "In the shade of the old apple tree," "Shine on, harvest moon," "I wonder who's kissing her now," and "My buddy." To many listeners, the unfamiliar pieces will prove even more fascinating.
Of special interest are the tracks on which Burr is joined by Frank Stanley, Ada Jones, Billy Murray, and other vaudeville notables. Vocal teachers and choral groups will be fascinated with the style of singing in vogue back then, while Social Studies teachers might do worse than to integrate samples from this CD into lessons about American society during those 25 years.
As always with Archeophone, the accompanying booklet is jammed with information and pictures about the period, its stars, and of course Henry Burr—and as always, it is alone worth the price of the set.
OPERA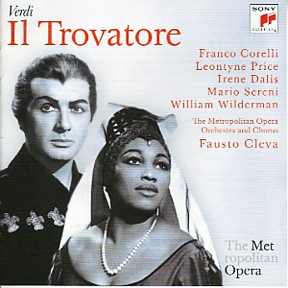 TROVATORE Even as I was taping "Il Trovatore" from the Metropolitan Opera on 8-28-11, I was listening to that very same work as it was broadcast over the radio on February 4, 1961. I was able to do this thanks to Sony Classical, who has been authorized to release on CD several of these vintage Saturday afternoon broadcasts.
This performance stars Franco Corelli (Manrico), Leontyne Price (Leonora), Mario Sereni (Count di Luna), and Irene Dalis (Azucena). I will not attempt to synopsize the plot here, other than to say it is based on a complicated Spanish play. Verdi's librettist chose to leave out any information that explains who is fighting whom, why, or where. But the music alone is so utterly enjoyable that few listeners really care.
My only quibble is that Sereni's Count lacks character. He sings the notes with generalized emotions, but does not seem as involved as other baritones, such as Leonard Warren, do in their recordings, most of which are from a studio and not a "live" performance. The sound is 1961 radio sound, with most of Corelli's clarion high notes sounding almost like those of a light baritone. And to be sure, a pro-Corelli claque is very present, shouting "Bravo" even after his first few off-stage bars of music. Most annoying.
And will American audiences EVER learn to hold on to the applause until all the music is finished at the end of a number or of a scene? The Met, of course, does not help by closing the curtain while the music is still playing, encouraging this bit of juvenile behavior. I honestly think that many attend operas so they themselves can be heard shouting or whistling expressions of admiration to the singers.
Fausto Cleva directs with his usual efficiency, but this is a traditional "Trovatore." At that time in opera history, scenes in abstract settings and everyone on stage dressed in overcoats or rumpled suits such we as have today would have been booed to a halt. So this Sony Classical 2-CD set is interesting and valuable as a piece of Metropolitan Opera history, but it will never serve as a first choice audio recording of this wonderful work.
Some of the other broadcast releases on CD are "Un Ballo in Maschera" (1955) and "Don Carlo" and "Rigoletto" (1964). Check www.SonyMasterworks.com for more information.
OTELLO While one once had to be a member of the Metropolitan Opera Guild to purchase vintage audio and video recordings of the house's broadcasts, Sony Classics is now distributing many of them on CDs and DVDs.
For this report, I will concentrate on Verdi's "Otello" as it was telecast on September 25, 1978, with James Levine conducting and Franco Zeffireli directing.
Although it is good to see an Otello sung by a tenor other than Placido Domingo, I could not be comfortable with Jon Vickers. Although he is universally praised for this role, I found him putting nothing more into his character than endless self pity. He is not helped by his makeup, which makes his already imposing face seem twice its size and (sorry to say this) more like James Arness in "The Thing" than a noble Moor. I have, on the other hand, nothing but praise for his vocal characterization.
The Iago of Cornell MacNeil is underplayed and his voice cannot cope with the trills that are an essential part of the characterization of that role. He assumes postures, moves awkwardly across the stage, and seems to be going through the motions than feeling the emotions.
Renata Scotto is perfect as Desdemona. She sings marvelously throughout, and her reactions to Otello's lunatic accusations seem to be deeply felt rather than just pasted on. Raymond Gibbs is attractive enough to make his Cassio a credible danger to any woman and is also a fine singer. Ironically, the most beautiful voice in this production is that of James Morris in the small role of Lodovico, who appears only at the end of the Act III and briefly at the end of Act IV. I would have preferred him as Iago.
Zeffireli being Zeffireli fills the stage in Act I with an army of chorus and extras, and then lights it so that almost none of them can be seen. The fire chorus is sung with no one looking at the tiny "blaze" that is supposed to light up the scene, according to the lyrics. The lovely ensemble in praise of Desdemona in Act II is amateurishly handled. Levine's excellent conducting keeps things moving despite the director.
Still in all, as a record of what the Met used to be like, this DVD deserves viewing by all lovers of the Verdi masterpiece.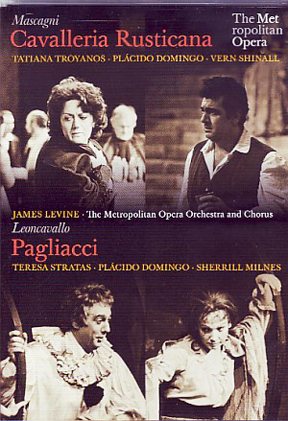 CAV AND PAG If there was ever a "dynamic duo," it is not Batman and Robin but "Cav" and "Pag." These two superb examples of the verismo (true to life) style of opera have forever been linked, because neither is long enough to comprise an evening at the opera ("Godfather III" notwithstanding), while the nearly equal lengths of about 70 minutes each are just right for a double feature.
Sony Classics has released on DVD, among several other videos and radio recordings of vintage Metropolitan Opera broadcasts, the April 5, 1978 performance of the double bill, Mascagni's "Cavalleria Rusticana" and Leoncavallo's "I Pagliacci." Both star Placido Domingo in the tenor roles, conducted by James Levine and directed by Franco Zeffireli.
Both productions are traditionally done. (The City Opera set both under the 3rd Avenue elevated in old New York, making the opening chorus of "Cav" sheer nonsense.) The only real problem is the sound. Some of the voices early in "Cav" are badly miked. Far worse is the poor miking of Domingo's first bars in "Pag," which are pretty much inaudible. Where were the sound engineers during rehearsals?
Tatiana Troyanos is a lovely and heartbreaking Santuzza, who manages to make her passion for Turiddu quickly turn to burning hatred. Isola Jones is a sexy Lola, while Vern Shinall is a not very interesting Alfio.
"Pagliacci" is blessed with the fine soprano actress Teresa Stratas (who has enough stage wisdom to dispose of a stool that has just tripped up Domingo during the play scene). It is impossible to make her lover Silvio (Alan Monk) three dimensional, but the singer tries. Sherrill Milnes as Tonio delivers a heavyweight Prologo to the Met audience, but I think it a mistake to have him in full clown costume. It is the man beneath it, he tells us, that really matters.
Also found in this Sony/Met DVD series are "Lulu" (1980, with Julia Migenes), "Otello" (1978, with Jon Vickers), and "The Magic Flute" (2006, a shortened version for children). The CD sets of vintage Met broadcasts are too numerous for me to list here. They will all bring back fond memories of Saturday afternoons for the broadcasts and evenings for the videos.
COQ D'OR I grew up with suites from the Rimski-Korsakov operas but have seen a complete performance only of "Le Coq d'Or," as it is called outside of Russia.
In 2003, a stunning production was given at the Theatre Musical de Paris, Chatelet, conducted by Kent Nagano. It featured the chorus of the Marinsky Theatre, St. Petersburg and an all-Russian (minus one) cast. Perversely, the director passed up the chance to show the splendid Russian costumes from the past and decided upon a Kabuki theme. Since it is a supernatural tale, I suppose one brilliant set of costumes is as good as another. The characters grimace broadly with corresponding body movements in the Kabuki style. So in watching, I just made believe that a Japanese troupe was acting out an old Russian tale.
This production originally appeared on a TDK DVD, but it has just been reissued on the ArtHaus label. Running at 108 minutes, the story moves along with just a few moments of less interesting musical material, mostly of a repetitious kind.
Vocally, there are few problems. The greatest applause was given to Barry Banks, who manages the cruelly high register of the Astrologer with no apparent effort. On the other hand, Olga Trifonova seems in trouble in one very high note of her "Hymn to the Sun" in Act II. The equally high but considerably shorter part of the Golden Cockerel poses no problems to the pretty Yuri Maria Saenz.
The comic role of King Dondon is sung with character by Albert Schagidullin. It was his stylized acting that made me wonder if this opera could be done realistically, or at least less cartoonishly.
The plot, based on a Pushkin story, is really an antiwar satire. Those who saw the film "The Life and Death of Colonel Blimp" might recall the beginning in which a war maneuver was set for midnight, but a realistic officer attacked at 6 in the evening to stress how the enemy does not stick to rules. When the "Coq d'Or" begins, we hear how the many enemies on Dondon's borders always give a month's warning before attacking. So a Golden Cockerel is posted to warn against unexpected attacks. The denouement is ironic.
The running time is 108 minutes and there are good subtitles.
PIQUE DAME Pushkin's supernatural short novel, translated as "The Queen of Spades" was the basis of Tchaikovski's 1890 opera "Pikovaia Dama," now better known as "Pique Dame." There are several DVD recordings of this work, the latest of which is on the Opus Arte label. The production took place in 2010 at the Gran Teatro del Liceu, Barcelona, conducted by Michael Boder.
The story concerns a young officer Hermann (Misha Didyk), who never gambles his meager riches but who overhears a strange story in a park. A beautiful countess, having lost all she had playing cards, paid in some unknown way for three cards that would always win. This being just what Hermann needs, he proceeds to court the Countess's companion Lisa (Emily Magee) only to gain access to the now aged Countess. She dies of fright when confronted by the passionate but tactless Hermann…. And I will not spoil the rest for my readers unfamiliar with the plot.
Both Didyk and Magee tend to emote in an old fashioned manner, he by training, she (perhaps) by inexperience. The smaller parts are very well cast both vocally and dramatically. Outstanding is Lado Ataneli as Count Tomsky in his Act I narration of the three cards. And I was most impressed by the powerful contralto of Elena Zaremba, who doubles as a dancer in the Act II ballet.
As is the custom in many operas, the plot is often set aside for a ballet or choral number. How interesting it is to have a group of young noble women chided by one of the old generation for singing "unseemly" Russian songs!
Director Bernat Vivancos is content with a realistic setting for Act I, but he does very strange things with the curtains. Rather than figure out a way to handle the large chorus that dominates the opening scene, he simply closes the curtain to cover their exit and opens it again once they are again in place. In the "ghost" scene, Hermann is obviously outdoors but refers to a door being opened. (Don't directors read the libretti, or do they hope the audience will not notice?) In the last act, the middle of the stage is hidden behind a narrow curtain, which is finally removed (off camera in the case of the video) to show the full stage. (How audience members sitting far to the right and left could even see the far end of the stage is a mystery.)
The running time of the two DVDs is close to 3 hours, and there are subtitles. Again the producers of the booklet, which give background notes and synopses in English, German, and French, leave no room for a tracking list. The disc itself holds a chapter listing without timings and without numbering the chapters. Just a few words in Russian to help the viewer find what is desired. Will somebody at Opus Arte please take note?
The copyright on the musical part of the Gilbert & Sullivan operas ran out in 1950, while that on Gilbert's lyrics and dialogue expired in 1961. After that, the D'Oyly Carte Company lost its rights to be the sole performers and recorders of the so-called Savoy operas from "Trial by Jury" to "The Grand Duke." Of course, other companies could perform the works by paying royalties.
With an eye to the upcoming expiration of Gilbert's words, EMI decided to get a jump on other companies and recorded a musically complete "Gondoliers" on stereo LPs in 1957. Featuring singers of operatic caliber, the Glyndebourne Festival Chorus, and the Pro Arte Orchestra, conducted by Malcolm Sargent, EMI went on to issue "The Mikado" (1957), "HMS Pinafore" and "The Yeomen of the Guard (1958), "Iolanthe" (1959), "The Pirates of Penzance" and "Trial by Jury" (1961), "Patience" (1962), and "Ruddigore" (1963).
I am sorry they skipped "Princess Ida" and "The Sorcerer," but I believe they didn't think these titles would sell. No spoken dialogue is included in any of the sets.
With the advent of the CD format, all were reissued with one change and several additions. "Trial" and "Pinafore" shared the same boxed set. Examples of Sullivan's orchestral works were used as fillers, so that "Pirates" appeared with "Overture in C," "Patience" with "The Irish Symphony," "Iolanthe" with "Overture di Ballo," and "Ruddigore" with incidental music from "The Tempest" and a suite from "The Merchant of Venice." (The latter is especially delightful.)
Now EMI has released 5 of these CD sets in new (cardboard) folders with enhanced sound and a ROM feature that holds the libretto and program notes in PDF format. "Patience" and "Ruddigore" are omitted because of copyright demands.
The lead soprano in all of these sets is Elsie Morison, with a lovely voice that seems just a tad too mature for the immature role of Patience. Richard Lewis, the lead tenor, is certainly an advantage over the recent D'Oyly Carte tenors, but lacks the jollity of Derek Oldham on the old DC 78 rpm sets. Owen Brannigan is one of the true basso profundos and makes the most of the small musical vocal parts as the Police Sergeant and Dick Deadeye, and the larger part of Don Alambra in "Gondoliers."
The only liability is the famous English opera baritone, Geraint Evans. He is not bad but a bit too heavy-fisted for such roles as Ko-Ko, Plaza Toro, and Jack Point. Far better is George Baker as Sir Joseph Porter, the Learned Judge, and the Major-General. And one must bear in mind that this baritone never appeared on stage in a G&S role and made his first G&S recording back in a 1917 "Mikado"! 60 years later, he still sounds good! (It is only in the "Ruddigore" set that he sounds less than convincing as a "youth who loves a little maid.")
In the same vein, from 1929 to 1931, Malcolm Sargent conducted most of the electric 78 rpm operas on the HMV label overseas and the RCA Red Seal label over here. Formerly, he had to contend with the limited timing of a 12-inch disc. Here he could adopt more leisurely tempi—at times, far too leisurely. His EMI "Mikado" clocks in at just below 90 minutes.
So for those who missed these sets the first time around, this is the perfect time to give these EMI sets a place in your collection.
As far as the older D'Oyly Carte sets transferred to CDs, I cannot find a better source than Chris Webster's amazing catalogue of G&S recordings. He even has the vintage pre-electric sets for sale, as well as a radio broadcast of "The Mikado," dialogue and all. Included in his catalogue are the abridged sets that appeared on the HMV/RCA labels as well as other versions on Columbia 10-inch discs. And those who remember the Martyn Green mono LPs will find them also, along with the Peter Pratt sets that were made before John Reed took over as lead comic. He can be contacted at his e-mail address, chris@sounds-on-cd.co.uk

DOCUMENTARY
PAGANINI Where some find fault with Christopher Nupen's treatment of famous composers in his films, I see nothing wrong with the latest of them on an Allegro DVD, "Paganini's Daemon, a Most Enduring Legend." In fact, it seems like a documentary of a psychiatric study of a very disturbed person.
There was no question that Niccolo Paganini was the greatest violinist of his time. However, he was also the most theatrical, letting his instrument do things that no composer had ever demanded before. Many condemned him as merely a showman, composing pieces that he alone could play, assuming postures on stage that were at the least grotesque, and thinking only of money as the sole goal of his composing and playing.
But I do object to reviews that merely sum up what appears on the DVD. So let me say that it tells the almost incredible story of his life in a straightforward way with visual backups that consist of etchings of people and places of his time and extreme close-ups of violinist Gidon Kremer and guitarist John Williams. Most interesting is the close look at the fingering of these two artists. (Nowhere on the jacket or the notes are they identified as soloists, which is sort of strange.)
The orchestra used throughout the film is the Orchestra della Svizzera Italiana, conducted by Lawrence Foster.
Most inconsiderate is the track listing that names all 87 of them but does not number them, making it very difficult for one to jump forward or back to a given track. And while there are subtitles in 5 languages, none of them are in English!
The running time is 1:19 hours and the picture is in 16:9 format. There is a short bonus track about Kremer and Paganini's 13th Caprice, taken from Nuper's earlier film about Kremer.
SCHUMANN Having read and heard about the lives of the great composers, I am convinced that many of them (Chopin, Liszt, Beethoven) found their genius in a sort of lunacy. However, as I learned from a EuroArts DVD titled "Robert Schumann, a Portrait," one who wound up in a lunatic asylum led a fairly colorless life. In fact, the person who is most memorable among those in Schumann's circle is his wife Clara.
The two parts of this 110-minute program follow his life in an old-fashioned way. Fact after fact is given in a very dry manner, but things are made more interesting by the portraits, landscapes, and other visuals of persons and places that played their part in Schumann's life. The cameo appearances of such artists as Leonard Bernstein, Vladimir Ashkenazy, Andras Schiff, and Hermann Prey are welcome as they conduct, play, or sing samples of the composer's major works.
The fact that it is all in German with English subtitles puts a bit of a strain on the viewer, but the information per se is interesting enough. There are three voices used on the soundtrack: narrator, Schumann and Clara. I felt, however, that I never really got to know the composer as a man. And that is what a "portrait" should do.
SOMETHING COMPLETELY DIFFERENT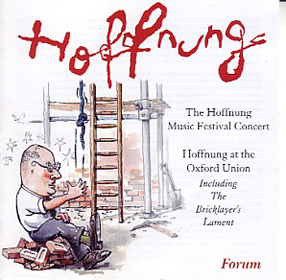 Humor in the music is difficult to achieve without it seeming silly. There are Spike Jones'spoofs of classical music ("The William Tell Overture" in which Feedlebaum wins the race), the sometimes tiresome P.D.Q. Bach, and the sophisticated Flanders and Swann. Among them stand the concerts of Gerard Hoffnung. His specialty is to make fun of existing masterpieces or to play original classical-sounding pieces, composed by himself or by others.
Eight examples of his deadpan humor can be found on a Forum CD
distributed by Regis Records (www.musicandmediaconsulting.com). "Concerto popolare (A Piano concerto to end all piano concertos)" is very much in the mood of P.D.Q. Bach in that the work consists of quotations from several well known concertos. There is the Andante movement from Haydn's "Surprise" Symphony with more than just one surprise, a Chopin Mazurka played by a tuba quartet, "A Grand Concerto" by Malcolm Arnold that is "grand" many times over, a Fanfare that self destructs, and "Variations on 'Annie Laurie'" that are tolerable only because of their brevity. And more!
The speeches are a bit echoic because the microphone is somewhat far from the speakers, but never to point of not being audible.
Now all the preceding was performed in 1956 at the Royal Festival Hall. The CD ends with 2 talks given by Hoffnung at the Oxford Union in 1958. His persona as a stand-up comic is that of a Colonel Blimp, whose humorless delivery makes the material all the more humorous. The highlight of this talk, indeed of the entire CD, is his reading of "The Brick Layer's Lament." It is in the form of a letter written by an employee of a construction firm. Read slowly, with dramatic pauses in just the right places, it tells the tale of a man, a rope, and a barrel filled with bricks.
I first heard this recording in 1964 at the farewell gathering of a Shakespeare study group in Stratford-on-Avon. How I wished I could hear it again—and could not believe my luck to find it on this CD. I am quite sure that all of my readers will agree that it is a gem.
I hope that the Hoffnung "Interplanetary Concert" (long out of print on an LP) will and possibly still available on a European label will become available this side of the Pond.
Frank Behrens <fbehrens@ne.rr.com>