CD and DVD Opera Reviews
By Frank Behrens
ART TIMES Online October 2010
OPERA
"Carmen' at the Met Does Not Sparkle
For those who might have missed the telecast or the showing in selected movie houses, the production of Bizet's "Carmen" as it was given at the Metropolitan Opera for their 2009-2010 season is available on Deutsche Grammophon DVDs.
"Carmen" exists in at least 3 formats. The original was in the opera-comique tradition with lots of spoken dialogue. After Bizet's death, one of his students was asked to transform the dialogue into fully sung recitatives so the work could be done at the Opera, which did not use spoken dialogue—and he did a remarkably good job of it. Lots of character and background information, however, was lost and practically no modern production uses this version. There is yet a third that has alternate renderings of several passages from the Opera version.
For some reason, director Richard Eyre and conductor Yannick Nezet-Seguin chose the Opera version, thereby taking a good deal of the bite from the characterizations. Next, true to what is happening in an age when the Knights of the Grail in "Lohengrin" are seen in business suits and Zeus and Poseidon wear Columbo-like overcoats, the costumes have been updated to the time of Franco's Spain. Thus every bright bit of apparel that made all those older productions so colorful is replaced by the dullest possible dress for both soldiers and populace.
The setting of Act I, which is supposed to be a sunny plaza in Seville, is in this production a set of ruins that would not be out of place in "Gotterdammerung." When rotated to show the inside, it becomes the mountain lair of the gypsies, complete with steps and iron banisters. When rotated again, it becomes the outside of the bull fighting ring. Again, there is nothing much to attract the eye. Even the Act IV procession is fairly underpopulated.
Latvian mezzo Elina Garanca is quite good vocally, very attractive, and very sexy and physical (this last aspect has become mandatory). However, I see no particularly new take on the character. She does what all the former Carmens have done and does it better than most. But, again, nothing new.
The singer originally slated for the title role was the wife of tenor Roberto Alagna; but their separation called for a new Carmen—and the last thing we needed was a soprano Carmen who happens to have a lot of clout with impresarios and to be the wife of the Don Jose. I understand that Alagna had his usual vocal problems on opening night, but none of them appear on the doctored video. Alagna will never be a good actor, but he plays the role of the almost idiotically innocent soldier as well as any other I have seen. In fact, I begin to think there is little any singer can do with the part.
The Escamillo of Teddy Tahu Rhodes has enough dash to make the character believable, no matter how much his dull costume contradicts him. He was, by the way, informed he would be taking over the role at 10 AM that day! The little country girl who loves Don Jose, Micaela, is played by Barbara Frittoli, who looks in close-up far too mature for the part. Yes, I know, I know. This is opera.
Someone decided that two of the four preludes needed a pair of dancers to help point out the main idea of the tale to any one who did not get it. The dancers are quite good; the concept is silly.
I have never heard the Prelude to Act I played as fast as it is in this performance; and it turned me a little sour toward this conductor. As much as he claims in one of those cliché-ridden behind the scenes interviews with Renee Fleming to love this music, I heard nothing but an ordinary rendering of Bizet's score. Others might disagree.
The performance is spread onto 2 DVDs. The total running time of the opera is 167 minutes, the picture is in 16:9 widescreen, and the subtitles are in 5 languages. There are other interviews that reveal little.
Despite some of its flaws, my preference for "Carmen" on DVD is still the 1987 Met production with Agnes Baltsa and Jose Carerras, also on the DG label.


New Production of "Faust" Has Its Ups and Downs
FAUST Once one of the three most popular operas in the western world, Charles Gounod's "Faust" has not been served well on DVD. There are two productions, both with Alfredo Kraus, one of which was shown on television and has Japanese subtitles, the other a barely watchable archive video of a nickel and dime Italian production. A third suffers from the absurd concepts foisted upon it by its director (e.g., Marguerite as a nun).
The latest, from EMI, contains a 2010 production at the Royal Opera House, Covent Garden, conducted by Antonio Pappano. This is far better than the earlier three but still has many faults among its many good points.
This production has moved the tale out of the Germany in the middle ages and into the Paris that Gounod knew. The program notes give (in three languages) the "advantages" of this double dislocation—but can find no room for a tracking list, a problem that first showed up on the Virgin label and now on EMI. How many ha'pennies are saved by this neglect?
The scene at the Fair that makes up Act II is here set partly in a "Cabaret l'Enfer," complete with flashing electric lights (in Gounod's time, right?) and dancers out of a more recent "Cabaret." On top of that, Marguerite (Angela Gheorghiu) seems either to work there or to frequent the place often enough for her lovestruck Siebel (Sophie Koch) to await her there. On the other hand, I was glad not only to see included the entire Walpurgis Night scene complete with ballet but to find the ballet fully integrated into the plot in a novel way.
Again, I must wonder if stage directors have any idea what words are being sung at any given time. In the garden scene, Mephistopheles (Bryn Terfel) addresses the flowers, although not one can be seen. Just before the duel, he tells Faust (Roberto Alagna) to "lean against me" and then strides to the far side of the stage. But it is Alagna I blame for singing "What unknown trouble penetrates me?" with a smile on his face. And whose idea was it to have him celebrate his rejuvenation in Act I by doing a cartwheel? Puerile.
Gheorghiu in her short cropped blonde hair reminds me of Manet's girl in his famous "Bar at the Folies Bergeres." Her acting is fine, her vocalizing dramatic. Alagna is not the world's best actor, contenting himself to grin or grimace and singing at pretty much the same intensity whether lamenting his fate or making love.
Terfel is simply a full-voiced Mephistopheles, who looks constantly angry. (That is exactly how he played his Figaro and Don Giovanni.) Gounod's music gives us the trickster Devil, not a stonelike demon who seems to have no delight in getting his prey or even anger in losing it. And putting him in drag for the Walpurgis Night scene is simply ludicrous.
I don't mind the slight liberty taken with the very end of the opera. I will not reveal what it is, but Gounod's original audience would not have approved.
Pappano does not seem to find anything new to say with the score, but he gives a good workaday job.
The running time is exactly 180 minutes, spread out on 2 DVDs. There are subtitles in four languages. Finally, there is no bonus material.
OPERA-BALLET
Shakespeare is Updated and Choreographed
Starting in the middle 1600s, theatrical tastes changed and the plays of William Shakespeare were considered by many to be in poor taste. So writers like Dryden and Tate "improved them" in several ways, and their versions lasted for about two centuries. When Samuel Pepys wrote in his diary that "A Midsummer Night's Dream" was the "silliest" play he had ever seen, it was not Shakespeare's play but something called "The Fairy Queen."
Henry Purcell was commissioned in 1691 to write the score for a play/opera/ballet based loosely upon the original "Dream," and by the time he had it completed, circumstances had drastically altered so that many changes had to be made. In brief, there is no standard version of the work. However, much of the material has survived, including its elaborate stage directions.
Kultur has made available on a single DVD a 1995 production directed by Quinny Sacks as it was given at the English National Opera (ENO) before an audience. It came to me as no surprise at all that few if any of the original stage directions are respected. The costumes are the almost (by now) mandatory mixture of modern with 17th-century with fantastic. Even those who know Shakespeare's plot will have trouble finding any narrative line; and no program notes accompany the DVD other than a very welcome track listing.
The blend of costumes can easily be ignored, since the thing is a fantasy, and the choreography (also by Sacks) is quite entrancing. The singing is on a high level, if one can accept not understanding a single word from the sopranos (all vowels, no consonants) and about one-fourth of what the men are singing.
It would have been a great boon had this disc supplied subtitles. I was lucky enough to have a libretto from a CD recording of this work and could garner some idea of the text. But a company calling itself English National Opera should not have to depend on subtitles anyway!
Still in all, I really enjoyed Purcell's glorious music and the visual aspects of this often loopy production. The running time is 133 minutes and the picture is in 16:9 widescreen ratio.
VOCAL
Brazilian Composer Celebrates Himself
TOM JOBIM For those who like lightweight international popular music, a DRG CD titled "My Soul Sings" might be of interest. Tom Jobim is a vocalist with quite a reputation in his native Brazil; and his favorite composer is…well, Tom Jobim.
"My Soul Sings" is the first of six projected songbooks and was available only on an LP in 1991. This collection contains 14 songs written and performed by Jobim and backed up by a small combo that is identified in tiny white print against a textured background (will art departments never learn?). The performances are pretty laid back, for the most part. Some will find them of little interest, while others might find great pleasure in them, especially with that Brazilian beat. All a matter of taste.
Mid-18th-Century Saxhorn Music Still Enchants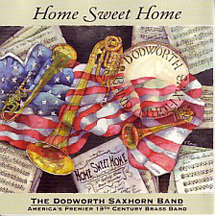 HOME SWEET HOME Some time ago, I reviewed a CD, "Grafulla's Favorites," that introduced me to a wonderful group called the Dodworth Saxhorn Band. Being a lover of 19th-century popular music, I really enjoyed the Quick Steps, Marches, Waltzes and Galops played in a very authentic-sounding manner. More recently, I had the pleasure of hearing "Home Sweet Home," a collection of pieces that exemplify the Dodworth specialty: to "bring America's musical past to life…with 19th century music performed on period instruments" (as the program notes explain). They also perform in full costume before audiences—and are heard as well on the sound tracks of Ken Burns' "Baseball" and "Jazz" television specials.
This, their second CD, brings in singers and concentrates on music heard before, during, and after the Civil War. Most of the selections are familiar: "Columbia, the gem of the ocean," "Home sweet home," "Goober peas" (by "P. Nutt"), "The last rose of summer," "Listen to the mockingbird," "Jeannie with the light brown hair," "Battle hymn of the Republic," and of course "Yankee Doodle."
I must emphasize that these warhorses sound fresh and new when played by the Dodworth players and sung by the vocalist in what could have been heard in the mid 1800s. Much credit is due to Damon S. Talley, the group's Music Director and Conductor. "Home Sweet Home" is a disc to be treasured.
There is a very interesting account of this group's history on their website at www.dodworth.org.
ORCHESTRAL
Young Soloist Excels on Two Instruments
JULIA FISCHER In a world teeming with both young and venerable older keyboard and violin superstars, Julia Fischer holds a special place as one who has firmly established her reputation as both piano and violin artist! Those who never heard her or of her, a surprise is waiting on a Decca DVD titled "Julia Fischer, Violin & Piano." It was recorded in 2008 in Frankfurt with the Junge Deutsche Philharmonie, conducted by Matthias Pintscher.
The program consists of Saint-Saens' "Violin Concerto No. 3 in B-minor" and Grieg's ever-popular "Piano Concerto in A-minor." There is also a 48-minute interview in which the artist talks about her "Two Musical Worlds."
A few other people watched this DVD with me and were all impressed with Fischer's style. I was also impressed with how this attractive young artist fits so nicely
with the equally young players of the JDP. All in all, this DVD provided a very pleasant visual as well as audio experience. I think I can safely recommend this disc to those curious about a young person who has mastered—well, two musical worlds.
Lullaby Collection Works Without Words
ULTIMATE LULLABY COLLECTION Naxos has issued a 2-CD set titled "The Ultimate Lullaby Collection." Let me begin with two comments. First, I cringe at any title that starts with the adjective "ultimate." It is pretentious and cannot possibly be true. Second, the 29 selections are all orchestral and only 6 of them were meant to be a lullaby or at least connected with sleeping babies.
All that notwithstanding, I love this set. To name only a few selections to give the reader some idea of the contents, there are Grieg's "At the cradle," Gluck's "Dance of the blessed spirits," Elgar's "Song of the night," Faure's "Sicilliene" and "Nocturne," and the ever green "Clair de lune" of Debussy.
I am happy to recommend this set as one of the most beautiful and restful now in my collection. The selections, drawn from older Naxos recordings, are all in a peaceful mood and all would work wonderfully for yoga exercises, meditation, quiet get-togethers, or possibly helping a tiny tot into Slumberland.
The total running time is 128 minutes.

Mexican Music is Celebrated in a 2-CD Set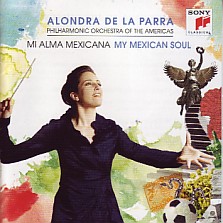 MI ALMA MEXICANA I have just come across a most enjoyable set of 2 CDs. On the Sony Classical label, "Mi Alma Mexicana/My Mexican Soul" features Alondra de la Parra conducting the Philharmonic Orchestra of the Americas in 13 selections by Mexican composers.
Among other distinctions, de la Parra is the first Mexican woman to conduct in New York City, and I can find no fault with her renditions of pieces by composers Jose Pablo Moncayo, Gustavo E. Campa, Ricardo Castro, Candelario Huizar, Manuel M. Ponce, Juventino Rosas, Arturo Marquez, Silvestre Revueltas, Carolos Chavez, Federico Ibarra, Eugenio Toussaint, Mario Lavista, and Enrico Chapela.
I have listed all the names to show how few of them are recognizable in this country, to our great loss. I have long been familiar with the Ponce work, "Concierto del Sur para guitarra y orquesta," and find it to be one of the most hauntingly beautiful pieces in my collection. The Rosas piece, "Sobre las olas," will make most listeners sit up and take notice, because it is better known to us with lyrics as a popular song from several decades ago, "Over the Waves" or "The Loveliest night of the year."
Some of the pieces are complete, some excerpted from longer works. They are all remarkable.
Is it more than a coincidence that this album should be released at the same time that the Arizona-Mexico situation is at its height? When one of the spokesmen for our southern neighbor was asked about the contributions Mexicans have made to our culture, his first answer was cuisine. Perhaps he should have mentioned their music as well!
The Holy Land is Invoked in Music
JERUSALEM TRILOGY For those looking for a new approach to jazz and ethnic themes, I can briefly mention a CD on the Justin Time Records label, titled "Jerusalem Trilogy" by Matt Herskowitz.
The notes describe the music on this disc as "a new kind of chamber music for the 21st century: a unique, integrated fusion of written music and improvisation, blending together Jewish and Arab musical styles and grooves."
Recorded in Quebec, the CD contains the 3-part title piece, along with "Polonaise Libanaise," "Gottingen," "Crossbones," "Duologue on Under Your White Starry Heaven," and "Prokofiev's Revenge." I found it quite interesting; others will find it riveting. All will agree that such blending of Jewish and Arabic music might solve more problems than all the propagandizing and car bombs in the world today—if given the chance.
EDUCATIONAL
Chopin is Considered from a Technical Point of View
ART OF CHOPIN If there was ever a DVD written by a pianist for pianists and starring super pianists, then "The Art of Chopin" is the one. This 2-DVD set from Ideale Audience comes in two parts.
The first is "The Art of Chopin, a Film by Gerald Caillat." This 53-minute study is narrated by pianist Garrick Ohlsson, who tells about the highlights of Chopin's life and gives great insight into his music by playing passages to demonstrate the fingering techniques needed to play the piece. Longer passages are played in clips from concerts featuring Ohlsson, Bella Davidovich, Evgeny Kissin, Piotr Anderszewski, Martha Argerich, and Krystian Zimerman (in their younger days), with Arthur Rubinstein and Yuja Wang more recently.
The second disc is devoted to a concert filmed in 2009 with the Warsaw Philharmonic conducted by Antoni Wit. After opening with a fascinating tone poem, "Bajka" (Fairy Tale) by Stanislaw Moniuzsko, Ohlsson joins them as soloist in the two Chopin Piano Concertos. The camera work is flexible and adds greatly to holding the viewers' interest during the 97 minutes running time.
Ohlsson gives, I believe, a performance that reflects both the composer's Polish roots and French influences. Any serious lover of classical piano literature will appreciate this set. Students of musical history might ask for more biography in the first film. There are subtitles in English, German, French, Polish, and Japanese.

REFERENCE
Book Analyzes the Heart of "South Pacific"
SOUTH PACIFIC Possibly timed with the Lincoln Center revival, the book "South Pacific, Paradise Rewritten" has just been released by Oxford University Press and proves an interesting companion to any production of this show.
I was expecting yet another of these "making of" books, which document the history of the show from the original idea, through the casting, the rehearsals, the problems, up to the final triumph of opening night. In fact, author Jim Lovensheimer states clearly on p.10 that that is precisely NOT what his book is about.
In his own somewhat ambiguous words, "This is an investigation of the work's thematic concerns and how they were developed or altered during the creative process, a process that also involved changes to the work's structure unrelated to the distillation of the message." The major thematic concern is that of bigotry of all sorts, mostly racial. He gives the background of both Richard Rodgers' and Oscar Hammerstein II's views of that subject before they conceived "South Pacific," as well as the general mood of the country at the time the show was being prepared.
While most people think of "You've got to be taught to hate" as the culmination of this theme, Lovensheimer pays much attention to the character of Nellie. Just as Puccini "cleaned up" the Mimi of the original "Scenes of Bohemian Life," so did Hammerstein with Nellie as she appears in the "Tales of the South Pacific" by James Michener. Her prejudices are a must for the plot to make sense, but they are less virulent than in the short story.
The author now and then falls into a lot of musical terminology to prove his main thesis. However, for those not familiar with musicology, statements like "the accompaniment to the verse suggests the tetrachord" will be less than informative.
Towards the end of the text, the author switches his emphasis to the masculinity of the major characters; but it seems to me he says little of interest. Giving some of the lyrics dropped from the show in the appendix is much more interesting.
Lovensheimer does well—almost to the point of overdoing--what he sets out to do. Perhaps some day he or someone else will write the book I was expecting this one to be.

Wodehouse Lyrics Bring Back the Birth of Broadway
Hearing the name P.G. Wodehouse (pronounced Woodhouse), many will ask, "Isn't he the one who wrote the Jeeves stories?" Yes, he did, along with 100 (give or take) other novels, his participation in 19 plays, and his libretti and/or lyrics for 40 musicals. These statistics I copied from a marvelous tome from The Rowman & Littlefield Publishing Group titled "The Complete Lyrics of P.G. Wodehouse," edited by Barry Day.
In the past, I have commented on other such collections: Cole Porter, Ira Gershwin, Lorenz Hart, Oscar Hammerstein II, Noel Coward, and Johnny Mercer. What they and Wodehouse all have in common is that their lyrics assumed audiences that were for the most part literate and intelligent.
Wodehouse, however, differs from the rest in that not many theater goers instantly link his name with his composers. Jerome Kern, for example, worked with Wodehouse's lyrics and Guy Bolton's books to revolutionize the American musical. They played in the tiny Princess Theatre, avoided Ziegfeld-like spectacle, treated the chorus as actors and not stage dressing, and tried hard to have the songs forward the plot.
As one peruses the 490 pages of this Wodehouse collection, it is evident that the greater part of the songs in this book are of the "Let's find a little nest/Where we'll have peace and rest" variety. But these are symptoms of the times, not of his talent. (Exceptions are "Look for the silver lining" from "Sally" and "'Til the clouds roll by" from "Oh, Boy!")
On the other hand, it is clear that—like so many of the lyricists I mentioned earlier—Wodehouse is a disciple of W.S. Gilbert, who knew how to make magic with words and to make rhymes where no man has rhymed before.
I should point out here that a group called "Comic Opera Guild" has issued CDs of several of their productions, among which are the Kern-Wodehouse-Bolton shows; and there is a complete CD recording of "The Cabaret Girl" from the Ohio Light Opera. This Rowman & Littlefield collection will make following the lyrics for those works an easy task, considering the size of the print in CD booklets.
The background notes in this book are well written and help explain the circumstances that influenced the writers and their lyrics.
I can certainly recommend this Rowman & Littlefield collection with high marks.
Gramophone Has Released Its 2011 Guide
GRAMOPHONE GUIDE 2011 Yes, my collection has just been enlarged by the 2011 edition of "The Gramophone Classical Music Guide," now published by Haymarket Consumer Media.
What with the flood of new classical recordings on CDs and DVDs—and what with the addition of the download format—I can sympathize with the editors, managers and the publisher who had to decide what to drop, keep, and add. Important new recordings were obvious additions, while much had to go. The Gilbert and Sullivan listings, for instance, are much abridged from those of the previous editions, as are the works of other composers whose listings I checked. But this is why I keep all the older editions, since so many of the recordings dropped in recent issues of the Guide have been reissued at lower prices by whoever owns the copyrights at the moment.
The format is still friendly. After 35 pages of general and specialized information, there are 1365 pages of over 3000 reviews organized by composer from Abel to Zemlinksy; then by reviews of collections, organized by conductors, instrumentalists, ensembles, and singers; followed by an index of composers and an index of artists. So if you are interested in (say) any recording with Thomas Beecham conducting, you can easily find the pages that mention him!
At the beginning of each composer's entry, a short biography is included to orient the reader as to time, country, and kind of music associated with that composer.
I am hoping for the day when DVDs will get their own guide; but I suspect it is not yet cost-wise to do so.
So careful collectors of the classical catalogue will find this Gramophone Guide just the ticket to avoid the unworthy and to concentrate on the best recordings available—assuming that the critics know what they are about.
Frank Behrens
fbehrens@ne.rr.com