Music: CD and DVD Reviews

By Frank Behrens
ART TIMES Online June 2012
These last two months have seen a good mixture of musical CDs and DVDs. The reports below were written for The Keene Sentinel (New Hampshire) and Brattleboro Reformer (Vermont).
SYMPHONIC
MERCURY LIVING PRESENCE Those who once collected classic music on LPs (or still do, I understand) will surely remember the superior monaural discs from Mercury Living Presence. For them, and for those who will be interested on the basis of this article, I am delighted to report that Universal Music has put on the market a boxed set of 50 of these LPs transferred to 50 CDs.
To stir up a heap of nostalgia, each cardboard sleeve bears the original LP artwork on the front and track listings on the back. I wonder how many of my readers recall the featured conductors, some of whom are Antal Dorati, Frederick Fennell, Howard Hanson, Paul Paray, and Rafael Kubelik. Among the performers are Yehudi Menuhin, Byron Janis, the Romeros, Janos Starker, Henryk Szeryng, Gina Bachauer, Charles Reiner, and (surprise!) John Gielgud.
Some of the works ("Nutcracker Ballet," "The Civil War, Its Music and Its Sounds") take up two discs. Some are a collection of thematically connected short works ("Hi Fi a la Espanola and Popovers" and "Balalaika Favorites") and there is one complete opera (Bartok's "Bluebeard's Castle"). Most are dedicated to a single work (Bartok's "Violin Concerto No. 2," Berlioz' "Symphonie fantastique," Dvorak's "Cello Concerto"; or to two shorter complete works by the same composer, or by two composers whose works are both concertos, and other combinations that seem to work.
A bonus CD holds an interview with Wilma Cozart Fine, producer of MLP recordings. There is also a booklet telling the story of these recordings and of some of the artists who made them so popular. The only fault is in the packaging, which lists the works against a gray background, the composers in white and the works in black. It is most difficult to read and I can only ask once again, "Why do they do this?"
Of course, the original program notes are gone, which is a minus.
But all in all, whatever the price is, divide by 50 and see what a bargain this is. And for those without a classical collection at all, this would be an excellent starter kit!
LOST TRANSCRIPTIONS 1-3 As I have been reporting for years now, Guild Light Music has been releasing a seemingly endless series of CDs under the main title of "The Golden Age of Light Music." They are now up to the 84th entry and it is the third of a most unusual subset of discs. As a departure from the past compilations of commercial mono and stereo recordings of the late 40s to the middle 50s, this one follows the first two CDs in an interesting direction.
"The Lost Transcriptions, Vol. 1, 2, 3" consist of recordings that were never meant to be sold to the public. As the excellent program notes tell us, musical selections were transcribed onto 7-inch and 12-inch 78 rpm discs as well as 16-inch discs that played at 33 1/3 rpm. They were sent to the troops all over the world to be played in barracks or over PA systems for the whole camp to hear.
(It is said that the Germans hiding close by would wait for Bing Crosby, because he sounded like a German baritone. They affectionately called him Der Bingle!)
The sound is not bad, given their dates (from 1943 to 1955); and these selections are a good mix of the familiar and unfamiliar. Having already reported in about "Lost Transcriptions, Vol. 1, 2," I will concentrate on this third volume that has just gotten into the Guild catalogue
The first seven of the 25 selections feature Mantovani and His Orchestra. Some of the other groups are the orchestras of David Rose, Al Sack, the BBC Variety, and Carl Chandler.
Among the more familiar selections are "So in love," "Turkey in the straw," "Malaguena," and "Stairway to the stars." Among the less familiar are "Elizabethan serenade," "The Deserted ballroom," and "Flower of love."
As the notes inform us, all of these discs were to be destroyed after hostilities, but many servicemen took one or more home as souvenirs. It is from these surviving copies that Guild has gathered its material for this historically and musically interesting collection.
INSTRUMENTAL
BEETHOVEN LATE STRING QUARTETS About half a century ago, a series of LP sets containing all the plays and poems of Shakespeare was issued in Great Britain on the Argo label and over here on the London label. I recall one commenter writing that hearing Shakespeare clearly read by professionals would be like hearing recordings of the late string quartets of Beethoven. A very revealing comparison.
I was reminded of this comment when I came across a 3-CD set of those very chamber works played by the Cypress String Quartet (on their own label). The String Quartets are, in the order played, the E-flat (Op. 127), A-minor (Op. 132), B-flat (Op. 130), C-sharp (Op. 131), and F (Op. 135). The "Grosse Fugue" (Op. 133) is included.
The Cypress players' offering comes after a countless number of other recordings of these complex works, but their youth plays a large part in their approach, which is anything but stodgy. I can only leave it to my betters to compare this recording with others. And to recall that there are many ways of playing a Shakespeare scene or reading a sonnet, each of which is equally valid if done with intelligence and talent.
The members of the Quartet are Cecily Ward and Tom Stone (violins), Ethan Filner (viola), and Jennifer Kloetzel (cello). The results are quite listenable.
MOZART Whereas a "symphony" might occasionally feature a solo instrument, a "symphony concertante" features from two to nine soloists who are given prominent parts to play (as in a concerto) against the rest of the orchestra. Such is Mozart's "Sinfonia Concertante for Winds in E-flat major, K. 297b," which is the first part of a Deutsche Grammophon CD, featuring Orchestra Mozart, conducted by Claudio Abbado.
In this case, there are four soloists: Lucas Macias Navarro (oboe), Alessandro Carbonare (clarinet), Guilhaume Santana (bassoon), and Alessio Allegrini (horn). The recording has met with high praise.
Once upon a time, Mozart was commissioned by a nobleman to compose a concerto so he could play the flute part and his daughter the harp. Mozart found the latter to be something of an incomplete deck, and he was forced to make her part in the work as simple as he could. He is, scholars believe, still waiting to be paid.
But I have always loved his "Concerto for Flute, Harp and Orchestra in C, K.299." Here I am quite pleased with the playing of Jacques Zoon (flute) and Letizia Belmondo (harp). All in all, this is a very nice introduction to Mozart in two classical musical formats.
NOSTALGIAS ARGENTINAS A most beautiful CD has been issued on the Steinway & Sons label titled "Nostalgias Argentinas," which is easily translatable. Mirian Conti is the solo pianist in this program of 19 selections by Argentinean composers.
Because their names are new to me and doubtless to my readers, I should mention a few: Remo Pignoni, Emilio Balcare, Horacio Salgan, Carlos Guastavino, Pedros Saenz, and Carlos Lopez Buchardo.
The notes point out that Argentina has long sought a "national voice." While most of the selections are based on popular and folk dances, one can detect the influence of such European composers as Chopin, Prokofiev, Schubert, and Franck. The program notes are most helpful.
Highly recommended.
VOCAL
ONE MAN, TWO GUVNORS For those who go for "skiffle music" (defined more or less as pop music melded to jazz, blues, folk, and roots, played often on improvised instruments) or who are interested in what is happening on the British pop scene, the DRG CD release of "One Man, Two Guvnors" is for them.
The 14 tracks come from the staged concert (play?) performed by Grant Olding and The Craze. This American release has a 15th track containing "Calypso Jones." The New York Times gave a rave review to the New York opening of this show and mentioned that it was based on the Goldini play "The Servant of Two Masters." But all the physical comedy and perhaps-funny dialogue is missing from the CD.
It is loud, the lyrics are not offensive, and the appeal might be to a somewhat special audience. Those who like rock and loud country music will probably like this too.
YANNI Yiannis Hrysomallis (b. 1954) is one of the most popular composer/players of present times. More than 20 million of his recordings have been sold; and I don't know how much money he has raised by appearing in PBS specials on Pledge Weeks.
For those who never heard him, or of him, Sony Music has released a two-disc set with a CD and a DVD of his concert at El Morro, Puerto Rico. While his presentation is spectacular (some might say overblown), I find little innovative in his music. There is variety enough with relaxed numbers ("The end of August" and "Felitsa") and loud ones ("Vertigo"and "Niki Nana").
The audience sounds very familiar with the 10 songs on the CD (the DVD has an extra harp solo), judging by their cheers of recognition after the first bar or two is played. Fans of Yanni will love this CD/DVD combination set; newcomers will judge for themselves.
PS: There is a booklet that contains several pictures of Yanni and not one word of text. I will withhold my opinion of that.
MONKS OF THE DESERT Several decades ago, EMI had a best selling set of collections of Gregorian chant. Not long ago, I reviewed a similar CD that featured the Monks of the Desert. (The desert is that in New Mexico.) On it, the voices of the Monks were heard chanting parts of their "strict daily prayer schedule." It might prove, I said, to be the most soothing CD in one's collection!
Now Sony Classics has issued a second collection titled "Blessings, Peace and Harmony." Since variety never was an essential element of the music of the monastic tradition, any comments about the first CD certainly hold for the second. In fact, "peace and harmony" (perhaps "peace through harmony" would be better) perfectly describes both of these Sony Classical sets.
UTE LEMPER Known more in Europe than over here, German chanteuse Ute Lemper is featured on a Steinway & Sons CD titled "Paris Days, Berlin Nights." She is accompanied by the Vogler Quartet with Stefan Malzew.
Free of the throaty quality that was the signature sound of Piaf and other female French cabaret singers, Lemper's flexible and highly dramatic voice has that fullness so appropriate to at least the 13 songs chosen for this program, most of which are based on poetic texts. And where she has to get rough, even daemonic, her voice is up to it. The producers were kind enough to supply the full texts and translations.
Since the poems go on for many stanzas with no variety in meter, even Lemper cannot entirely keep out that sameness; which means that following the text is essential to enjoying her performance. This might prove to be an acquired taste.
OPERETTA
The 1970s saw a treasure chest of German operettas adapted for German television. Having reported on several DVD releases of the same in the recent past, I can now introduce to my readers three more of these works, rarely seen in this country, on the Art Haus Musik label.
GRAF VON LUXEMBURG Lehar's 1909 operetta "Der Graf von Luxemburg" (The Count of Luxemburg) has a plot that even Gilbert would turn down, even though he used similar plot devices in at least two of his works. One must watch the ArtHaus DVD of the 1972 made-for-television film of "The Count" to see how the plot's absurdity is simply taken for granted and the music rules supreme.
To marry beneath his station, a prince (Erich Kunz) hires a penniless count (Eberhard Wachter) to enter into a kissless marriage with a diva (Lilian Sukis) for a period of time. Then she will be a countess, they can divorce, and the prince can marry her and still be socially correct. The gimmick: the two are wed on opposite sides of a screen and never see each other. They part and later meet, only to… Well, the reader can take it from there.
Of course, it is the Lehar score that makes it all palatable. Little of it lingers in the memory after one hearing, but it is lush enough to keep the 95-minute adaptation entertaining if not riveting. I cannot tell how far the dialogue and sequence of songs vary from the original; but all the ingredients are there, if mixed somewhat differently. And there are the dependable ArtHaus subtitles to help.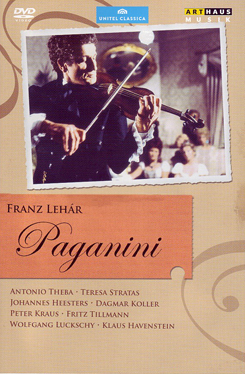 PAGANINI In 1925, Broadway saw such diverse musical fare as "No No Nanette" and the "The Vagabond King" while Europe saw the opening of Franz Lehar's "Paganini." Now we can see at least the 1973 television adaptation of that work on an ArtHaus Musik DVD.
The slight plot involves the philandering of the great violinist Paganini (Antonio Theba) and his love affair with Napoleon's sister Princess Anna Elisa (Teresa Stratas), during which he finds time for Bella Giretti (Dagmar Koller). She, in turn, is being pursued by the comical Pimpinelli (Peter Kraus) and being the mistress of Prince Felice (Johannes Heesters).
And there is lots of passionate music, with one or two comic duets to vary the tone, and lots of violin solos. In fact, Paganini has more to sing, to my knowledge, than any other character in an operetta. The music is lush, the plot not very original, and the production lavish.
The running time is 107 minutes, the picture is in 4:3 full screen, and there are subtitles in three languages.
DOLLARPRINZESSIN The third work on an ArtHaus Musik DVD is Leo Fall's 1907 operetta "Die Dollarprinzessin" (The Dollar Princess) and I am absolutely delighted with it.
Never having heard the original, I cannot tell what changes have been wrought in the stage-to-screen translation, but the plot is so unlike those of the Strauss Jr. and Lehar works that preceded it that I must take the video version on its own terms.
As for originality, it starts at the New York City office of magnate John Couder (Horst Niendorf), who delights in hiring European nobility who have fallen upon hard times. His most valuable worker is his daughter, Alice (Gabriele Jacoby), who is all for women's rights, but eventually falls for…well, no spoilers, please. Couder's niece, Daisy (Regina Lemnitz), is courted by a middle-class Freddy (Gerhart Lippert), but her idea that he could be bought by money sours that relationship. And all the while, a phony Russian Grand Duchess (Tatjana Iwanow) is brought over to be Couder's bride.
And it all ends in a Colorado saloon!
There are the expected clichés of operetta: mistaken identity, the soprano not wanting to marry the man she eventually does marry, the second soprano wanting to marry the man she eventually does not. Then there are the topsy-turvy elements provided by the librettists: high ranking characters only too happy to get a job acting as servants, the boss's daughter lighting her own cigarette, the very "exotic" settings not in some Land of Smiles or some fictional European principality but in the financial towers of New York and the oil fields of Colorado.
And the multiple happy endings (as at the end of "Pinafore") are a given, of course.
Now all of this is just fine, in the way it defeats expectations concerning what an operetta plot "should" be. But I was immediately drawn to Fall's score that seems to be not so much in the old Viennese School style as it is in the musical comedy style of its day. In fact, it even anticipates styles of the future. For example, a chorus of typists types in beat with the music (see Leroy Anderson's "The typewriter") and describe their job (see "When you're racing with the clock" from "Pajama Game"). There is a clever duet with the singers riding hobby horses (see any Roy Rogers film), and two or three that strongly anticipate Kurt Weil's cabaret style.
The running time is 87 minutes, the picture is in 4:3 format and there are subtitles in German, English and French. This is a Grabbit.
OPERA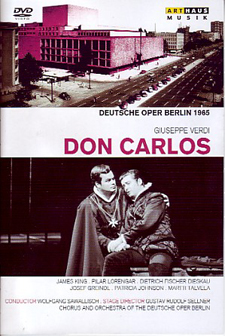 DON CARLOS Although I don't usually go for opera in a language other than the original, I am most grateful for ArtHaus Musik's reissuing performances that were seen on German television many decades ago. Yes, they are in German; yes, they are in black and white. However, after seeing the "Don Carlos" that was telecast in 1965 from the Deutsche Opera Berlin, I have nothing but praise for what I hope will be a long series.
I never found Verdi's "Don Carlos" particularly exciting to hear on CD or watch on DVD. But the intensity in this production of James King (Don Carlos) and Dietrich Fischer-Dieskau (Rodrigo) actually had me interested in their problems. Pilar Lorengar shows just the right degree of torment as Elisabeth, the once-betrothed to Carlos and now the Queen to Philipp II (Josef Greindl).
Note: The original French title is "Don Carlos," as it is also spelled in German. Most productions are in Italian and called "Don Carlo."
Greindl does not quite deliver the full-voiced authority the role demands; and indeed his soliloquy that opens Act III receives no applause at all. At least the audience does not applaud as the curtain closes but waits for the music to cease. (Directors, please avoid that conflict, especially with American audiences.)
The conductor is Wolfgang Sawallisch. The running time is 155 minutes and there are subtitles in five languages.

LAKME It's not just the Bell Song. In fact, Leo Delibes' 1882 opera "Lakme" has a stunningly beautiful duet for soprano and mezzo that was used for a British airline commercial and caused a deluge of phone calls asking what it was. So it is good to have the opera on DVD on the Opera Australia label, as it was seen at the Sydney Opera House in 2011.
The production is lush with what Indian costumes and decor might have looked like during the Raj of the later 1800s. Delibes' score is as Indian as Verdi's "Aida" is Egyptian and Puccini's "Turandot" is Chinese. Delibes knew how to give a touch of Indian music now and then to lull the audience into acceptance. The tale takes a jaundiced French view of the English in India. The soldier Gerard breaks the country's taboo and makes love to the daughter of the Priest of a proscribed cult. The original audience knew that no happy ending was possible for this English Romeo and Indian Juliet—but I want no spoilers here.
Emma Matthews is a very good Lakme in her acting and a wonderful one in her singing; the Bell Song holds no challenges that she cannot meet. Aldo Di Toro as Gerald is a good tenor, but he has two problems. He simply does not look like a romantic lead, being a little too short and not particularly handsome. Again, Delibes cannot seem to find inspired music for Gerald's character. His music seems to want to soar but remains somewhat earthbound.
Like most religious figures in opera, Lakme's father, the Brahmin Priest Nilakantha (Stephen Bennett) is given some pretty self-righteous and heavy handed music that is solemn but makes one wish he would stop and let his daughter sing!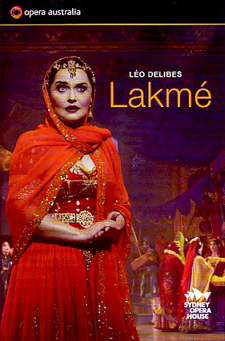 Luke Gabbedy gives us a stolid Frederic, soldier and friend to Gerald, who all too easily convinces Gerald to desert Lakme and rejoin the regiment. Again, a French sneer at the English of the Raj.
The score to "Lakme" holds interest for the most part, but seems to lack the genius that Bizet gave to "Carmen" and Gounod gave to "Faust." An audio-only recording would pale after the Bell Song, and this production is attractive enough to get one over the less inspired passages. Conductor Emmanuel Joel-Hornak keeps the music moving, but he has little of interest to say in a bonus interview.
The running time is 143 minutes, the picture is in 16:9 widescreen, and there are subtitles in six languages.
VINTAGE & HISTORICAL
MORTON Before May 2004, the name Eddie Morton meant nothing to me. That is when I heard a CD featuring this singer with the title: "Eddie Morton: the Sound of Vaudeville, Vol. 1" on the Archeophone label. Now, after 8 years have passed, Archeophone has given us "Ed. Morton's 'Bit of Broadway' (The Sound of Vaudeville, Vol. 2)", which dishes up 27 more recordings, almost none of which have stood the test of time and all of which are great fun.
The booklets that come in the jewel cases are exemplary, giving all the important facts about the life and times of this once well known comic singer, with enough pictures to give a feeling of what vaudeville was like. (Having been born in 1936, I just missed out on catching the tail end of this theatrical form that was killed by radio and the film.)
The 79-minute Volume 1 contains 28 recordings made by Morton from 1907 to 1910. Some of the titles, which speak eloquently about the kind of songs you will hear, are "The peach that tastes the sweetest hangs the highest on the tree," "The right church but the wrong pew" (two recordings), "I'd rather be a minstrel man than a multi-millionaire," and "The party that wrote 'Home Sweet Home' never was a married Man"!
The sound is excellent, considering the recording dates, Morton's enunciation very good indeed, and the whole thing a lot of fun. But there is a warning at the bottom of the back covers, "Contains Racially Derogatory Language." The notes elaborate thus: "Archeophone believes that if we neglect the offensive parts of our history, we will fail to learn from it." I see their point. Others might not.
Volume 2 is just as enjoyable, with such titles as "What's the matter with father?" "Play that barbershop chord," "The trolley car swing" (anticipating Judy Garland's hit), "There's lots of stations on my railroad track" (which just touches the borders of the pornographic), "Somebody else is getting it" (another suggestive title), "Noodle soup rag," "Come out of the kitchen, Mary Ann," and "Goodbye Broadway" with the Peerless Quartet, another vaudeville favorite.
The reason for these numbers falling into obscurity might very well be the very references and attitudes that made them popular back in the early 1900s. But that is one of the reasons I so love to hear these vintage recordings.
And I still urge teachers of American History and Sociology to consider using these Archeophone sets to bring some life to their classes.

DICKENS I do love the smaller CD companies that produce recordings like "The Music of Charles Dickens and His Time." Produced by Beautiful Jo Records on the Warner Classics Label, this disc features The Seven Dials Band and a group of soloists who understand the style in which these songs should be presented.
Of the 20 selections, several are mentioned by Dickens in his novels, some refer to characters in Dickens' works ("The David Copperfield polkas"), and some have lyrics by Dickens himself. The types of songs are of even more interest.
The most "Victorian" of all are those deep in sentiment (often approaching sentimentality), such as "A child's hymn" and "A country life." Some are devoted to Types: "The ratcatcher's daughter" (with its tongue-in-cheek ironic ending) and "The jolly waterman." "Shiverland Shakers, the man that couldn't get warm" anticipates the topsy-turvydom of W. S. Gilbert's "Bab Ballads," while Dickens' own "The fine old English gentleman" is a vicious attack on the corruption of the privileged rich.
The program starts with "The college hornpipe," the most familiar of that breed, used in Gilbert and Sullivan's "Ruddigore" to good effect. It ends with the most popular country dance tune of them all, "Sir Roger de Coverley."
Any teacher of Queen Victoria and her times, or indeed of the works of Charles Dickens, might/should/must bring some life to the lessons by playing excerpts from this Warner Classics CD. It is distributed here by Naxos of America and is in their March catalogue.
fbehrens@ne.rr.com