Opera and operetta recordings
By Frank Behrens
ART TIMES online June 2010
ORCHESTRAL
More 50s Recordings of Light Music
LIGHT MUSICAL ENTERTAINMENT I know there must have been a finite number of instrumental recordings, however high, made between the late 40s and through the 50s; but Guild Light Music keeps issuing so many interesting CDs taken from the LPs of that time that I must wonder how many are still left to transcribe.
Among the most recent in The Golden Age of Light Music series is "That's Light Musical Entertainment." The 24 selections here were recorded in the 50s and are drawn from stage and screen musicals. The disc begins with "That's entertainment" to set the mood. Among the familiar melodies that follow are "This can't be love," "I'll see you in my dreams," "Buckle down, Winsocki," and "Make believe." Among the orchestras represented are those of Percy Faith, Andre Kostelanetz, Richard Hayman, Alfred Newman, and Morton Gould.
As are each and every one of the nearly 60 CDs in this series, this one is perfect for easy listening or ambient music for gatherings.

Two Composers, Two Conductors Contrasted on DVDs
WAND AND BERNSTEIN More and more concerts on DVD are being released and two very good ones have come my way.
On an ArtHaus disc, Gunter Wand conducts the NDR Sinfonieorchester in Franz Schubert's Symphonies No. 8 ("Unfinished") and No. 9 ("The Great"). The nickname of the first is based on its having only two movements instead of the traditional four; the second because Schubert had already written a shorter symphony in C major.
The performance is from the Schleswig-Holstein Musik Festival of 1995. The picture is in 16:9 widescreen ratio and runs for 85 minutes. Wand is anything but a dynamic conductor, but he surely understands the essence of his composer.
The second disc features Leonard Bernstein, shortly before his death, conducting an all-Debussy program in 1989 with the Orchestra dell'Accademia Nazionale di Santa Cecilia. While he is not the over-dramatic young showman of the past, he still provides a nice contrast with Wand's minimal presence on the podium.
The pieces are the three "Images," the haunting "Prelude a l'apres-midi d'un faune," and the mighty tone poem "La Mer." Debussy's whole-tone approach provides a fascinating contrast with the Romantic Schubert symphonies, as do the techniques of the featured conductors. The picture is in full screen format, the running time is 86 minutes.
Both discs are highly recommended.

INSTRUMENTAL
Gershwin and Kern Melodies are Featured on New CD
I must agree with the many who claim George Gershwin to be the greatest American composer of popular music. Perhaps I should say classic-popular music, since his "Rhapsody in Blue" and "Porgy and Bess" appear in both categories on record shelves.
I have recordings of his songs with and without vocals, played on piano, dual piano, full orchestra, flute, and brass band—and his melodies survive all interpretations that do not distort his melodic lines. So I must highly recommend an EMI CD titled "George Gershwin/Jerome Kern: Songs and Piano Music." The keyboard soloist is Richard Rodney Bennett, who gives lovely readings of 10 Gershwin piano pieces (including the "Three Preludes"), and 3 songs.
The central section of the program is devoted to "George Gershwin's Songbook," arranged by the composer and including such classics as "Swanee," "Oh, lady be good," "The man I love," "Who cares?" and "I got rhythm."
The last 6 tracks are given to melodies by Jerome Kern: "Smoke gets in your eyes," "The way you look tonight," "All the things you are," "Yesterdays," "Long ago and far away," and "Why do I love you?" Here, Bennett is joined by horn player Barry Tuckwell and an orchestra conducted by Neil Richardson. It is always fascinating to compare the slow ballads of Gershwin and Kern. The latter lacks those blue notes that show part of Gershwin's personality—caught best, I think, in the haunting "Second Prelude."
Kern is firmly rooted in the European operetta tradition; and indeed many collections of excerpts from operettas include songs from "Roberta" and of course "Show Boat," which is universally accepted as pure operetta. On the other hand, "Porgy and Bess" was intended for Al Jolson, whose inclusion would have brought the show as far from operetta as possible (I believe).
So this EMI CD provides not only beautiful melodies but a chance to compare and contrast two great American composers. Grab this one!
Note: Those who crave more Kern and Gershwin (with some Cole Porter) should try the EMI 2-CD set titled "Gershwin, Kern, Porter: Overtures, Film Music."
Organist Plays Arrangements of Familiar and Rarely Heard Pieces
CAMERON LIVE For those who love solo organ music, I am happy to report that Telarc has released a 2-disc set (a CD and a DVD) titled "Cameron Live!" (how I wish they would drop those pretentious exclamation points), featuring Cameron Carpenter.
The works on the CD include 6 pieces by J.S. Bach and one by Carpenter titled "Serenade and Fugue on B.A.C.H." On the DVD, there are his arrangements of pieces by himself, Bach, Liszt, Moskowski, Vierne, Widor, Shostakovich, Schubert, and even Sousa. His comments are most interesting, and there are highlights from concerts performed before audiences in Berlin and New York City.
His keyboard techniques are naturally best appreciated on the video than on the audio disc; and I am glad Telarc has included both.
OPERA AND OPERETTA
Soprano Wheelchairs Her Way Through "Barber"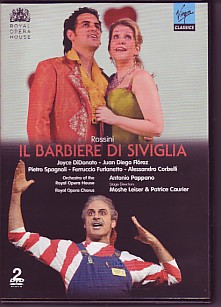 BARBER OF SEVILLE If the 2009 Royal Opera House at Covent Garden production of Rossini's "Il Barbieri di Siviglia" is to be remembered at all, it will be as "The Wheelchair Barber." Soprano Joyce DiDonato broke her foot on opening night and continued on a crutch. Her doctor then told her that it was a fracture. And so the second performance saw Rosina not only trapped in her guardian's house but also confined to a wheelchair!
Unfortunately, her wheelchair was confined to a small strip of the apron, while the rest of the action was blocked on a raised stage about three or four feet above her. So as much as the game cast tried to get her into the action, she remained detached from it and much of the original staging must have been modified out of existence.
The viewer can judge for himself now, because the production is available in a 2-DVD set on the Virgin Classic label.
The cast is a strong one. I don't think I ever heard Figaro's entrance song sung as powerfully as it is by Pietro Spagnoli; and Juan Diego Florez as the Count takes some dangerous high notes in the aubade early in Act I and is thrilling. Veteran doddering-old-man character actor Alessandro Corbelli patters his way nicely through Bartolo's part, while Ferruccio Furlanetto is an imposing and funny Don Basilio.
It seems a Must today that costumes must be a mixture of period and modern. So Figaro is wearing denim overalls, while Bartolo sports a Damon Runyan stripped suit with touches of Rossini's time. And to what purpose is it to give the disguised Count a 1930s-looking handgun? All of this nonsense merely reduces the credibility of the characters, who (DiDonato tells us in a bonus interview) were directed to play as if performing the Beaumarchais original.
The sets are minimal, further distancing the audience from credible proceedings on the stage.
The running time of the performance and bonus material is 176 minutes. As usual, the production team at Virgin declines to give the tracking in the enclosed folder and then declines to give the track numbers and timings on the disc itself. There are subtitles in 5 languages and the picture is in widescreen format.
Director's Choices Mar "Cosi" Production
COSI FAN TUTTE ArtHaus Musik has released a 2-DVD set of a performance of Mozart's "Cosi fan tutte" that has great strengths and several miscalculations. Performed at the Zurich Opera House in 2009 and conducted by Franz Welser-Most, it boasts a good cast but an often wayward director.
The sisters, Fiordiligi (Malin Hartelius) and Dorabella (Anna Bonitatibus) are clearly differentiated: the first more serious and with a stronger will, the second more frivolous and easily giving in to her "new" lover. (Those who don't know the plot had best find a synopsis to clear things up.)
The two lovers are less distinguishable; and (dare I say it?) the tenor, Ferrando (Javier Camarena), is not exactly romantic looking; but his lack of height makes him easy to spot when he and his friend Guglielmo (Ruben Drole) are wearing identical disguises. The master-planner, Don Alfonso (Oliver Widmer), is made up to look older than most singers in this part. Martina Jankova makes a pert Despina.
I wonder if directors actually read the libretti before consulting with make-up people. The two lovers in disguise make frequent references to their beards, outgrowths conspicuously lacking on their chins. One of the women decides she likes the dark-haired
stranger, the other prefers the fair-haired one. But both men have jet black wigs.
Again, the director twice makes a very basic mistake in the first act. As one character is singing an aria, another is doing some comic business elsewhere on the stage. This is neither fair to the singer nor to the audience, who just might want to concentrate on Mozart and not the stage business.
But the ultimate faux-pas comes at the last minute of the work, a change in the plot so absurd that I am amazed the audience did not boo. For me, it ruined what was basically a fairly enjoyable and often imaginative interpretation of a very sophisticated and complex opera.
The running time is 200 minutes, the picture is in widescreen, and the subtitles are in five languages. There are no extra features.
Two Short Ravel Operas Share a DVD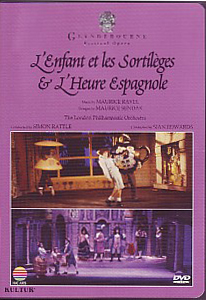 Known more for "Bolero" than for other works, Ravel also composed two short operas, both of which are available on a single Kultur DVD.
"L'Enfant et les sortileges" (The Child and the Sorceries) runs about 50 minutes. It shows what happens to a brat who takes great pleasure in breaking the items in the home and tormenting the animals in the garden. The day comes when those beings strike back. And so the room is filled with moving arm chairs, pieces of crockery, a grandfather clock, and even a Princess from a book that the child had mutilated. Fleeing to the garden, the child is faced with the fauna he had also abused.
It is a moral tale and ends predictably. But all through the work, the eye is enchanted by the clever costumes and choreography, and the ear by Ravel's shifting and atmospheric score. This is a filmed version of a Glyndebourne production from 1987 with Simon Rattle conducting.
"L'Heure espagnol" (The Spanish Hour), a "live" production conducted by Sian Edwards, has been called a 50-minute dirty joke. And at that timing, it does become a bit tedious. A Spanish wife looks forward to her husband's hour away from home (as he sets clocks all over the town) so she can get some action out of her poet lover and hold off the advances of an elderly banker. To do so, she has a mule driver carry large clocks with the lovers inside up and down to and from her room.
Two of the cast—the husband and the banker--catch the dipsy humor of the proceedings, but the rest are too stolid. Also, the score is not quite as captivating as the one for "L'Enfant." I can see the whole thing done by actors reciting the lines against the score as in a film. But it is certainly worth watching at least once; and it serves as a nice bonus to the opening work, which is a gem.
Both productions use set designs by Maurice Sendak and are directed by Frank Corsaro.
Rare Broadcast of "Mikado" is Now on CD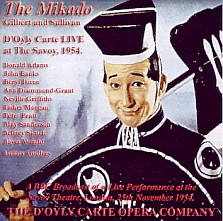 MIKADO Not counting videos and starting with a 1917 acoustic recording and then including all the professional recordings of the complete score, I find that 10 or 11 audio recordings of Gilbert & Sullivan's "The Mikado" are available today on CDs—and not one of them included the dialogue until the Ohio Light Opera Company made their production available in 2009.
I was therefore delighted to find that a 1954 broadcast of a complete D'Oyly Carte performance had been taped from the air and is available in a 2-CD set on the Sounds on CD label, restored by one of our British cousins, Chris Webster. There are some minuses and an overwhelming plus to this recording.
For starters, the recording is far from satisfactory acoustically. The sound is a bit muffled (not all that badly) but loud choral passages and high notes such as those at the end of "The sun whose rays" overload the microphone, probably at the recording end of the process.
The announcer interrupts to tell who has just entered or exited or to explain some bit of stage business, sometimes over the dialogue. And there is, of course, considerable laughter from the audience for something happening on stage, which the listener can only imagine or recall from past D'Oyly Carte productions.
The cast is mostly familiar from recordings of the period: Donald Adams (Mikado), Neville Griffiths (Nanki-Poo), Peter Pratt (Ko-Ko), May Sanderson (Yum-Yum), and Ann Drummond-Grant (Katisha). I far prefer the deep basso of Fisher Morgan (Pooh-Bah) to his successor, who appeared on the later stereo recordings. But he so overdoes the delivery of the dialogue to show Pooh-Bah's pomposity, that when Adams speaks as the Mikado in another exaggerated manner, things become too much of what should have been a good thing.
"Three little maids from school" is encored once, as is "Here's a howdy-do," which used to get several encores when Martyn Greene was allowed to do his thing.
As for that overwhelming plus I mentioned above, it is the sheer thrill of hearing the D'Oyly Carte forces do what they are famous for: performing G&S in a direct line of tradition that dates back to the first performance in 1885.
Webster's program notes give a good background to this radio broadcast, which the listener will find useful.
This set is available in this country by visiting www.78s2cd.com for details. And be sure to look at all the other G&S recordings also in the catalogue.
LEHAR OPERETTA IS IN A RUSSIAN MOOD
ZAREWITSCH Franz Lehar's 1927operetta "Der Zarewitsch" (the Young Tsar or The Son of the Tsar) is filled with his usual lovely melodies, a one or two of which might have been the work of superstar tenor Richard Tauber--or at the least a collaboration between Lehar and his lead. (What is an operetta, it was asked back then, without a "Tauber aria"?)
The unusual setting, Russia, gave Lehar the opportunity for that country's "melancholy and languor" (as one writer puts it); and the score is certainly worth hearing many times. The plot, as usual, merely provides the pegs on which to hang the music, and it need not detain us here.
There is now a good performance of the work on a 2-CD set on the CPO label. It was recorded in 2009 at a theatre in Munich, Germany, conducted by Ulf Schirmer. The small cast consists of Alexandra Reinprecht (Sonja), Christina Landshamer (Mascha), Matthias Klink (Zarewitsch), and Andreas Winkler (Iwan).
Those who cannot understand spoken German will want to skip the spoken dialogues, which are on their own tracks. While the booklet has a good essay about the work and Lehar, there is no libretto. But since it is the music that matters, that lack is annoying but should not keep one from hearing this recording many times over.
HOLLYWOOD MUSICALS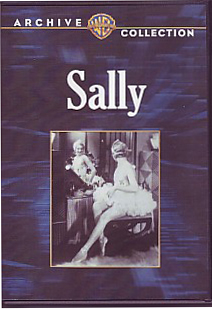 SALLY Superstar of many a Ziegfeld production, Marilyn Miller was invited to come to Hollywood to recreate three of her stage roles. Two of them were "Sally" and "Sunny," both with scores by Jerome Kern. Both are part of the Warner Bros. Archive Collection of DVDs; and having reviewed "Sunny," I now turn my attention to "Sally."
According to the playbill from the original production, the score included 15 vocal numbers. The 1929 film version has kept two of them: "Look for the silver lining" and "Sally"! (Hollywood would go on to do worse mutilations in the years to come, such as an "On Your Toes" with NONE of the songs retained.) The plot is the popular Cinderella one: an orphaned waitress crashes a big social party, impresses them all with her dancing, and is hired by Ziegfeld to star in a ballet (which takes up the entire third act of the play and about 10 minutes of the film).
Miller is not a very good actor—no one in this film is—but her dancing does dazzle. There are long stretches of tedious dialogue and a few comic sequences that are even more tedious. Still, that's what audiences wanted back then—or what audiences were told they wanted—and things must be taken in perspective. And it is good to see a young Joe E. Brown doing his best with terrible material.
But this film is a good historical record of the state of the American Musical back when Vitaphone replaced the movie house pianist and actors had to learn to speak.
Note: Archive DVDs are not playable on PCs or other computer-type playbacks.

"Rio Rita" Transplanted to the Screen in 1929 Film
RIO RITA The 1927 Broadway musical "Rio Rita" was filmed two years later with very few changes. Now that the film is part of the Warner Bros. Archive Collection, it provides not only an historical record of what Broadway musicals were like back then but also a chance to see a very early musical "talkie" with the comic leads of the original cast, Bert Wheeler and Robert Woolsey.
While one of my sourcebooks gives the running time at 140 minutes, this DVD runs 102 minutes and includes 7 of the musical numbers, plus the finales. As a special bonus to audiences back then, the last third of the film is in color, at least a primitive kind of color.
The plot concerns a bandit who might or might not be the brother of Rita (Bebe Daniels). The lead cast takes it seriously, a quartet of secondary comic leads provides some not very comic relief, and the songs are typical of Broadway scores of that time.
Note: The Abbott and Costello film with the same title has nothing to do with the original show.
Despite the shortcomings, this disc—as are all the other early musicals included in this series—is very much worth seeing, especially by college Film Departments. As is the case with all the other DVDs in this series, the disc can be viewed only on a player designed purely for playing DVDs and not on PCs.
VOCAL
Mother and Daughter Team Wow Their Audience
JUDY AND LIZA As a rule, I dislike audio recordings of "live" concerts for several reasons. Most of all, I can't take the audience applauding songs before the vocalist sings even the first word. Then there is the audible audience reactions to something "funny" happening on stage but quite invisible to the listener. Finally, there are the performers' attempts to relate to the audience by silly comments between songs and in some cases their actually changing the lyrics.
Case in point: a DRG release of "Judy Garland and Liza Minnelli 'Live' at the London Palladium." Drawn from two performances back in 1964, the CD holds 25 tracks that include an overture, 9 solos by Mother Judy, 5 by Daughter Liza, and several duets.
Among the songs are "Once in a lifetime," "Just in time," "Who's sorry now?" "Pass that peace pipe," "The man that got away," "Swanee," "Chicago," and the inevitable "Over the rainbow." Their contrasting approaches to the selections are obvious: Judy lets the song take care of itself, while Liza builds up to a fortissimo climax in the worst Las Vegas way to prompt more applause.
And yes, now and then someone found it irresistible to change some of the lyrics to remind the audience of the singers' relationship to one another.
I know that millions of listeners will say, "Who cares?" and enjoy this disc immensely. Who am I to contradict?
SINGERS SING THEIR FAVORITE CRADLE SONGS
GERMAN CRADLE SONGS How does one review a CD filled with songs designed to put people to sleep? Of course, when those people are babies and the songs are German cradle songs, that is another matter. There is a Carus CD of 26 "Wiegen Lieder, Vol 1" (cradle songs) sung by several vocalists to piano accompaniment that is quite unlike any other vocal collection I own.
It is accompanied by an 88-page booklet that contains all of the German lyrics (but without English translations), and very brief biographies (in German and English) of the singers, none of whom are familiar to me. Among the composers are Brahms, Schumann, Reger, Humperdinck, and Mendelssohn. The Humperdinck contribution is, to be sure, from his opera "Hansel und Gretel."
Many are quite beautiful, some a bit mundane. Some are sung with great feeling, others not as lullabies but as art songs aimed at an adult audience in a concert hall. At the least, it is quite interesting and now and then captivating.
EDUCATIONAL
CD Offers a Clever Way to Learn Spanish
Some while ago, I reviewed a CD designed by one Hap Palmer to teach the times tables to youngsters. (And just about 90% of college students who at present need a calculator for anything over the 1-times table.) The idea was to sing a song for each times table with the answers; then to repeat it on the next track without the answers, encouraging the listener to supply them.
He now has a new CD on the Hap Palmer label, titled "Learning in Two Languages/Aprendiendo en dos idiomas," in which he uses the same technique to teach English speaking children to understand Spanish—and the other way around, if needs be.
(My lovely niece, who has a Ph.D. in Spanish language and literature, says the Spanish title should be changed to "Aprender en dos idiomas." So with that caution, I plan to use this kiddy CD to learn a few words and expressions myself.)
Without the printed lyrics, this simply would not work; but www.happalmer.com does have all the English and Spanish lyrics, with cute pictures, that can be printed out. I found you can save considerable paper if you use the 2-column format.
There are 20 tracks, the odd-numbered ones being in English and the even in Spanish. Except for one song, the translations are literal—or what purpose would be served if they were not? There are then 9 more tracks of instrumental versions of the songs already heard, so that youngsters with good memories can sing along in both languages.
Among the topics covered are animal names, colors, days of the week, opposites, articles of clothing, adverbs, and prepositions. Various instruments are used in the accompaniments.
It is all very good, not perfect, and can serve as a wonderful educational tool to youngsters with eager minds.
The website also holds several suggestions for activities that might accompany and enhance the learning experience. It is certainly worth the price of the disc.
Note: All of these reviews have appeared mostly as they are here in the Keene Sentinel (NH), Brattleboro Reformer (VT) and Bellows Falls Town Crier (VT).