Music: CD and DVD Reviews
By Frank Behrens
ART TIMES Online February 2012
Not too many musical CDs and DVDs for this time round, but here they are, pretty much as they appeared in Keene Sentinel, Reformer Extra, and Brattleboro Reformer.
Chamber and Instrumental
QUINCY I have been introduced by e-mail to an interesting composer named George Quincy. He was born in Oklahoma and is proud of his Choctaw heritage. Having received two degrees from and having taught at the Juilliard School, he garnered wide experience in the lively arts. Not least of all his talents is composing; and he has sent me two CDs of his non-vocal works.
I am reminded of the composer Alan Hovhaness, who discovered the music of Armenia, burned all his earlier pieces, and integrated Armenian harmonies into his works. Quincy is equally fascinated with his Choctaw traditions but is equally comfortable with other musical influences.
For example, there is on the Troy label a CD titled "Choctaw Nights: Chamber Music of George Quincy," as played by the New York Five. It contains three pieces, the first of which is "Choctaw Nights," in 5 movements: "Fanfare for a Choctaw soul," "Trio for a Comet," "Snowy Io," "Europa," and "Jupiter." It compares favorably with Holst's "The Planets," but its idiom is entirely different. Quincy writes that he has always combined the myths of Greece and those of his tribe.
"Voices from Ground Zero" is atmospheric in an entirely different way. The 3 movements here are "Canon for September eleven," "Calling through the night," and "Mirrors of being." It is quite chilling.
"Shakespeare Nocturnes" are very moody, but I find no distinctions between the Scottish thane, the Danish Prince and the Italian lovers in the three sections: "The Scottish Play," "Hamlet," and "Romeo & Juliet." I do enjoy them, however, as pure non-referential music.
A Cottage Records CD, "The Journey of the Red Feather," also featuring the New York Five, is more characteristic of what I like in Quincy's works. He sees feathers as "a beautiful and perfect expression of the creative life force." Specifically, the three pieces on this disc are about "life and experience." Each of the sections is in three parts. "The First Morning" is a quintet about "coming into being." "The Great Spirit and the Child" is a trio (flute, viola, piano) and describes a red feather watching the child gain experience and individuality. The last section," The Journey of the Red Feather," is a quintet that celebrates the variety of nature.
Mr. Quincy, I am happy to have met you.
CANADIAN BRASS Any CD featuring the Canadian Brass players is always welcome. However, as the years go by, one collection tends to sound very much like the others, unless there is some thematic element that unites the selections in some way. For example, if all the selections are by Bach or some other single composer, or from the music of some single country.
And there is forever the problem of finding some catchy name for the CD. For example, "Canadian Brass Takes Flight" is now available on the Steinway & Sons label, misleading the buyer to expect music having to do with birds and/or airplanes or even space travel. But no. The opening selection is "The Flight of the Bumblebee" and thus ends the "taking flight" concept.
But let me not quibble. The playing of the 18 selections on this disc is of such a high quality that one can forgive the title and simply revel in the performance. (By the way, 60 minutes is a rather skimpy timing for a CD that can hold up to 79 minutes of material.)
Among the pieces are Bach's "Little Fugue in G minor" and "Air on the G string" (nothing to do with Gypsy Rose Lee), Mozart's "Turkish Rondo," and "Carnival of Venice" (known to some as "My hat it has three corners"). On another level are "Killer Tango" and "Tuba Tiger Rag," along with other titles that may be familiar to some and unfamiliar to most. It is a well-varied collection, including some world premier recordings, some by composers such as Michael Kamen, Luther Henderson, Bramwell Tovey, and Don Gillis.
The press release makes mention that this is "the first recording they have made with their new custom-made gold-plated instruments built by Conn-Selmer." So this is not merely a CD filled with selections excerpted from older Canadian Brass discs. The players, by the way, are Chuck Daellenbach (tuba), Chris Coletti and Brandon Ridenour (trumpets), Achilles Liarmakopoulos (trombone), and Eric Reed (horn).
And I simply cannot help thinking of Woody Allen's joke about a tuba player who tried "The Flight of the Bumblebee" and blew out his liver! I wonder if Mr. Daellenbach has heard that one.
WHEN WORDS FADE Now that Steinway & Sons have their own recording label, we can expect more "unusual approach" releases like the CD "When Words Fade: Night Songs for Piano duo." The "twist" (I hate to say "gimmick") here is versions of popular and classical songs played in 2-piano and piano 4-hand versions by Greg Anderson and Elizabeth Joy Roe.
The idea is to have the listener supply his/her own lyrics as fancy dictates and thereby find "the essential truths unmitigated by the approximations of verbal expression." It is nice to know that the writer of the program notes has apparently defined "truth" but the definition is kept from the reader.
But what about those melodies to which the listener already knows the lyrics? Any Michael Jackson fan does not have to supply new lyrics to "Billy Jean," nor does any opera lover have to do so to "Papageno!" or "Carmen Fantasy." However, the twist might work for the music of Thomas Arne, Antonio Vivaldi, Jacques Brel, Robert Schumann, and Radiohead, among the rest.
So if taken without all the fancy wording of the program notes, this CD provides some pleasant listening. The four video selections on a bonus DVD range from silly to impressive. At its best, it shows the complexity of 4-hand playing.
Historical
CIVIL WAR COLLECTION Having heard two Pearl May Music CDs titled "The Civil War Collection," Volumes 1 and 2, I noted so many of the 22 selections on the first disc had strong Irish sources. I checked to see how many Irish fought on both sides. At least one source estimated the number to be around 140,000, another 150,000 for the Union, while a third source estimates 30,000 Irish fighting for the Confederacy. That answered my question.
The subtitle is "Traditional Southern Fiddle Tunes from the War Between the States" (as the South prefers to call it), and they are all played with great verve by the Jim Taylor Band from Mars Hill, NC. The instruments played by Taylor and his four associates include hammered dulcimer, guitar, banjo, fiddle, concertina, and Irish pipes.
I am grateful that all but one of the selections have no vocals, because the music speaks for itself. Among the many tunes heard in Vol. 1 are "Booth shot Lincoln," "The Rebel Raid," "The Falls of Richmond," "Natchez under the hill," "Little Rose is gone," "Hell broke loose in Georgia," and others with which I am entirely unfamiliar (except for "Dixie" and "St. Patrick's Day in the morning"). Volume 2 adds to that list "Old Liza Jane," "Buffalo gals," "Rickett's hornpipe," "Old Dan Tucker," and "Old 1812."
But one must always bear in mind that the context of all these songs is a bloody war in which (sometimes literally) brother was killing brother.
There are copious notes in the booklets, which I cannot easily read. The Art Department has chosen microscopic print over a gray textured background that might have looked good in its blown-up format but is insulting in the 4 3/4" x 4/3/4" format. I ask yet again, "Why do they do that?" But the music is terrific and for that I am giving these CDs a high recommendation.

1916 In truth, I am running out of different ways to praise each entry in Archeophone's series called The Phonographic Yearbook. A good example is "1916: The Country Found Them Ready," which is as excellent as all the other "years" already in the catalogues. An edition has been available for quite some time. But now Archeophone has released a second edition of "1916" that incorporates several changes. To quote from an e-mail sent to me by one of their directors: "1916 has been completely remastered and the booklet laid out newly; graphics enhanced, etc." These changes are listed on page 23 of the usual information-packed booklet that accompanies all Archeophone discs.
The booklet is as packed as ever with information and pictures to bind together the 25 selections from original recordings of the period. So all I can do is note that some of the songs are geared to the European Conflict, the War to End All Wars, or World War I as it came to be called when it was clear that it ended nothing.
There are "Keep the Home Fires Burning" and "America" to keep the allied chins up; "Along the Rocky Road to Dublin" and "Ireland Must Be Heaven Because My Mother Came From There" to please a large part of the population; "I Sent My Wife to the Thousand Isles" and "I Can Dance With Everybody but My Wife" to keep the battle of the sexes slanted towards the male; and "M-o-t-h-e-r (a Word That Means the World to Me)" to wring a tear from everybody.
Among the performers are Al Jolson, Henry Burr, John McCormack, and Billy Murray—all great names in their day and still much beloved by many who recall them today.
Social Study teachers cannot afford to be without this disc and others in the series, nor can lovers of popular music and especially the popular song.
So those who missed the first edition should certainly grab the second. A visit to www.archeophone.com will reveal the vast treasury of "living acoustic" history, as I like to think of it, of what the public pulse beat was in individual years or at the time of the famous singers. Archeophone, keep it going!
Opera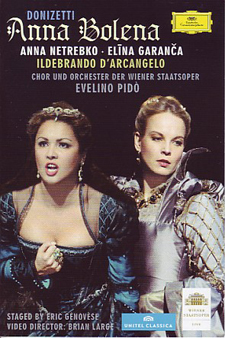 ANNA BOLENA Say "comic Donizetti" and the responses would be split between "The Elixir of Love" and "Don Pasquale." Say "serious Donizetti" and the response would likely be "Lucia di Lammermoor." Of course, many have seen "Anna Bolena" at local theatres that are carrying the Metropolitan Opera telecasts; but when asked for a preference, "Lucia" it would probably be.
Well, Deutsche Grammophon has released a 2-DVD set of "Anna Bolena," but not the one from the Met. This one was given in 2011 at the Vienna State Opera, conducted by Evelino Pido. It does, however, have Anna Netrebko in the title role. I have not seen her Met performance in this role, but that is beside the point.
Here she is a little chubbier than in her New York appearances, but not very much the prima donna in her portrayal of the second wife of Henry VIII. The libretto of Felice Romani plays fast and loose with English history (as what European operas do not?). Anna is already rejected by her King when the opera starts, things get worse as various men are accused with her, and finally (after the obligatory mad scene), she wanders off to the block.
In short, there is minimal action in this plot. Even the director, Eric Genovese, did not seem to find much inspiration. His blocking is static, the stage design is a single minimal set with variations to indicate various locales, and no one seems involved enough to give a full-dimensional performance. I have never been a fan of Netrebko's voice or her acting. Here she suffers in a generalized sort of way, and her confrontations with Jane Seymour (Elina Garanca) lack fire.
Fully into the role but even then a bit monochromatic is Ildebrando D'Arcangelo as Henry VIII, strong willed but always angry. Perhaps it is the music that makes him so, not the director, because (this is a novelty) he is a major character with no aria of his own.
Among the other leads are Dan Paul Dumitrescu (Rochefort), Franscesco Meli (Percy), and Elisabeth Kulman (Smeton).
The program notes mention that the score to "Anna" is much more advanced than that of "Lucia." But with over thee hours of music, very little of which lingers in the memory, it will never replace the far more melodic "Lucia."

Documentary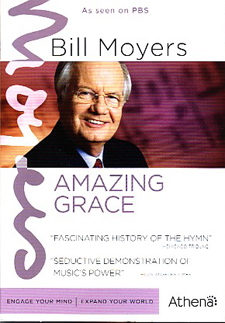 AMAZING GRACE There are some songs that persist in fascinating its hearers over the centuries. Take "Greensleeves," for instance, with its multiple sets of lyrics that celebrate love, the New Year, and the Nativity. Or consider "Simple Gifts," that shows up in so many song recitals and even in a Copland ballet score, or indeed any other tune that persists through the ages. But the one song with the most active longevity, if I may put it that way, is the subject of this report.
The Athena DVD titled "Amazing Grace" is unique in two ways. Never, to my knowledge, has a video been devoted to the history of a single song. And among the Bill Moyers televised programs, never (I believe) have so many been interviewed in a single episode.
The song itself will be sung about 24 times during the 80-minute documentary, but never in the same way twice. Being so amazingly popular, it invites countless approaches, such as Black Gospel, Shape Note (see the program notes about this tradition), Sacred Harp, American Popular, and several more.
Among the singers who represent each of these approaches are Marion Williams, Jessye Norman, Judy Collins, the Boys Choir of Harlem, Johnny Cash, and various churchgoers who discuss their experiences with this song and the effect it has on them. There is a sequence in which prisoners express their feelings; but I feel that much of what they say does not ring true. There is a sequence in which members of a family gathering express their feelings—and it does ring true.
A good deal is told about John Newton, the man who wrote the words that were published in 1779. Ironically, he was much involved in the slave trade until he felt a "grace" take over his being. Black singers do not seem to mind this part of the song's history, although many singers have complained of the word "wretch" in the text and have written variations to avoid that single word. Nothing is simple about a religious song.
The origin of the music, by the way, is still in debate among scholars.
This DVD has the added value of a 55-minute documentary about Pete Seeger. "Amazing Grace" is a remarkable video from which religious groups and music teachers especially can profit greatly.
CALLAS Because she often sang the title role of Cherubini's "Medea," Maria Callas was cast by director Pier Paolo Pasolini to play the same role in his non-musical "Medea." It is now available in restored copy on an E-one DVD that is not to be missed.
But this report is reserved for matters musical, as interesting as the film might be.
So, coupled with "Medea" is a 90-minute documentary titled "Callas" by Tony Palmer. Here, warts and all, is the history of the rise and fall of a much talented and much troubled young Greek girl (much overweight) who became the opera sensation of not just her own time, a fame that has lasted past her death and to this very day.
Her fault was trusting too much in at least two men, who (she thought) loved her as much as she loved them. She should have known better about a certain Onassis, a notorious collector of famous women. But love is blind, although Onassis was not when the widow Kennedy became available. And the hyena-like packs of reporters who could not respect her desire not to give interviews played their part in her collapse and her last years spent as a recluse.
It is interesting how Palmer shows excerpts from her concerts in which the lyrics (shown in English subtitles) seem to reflect her life at that point in the documentary. He starts with Rosina's "Barber of Seville" aria warning men not to get in her way and ends with Tosca's lament that she lived for art and yet she was betrayed. As Palmer stresses, there was always the separation between "Maria" and "la Callas."
Given all the heavy European accents of many of the on-screen speakers, subtitles should have been included all through the documentary.
Medea and her man, Callas and her men. The two stories do have a frightening similarity. And thank you E-one for making both available on a single disc.