Music:
CD and DVD Opera Reviews
By Frank Behrens
ART TIMES Online February 2011
ORCHESTRAL
LISZT Back in the days of the LP, many of the recorded piano works I had in my collection featured Alfred Brendel as soloist. His interpretation of the Liszt "Piano Concertos 1 and 2" has been reissued on a Regis CD, where he is accompanied by the Pro Musica Orchestra, conducted by Michael Gielen.
The sound is what one accepted back then—but when "back then" is remains a mystery since Regis does not seem to provide on the jacket or disc a copyright date for the original release. To add to the inconvenience, each of the concertos occupies a single track, which is okay for listening but very awkward for educational purposes. Also, when the last notes of the first concerto are barely gone, the first notes of the second concerto begin. This is merely carelessness.
Still in all, Brendel is Brendel, and his playing makes up for a lot.
As filler, there are three excerpts from Liszt's "Harmonies poetiques et religieuses," bringing the playing time to 74 minutes.
ISAAC STERN Now and then, it takes an emergency to bring about a great artistic event. For example, the very life of Carnegie Hall was threatened by the need for repairs and by the yet-to-open Lincoln Center. Something spectacular was needed to keep the Hall going; and Sony Classics has released as part of their Carnegie Hall Presents series a CD that celebrates the reopening night performance on September 27, 1960, titled "Keeping the Doors Open"!
However, circumstances made some changes by Sony necessary for the following reasons.
The stars then were no less than violinist Isaac Stern, conductor Leonard Bernstein, and the New York Philharmonic. The major work was the Beethoven "Violin Concerto." Only those there might recall how it sounded, because Stern's performance on that night was not recorded.
So Sony decided to use a 1967 recording of the Mendelssohn "Violin Concerto in E-minor," again with Bernstein, but this time with the Israel Philharmonic Orchestra. As filler, the CD includes the first movement of Tchaikovsky's "Trio for piano, violin and cello in A minor, Op. 50," in which Stern is accompanied by pianist Vladimir Horowitz and cellist Mstislav Rostropovich. This is taken from a 1976 recording made at Carnegie Hall in which it was played as part of yet another benefit concert.
Despite the somewhat confusing substitutions on this Sony disc, the playing is compelling enough to make it a very good buy.
LIGHT MUSICAL ENTERTAINMENT I know there must have been a finite number of instrumental recordings, however high that number might be, made between the late 40s and through the 50s; but Guild Light Music keeps issuing so many interesting CDs taken from the LPs of that time that I must wonder how many are still left to transcribe.
Among the most recent in The Golden Age of Light Music series is "That's Light Musical Entertainment." The 24 selections here were recorded in the 50s and are drawn from stage and screen musicals. The disc begins with "That's entertainment" to set the mood. Among the familiar melodies that follow are "This can't be love," "I'll see you in my dreams," "Buckle down, Winsocki," and "Make believe." Among the orchestras represented are those of Percy Faith, Andre Kostelanetz, Richard Hayman, Alfred Newman, and Morton Gould.
As are each and every one of the nearly 60 CDs in this series, this one is perfect for easy listening or ambient music for gatherings.
INSTRUMENTAL
DENNIS BRAIN Regis, a new label from Great Britain, which I have reported on in the past, specializes in re-releases of older recordings from the LP days and before. A spectacular entry in the Regis catalogue is "The Artistry of Dennis Brain," and I must recommend it to one and all.
Brain was born in 1921 and died driving on an icy road in 1957. Within that short time, he came to be considered by many the greatest exponent of the French horn. Happily he left behind him a great many recordings on 78s and LPs, and this Regis disc draws upon several of them.
Among the works heard on this recording, some complete, some excerpts, are the following: Beethoven's "Horn Sonata in F," Mozart's "Divertimento in E-flat," "Quintet in E-flat," and "Horn Concerto No. 2" (Brain's favorite), Dukas' "Villanelle," and Schumann's "Adagio and Allegro." The total playing time is over 78 minutes.
This is a very special release and I can assure my readers that there is magic in every bar.
SAINT-SAENS At times I think that only French composers around 1900 could so marvelously turn poetry into music. A good deal of the chamber music of Saint-Saens supports that feeling, and a new Naxos CD titled "Music for Wind Instruments" will help my argument.
Here Canada's National Arts Wind Quintet with pianist Stephane Lemelin performs the following chamber works by Saint-Saens: "Caprice on Danish and Russian Airs for Flute, Oboe, Clarinet and Piano, Op. 79," "Clarinet Sonata in E flat major, Op. 167," "Oboe Sonata in D major, Op. 166," "Bassoon Sonata in G major, Op. 168, " "Romance in E major, Op. 67," (arranged for horn and piano), and a lively "Tarantella for Flute, Clarinet and Piano, Op. 6."
Most of these are first hearings for me and I expect for most of my readers, and all are well worth the hearing. Considering the composer's dates—1835 to 1921—one would expect a good deal of stylistic evolution. The Tarantella was composed in 1857, while the three sonatas were composed in 1921. It is remarkable how Saint-Saens never fully abandoned the "impressionist" effects even after World War I.
All in all, this Naxos release is highly recommended.
OPERA AND OPERETTA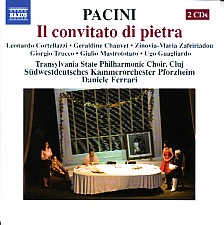 CONVITATO DI PIETRA Any lover of Mozart's masterpiece "Don Giovanni" will be most interested if not fascinated, as I was, with a Naxos 2-CD release of Pacini's "In convitato di pietra"—not "The Stoned Guest" (as PDQ Bach put it) but "The Guest of Stone."
Back in the 1830s, composer Giovanni Pacini (1796-1867) decided to work on an opera to be performed by his family and a friend or two. He asked a librettist, Gaetano Barbieri, to provide the lyrics and spoken dialogue. Barbieri, following an honored tradition of the times, reworked three previous treatments of the Don Giovanni legend and used Da Ponte's script to shape his own version. He disposed of the character of Dona Elvira, giving a good deal of her part of the action to the peasant girl Zerlina, kept Dona Anna and her useless fiancé Ottavio, and then dropped them entirely in Act II.
Pacini made the Don into a tenor and turned out a score that is certainly nowhere in the same league as Mozart's but is very well done and satisfying on its own terms. Don Giovanni's serenade (here to Zerlina) reminds one of Donizetti's serenade in "Don Pasquale." The Quintet in Act I is charming, while the final sequence with the Stone Guest is good of its kind—if one can forget the sublime treatment of the same material by Mozart. A small male chorus shows up only twice for a very short time—but this is true in the Mozart opera also.
Given all this, Jeremy Commons and Daniele Ferrari decided a few years ago to restore, with a good deal of reconstruction, this interesting work and perform it for the first time in public. Since the spoken dialogue for Act II had never been published, the two used the Da Ponte libretto to fill things in, added a scene for a virtuoso aria for Zerlina, and made several other changes and guesses that are touched upon in the program notes.
What is heard on these Naxos CDs was taken from rehearsals and performances, and things do bubble along under the baton of Daniele Ferrari, who conducts the Zudwestdeutsches Kammerorchester Pforzheim. The soloists are having a wonderful time with this all but forgotten work, and it is well worth the consideration and the hearing.
PATIENCE
Having made fun of mythology and actors in "Thespis," the legal system in "Trial by Jury," love and rank in "The Sorcerer" and "HMS Pinafore" (with a dig at Admirals who get seasick in the latter), and a blind adherence to Duty in "The Pirates of Penzance" (with a dig at Major-Generals who know nothing about the military), Gilbert and Sullivan decided in 1881 to make fun of fashionable leaders who are followed adoringly by mindless members of the public. They called their next and sixth work "Patience."
The Aesthetic Movement was going strong then, led by such poets as Swinburne, artists such as William Morris, and writers such as Oscar Wilde. The two men knew they were taking a chance at spoofing something that was bound to pass sooner or latter. Perhaps they forgot how Moliere's "The Learned Ladies," which has strong resemblances to "Patience," was still affecting audiences nearly three centuries later. Just consider how the public adored Rudolph Valentino, Frank Sinatra, Elvis Presley, and Michael Jackson—not to mention several politicians--to realize how people can be manipulated even to the point of idolatry. No, "Patience" has never lost its point.
However, because audiences today no longer understand the contemporary references, a good many footnotes are needed to "get the jokes" in the dialogue and lyrics. I especially recommend Ian Bradley's "The Complete Annotated Gilbert & Sullivan" (Oxford University Press, 1996). On the musical side, Sullivan has provided a score of great contrasts. There is the "aesthetic" chorus of the rapturous maidens in love now with the poet Bunthorne and then with the poet Grosvenor, mixed with the rousing military music of the Heavy Dragoons, the comic songs, the ballads, and even a "lancer" [a lively dance form] to provide the "11 o'clock" number and reappear to close the work.
Now the Ohio Light Opera has been recording on CDs many of their productions with full dialogue given at the College of Wooster. I was afraid when "Patience" was released that it would suffer badly against the rival 1961 Decca recording by the D'Oyly Carte Company that also includes the dialogue. Although "comparisons are odious," the OLO recording can stand up against the British troupe's with ease.
Sitting easily on 2 Albany CDs with a running time of around 115 minutes, this "Patience" benefits from a fine cast, most of whose voices fairly well fit the parts. I could wish a deeper basso for the Colonel (Boyd Mackus) and a more resonant contralto for Lady Jane (Julie Wright). But Cecily Ellis-Bills sounds innocent enough for the addle-headed title role, Kyle Knapp's dry voice is perfect for the aloof Bunthorne, and it is contrasted by the light baritone of Jon Gerhard's Grosvenor.
Others in the cast are Chelsea Basler (Saphir), Tania Mandzy (Angela), Drake Dantzler (Duke), and Cory Clines (Major). While Conductor Michael Borowitz may not catch that last touch of ethereal beauty in the ladies' music, he more than makes up for it in the Dragoons' music, and in the great double chorus that ends the sequence in which Bunthorne first appears.
Occasionally, the ad-lib sounds of the chorus do tend to drown out some of the finer musical passages; but this might have worked better on stage than on a recording.
I believe I caught only one clause dropped in one of Bunthorne's tirades; but I can assure the reader than the dialogue is otherwise absolutely complete.
As a footnote to all this, Gilbert had originally intended to satirize two members of the clergy; but he gave this second thoughts and hit upon two aesthetic poets instead. This might explain Bunthorne's offering himself up as first prize in a lottery, the sort of event that a clergyman might organize but certainly not a "fleshly poet."

VOCAL
BILLY MURRAY Second only to my Gilbert & Sullivan recordings, my most treasured set of consists of those released by the fantastic Archeophone Records. On them are hundreds of recordings transferred from the earliest cylinders up to the acoustic 78 rpms of the late 1920s onto CDs. In the compilations that make up the Phonographic Yearbook series, there are several selections sung by a certain Billy Murray, who sang exclusively for recordings and whose career spanned 1903-1940.
Just why his name is practically unknown to the general public is explained in the copious program notes that Archeophone has included with "Billy Murray Anthology: The Denver Nightingale." Perhaps the designation does not quite fit Murray's light comic voice, but his enunciation is perfect and his approach to the lyrics impeccable.
Among the 30 examples of his legacy on this disc, the more familiar include "Meet me in St. Louis," "Yankee Doodle Boy," "Give my regards to Broadway," "In my merry Oldsmobile," "Harrigan," "Shine on, harvest moon," "By the light of the silvery moon," "K-k-k Katy," and "Charley, my boy." The less familiar are even more fascinating, being first hearings for most listeners: "The way to kiss a girl," "Come take a trip in my air-ship," "He's a devil in his own home town," and the bitingly satiric "He goes to church on Sunday."
Notice especially the references to (then) modern inventions like the automobile and airplane. His recording of George M. Cohan's "The grand old rag" keeps the original noun that Cohan had to change when audiences reacted unfavorably. In a few numbers, he is accompanied by vocalists Ada Jones, Aileen Stanley, Ed Smolle, Walter Scanlan, and the Haydn Quartet. As soloist or as part of a duet, Murray never fails to please.

UPSTAIRS, DOWNSTAIRS A British CD on the Classical Communications Ltd (CCL) label is a delight to hear. Titled "Upstairs, Downstairs: Music from the Servants' Hall," it holds 19 songs and dance tunes that were sung or hummed by the servants in rich houses during the little free time that they could find down through the ages. This disc snuggles up nicely to the recent DVD of "Downton Abbey" on the PBS label and the re-release of "Upstairs, Downstairs" on the Acorn Media label.
Among those songs that fit into the Victorian-Edwardian eras are "Coortin' in the kitchen" (with its wonderful surprise ending), "Jenny Pluck Pears" (which will remind one of an American folk song with different lyrics), and "The green fields of Americay" (an example of the wish to leave the slavery that was called "service"). Older songs like "Ah Robin, gentle Robin" and "The Minstrel Boy" were certainly overheard from the great hall as the resident or guest minstrel amused the lords at their meals.
The soloists have that clearly enunciated folksy sound that fits so well with songs like these. This CD is available through Naxos of America and is much recommended.
PHIL HARRIS AND ALICE FAYE [Note: Although I would not ordinarily consider this set a strictly "musical" offering, there is enough vocalizing throughout to make it qualify as such if one stretches the point sufficiently.]
Radio Spirits has come through again! "The Phil Harris/Alice Faye Show" was one of the earliest spinoffs in broadcasting history. As the seldom sober, acidic bandleader of the "Jack Benny Show," Harris partnered with his glamorous spouse Alice Faye to appear in their own show in 1946, then called "The Fitch Bandwagon," which centered around absurd situations brought about by the Harris ego or bad advice from his (fictional) guitarist, Frank Remley (played by Elliott Lewis).
It was a given that the stars would sing a song each, few of which had absolutely nothing to do with the plot. Apparently in their living room, Alice would more or less demand that she "rehearse" a song for their radio show; and listeners would just assume the presence of one complete band ready to accompany her.
Other characters included tough guy Sheldon Leonard, the eternal mobster, and the most repulsive youngster in America, Julius, played by Walter Tetley. Then there were Frank Nelson (one of Benny's frequent antagonists), Gale Gordon (the perennial enemy Our Miss Brooks and later of Lucy), and many others.
Some time ago, the wonderful Radio Spirits people released on tape and CD a collection of the Harris/Faye shows, which I reviewed at the time. Now they have come up with a sparkling new set titled "The Phil Harris/Alice Faye Show: Private Lives," which contains on 10 CDs 20 shows from 1951, when the sponsor was RCA, makers of the very television sets that put radio series out of business. Heard one or two at a time (so you can catch your breath between hearings), you will laugh at the man that you would do anything to avoid in real life—and then laugh at yourself for laughing at the silliness that made each episode what it was.
Example: Phil and Frank decide to write a song. After they come up after 8 hours of work with only the opening note, Sheldon Leonard insists that they record his version of "Mother" (here pronounced "Mudder"), in which the "d" stands for dumdum bullets, and so on. Or the men's male version of "All About Eve" to show Phil's dramatic potential.
Somehow, however, Alice acts as a catalyst to keep things slightly above the level of The 3 Stooges! Enjoy.

EDUCATIONAL
CELLO MASTER CLASS One of, if not the most, unusual book-with-DVD sets I have run across has been released by Naxos with the title "Cello Master Class: Using Technique and Imagination to achieve Artistic Expression." It was made in Germany in 2006 and features cellist Maria Kliegel, who is speaking in German under an English voice-over translation.
The format on 2 DVDs is very simple. In the first part, Kliegel talks about bow technique, in the second left-hand technique, and in the following three parts particularly difficult passages from cello works by Haydn, Tchaikovsky and Schumann. The 198-page book presents much additional material with musical examples, and there are frequent cross-references to the material on the DVDs.
Now I do not play any musical instrument, and yet I was utterly fascinated by the virtually endless techniques a cellist must master so that the 30 bowing techniques can be perfectly coordinated with the 62 left-hand techniques shown on the disc. This is not a DVD designed for casual viewing!
However, the viewer should be familiar with all that is presented in the first two parts to appreciate better Kliegel's comments on the three works, in which she is accompanied by pianist Lynn Kao.
The program notes declare that this master class is meant for advanced cellists. But how can a teacher or student of any bow/string instrument resist this set? And is there a college music department that will not want it for viewing by the faculty and then for use in class? Take note!