Music:
CD and DVD Reviews
By Frank Behrens
ART TIMES Online December 2012
The highlight of the recordings received since my last set of reviews is the vintage television musicals saved from obscurity by Video Artists International (VAI). I am sorry that several of the other items drew such negative comments, but I tried to point out whatever seemed good about them just to be fair.
Vintage Television Musicals
Note: Because the following reviews were written at different times for different publications, they have some repetitive information at the openings.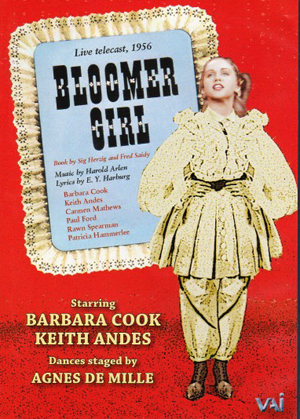 BLOOMER GIRL A most interesting addition to the series of vintage televised musicals on VAI DVDs is "Bloomer Girl." With a score by Harold Arlen and lyrics by E.Y. Harburg (the team that gave us "The Wizard of Oz" score in 1939), this 1944 tale of Dolly Bloomer and her Bloomer Girls' fight for women's rights had a respectable run of 654 performances and shared its plot and theme with the rights of slaves (in the 1861 setting of the play) and all humans at all times.
The choreography of Agnes de Mille, especially her Civil War Ballet, added much to the show. And not only is de Mille the choreographer for this 1956 Alcoa Hour, but many of her original dancers were recalled to action. The first dance is a bit too 1944-de Mille-cute; but that is the point of reviving old shows and not departing from the details and the spirit of the original.
Of course, the 90-minute format allows only 76 minutes for "Bloomer Girl," but what there is is top notch.
The lovers Jeff and Evelina are sung by Keith Anders and Barbara Cook (who is still going strong, as a New York Times featured article of 10-23-12 proclaims). Carmen Mathews plays Dolly Bloomer and Paul Ford is…well, Paul Ford as the blustering father of the Applegate Girls. Rawn Spearman as the slave Pompey has a pleasing voice and David Aiken as the auctioneer has a powerful one.
The studio set is large enough to give a convincing main part of a small Northern town called Cicero Falls, while the chorus work is quite good. This abridged edition of "Bloomer Girl" belongs in any collection next to the VAI DVDs of "Kiss Me, Kate," "Dearest Enemy," "A Connecticut Yankee," "The Chocolate Solider," "The Yeomen of the Guard," "Naughty Marietta," and "The Mikado" (with Groucho Marx in the lead.)
As is the case with the other sets, "Bloomer Girl" was originally telecast in color, but only the black-and-white kinescope remains.
Thank you again, VAI for this new treat!

STINGIEST MAN IN TOWN On the evening of December 23, 1956, the Alcoa Hour telecast a "musical play in three acts" titled "The Stingiest Man in Town." Basically it was yet another retelling of Dickens' "A Christmas Carol" with song and dance and would not be worth the restoration on a VAI DVD were it not for the remarkable cast.
From the world of opera there are Patrice Munsel (Scrooge's boyhood sweetheart) and Robert Weede (Marley's ghost). From Gilbert and Sullivan there is Martyn Green (Bob Cratchit). From the pop scene are Vic Damone (young Scrooge), Johnny Desmond (Fred), and The Four Lads (Narrator-Carolers and Beggars).
But the Big Draw in this produciont is the Scrooge of Basil Rathbone. The old Sherlock Holmes is quite a trooper as he races through the dialogue and doesn't do too badly with some songs (which he gets through by speaking them in time to the music) and a few dance steps to show his reformation after the third spirit's visit. His Scrooge, however, will never drive from my memory the superb characterization of Alastair Sim in the 1951 British film version.
To be sure, the music of Fred Speilman and the lyrics of Janice Torre leave much to be desired. The former I must describe as "50s homogenous" and the lyrics as less than clever. After all, who wants complex melodies and Lorenz Hart lyrics on Christmas Eve? I must admit that one song does make an impact: "One Little Boy." As sung by the Spirit of Christmas-Present (Robert Wright) with reference to Tiny Tim (Dennis Kohler), it does conjure up the essence of the holiday, which had long before this show been turned into a frenzy of buying with only a nod toward what the holiday should be about.
The crowd scenes are cramped by the studio space, and the choreography by John Heawood is workmanlike, except for wonderful moments when the dances of Dickens' time are recreated.
The original color kinescope (a camera filming a television screen) of this show is lost; and the black and white copy offered here is a little marred by ghostly lines in the video. However (to me at least), this just adds to the magic of watching a relic from the past that is quite a reminder from the long lost days of what live television used to be.
YEOMEN OF THE GUARD The latest release in the VAI DVD series of vintage television productions of musicals is Gilbert and Sullivan's "The Yeomen of the Guard." It is the team's work that is closest to opera, it does not involve topsy-turvy situations, and the characters are fairly believable.
Part of the Max Leibman Presents series, this 1957 "Yeomen" was allowed 80 minutes of running time, the rest dedicated to commercials and station breaks, and therefore is by no means complete. (The missing commercials can be seen as an extra.) But it does keep quite a bit of the dialogue and score (a full performance would run about two and a half hours) and serves as a good introduction to the complete work.
A caveat at this point. The original telecast was in color; only a black and white copy was found. Also, the picture is a bit more wobbly than are other VAI discs in this series. But there is no other (as far as I can tell) decent video of "Yeomen" available to us, so this one is a valuable addition to the history of television and to G&S productions.
A synopsis of the plot would take up too much space here; but I want to comment that the so-called Happy Ending is quite different from those in the other G&S plays: two characters wind up engaged to the very people they hate and the main comic character (like Bunthorne in "Patience") gets what he deserves.
Alfred Drake makes a very good if not overly subtle Jack Point the jester, while popular singer Bill Hayes looks and sounds good as the not very admirable Colonel Fairfax. Barbara Cook has an operatic voice that suits her role as Elsie, but Celeste Holm sounds too Broadway-ish for the young Phoebe.
The show begins with some background information about the Tower of London, which might interest the audience. But a second introduction by Jack Point is utterly superfluous and the time could have been better spent with a stanza from at least one song that had been removed.
DESERT SONG Sigmund Romberg's "The Desert Song" (1926) ran for 471 performances and was adapted on film in 1929, 1943 (the Nazis are the villains here), and in color in 1953. In 1955, it was shown on television as part of the Max Liebman Presents series; and that abridged version is now part of the invaluable series of DVDs of vintage television shows from VAI.
This 75-minute black-and-white version drops two comic characters and their songs, but keeps what is left intact (although I cannot vouch for the dialogue). Those familiar with "The Mark of Zorro," "The Scarlet Pimpernel," and even Superman will spot the creaky plot in which a hero poses as a coward. Here Pierre (Nelson Eddy), the son of a French General (Otto Kruger), falls for the beautiful Margot (Gale Sherwood). Disguised as the bane of the French, the Red Shadow, Pierre kidnaps her; and what there is of a creaky plot develops along very predictable lines.
But the essence of "The Desert Song" consists of "One alone," "Romance," the title song, and some lesser but pleasing numbers. There is a good deal of dance, a bit too much, considering how much plot had to be cut; but Bambi Lynn and Rod Alexander justify the time devoted to the ballet.
Eddy is not complimented by close-ups, but his baritone is still pleasant. Sherwood is described as his post-MacDonald partner. I find her easier to take than her predecessor. It is good to see the old opera buffa basso Salvatore Baccaloni as a Moroccan bigwig, but it is not easy to understand what he is saying.
The picture is a kinescope (a camera filming a television screen) and the sound is obviously not up to today's standards. But it is such fun and a must for lovers of the old romantic times when Romberg gave the people what they wanted.
Orchestral
GUILD LIGHT MUSIC For many years now, I have been reporting on individual CDs from the Guild series The Golden Age of Light Music. Now that the series has made available to us No. 92, I think I should give a full report on the series as a whole.
Note: The Guild website refers to 98 entries. We get them a little behind the times, it seems.
Having access to a seemingly bottomless source of old LP recordings, Guild has compiled their collections with some degree of logic. Titles like "The 1940s" and the five volumes of "The 1950s" speak for themselves. So do "Richard Rodgers," "George Gershwin and Jerome Kern," and "Light Orchestras Salute Cole Porter." A title like "European Tour" or "Continental Flavour [British spelling]" hints at the contents, while "The Show Goes On" does smack of both Broadway and the West End.
Collections with mood as the theme get titles like "Reflections of Tranquility" and "Amor Amor: Music for Romance"; and "Animal Antics" leaves one guessing at which songs will be found there along with the one about the teddy bears' picnic.
Other titles hint at the type of selections, such as "The Pianist in the Spotlight," "String Fever" and "Stringin' Along." And there is little doubt about the contents of "Christmas Celebrations."
The two volumes of "The Lost Transcriptions" include special discs sent to the servicemen in WW II and smuggled back as mementos. The two volumes of "Light Music While You Work" include recordings chosen by some government department to be played in offices and factories to help ease the pressure on the workers. (Music with a social purpose! A good topic for an essay or complete book, I would think.)
When thematic integrity runs short, there are always catch-all titles like "Buried Treasures," "Beyond the Blue Horizon," "Musical Kaleidoscope, Vol. 1 and 2," "Confetti," "Bright and Breezy," "Magical Melodies," and "Light and Lively."
Most of the recordings feature the top American and British orchestras of that time, including those of Percy Faith, David Rose, Mantovani, and Frederick Fennell. All give a generous number of offerings, usually around 22-24. And the more recent entries include stereo tracks. Indeed the latest CD in the series is titled "Stereo Into the Sixties."
This series is a treasure house for those who prefer quiet ambient music for dining or small social gatherings or just plain relaxing. If you wish a full catalogue of the CDs, it would be best to contact Guild at info@guildmusic.com or their website at www.guildmusic.com
Piano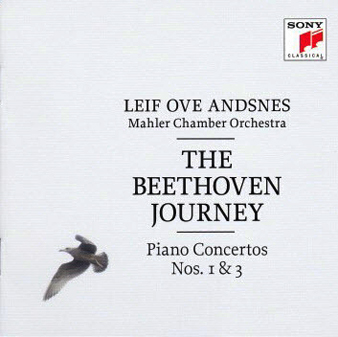 ABRAMS AND LIN Two recent CDs are similar and yet deal with quite different sources. But in both cases, the results are good to wonderful.
Pianist Daniel Abrams is a keyboard luminary up in New York State, known through his concerts and his recordings. In his latest, "A Wagner Celebration," he interprets his feelings about the music in the form of "A Rienzi Rhapsody" (drawing mostly upon the Overture) and "Fantasy Variations of Tristan and Isolde." The latter has been done, if not overdone, by full orchestras that serve as introductions to the opera as a whole. Abrams, again, interprets in piano terms what emotions the music stirs within him.
As Abrams puts it in the program notes, "The works in my series are not transcriptions. They are piano music based on themes from the operas in the style of the composers had they written this music themselves as piano music." That might be a nebulous supposition; but I leave it to the hearer to be the judge.
"Musical Portraits from Wagner's Ring" consists of a Prelude and variations of the Leitmotifs for several of the characters who turn up in the tetrology, finishing with "Immolaton" and the fall of Valhalla. I can see a great educational use for those who lecture on opera.
More about this artist can be found on his website, www. Daniel-Abrams.com; and his CDs are available on Amazon.com.
In another musical world, we have "Get Happy" on the Steinway & Sons label. Here the young pianist's specialty is to play original popular tunes in "serious" arrangements. (I wonder at times about statements like this in liner-notes interviews.)
This CD holds 18 selections from stage and screen musicals. Among them are "Blue skies," "I got rhythm," "Begin the beguine," "Blue moon," "Cheek to cheek," and non-vocal sequences such as "Carousel waltz" and "March of the Siamese children."
The program notes indentify the arrangers. It is all familiar stuff, delightfully played.

LANG LANG There isn't a pianist in the world that excludes Chopin from his/her concerts and recordings. Lang Lang is no exception, but the Sony Classical CD titled (with studied simplicity) "The Chopin Album" is the first disc from Lang Lang that is devoted entirely to that composer.
The program notes (as program notes do) make a big deal of the influence of Chopin on this keyboard artist; but ultimately one must judge if his approach meets whatever standards the listener imposes. In cases like this, I merely report what is available.
The program consists of the "Etudes, op 25," "Grande values brillante in E-flat major, op 18,"Andante spianato & grand polonaise, op. 22," three Nocturnes, a waltz, and a short "Tristesse." And, yes, it worth a hearing.
Chamber
GOAT RODEO Some time ago, Sony Classical released a CD titled "The Goat Rodeo Sessions." They are now reissuing it in a "deluxe edition" not only with extra tracks but with a DVD showing the players at work and in conversation. They are Yo-Yo Ma, Stuart Duncan, Edgar Meyer, and Chris Thile.
"Goat Rodeo" is an aviator's term for the 100 things that must go right to ensure a safe landing. The variety of the selections in their concerts and in this recording poses (we are to assume) 100 hurdles to overcome before landing with something worth hearing. I leave it to the reader to judge from the 11 original selections, the 5 bonus selections, and the comments on the DVD.
I find it at least interesting, at the most invigorating. Certainly worth a try.

COLORS OF FEELINGS About a hundred years ago, Claude Debussy took three poems of Francois Villon and set them to music. My favorite is the second, in which Villon has his mother at prayers express her devotion to her beliefs. There is a section in the middle in which the music swells to show the swelling emotions in her heart. The moods of the other two pieces are in stark contrast to that middle piece.
But alas, the inspiration in modern composers to set poetry to music might be the same but their approaches are quite different from Debussy's and the results can be quite disappointing.
So when I began to play "Colors of Feelings" on a Delos CD, I had only the slightest hope that I was in for an uplifting experience. But Hope was the last in Pandora's jar of evils. I say no more.
The program here consists of three song cycles, featuring the music of Philip Lasser. The first is "In Colors of Feelings," consisting of four poems by Wynelle Ann Carson; the second, "Les visages de l'amour," take six French poems for its material, one of which is by Paul Verlaine. I apologize to those who find great beauty in these ten pieces, but they are all slow, lacking any musical development, and after a while each sounds like all the others.
I have some literary interest in "Nicolette et Aucassin," required reading in my old Medieval Tales classes. Here, the story is reduced to six passages in modern French, all but one of which is introduced by a narration in English by actor Michael York. Again, I find no drama in any of the sung passages, except for an occasional spoken phrase. In short, what all of these cycles lack, that Debussy's poems are so rich in, is drama.
But what if Lasser was not after drama? What if he wanted to set up a dreamy atmosphere? After all, how dramatic can the color of feelings (it sounds like the color of quarks in quantum physics) be? But every listener must bring his or her own preferences to any artistic creation. Mine do not very much appreciate this recording.
The singers, Elizabeth Futral and Susanna Phillips, are very good and with Margo Garrett at the piano they all do what they can to realize the composer's intentions.
Vocals
PUTUMAYO KIDS Some time ago I reported on some Putumayo Kids CDs from the point of view of how music can relax us. Among them was "African Dreamland," which offered songs from South Africa, the Congo, Cameroon, Mali, and other locations on that continent. Now the PK folk have added to their growing catalogue "World Sing-Along."
I believe it essential that youngsters become aware of other cultures and that music is the best way to begin. "World Sing-Along" holds 11 selections of songs from such diverse locales as Mexico, Australia, Brazil, Trinidad, Switzerland, China (in Mandarin), Jamaica, and Spain. Track 11 goes "around the world." The singers are well known in their own countries and add authenticity to the proceedings.
My problem with this disc is that while the liner notes give interesting facts about each selection, they do not give the words. How a child (or most adults) can "sing along" without them is beyond me. Yes, the songs make great listening. No, I cannot see any nonspeaker hearing the Mandarin selection and joining in on the second playing. But the songs in English can be "sung along" after a few hearings, especially with adult guidance.
More accessible to listeners of all ages is "Cowboy Playground." Here are 12 selections including "I'm an old cowhand," "Back in the saddle again," "Pecos Bill," and the joyful "Whoopee ti yi yo," the last of which children will enjoy singing (I think) the most.
Keep up the good work, you at Putumayo Kids!
EDIE ADAMS Even as I type these words in the middle of October, I hear on the news that stores are already putting up Christmas displays. So it is certainly not too early to report on a CD from Omnivore Recordings, titled "The Edie Adams Christmas Album." This fine comedienne and singer was known for being the wife of Ernie Kovacs and more or less stood in his shadow in their radio and television shows. But she was allowed to sing.
To be honest, I thought I would be hearing a CD transfer of some old 33 1/3 LP recording. Alas, the 15 songs on this disc are excerpted from the sound tracks of their broadcasts and telecasts. The very first track, "Santa Claus is comin' to town," is prefaced by some barely intelligible dialogue between Kovacs and some extra that should have been better placed on the disc or cut out altogether.
The sound of old transcripts is pretty poor and the piano is far too loud and sounding (although I am sure it wasn't) out of tune. Hence, Edie's voice is not at her best; and Ernie's joining her in "Household holiday blues" adds nothing to the enjoyment of the rendition.
Among the other songs are "The Christmas song," "I wonder as I wander," "White Christmas," "Blue Christmas," and "Winter wonderland."
There are one or two unfamiliar items, the rest being what we will be hearing blasted out of loudspeakers of malls for longer than they are welcome. (It's the Scrooge in me!)
But all in all, this CD is a rarity and many might enjoy it despite its technical faults.
Documentary
RAIMONDI EuroArts has released a DVD titled "Ruggero Raimondi, My Favorite Opera, Don Giovanni." The framing device is a production of that Mozart masterpiece being prepared in Bologna, directed by Luca Ronconi, conducted by Riccardo Chailly, and starring Raimondi as the Don. In between the rehearsal sequences are interviews with the star in which he gives his thoughts about opera in general and "Don Giovanni" in particular. I found none of them very deep or original.
There is a long sequence in which the singer is at a dinner party with family and friends, during which one of them gives overstated praise to Raimondi, ending with the inane statement that he cannot picture "Don Giovanni" without him in the role. Watching the star give a master class to two young singers trying the seduction duet is very interesting. Watching him do vocal exercises for about a full minute is less so. And what he hopes to prove by singing a complete aria from a French opera about Don Quixote is beyond me.
One of the reasons I never watch the 1978 film version is Raimondi's utterly charmless portrayal of the Don. Even in the EuroArts documentary, he rarely smiles except to impress someone. So we really learn more about the person than about the opera, very little of which we see during the 58-minute running time of this program.
If there are to be more in this "My Favorite Opera" series, I hope they will be better thought out than was this one.
DANCE CRAZY Yet another poor documentary has come from Germany, this time about an American Master. One of the greatest choreographers to work in Hollywood was Hermes Joseph Panagiotopoulos (born in Tennessee), more conveniently known as Hermes Pan. He was the only dancer in the world who could give advice to Fred Astaire and who made dancers like Rita Hayworth and Cyd Charisse look even better.
The 1990 "Dance Crazy in Hollywood," now on an ArtHaus DVD, is supposed to tell the story of his career and does so in a slapdash manner that left me pretty disappointed. First of all, the narration for most of the 57 minutes running time is left to Pan himself, who is a very poor speaker. There are few sentences he can navigate from start to end without at least one pause as he is trying to think of what to say next.
Although there are many film clips, it is not clear what point some of them are trying to make. For instance, he mentions that he never worked with Eleanor Powell and then there is a long sequence of her dancing. There is a sequence from a short about riverboats (with no dancing) and one with "Bojangles" Robinson doing his stuff, but neither is connected with Pan in any way.
We do get to see Pan with several female dancers in film clips, but there is little analysis of what is going on. Now and then, Pan says something about dancers feeling the rhythm, but there is no need for a documentary to point that out!
What is more annoying is that we never get to hear from anyone who worked with Pan, so it is all from his point of view—which would be fine had he anything really interesting to say. The story behind Astaire's dancing with a hat rack is interesting, but it was only Pan's idea and he had nothing to do with the choreography.
It seems that more about Pan and Astaire might have given a lot of punch to this film. I would love to see the two actually working out a routine instead of seeing a still of them looking at a blackboard with a complex series of curves that represented part of the sequence of moves for some dance routine. (Nothing but a publicity shot.)
Sorry, but I have to pass on this one. Now I once saw a great documentary about Busby Berkeley… But that is another story.

Frank Behrens: fbehrens@ne.rr.com