Music: CD and DVD Reviews
By Frank Behrens
ART TIMES Online December 2011
Many of the DVDs and CDs that arrived since my last website posting are operas. However, there are several offbeat items to balance things out.
ORCHESTRAL
TABARINADES If I had some desert island choices of CDs, I would be sure to include Elizabethan dance programs, among which are some of the jolliest and most beautiful delights in western music. On the other hand, a CD from ATMA Classique titled "Tabarinades" has reminded me that equally charming dances and songs were happening on the other side of the English Channel.
On this disc, Les Boreades de Montreal, directed by Francis Colpron, offers 27 short examples of what was once heard on the streets of Paris by a group that featured the talents of actor Philippe Girard Tabarin. Not seeking high theatrical art, the group also hawked all sorts of items, as we are told by the short but interesting program notes. The music, as would be expected, was designed for the passersby, to catch and hold their attention as the play went on and the goods were sold among the crowds.
Right now, I'm trying to analyze why these pieces vaguely remind me of what was played at parties during the Swing Years of the 1930s and 1940s over here.
TCHAIKOVSKY AND OTHERS It might be known to some of my readers that conductor Georg Solti created in the early 1990s "The World Orchestra for Peace." Drawing upon the talents of players selected from the top orchestras, it travels around the world to promote music as a means toward world peace.
Its first concert took place in 1995 in Geneva. Since then Valery Gergiev has accepted the baton, and a 2011 concert is now out on a C-major DVD. It opens with the "William Tell Overture," which has been called the greatest Swiss music ever composed (by an Italian, of course), and really gallops along in that last movement. Part of my reasons for preferring DVD to CD concerts is watching aspects such as the bouncing of the bows on the strings as Tell's forces on horses ride to meet the Austrian enemy.
Prokofiev's "Classical Symphony" is a delight, while Tchaikovsky's "Symphony No. 5" mixes passages of great power with passages of great beauty. I will in future viewings skip the Johann Strauss II "Tritsch-Tratsch Polka" as one of the most blatant mood-killing encores possible, given the impression left by the Tchaikovsky piece.
The concert takes place in the Emirates Palace, Abu Dhabi, part of which shows up in the long shots. The conductor appears in shots from front and both sides, while individual players get close-ups as they are prominently playing at the moment.
The running time of the concert is 83 minutes, there is a 21-minute film about Solti and his Orchestra, and the picture is in widescreen ratio.
In sum, the format is standard, the playing exciting, and Gergiev's method of conducting is quite interesting.
INSTRUMENTAL
[Although I hesitate to call this next item "instrumental," if you accept brake drums and hammers as "instruments," why not?]
TOOLBOX CHRISTMAS For those quite satiated with CDs filled with the same old seasonal carols, there is a Gourd Music disc that offers a somewhat different approach to these time-honored (and some time-worn) selections. Hint: it is titled "A Toolbox Christmas."
For example, how about "I saw three ships" orchestrated (as it were) for tape measure, saw, hammer, drill press, 2x4s, power planer, and table saw? Or "Patapan" for pneumatic nailer, hammer, brake drums, anvil, 50-gallon drum, and nails? No, I am not kidding, nor is this CD taken from the soundtracks of "This Old House." The 2x4s, by the way, act as a large marimba, and the saws are musical saws.
There is a musician and woodworker named Woody Phillips, who had the idea one day of combining his two fields of endeavor by putting the tools of the shop at the service of his musical talents. Of course, he cheats a little (a lot?) by using here and there an English horn, cello, hammered and mountain dulcimers, and organ. Before I played this gem in the rough, I was hoping to hear only those instruments dear to Norm Abrams and his followers. But what there is proves different enough for me to recommend "A Toolbox Christmas" as an unusual gift for family and friends during the upcoming Season.
STEINWAY CHRISTMAS ALBUM For those who prefer an alternate to the "traditional" seasonal tunes played from the day Thanksgiving ends to the end of the year over radios, PA systems in shopping areas, and just about every place else, there is a modest CD on the Steinway & Sons label titled "A Steinway Christmas Album."
The pianist is Jeffrey Biegel and the 21 selections on the disc mingle the traditional ("Hark the herald angels sing"), the vintage popular (Leroy Anderson's "Sleigh ride"), the classical (overture to "The Nutcracker" ballet), and other rarely heard pieces that have to do directly or indirectly with winter, Christmas, or both.
The playing is very restrained, perhaps too restrained for some tastes. This is not a recording to sit up and concentrate on, but one that affords lovely ambient music for a non-raucous seasonal get-together. The track listing is in an inconsiderate white print on red background at the back of the CD cover. The running time is 62:41 minutes.
CHAMBER
MOZART STRING QUARTETS Imagine a composer obliged to write several works for the King of Prussia, including six that had to be string quartets. Imagine that the King makes it quite clear that he himself, a noted cellist, will be playing on the cello himself. Recognize that in a string quartet the cello usually has little more than a supportive role. What to do?
Well, if the composer is Mozart, there is a brilliant solution. However, those desiring to know what it was will have to read the program notes to a Sony Classical CD that features the Emerson String Quartet in "The Prussian Quartets." Specifically, the works are the String Quartet in D, K. 575, that in B-flat, K. 589, and that in F, K. 590. These are extremely difficult works, given Mozart's need to give the cello prominence, and the listener can appreciate the Emerson Quartet's navigating through the dangers and making clear what is essential in each of these selections.
The players are Philip Setzer and Eugene Drucker (who alternate first and second violin parts), Lawrence Dutton (viola), and David Finckel (cello).
CYPRESS STRING QUARTET When a CD has the title "The American Album," what is a Dvorak piece doing there? Well, the producers must have argued that since the Bohemian composer's piece is "String Quartet No. 12 in F, Op. 96," nicknamed "American," it is okay. I will not argue over the associative vs. the literal.
Still in all, it is the much-respected Cypress String Quartet (recording on their own label) that is the feature group, so adjectives can be forgiven. The other selections are "Two Sketches Based on Indian Themes" by Charles Tomlinson Griffes and Samuel Barber's "String Quartet in B-minor, Op. 11."
All in all, this is a pleasant CD for those who love string quartets and at the same time a good introduction to the Cypress players for those unfamiliar with their work.
LEO BROUWER For those who love the string quartets of Haydn and Mozart and the later essays into this musical form by Borodin and Barber, there is a disc on the Zoho label (new to me too) that is dedicated to string ensembles by the Cuban composer Leo Brouwer. The players are The Havana String Quartet, consisting of Yamir Portuondo (1st violin), Eugenio Valdes (2nd violin), Jorge Hernandez (viola), and Deborah Yamak (cello).
The works on this disc are "Quartet No. 1" (1961), "Quartet No. 2" (1968), "String Trio" (1959), "Quartet No. 3" (1991), and the single-movement "Quartet No. 4" (2007). The brief program notes describe the unusual elements that Brouwer introduced into the development of the modern string quartet, which might be becoming a dying art form.
At any rate, some might find this music an acquired taste. Others will take to it at once. Give it a try.

VOCAL
THE CELTIC TENORS I have lost track of how many recordings are directly or indirectly spinoffs of "The Three Tenors." Enough of them to revive some mythical meaning of a threesome: 3 Graces, 3 Gray Sisters, 3 aspects of the moon, the 3 caskets in "The Merchant of Venice," and so on.
Well, now we have "The Celtic Tenors: Feels Like Home" on a Telarc CD. This trio consists of Matthew Gilsenan, Niall Morris and James Nelson. The purpose of the album, according to the press release, is to spread "a very positive and hopeful message" in a world in which "the old notions of security, economic and political stability and cultural harmony all seem to be up for grabs." They may be a voice crying in the wilderness, but one must respect such intentions.
I find their performances of the 13 selections on this disc quite easy to take. I also find the lack of a distinctive voice that would distinguish this group from the dozens of other Celtic artists on so many other labels. The first selection, for example, uses the old cliché of a swelling of emotion (and volume) just towards the end and then a diminuendo to show sincerity, or whatever.
Yes, I can recommend it for those fans of Celtic music; but they mustn't expect anything more than good singing in the familiar style.
REVELS About 15 years ago, I ran across a sampler CD of pieces by a group called Revels from Watertown, MA. A good many of the pieces thereon had to do with Christmas, delivered in a way that grabbed my attention immediately. There was a wonderful mixture of adult and juvenile voices, backed up by instruments that had that medieval twang, and a tremendous amount of energy put into the performances. I was, as they say, hooked.
As I keep mentioning in other reviews, I long ago grew quite tired of hearing the same seasonal songs blasted through shopping center megaphones, radios and television sets—to the point that I feel like screaming at yet another "Jingle Bells" or "Rudolph." More and more, the music seems to be a celebration of shopping than anything else. On the other hand, I have played these Revels CDs over and over without tiring of them. Most of the selections do not appear on any other recordings, so they have not staled, and (to repeat) the performances are so striking.
So these discs are a very Good Buy for this season, and they not just another compilation of the usual but are filled mostly with the unusual in choice of selections and in the approach to them.
In the order in which they were issued, the first is "The Christmas Revels: Traditional & Ritual Carols, Dances & Processionals in Celebration of the Winter Solstice," containing 30 songs, some of which were sung before Christmas was celebrated in any way familiar to us.
"Wassail! Wassail!: Early American Christmas Music" has selections that represent "seasonal music from the Southern Appalachian Mountains and African-American traditions, from colonial New England, the Shaker sect, and Native American midwinter celebrations."
"Christmas Day in the Morning: A Revels Celebration of the Winter Solstice" takes a musical look at the Middle Ages and includes both religious and secular pieces.
"Sing We Now of Christmas: Six Centuries of European Christmas Music" includes a good deal of French lyrics and is a good companion set to the last one mentioned.
"A Victorian Christmas Revels" starts with Victorian street cries and sounds not too distant from what is still heard this time of year. On the other hand, we also have distinctly British music hall tunes and joyful parlor dances.
Some of "Rose & Thistle: English and Scottish Music from The Christmas Revels" was recorded before an audience, adding even more than the usual Revels excitement.
There are two recent additions to their catalogue. "Sing Noel! A European Christmas Revels" is much like other CDs containing the same material: "March of the Kings," Veni, veni Emanuel," and the like.
"Welcome Yule, An English Christmas Revels" brings the group back to what they do best. The songs are divided into traditional, for children, and for the Christmas season. My favorite among the traditional group are a short version of "The Cries of London," in which the sales pitches of merchants (oyster sellers and chimney sweeps among them) and public announcements are heard as they were once sung in the very noisy streets of that capital city. Among the other selections are "In the bleak midwinter," "The Lord of the Dance," "It came upon the midnight clear," and "Tomorrow the fox will come to town."
Now and then, there are spoken passages that might be programmed out for repeated playing, but most of them are charming the first time through. Each album has a booklet containing information about each selection and (except for "Sing Noel") the complete lyrics. Very user friendly.
Indeed, I am so enthusiastic about these albums that I urge my readers to look at the website at www.revels.org for more information about these sets and order one or more in time for some very thoughtful gift-giving. At the same time, one can get acquainted with other folk song offerings from this remarkable group.
You can contact Revels to learn about the locales, dates and times of their "live" appearances in the New England area. The phone is 617-972-8300 and the e-mail is info@revels.org.
STAGEDOOR CANTEEN My CD collection of popular music is a bit top-heavy with collections of "songs that got us through the war." So I had only mild interest when I received from DRG Records "Stage Door Canteen: Broadway Responds to World War II." My preference runs to original recordings of the time; and I couldn't bear anyone but Dinah Shore's "Sentimental journey" or Peggy Lee's "Waiting for the train to come in," or Spike Jones' "Little Bo Peep has lost her jeep." And when it comes to Broadway shows, only the original cast recordings will satisfy me.
So here is this CD, with a 2011 copyright, featuring five singers with a small combo backup at the 92nd Street Y [New York City] Theresa L. Kaufman Concert Hall. Add to that the not very stunning but perfectly adequate vocals from a young cast (Anderson Davis, Debra Monk, Brandon Victor Dixon, Jeffrey Deman, and Betsy Wolfe) and that would be reason enough for me to ignore this offering.
But someone had a great idea. Of the 21 tracks on this disc, several of them combine two or three songs in a very interesting counterpoint. The combinations are "Oh, what a beautiful morning"/ "Oh! how I hate to get up in the morning"; "Wait till you see her"/"All the things you are"; "This is the army, Mr. Jones"/ "That's what the well-dressed man in Harlem will wear"; "With my head in the clouds"/ "Along with me"; "Praise the Lord and pass the ammunition"/ "We're on our way"; "Have yourself a merry little Christmas"/ "White Christmas"/ "I'll be home for Christmas."
I suppose many of my readers have spotted that some of these come from Hollywood, not Broadway. But what the heck!
Among the singles are "The last time I saw Paris" and "I left my heart at the Stage Door Canteen" (which are very familiar), "Buddy on the nightshift" and "The kick in the pants" (which are not), and a delightful little lament from Harold Rome's revue "Call Me Mister"—"Little surplus me." Actually, this revue is postwar, but who cares?
In fact, I am delighted to find here some rarities not in my collection at all. I really would have liked to see this done live; but DRG has given me the third best thing. (The second would have been a DVD!)
GRIGOLO One tenor dies in an accident, another must appear to restore the tenor-equilibrium. Such is Vittorio Grigolo, whose calling-card CD "Arrivederci" is now on the Sony Classical label.
On the back of the cover, he is quoted as saying, "With this album I wanted to revisit the most beautiful music from opera to traditional Italian song from the last century, the like of which will never be written again." I must agree with that sad prediction.
Having heard dozens of CDs designed to introduce a new tenor, I noted that only 5 opera arias on this program are heard on so many other such discs. What makes this disc special is the inclusion of Italian popular songs, which make up most of the 20 selections: "La danza" (Rossini, and not exactly from "the last century"), "Mattinata" (Leoncavallo), "Torna a Surriento" (De Curtis), and the inevitable "Arrivederci, Roma" (Rascel).
I find his voice pleasant but—and this is so important—never thrilling in the way that (with all his faults) Mario Lanza was when he threw himself into a song rather than singing it with just occasional passion. Many might hear Grigolo and disagree with me entirely. But any new opera artist is worth the hearing. For all I know, Grigolo will probably sound much more dramatic in a full production than in a recording studio.
BALLET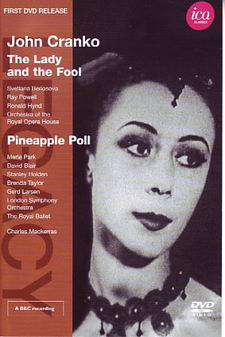 Many remember John Cranko (1927-73) as one of the top choreographers of his day. He was long associated with the Sadler's Wells Ballet, later to become the Royal Ballet, and two examples of his work are now available on an ICA DVD.
Many a ballet score consists of selections from the works of a particular composer, the most famous example being "Gaiete Parisienne," in which passages from the works of Offenbach are arranged to accompany the simple tale of a Brazilian who falls in love with a pretty Parisian. It is a sheer delight. Another tells the tale of "La Traviata" with the score of Tchaikovsky's Symphony 6, which I feel does not work.
The two on this DVD, however, do work very well indeed.
The first ballet on this disc is "The Lady and the Fool," which contains melodies from Verdi operas, arranged by Charles Mackerras. To avoid references to the plots of Verdi's more familiar operas, Mackerras dipped into "Giovanni d'Arco," "I vespri Siciliani," and "Attila." The simple plot concerns two homeless clowns (Ronald Hynd, Ray Powell), who are invited to a ball by a beautiful lady (Svetlana Beriosova). The start and especially the end are quite touching, while the middle is simply music played and danced to at the ball.
I have been waiting for years to see "Pineapple Poll," the score to which was arranged by Mackerras from tunes from the Gilbert and Sullivan operas. Based not on "HMS Pinafore" but on one of Gilbert's "Bab Ballads," it tells the tale of Captain Belaye (David Blair), who stirs the passions of the entire female population of Portsmouth, England. One of his idolaters is Pineapple Poll (Merle Park), who would develop into Little Buttercup. She herself is loved by Jasper (Stanley Holden), "a pot boy" from a tavern. But all ends well, of course.
G&S buffs will have a lot of fun identifying the source of each tune, and even the segues, but I warn them that there is one passage taken from a Sullivan orchestral piece that might trip them up.
Since these two performances were telecast in 1959, the picture is not perfectly sharp and the music just a tad blurry. But who cares? This is living (albeit recorded) ballet history and not to be missed by any lover of the art form. Grab it.
OPERA AND OPERETTA
DON PASQUALE I once saw an "Aida" in which the emphasis was on slavery in ancient Egypt, and I read about a "Nabucco" in which the people of Babylon were costumed like bees in a hive. But I have never until now seen an opera that centered on the soprano's legs!
Yet all through Act I, scene 1 of the 2010 Metropolitan Opera production of Donizetti's "Don Pasquale," Anna Netrebko was on her back kicking her legs into the air, swinging them as she pivoted into a sitting position. When she is dressed to the nines as the lavishly spending "wife" of Don Pasquale, the costumer has given Netrebko a gown split down the front to show her legs, this time with high sexy boots. Why not call the opera "Le gambe di Norina" and be done with it?
I wouldn't mind all this, but she is so much the "star" of this production that her twinkling seems more important than the plot itself. The rest of the cast sticks to what they are there for. Tenor Matthew Polenzani makes a good suffering Ernesto and offers a very good "Come e gentil" in the last scene, first offstage and then on. Mariuz Kwiecien is a very energetic Dr. Malatesta, but he is never quite believable since the director, Gary Halvorson, decided to play the work as a farce rather than a comedy.
John Del Carlo as Don Pasquale stands at least a head and half over others on stage, but his bass is a bit ragged and the very low notes are no longer at his complete command. Directed as he is, his Pasquale is a fool and not a misguided senior citizen with delusions of nuptial grandeur.
This is James Levine's first try at this work and he does keep things rolling along, even giving the Don and Malatesta an encore for their patter duet in front of the curtain as the last scene is being set up. I found it painful, however, to see the Maestro holding on to the curtain edge to make his solo bow.
So like "The Barber of Seville" of recent memory in which Joyce DiDanato played Rosina in a wheelchair, this "Don Pasquale" is a salute to Netrebko's looks, not talent. But many will not complain about that.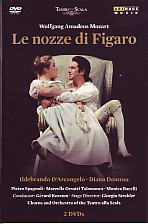 NOZZE DI FIGARO Before viewing any opera DVD, I ask if the production is in modern dress or set on Mars or subject to some opera-hating director who must impose his "concept" on the work. I am glad to report that the 2006 La Scala production of Mozart's "Le Nozze di Figaro" is set and costumed when and where it should be.
And yet, it does not seem to quite come together. The blocking is unimaginative, and the characters just seem to be going through their paces. For this I can blame the stage director. Gerard Korsten conducts the orchestra chorus of La Scala and the soloists in a fairly well paced manner. But between stage and musical directors, nothing emerges to cast new light on this perhaps overly familiar masterpiece.
Ildebrando d'Arcangelo is a mature and angry Figaro but little of the character's humor is seen. Diana Damrau is one of the great coloraturas of our age, but I am afraid she looks a little mature for the young Susanna. And no kudos at all to the makeup designer for having the lovely face of Monica Bacelli sport bright red lipstick, making the page Cherubino look far too much like a woman in a white wig.
Marcella Orsatti Talamanca (don't you love these names?) is a pleasing Countess, while Pietro Spagnoli creates a believable wife-abusing Count. While some productions cast an attractive actress to play the scheming Marcellina, Jeanette Fischer is made up to look quite unattractive and certainly old enough to be—what she turns out to be. She is partnered by a not-so-bumbling Bartolo as played by Maurizio Murano.
One can always judge the imagination of the director by how two moments in this work are handled: the confusion of the Count and Countess when Susanna steps out of the closet, and Susanna's reactions when told that the secondary villains are now members of the family. (I am trying to avoid spoilers for those new to this opera.) Here, the first is okay, the second something of a dud.
All in all, this is not a bad production; but there is at least one on another label that has all the excitement and nuanced characterizations that are lacking in this La Scala performance.
The running time is 187 minutes, the picture is in widescreen format, and the subtitles are in 6 languages.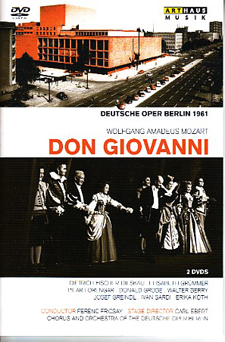 DON GIOVANNI In 1961, the newly rebuilt Deutsche Oper Berlin opened to the public with "Don Giovanni." The next day, the performance was telecast; and now at last, the telecast has been captured in a two-DVD set from ArtHaus Musik.
The cast was a very good one for its time: Dietrich Fischer-Dieskau (Giovanni), Walter Berry (Leporello), Ivan Sardi (Massetto), Donald Grobe (Ottavio), Josef Greindl (Commendatore), Elisabeth Grummer (Anna), Pilar Lorengar (Elvira), and Erika Koth (Zerlina).
Since opera hadn't reached the stage in which every one dressed in crumpled overcoats as part of some director's "concept" of what Mozart "really had in mind," and the Don Giovanni's hadn't become scowling sociopaths, the piece is performed "straight" but with little "concept" at all. Fischer-Dieskau's Don is charming, Leporello is clownish, getting the only laughs from the audience, and the rest go through their paces with little conviction behind their well-sung performances.
Of course, no one can do anything with the extraneous Don Ottavio (who is given both his arias in this production), but Grobe has a strong tenor that at least gives some virility to the role. Lorengar shows not a hint of madness in her singing or acting, although her opening aria should be a musical study in mental unbalance. Her voice is simply too sweet and underpowered for the part.
Even with three hours of music, this production seems to rush things to the extent that the curtain comes down as Berry is still singing the last notes of the Catalogue Aria. Did they really need those extra seconds to change the scenery? In fact, Berry is the one member of the cast who tries to create a character. But we must blame conductor Ferenc Friscay or even stage director Carl Ebert for the slack dramatics from the others.
I must now mention a critical element of this production. It is entirely in German (with subtitles in six languages). Singing in the local language was common back then. This changed when high priced singers of all nationalities could jet from opera house to opera house, having memorized the lyrics in the original languages. Gone was a national singing style, but back were the original words.
So ArtHaus Musik's "Don Giovanni" is a good example of what opera was like in that time of history.
[Sony Classical has issued digitally-improved recordings on CD of several the wonderful old Saturday afternoon broadcasts from the Metropolitan Opera. Among the latest releases are four operas from the French repertory.]
CARMEN AND HOFFMANN The two I will be concerned with here both star Americans Richard Tucker and Rise Stevens.
"Carmen" was heard on February 16, 1952, conducted by Fritz Reiner. As was the practice then, the spoken dialogue was not used and the through-sung version prepared by a student of Bizet was heard. Therefore the audience did not learn that Don Jose joined the army to beat a murder rap back in his hometown and other interesting character details. Mezzo Rise Stevens played Carmen and put more fire into the Seguidilla than any other mezzo I have heard, including Stevens herself on the old RCA Victor set.
The maidenly girl sent by Don Jose's mother to give him an innocent kiss is well played (as much as Micaela can be characterized) by American soprano Nadine Conner. The toreador Escamillo (Paolo Silveri) sounds virile enough as the shallow showoff, while the assorted gypsy friends of Carmen sound just fine. Would that someone had taught some of them French pronunciation; but that was always a problem back then (and I fear still is). Those native to that language will smile at how many ways "besoin" can be sung.
The opening chorus of Act IV uses alternate lyrics to sneak an extra ballet into the proceedings.
"Les Contes d'Hoffmann" (heard on December 3, 1955) has Tucker's Hoffmann constantly thwarted by Martial Singher as the four villains with little vocal variation among them. His three loves in the tales are the clockwork Olympia (Roberta Peters), the courtesan Guilietta (Rise Stevens), and tubercular Antonia (Lucine Amara). A much shorter score than is used today is used on this broadcast; and the character of the Muse is dropped entirely. Yet another American, Mildred Miller, makes a fine Nicholas, companion to Hoffmann.
And if Tucker sounds a little stolid in these two operas, it is because Tucker always sounded stolid. But he does warm up to the passionate moments in both works.
So while neither of these recordings will become first choice, it is still so good to hear so many native singers in these French standards.
Now for the other two of the four releases.
MIGNON and FILLE DU REGIMENT Although I heard the overture many times, it has been decades since I heard a full recording of Ambroise Thomas' "Mignon." Yes, this is the opera that has the sparkling coloratura aria "Je suis Titania" and the lovely mezzo aria "Connais-tu le pays." The plot is based on a story by Goethe.
It is the tale of a young girl Mignon (Rise Stevens) who is in love with Wilhelm Meister (James Melton), who loves in turn the actress Philine (Mimi Benzell). Mignon is cared for by a wandering minstrel Lothario (Ezio Pinza), and so on. Mignon, by the way, is not the entirely angelic waif expected in a plot like this but one who knows what she wants and isn't above a criminal act or two to get it.
The sound of this 1945 broadcast, conducted by Wilfred Pelletier, is not at all bad. Most of the score is jolly if not memorable, but Thomas does not quite manage to make the expositional passages interesting. Still, there are always the sounds of an actual stage performance to make up for low points.
It is Lily Pons, the French super-coloratura, who dominates the 1940 broadcast of Gaetano Donizetti's "La Fille du Regiment" in its original French form. I tried to follow the words in a 1971 libretto from the Met, but the recorded performance seems to be using a different version.
The plot revolves around yet another waif who is quite happy being adopted by an entire French regiment. She loves Tonio (Raoul Jobin), is cared for by Sulpice (Salvatore Baccaloni, who needs French lessons), but is claimed by a Marquise (Irra Petina). And so on, yet again.
Here too, the songs go bubbling along under the baton of Gennaro Papi, and Pons spreads ultrasonic notes right and left like a true diva who puts the drama in a far second place. And it seems that Jobin skimps on the required count of high C's in his aria. But what fun it is! Pons even interpolates an aria not in the original and brings down the house with the "Salute to France" that ends the work with an unauthorized "La Marseillaise" (it was 1940, after all) to bring things up to date.
Yet another waif of sorts is the nucleus of a plot, this time of an operetta.
FORTUNE TELLER It is interesting to note that Victor Herbert's "The Fortune Teller" opened in 1898, only two years after Gilbert & Sullivan's last collaboration, "The Grand Duke." In the latter work, one man finds himself engaged to four women; in the former one woman finds herself engaged to three men. Even Herbert's music in "Fortune Teller" sounds similar to parts of "Grand Duke." But in the world of musical theatre, such things are bound to happen.
The Ohio Light Opera has a long series of operetta recordings, to which "The Fortune Teller" is the latest entry. It is now available in a 2-CD set from Albany Records. The book and lyrics by Henry B. Smith tell the story of a Gypsy named Musette who is a dead ringer for the prima ballerina of the Budapest Opera, Irma. Both roles are sung here by Amy Maples.
The penniless Count Berezowski (Logan Walsh) wants to marry Irma because of her bracelet (just accept that for now), but Musette poses as Irma and winds up engaged to him while Irma disguises herself as her twin brother Fedor, lest he be charged with desertion. (I am not making this up!) At any rate, the dialogue is included in both the recording and booklet and can be cheerfully ignored.
More than one Herbert tune does not quite make it, such as the military choruses, which suffer by comparison with Sullivan's military choruses in "Patience." But two melodies have often been sung out of context on collections of Herbert's songs: "Romany life," which celebrates the Gypsy world outlook, and the hauntingly beautiful "Gypsy love song," which is sung to entice Musette into staying with her people.
In fact, I have grown so used to hearing sopranos and mezzos sing the latter that I was surprised to find it is a man, Sandor (David Kelleher-Flight), who is assigned this gem.
Although one or two of the men read their lines in that "this is an operetta" lilt, the silly plot can stand that treatment, while the other musical pieces range from pretty good to exquisite.
And I am assured by John Ostendorf, the Recording Producer that the dialogue is found in the original script though it is highly abridged.
Finally, Conductor Steven Byess leads singers and orchestra with brio. Good work all around.