Music:
CD and DVD Opera Reviews
By Frank Behrens
ART TIMES Online December 2010
Instrumental
BACH A STRANGE BEAUTY Who has not wished to be able to take a melody one loves and improvise upon it, sharing it (as it were) with the composer? Pianist Simone Dinnerstein does not have to wish it; she does it with the music of J.S. Bach on a Sony Music CD titled "Bach, A Strange Beauty." She is accompanied by the Kammerorchester Staatskapelle Berlin.
The multi-lingual program notes (who besides me finds that so annoying?) quote some of an interview in which Dinnerstein talks about her feelings toward the composer and her interpretations of his music, so I need not delay my readers with that. What remains is some lovely playing of six pieces. Three are arranged by other composers: "Ich ruf zu Dir, Herr Jesu Christ," "Nun freut euch, lieben Christen gmein," and "Jesu, joy of man's desiring." Among these are her own views of the "Keyboard Concerto No. 5 in F minor," the "English Suite No. 3 in G minor," and the "Keyboard Concerto No. 1 in D minor."
Even purists will certainly enjoy hearing these interpretations of some of Bach's finest works. Note to Production Team: I can do without the arty photos of Dinnerstein walking through the woods and the folk-arty paintings on the covers and in the booklet. They are simply pretentious.
PIANO TRANSCRIPTIONS When orchestral works are transcribed for two- or four-hand piano performance, the result can never replace the original. For example, Nimbus Records has released a CD featuring the talents of York2, the team name for Fiona and John York. The disc includes one piano/four hands versions of Stravinsky's "Le sacre du printemps" (Rites of Spring), Ravel's "Rapsodie espagnole," and Debussy's "La Mer" (The Sea).
Those familiar with the original pieces know how important the orchestration is to the feel of the works. But I have always felt that the transcriptions for keyboard help point out the anatomy (so to speak) of the original. Da Vinci was a master at drawing the human figure as seen from without (the full orchestration), but he also knew what lay beneath--every muscle, every bone.
The program notes point out how popular the transcription form was before recordings. How else could a household get to hear the music between concerts than by playing the bare notes on the household pianoforte?
I think the "Sacre" fares best of the three works on this disc, since it retains that primitive beat that is so essential to the work. The shimmering orchestration of the "Rapsodie" is missed but the transcription stands on its own merits. I feel that "La Mer" also loses little of its original effect as played by the Yorks.
This Nimbus disc is a happy addition to my growing collection of keyboard transcriptions of great classical symphonic works, including a very old set of the nine Beethoven symphonies (!)
STRING QUARTET CHRISTMAS Long known for notable classical releases, Arkiv Music has developed a smaller line of CDs called Listen. My first experience with a Listen recording is "A String Quartet Christmas," which offers a different approach to seasonal releases.
The first of 3 discs holds 24 selections played by Arturo & Friends, as they call themselves, consisting of 2 violins, a viola and cello. The same combination is joined by a harp on the second disc, which holds 22 selections. An organ is added to the same number of selections on CD 3.
While it is all quite beautiful, I began to find it cloying toward the middle of the first disc. The joyful numbers are played with sufficient verve but the limited instrumentation makes the needed brilliance less than it should be. On the other hand, the preponderance of the selections in this set calls for slower tempos; and I am afraid that the players choose such slow tempos as to sound nearly funereal in many places.
The press release quotes some critical praise for the set's breathing "new life into Christmas classics" and for being "mellower" than other such offerings. Can one do both at once?
This might not bother other listeners as it does me, but I must honestly report my reactions. I think that this set would provide very welcome low-key ambient music for a seasonal get-together for those who are quite tired of hearing "Jingle Bells" blasted over speakers in malls, eating places, and shopping mall lots.
Note: Each of these CDs was originally released as a single in the 1990s.
JAZZ AGE I am such an admirer of the duo piano recordings of Anthony Goldstone and Caroline Clemmow that I find myself playing their CD renditions of Tchaikovsky's "Symphony No. 4" or Grieg's "Piano Concerto" more often than CDs with the fully orchestrated versions. I find I can so much more appreciate the inner workings of the pieces when they are heard in piano redactions.
Their latest release on the Divine Art label is titled "The Jazz Age for piano duo." The program includes Gershwin's own 2-piano version of "An American in Paris" and Milhaud's own piano-duet version of "Le creation du monde." Some of the other pieces needed no new arrangements: Edward Burlingame Hill's "Jazz Studies for two pianos," Alexander Moyzes' "Jazz Sonata for two pianos," and selections from Mayas Seiber's "Easy Dances for piano duet."
The program ends with two gems. One is an arrangement by Louis Merkur of Hoagy Carmichael's "Star Dust for two pianos" in its world premier recording. The second is Percy Grainger's rearrangement of an earlier arrangement of George Gershwin's "Embraceable You." What a treat!
The booklet has more information than most companies provide, and it is all in sensible and therefore legible black print on white pages.
Yes, I did find the title of the CD misleading but was delighted to see the actual works contained thereon. Much recommended to one and all.
ROMERIAS When it comes to guitar music, I can turn to an expert for an opinion more knowledgeable than mine. So when I heard an Aleph Records CD titled "Romerias," on which Sergio Puccini plays music for solo guitar, I lent my copy to Prof. Jose Lezcano—educator, performer, composer and advocate of Latin American guitar music at Keene State College. Some of his comments follow.
Note first that the composers whose works are represented on this disc are Lalo Schifrin, Enrique Bevacqua, Alfredo Rugeles, Salim Dada, Astor Piazzolla, Manuel de Falla, John Duarte, Hernan Navarro, and Sabina Puccini.
Lezcano calls this collection "a special treat." He admires "the alternately jazz-inflected, Latin styled pieces [which] are very melodic, whimsical, and expressive." He notes that Brouwer's "Homages" cover a wide range of styles. (Note: Some of the composers evoked in this fascinating set of short pieces are Debussy, Prokovief, Villa Lobos, and Stravinsky.)
He admires Puccini's playing but would wish "at times for a more flexible sense of tempo and phrasing" and believes that the soloist would have benefited from a recording space with greater ambience. The Professor sums up positively thus: "All in all, a worthwhile CD." With this opinion I readily concur.
Ballet
3 Ballets choreographed by MacMillan The choreography of Kenneth MacMillan is featured in a triple bill on an Opus Arte DVD release of "Elite Syncopations," "The Judas Tree" and "Concerto," as performed by the Royal Ballet at London's Royal Opera House.
"Elite Syncopations" is pure delight. Using ragtime works by Scott Joplin, Paul Pratt, James Scot, Joseph F. Lamb, Max Morath, Donald Ashwater, and Robert Hampton, MacMillan has created a series of dances for solo, duet, and ensemble turns with a great sense of humor.
The tight fitting costumes are cartoon versions of the fancy dress worn by the ragtime crowd of just about 100 years ago, the steps are clever combinations of classical ballet and cakewalk, and everyone is having a great time. The funniest is the duet set to "The Alaskan Rag" in which the male dancer is never quite prepared to support or even catch his partner.
The third ballet on this disc, "Concerto," is also a series of 3 dance episodes, but they are in a serious mood. Here the music is Shostakovich's "Piano Concerto No. 2" and the dancing tells no story but creates in motion the mood of the music. Each costume is monochromatic and simply designed so that the dancing is "exposed." It is quite lovely.
I have, as do many people, great problems with "The Judas Tree" (music by Rian Elias). It is MacMillan's last work and was designed to be "difficult" for audiences to accept. Although one can consider the scenario as a look into the male psyche, an allegory of betrayal as in the Judas and Christ story, it is really about nothing more than the gang rape and the killing of a woman. I saw it on an older DVD, hated it, and could not bring myself to watch it on this one. So, pardon me, if I simply warn my readers and let it go at that.
"Syncopations" and "Judas" run just under 40 minutes, "Concert" runs 28 minutes. The program notes are not very detailed but do provide valuable background information about the 3 works. Each is given a brief, interesting spoken introduction.
So I highly recommend two-thirds of this disc and leave the middle work to the judgment and taste of the viewer.

4 Ballets What makes a "great" ballet? The story might come last in importance but a good one will help. The choreography certainly must be considered among the top prerequisites. But what if a ballet has a great story, top notch choreography, and a score that is of little musical interest? Many enjoy audio recordings of the scores to Tchaikovsky's "Swan Lake" or "The Nutcracker," to "The Rites of Spring," to Prokovief's "Romeo and Juliet" with no reference at all to plot or dancing. All of these questions came to mind when viewing a collection that has recently been released. I will dwell on these three aspects as I go along.
In the world of ballet in post-WW2 Europe, the name of Roland Petit was on everybody's lips. His style was (as is any good choreographer's) unique and well suited to the mindset of recovery from the disastrous years that went before. Some of his ballets have been available on TDK DVDs and two of them at least have been transferred to the ArtHaus Musik label. A boxed set of 3 of those discs has been released jointly by the two labels—and the works are a treat, performed as they are by the stars and corps de ballet of the Opera national de Paris.
The only ballet in this set not choreographed by Petit is "Paquita." The music is by Edouard Delvedez and Ludwig Minkus; but the score was never well preserved, and for this 2003 production it was revised and completed by David Coleman. The delightful score can stand alone if one plays only the audio signal. The choreography is by Pierre Lacotte, based on the original of Joseph Mazilier and Marius Petipa.
            The plot is paper-thin and cannot take up more than 10 of the 103 minutes running time. The denouement passes quickly and was a cliché even when first performed back in the 1840s. The costumes are colorful, the dancing style French with many Spanish touches. The stars are Agnes Letestu (Paquita) and Jose Martinez (Lucien).
            Another DVD in this collection is devoted to two works that use scores by past composers. "Le jeune homme et la mort" (The Young Man and Death) is danced to a Passacaglia in C-minor by Bach, orchestrated by Respighi. The work is short, about 20 minutes, and boasts virtuoso performances from Nicolas Le Riche and Marie-Agnes Gilot.
            The rest of the disc is devoted to a much altered scenario based on Bizet's "Carmen" with a much altered version of that opera's score. For starters, Don Jose (Le Riche) is not a soldier, Escamillo does not show up until he struts comically into the arena, and there is no young country girl to complicate the plot. Clairemarie Osta is a low-voltage Carmen, while her lover is the same hopeless and helpless sap that he is in the opera. I was more interested in what they did to Bizet's music than in the dancing. The performance is from 2005.
            "Notre-Dame de Paris" is a nightmarish 86-minute version of the Hugo novel. The opening sequence, "The Feast of Fools Day," is colorful and riveting. Le Riche as Quasimodo is not given a hump; but like the actors in the stage version of "The Elephant Man," he contorts his body to give the impression, even when swinging from the great bell in the tower of the cathedral.
            Isabelle Guerin as Esmeralda is given a brief costume that is far from the Middle Ages, while the lustful Frollo (Laurent Hilaire) is dressed and made up to resemble Conrad Veidt in the silent "Cabinet of Dr. Caligari too closely" for comfort. The music is quirky—I would never want to hear an audio recording of this score—as is the choreography. Some will love it all for the sake of Petit. It is, for the most part, impressive. But I find little attempt to give the feel of the times. The performance on this disc comes from 1996.
            Although each DVD is available singly, I would recommend all three for the eye-catching "Paquita" and the Petit choreography of the other ballets included in the collection.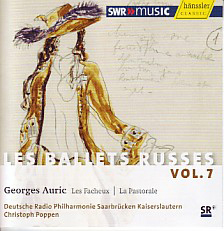 AURIC When asked for my favorite film score, I always name that of Georges Auric's "La Belle et la Bete" (Beauty and the Beast). Designed to enhance the magic of the story, the score is itself pure magic. I find I greatly enjoy just about any music by this composer and a new Haenssler CD, "Les ballets russes, Vol, 7," did not disappoint me. It contains two ballet scores by Auric and they make for very enjoyable listening.
The 28-minute "Les Facheux" (The Angry Ones, 1924) is based on a Moliere play of the same name. A few dramatic scenes are separated by dance interludes. Of course, the plot has no relevance to an audio recording. The music alone tells its own abstract tale; although knowing the scenario would be a help.
"La Pastorale" (1926) is in 13 parts and runs just over 39 minutes. It is concerned with a sleeping telegram messenger and a film crew in a rustic setting. Again, the music alone is a wonderful sequence of various melodies that stand on their own as pure music.
All in all, this is a very interesting CD, recalling the era of Diaghilev and the young Ballet Russes, both of which had such an influence on the Dance.
Opera & Musicals
GIANNI SCHICCHI Written as the third "panel" in Puccini's "Il Trittico" (The Triptych), "Gianni Schicchi" was more detached and presented as a one-act opera far more times than with its companions. With an average running time of just under an hour, it is (to me) the most consistently funny stage musical (with "Guys and Dolls" a close second). [Pronounce the title Geeyah'-nee Skee'-kee.]
The plot, in brief, concerns the indignation of the greedy relations of the just deceased Buoso Donati (whose body is still on the bed) when they learn they have been disinherited, the love affair between the young Rinuccio and Lauretta, and the plot devised by her father Gianni Schicchi to rewrite the will in favor of the wretched pack. Of course, Gianni's character derives from the long line of Tricksters from every folk lore on this planet; but I will not ruin the surprise ending here.
As funny as the plot and characters are, the music is just as funny. At the start, the orchestra sobs along with the relatives; throughout, the Gianni Schicchi theme resounds whenever there seems to be some hope; the loving couple keep switching from a lament to a burst of joy as Schicchi looks over the will and passes comments, now pessimistic, now optimistic.
The tenor is given a wonderful aria about the glories of Florence and the imaginative men who made it great. The soprano is given what is probably the most beautiful short aria in all of opera, usually translated as "Oh my darling Daddy." One is left breathless at the genius that Puccini packs into such a short work.
The Regis label has released at budget prices one of the most famous recordings of this work. It was originally recorded in 1958 at the Opera House, Rome, conducted by Gabriele Santini; and it has one of the great baritone singer-actors of his time, Tito Gobbi in the title role, and Victoria de los Angeles as Laura. They are perfect.
Alas, I can't warm up to the Rinuccio of Carlo Del Monte, whose tenor does not quite have that ringing tone needed for a youthful interpretation. The rest of the relatives range from good to adequate, but it is Gobbi who dominates the performance. Poor Laura has very little to sing, but that aria of hers makes up for much.
The use of sound effects as the relatives ransack the room in their search for the will is a must for any recording. I wish they were made a little louder on this one.
This CD does not include the libretto, but that is available at most libraries or from any website that carries opera texts.
CHEREVICHKI Although, it is said, Tchaikovsky claimed "Cherevichki" (1887) was his favorite opera, few have ever heard of it. Indeed, a short book about the composer in my collection never mentions it. However, the Royal Opera, Covent Garden, decided to stage it, and I am most grateful that Opus Arte committed the performance to DVD. The cast, chorus and orchestra of the Royal Opera are under the baton of Alexander Polianichko.
Based on a Gogol short story titled "Christmas Eve," the fairy tale plot partly involves a parody of a love affair between the witch Solokha (Larissa Diadkova) and the Devil (Maxim Mikhailov), who is outraged that her son Vakula (Vsevolod Grivnov) had painted an insulting picture of him. Vakula is in love with the beautiful Oxana (Olga Guryakova), who turns him down. Still, she says she will marry him if he brings to her the Tsarina's Slippers (which is the English title given to this production).
There is a lot of comic (or what was comic back in Tsarist days) subplot concerning three older men of the town vying for Oxana's favors and winding up in sacks in a scene straight out of a French farce. Things do get a bit tiresome here and there, but there is enough dance sequences to liven things up when needed.
The overall vision of Director Francesca Zambello was to give a visual impression of Gogol's Ukrainian world by patterning the costumes after authentic examples of that region's dress and the painted scenery in a representative but never realistic impression of a snow-covered village. When the scene changes to the court of Saint Petersburg, the French courtly dress and stiff, formal dancing display a world far removed from the Ukraine.
In fact, I might consider this to be the most beautifully mounted opera I have ever seen. The sheer colorfulness of it all is most impressive. The score, as with Tchaikovsky's other operas, matches the dreamy nature of the plot; but I doubt if any one will recall a single melody after just one hearing.
The running time of the opera is about 142 minutes, and there is a short discussion of the scenery. The subtitles are in 4 languages.

GUILLAUME TELL Although only 37 years old, Gioachino Rossini declared he had written his last opera. It took so long to perform that opera houses always played it with considerable cuts. Later on, when told they were to perform Act II of the work, he replied, "What, all of it?" The work is based on the Schiller play "Wilhelm Tell," was renamed "Guillaume Tell," and was written for the Opera in Paris, opening on August 3, 1829. And in French!
The only complete recording of the original French version was committed to LPs in 1973 and afterwards to CDs. EMI Classics has reissued the CD version in a 3-disc boxed set with an extra CD-ROM that holds the libretto and notes. Lamberto Gardelli conducts the cast, Ambrosian Chorus and Royal Philharmonic Orchestra.
With a running time of 237 minutes, there are moments when one might wish for cuts, but they are few. The highlight is the overture, heard once too often in concerts and recordings, which inspired some one to declare that Rossini was the greatest composer of Swiss music—and another to define a true lover of classical music as one who can hear the final section without thinking of "The Lone Ranger"!
The ballet music in Act III is also familiar from many a pops-concert; and my special favorite is Tell's aria just before he shoots the apple off his son's head, "Sois immobile" (be absolutely still), especially the last bars in which he pleads with the boy to think of his mother.
The almost all-French cast includes Monserrat Caballe (Mathilde), Mady Mesple (Jemmy, Tell's son), Gabriel Bacquier (Tell), and Nicola Gedda (Arnold). This is "grand" opera in the truest sense: a long four-act work based on an historic, nearly epic, part of the past, with great choruses, ballet, a love story, and lots of cries for Liberty and the Fatherland of one sort or another. The only DVD of this opera, in Italian, is boringly mounted. This CD will provide a far better idea of the work's merits.
Note: There is a complete version sung in Italian on a set of Decca CDs. As always with a translation, the Italian words do not well fit the original music; so the EMI set is still preferable.
EL CAPITAN John Philip Sousa, famed for his marches, was also a prolific composer of operettas, only one of which retains a tenuous hold in the current repertory. With their dedication to recreating popular and nearly forgotten operettas, Ohio Light Opera has at last turned to Sousa's "El Capitan" and recorded it on the Albany label as a 2-CD set. It is no "Mikado," but it offers in its 100 minutes running time some very jolly music.
It was a hit on Broadway when it opened in 1896, despite or because of its absurd plot and the presence of comic star De Wolf Hopper. Just for starters, the Viceroy of Peru learns that insurgents have hired a hit man named El Capitan to remove him from office. Learning that El Capitan has died, the Viceroy disguises himself as El Capitan and goes over to the enemy! One can imagine the complications that follow.
To mention one of them, both the Viceroy and his rival have beautiful daughters. The latter is offered to "El Capitan," who must devise a quick reason for not marrying her since his wife the Princess looms large in the scene. And things like that!
A few negatives first. Following the script in the booklet provided (with a font size that requires perfect vision), I could not spot a single clever line in the dialogue by Charles Klein or in the lyrics by Thomas Frost and Sousa. There are some obvious borrowings from Gilbert and Sullivan and Offenbach, but none of them have any real satirical point or witty way of saying what is meant.
As both Viceroy and El Capitan, the title role is a large and demanding one. Unhappily, he is not given a single patter song. Two or three of his solos are quite long but composed in a slow tempo. This makes the lyrics more intelligible but far less funny. If "a comic is one who does not say funny things but says things funny," then a comic singer needs music that is funny in itself. Sousa did not supply it.
Note: Sometimes it much funnier to have absurd lyrics sung to perfectly serious music as in "He is an Englishman" from "HMS Pinafore." This does not seem to have occurred to Sousa either.
In this OLO recording, Nicholas Wuehmann sings the dual role of Don Medigua and El Capitan with a light voice that often sounds like a mezzo-soprano! It is known that De Wolf Hopper sounded like a teenager whose voice was beginning to break. But what works on stage might not work on recordings. However, he is supported by stronger voices, including those of Alta Dantzier (Princess), Nancy Maria Balach (Isabel), Kyle Knapp (Verrada), and Tania Mandzy (Estrelda).
Sousa, being Sousa, is quite willing to whip up excitement with yet another march, one of which is the one we always hear out of context at concerts. Yes, the "El Capitan March" is much in evidence. And it is quite stirring to hear it with the lyrics, especially as conducted with verve by Steven Byess.
There is an older recording of this work on CDs from Zephyr that claims to be a "restoration, edition and elaboration" of the original. That third noun gets me worried and I think I will stick to the more authentic-sounding Ohio Light Opera edition.
By the by, the series of OLO sets includes the only recordings of Gilbert and Sullivan's "The Mikado," "Princess Ida," "Ruddigore," and "Utopia, Ltd" with the complete dialogue. There is also a complete edition of an early Jerome Kern musical, "The Cabaret Girl." OK, OLO!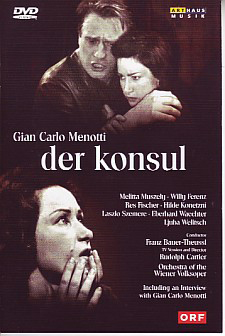 KONSUL Years ago, I called a company to get some general information and was confronted with a "menu" that went on for quite some time, giving me name after name. When it reached the end, I was told to call back when I knew the party I wanted, upon which I was disconnected. This is what one calls a Kafkaesque situation: a simple soul caught up in a hopeless morass of bureaucracy.
Gian-Carlo Menotti, best known for his "Amahl and the Night Visitors," composed an opera titled "The Consul." The main character is Magda Sorel, whose husband is being hunted by the police in his country ("somewhere in Europe"). She goes to the Consulate of another country, hoping to have him admitted, and runs into a roomful of confused people, all waiting to see the Consul and all being told by the Secretary that this or that document is required, or improperly filled out, or lacks certain validations, and so on.
Best line: "Tell me, Secretary, tell me who are these men? If to them, not to God, we must pray?" Very appropriate thought for an election year!
"The Consul" is an opera only in the sense that it is through-sung. The music, as is true with most 20th- and 21st-century works of this sort, are really dramas with music—and usually musically quite monotonous. But I was pretty much bowled over by Menotti's powerful score.
ArtHaus Musik has released on DVD a performance of this work that was made for German television in 1963 and is sung in German. Strangely, I find it more satisfactory in that language since it adds to the realism of the European setting. Yes, you can tell this is a vintage transcription; but even the imperfections of the picture add to the eerie effect.
The cast includes singers who can also act: Melitta Muszely (Magda Sorel), Eberhard Waechter (John Sorel), Gloria Lane (Secretary), and a strong supporting cast.
There is a bonus interview with the composer.
"The Consul" (or "Der Konsul" as it is called on this set) runs 99 harrowing minutes and there are subtitles in 5 languages. The English subtitles translate the German, but they are very close to the original English text.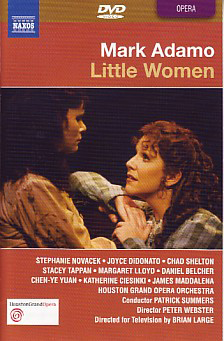 LITTLE WOMEN I had long despaired of ever finding more than one or two "modern" operas that I actually enjoyed. A welcome exception is Mark Adamo's "Little Women" that premiered at the Houston Grand Opera in 2000 and was telecast on Public Television. It was somewhat prematurely hailed as a "masterpiece" by some critics. The video has now been restored on a Naxos DVD, for which I am most grateful.
For starters, I actually felt involved with the characters, thanks mostly to the fine acting of the cast. It begins with Jo (Stephanie Novacek) reminiscing about the past and learning from her brother-in-law Laurie (Chad Shelton) how his marriage to Amy (Margaret Lloyd) has not lessened his desire to remain "good friends" with Jo. He uses the word "perfect" and this forces her to think of what she considers perfect: things always remaining as they are.
The rest of the opera, starting two years earlier, shows Jo obsessed with keeping her sisters united and bitterly opposing Amy's marriage to Laurie and also that of Meg (Joyce DiDonato) to the poor teacher John Brooke (Daniel Belcher). Any viewer familiar with Alcott's novel can see that Adamo's libretto has taken certain central incidents from the book and recast them around the theme of Jo's obsession with perfect changelessness.
For those who shed a tear when Mimi sings her last words, it would be best to have plenty of tissues for the scene in which Beth (Stacey Tappan), whose illness has never promised her any future at all, bids farewell to Jo.
Another challenge Jo must face is Friedrich Bhaer (Chen-Ye Yuan). He attracts her, but as usual she fights her own feelings. It is only when her spinster Aunt Alma (Gwendolyn Jones) offers Jo a future as sterile as her own that she realizes how wrong she has been and refuses the inheritance.
While Adamo's music is seldom memorably melodic, there are moments of great beauty, especially in those tonal passages that the composer reserves for character study. Music that supports plot development relies on 12-tone and dry recitative. On an audio recording, the latter would be boring. But in this fine production, the sets and the acting offer an excitement not provided by the score.
There is one scene in which most of the cast are paired off on different parts of the stage. One phrase sung by one character in one context is picked up by another character in a completely different context. It is clever and effective. The epilogue in the attic, in which the four sisters are somehow reunited, is marvelous; and I leave it to the viewer to enjoy it without any further explanation.
For me, the vocal highlight of this work is Bhaer's singing, first in German and then in English, Goethe's poem "Kennst du das land?" Yuan has a powerful baritone that makes this a memorable moment in recent musical drama.
I must mention the fine work done by the rest of the supporting cast: Katherine Clesinski (Mrs. March), James Maddalena (Mr. March), and Derrick Parker (the publisher, Mr. Dashwood).
The running time is 115 minutes, the picture is in letterbox format, and there are English subtitles. And I am thinking what a fine seasonal present this DVD would make!
EVENING PRIMROSE For once, I have to split my report on a video between two audiences. There are those who never read John Collier's short story "Evening Primrose" and those who have.
A young man, giving up on the human race, decides to take up permanent residence in a department store--hiding by day and dodging the night watchman by the night. To his surprise, he finds that all large stores are populated by these night people, who have only two fears: being discovered and the Dark Men. He falls in love with a young girl, who has been held among the department store people since childhood, and he breaks the ironclad rule against forming personal attachments.
It was decided to adapt this story as a musical for the short lived ABC Stage 67 productions; and it was shown only once (1966) in color with a running time of just under an hour. Only a black and white version remains, and E1 Entertainment was able to reissue it on a DVD as part of their Archive of American Television series. The teleplay is by James Goldman, the music and lyrics by Stephen Sondheim, and the direction by Paul Bogart.
Now, for those who never read the story, "Evening Primrose" on the screen is a nearly lighthearted tale of the young man (Anthony Perkins), the girl he loves (Charmian Carr), and the other residents of Sterns department store. It is obviously a low budget affair with no time for retakes (as explained in the booklet included in the set), with some (to me) banal and repetitive tunes and lyrics (the latter included in the booklet).
For those who know the Collier original, this version is not even a good try. There is utterly no sense of the supernatural. The other residents are too solid, too normal, to represent Collier's ghostly crew, some of whom are nearly transparent. Reading about the Dark Men is far spookier than seeing them—although keeping them in the darkness is not all that badly done in the television version.
The sound track is unkind to Carr's voice, the picture is acceptable.
All in all, I would want my readers to see this as an early attempt to do something different in the middle years of telecasting. But Collier fans will be disappointed.
Vintage
MIDNIGHT FROLIC It is strange how some of the most influential composers and/or lyricists of the early days of the American musical have been utterly forgotten. Luckily, however, they are not forgotten by students of the subject and recording companies like New World Records that specialize in the recreation of historical melodies from the first imported folk songs to composers like Louis A. Hirsch (1881-1924). Yes, I know: Who's he?
New World has released a CD titled: "Midnight Frolic: The Broadway Music of Louis A. Hirsch." The Paragon Ragtime Orchestra, directed by Rick Benjamin, offers 17 examples from this prolific composer. The excellent program notes supply much detail about his life and works, as well as information about each selection on the disc. Almost all of them were written for reviews, especially "Ziegfeld Follies."
By the way, "Midnight Frolic" was the name given to the shows on the roof of the Ziegfeld Theatre that were performed by the exhausted cast of the evening performance for yet another audience who seemingly had no need for a good night's sleep.
The disc starts with the Overture to "Ziegfeld Follies of 1915" and ends with "The Ziegfeld One Step" from the "Midnight Follies" of the same year. I can't tell how many selections will be familiar with most listeners; but I instantly recognized "Hello Frisco" from an Alice Faye film and the melody of "The Love Nest" that was used as the theme music for the Burns and Allen radio and TV shows.
Among the unfamiliar pieces are "My Rainbow Girl & The Alimony Blues," "Any Old Time at All," "The Wedding Glide," and "Cupid's Lane." The vocalists, Bernadette Boerckel (soprano) and Colte Julian (baritone) perform in the style of singers back then. (Play some of the Archeophone CDs of original recordings of the period to compare.)
I think the matter of authenticity is quite important in restorations of vintage songs, because they were written for a certain style of delivery—which included clear enunciation, mind you—and anything less does the material no justice.
I urge local vocal groups to hear CDs like this and perhaps prepare a really unusual program without the overly familiar selections from "Sound of Music," "Hello, Dolly," and "Annie"!

Educational
WATER MUSIC Of course, many great musical works were written on commission, a fact that in no way diminishes their greatness. So was Handel's "Water Music," but here the circumstances were really extraordinary.
It seems that King George I was not making himself popular among his subjects by sticking to his German cronies and seldom if ever bothering to appear in public. On the other hand, his son, the future George II, was young, married to a pretty princess, and prone to giving lavish parties. Therefore, he was the popular one and Daddy was determined to do him one better.
Looking for something so spectacular and so expensive that the Prince could never trump it, he commissioned Handel to compose a series of suites to be played on a barge floating down the Thames from Whitehall to Chelsea. Since the round trip lasted longer than the music, the King called for 2 or 3 encores. All the other festooned barges carrying the elite of British society (minus the Prince and Princess) and visiting dignitaries surrounding the barge carrying the musicians must have created a sensational sight as well as an incredible musical event.
The BBC collaborated with David Manze, the director of The English Concert, to recreate that event as best they could; and the 1-hour documentary is now available on a Kultur DVD with the title "Handel's Water Music: Re-creating a Royal Spectacular." I was rather hoping for a "Madness of King George III" type complete recreation; but because of budget and time limitations, the team concentrated on recreating only the barge that carried the musicians. Determined to be as accurate as possible, they found a barge that had no room for oarsmen up front, so they did what they could and simply had it towed by a smaller craft with another behind to keep the barge from drifting laterally.
Those male players with beards had to shave them off (court musicians back then had to be clean-shaven), the music sheets were not in print but copied by hand, candles were provided for the players who were going to play at night…in short, a lot of detail was researched and scrupulously followed.
The first part of the documentary shows the preparation for the event itself, all of which is very interesting indeed. Then selections are heard as the cameras follow the barge down the Thames, as it grows darker and darker; and the long shots of the barge fully illuminated with the music perfectly audible if distant are quite beautiful.
As if to compensate for the lack of total recreation, there are about 18 minutes of 9 selections in which one can finally get to use that "Angle" button on the DVD remote! By pushing it at intervals of one's choosing, now the players are seen, now a drawing of the original event is seen. (I think this is the first time I have ever been able to use that button.)
Yes, I can definitely recommend this Kultur disc not only to lovers of Baroque music but to those interested in the history of music and the strange sets of circumstances that led to the creation of some of the world's greatest classics.
LORD OF THE RINGS Now and then, I find a book that would help my readers better appreciate a stage or screen work or a personality in the musical performing arts. A good example is a hefty tome titled "The Music of the Lord of the Rings Films: A Comprehensive Account of Howard Shore's Scores" by Doug Adams (Carpentier 2010).
After a good introduction and a mention of Wagner's use of musical motifs, the rest of this 400-page study follows the plot of the trilogy just about scene by scene. The music to each motif is printed out and copious comments are made to explain how each plays its part in the telling of the very long (if not overlong) epic of the Ring and all who feel its curse. A CD is included to remind the reader of how 23 of the major themes sounded in the films.
Of course, there is an assumption that the reader can sight-read printed music or (better) play it on the piano. Or—if one wants to go to the trouble—play the scene under analysis on a DVD and get the full concept of how music enhances action.
The book is loaded with photos of the cast and sets, while a good deal of the visual appeal is enhanced by the artwork of John Howe and Alan Lee. I believe that every college film and music department should have a copy of this book. The same goes for those thousands who simply love the Ring films enough to put in the effort to understand how the music helped make them so popular.
PICK YOURSELF UP When Mrs. Jerome Kern was asked at a party if her husband had written "Old man river," Mrs. Oscar Hammerstein broke in with something like this. "No, my husband wrote 'Old Man River.' Her husband wrote dah-dah-DAH-dah." Lyricists often wind up being the unknown partner of a music/words team.
Hammerstein was a name to reckon with. But who wrote the lyrics to these shows: "Mexican Hayride," "Redhead," "Sweet Charity"? And to these films: "Swing Time" and "Lovely to Look At"? And to these songs: "Sunny side of the street" and "The way you look tonight"? In two words—Dorothy Fields.
She was the daughter of vaudevillian Lew Fields (of the team of Weber and Fields) and is recognized today as the best female lyricist of her time on Broadway and in Hollywood. Her life and works were celebrated by Deborah Grace Winer in "On the Sunny Side of the Street: the Life and Lyrics of Dorothy Fields" back in 1997 (Schirmer Books) in a somewhat abridged way. A much fuller look into Fields' life and works is now available in Charlotte Greenspan's "Pick Yourself Up: Dorothy Fields and the American Musical" (Oxford University Press, 2010).
Having been granted access to a good deal of archival material, Greenspan is able to take a look at Dorothy Fields' intimate relations with members of her family (especially brother Herb, with whom she worked on many a show's book), the composers with whom she worked (especially Jimmy McHugh), and all of the Broadway and Hollywood crowd that influenced her career. If the author perhaps states as fact what Fields might have felt about many of these influences, well that is the privilege of the biographer.
To the detriment of this book, the author was denied the right to give full examples of even a single Fields lyric! Single lines and phrases have to stand out of context; and it seems somewhat absurd to write about a lyricist without examples of the lyrics. However, getting to know the artist quite well does compensate to a large degree; and there always is the Winer book to peek into for the words.
All in all, "Pick Yourself Up" is a valuable look into a great artist and into the workings of Broadway and Hollywood musicals back then.