Opera and operetta recordings
By Frank Behrens
ART TIMES online August 2010
TO MY READERS:
The last two months have brought in quite a few releases of opera on CD and DVD. So let us start with that category.
OPERA
Covent Garden "La Boheme" Excels in Many Ways
LA BOHEME Whenever I grow even wearier with what passes for music today, I always return to Puccini's "La Boheme." This perfect opera, running just about as long as a single act of a Wagner opera, has more beauty for me on one page of score than (say) the entire score of any given Andrew Lloyd Webber product. None of its charm is lessened by a sound-only recording (and they are legion) and all of its charm is enhanced by a good video recording.
Of the dozen or so videos I have seen, my favorite has always been the 1982 Covent Garden production, conducted by Lamberto Gardelli and staring Ileana Cotrubas and Neil Shicoff (still available on a Kultur DVD). Things are greatly helped by the excellent Marcello of Thomas Allen and the extremely intelligent staging by John Copley (listed as Producer on the Kultur jacket). It is such a nice touch to show the cook in his kitchen at the Café Momus and another to have Musetta sink a shot at the pool table. The picture is, of course, not quite crystalline and not wide screen, but all the rest makes up for it.
And now on an Opus Arte DVD is the Covent Garden 2009 production, which is pretty much the same as the 1982 version, also directed by Copley, with a few bits of stage business (the naked model in Act I) dropped and a few others added. Teodor Ilincal creates a younger looking Rodolfo, while a very attractive Hibla Gerzmava is a bit too healthy looking for a Mimi wasted with consumption.
Gabriele Viviani (Marcello) is not as good an actor as was Allen in the older set. The other Bohemians, Colline (Kostas Smoriginas) and Schaunard (Jacques Imbrailo), are quite good. The sound is just fine, except for a nearly inaudible off-stage chorus at the start of Act III.
Also on the plus side, the picture is in 16:9 widescreen—and the five sets of subtitles do appear within the picture so they are not lost in the present ill-designed rectangular TV screens. There is a bonus interview with Copley. In general, I cannot see one of these DVDs replacing the other, and so I plan to keep them both.
VERDI'S "FALSTAFF" FARES WELL IN GERMAN TOO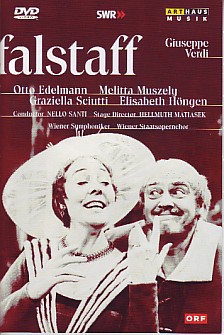 FALSTAFF It was with his last opera, "Falstaff," that Verdi achieved his dream of a musical drama, the perfect blending of words and music, the zenith of Italian opera up to that time. I grew up with the Toscanini recording, first on LP and then on CD, and have enjoyed many a video production. However, an interesting vintage television version has appeared on an ArtHaus Musik DVD. It was first shown on German television in 1963 and is in black and white and sung in a German translation.
While that latter feature certainly bars this recording from first place, it is most worthy of a place in any collection for at least a single reason: the directing is excellent. Otto Edelmann's Falstaff is full of fun and the interplay between characters is most realistic, despite the fact they are singing all the while. The cast is helped by the closeness of a studio production rather than one on a full stage.
My only complaint is the elaborate costumes and choreography used to frighten Falstaff in Windsor Forest. The women never could have arranged all that in the short time between the fat man's dumping into the Thames and only a few hours later. (Yes, I know. How much realism can one insist upon in an opera?)
The rest of the cast includes Hans Gunter Grimm (Mr. Ford), Richard van Vrooman (Fenton), Melitta Muszely (Mrs. Ford), Graziella Sciutti (Ann Ford), Elisabeth Honger (Mrs. Quickly), and Eva Maria Gorgen (Mrs. Page). The sound is not the best, but conductor Nello Santi knows what he is about, as does Stage Director Hellmuth Matiasek.
The running time is 118 minutes and there are subtitles in five languages.
"Fledermaus" Takes Wing in English
FLEDERMAUS If one ignores "The Gondoliers," possibly the operetta with the happiest melodies is Johann Strauss Jr.'s "Die Fledermaus" (The Bat). There are a few recordings of this gem in the original German, with and without the dialogue, and several in English without the dialogue. While I seldom want to hear a work in any but its original language, a good translation is not a bad idea now and then.
Well, Albany Records has released a 2-CD set of "Die Fledermaus" as performed (in a studio) by members of the University of Kentucky Opera Theatre, complete with dialogue; and I find it acceptable on all levels.
The party scene that makes up Act II sounds like a fully staged performance, with lots of reaction from the guests. Even the spoken dialogue does not have that silly lilt that pushes the jokes and makes the characters seem less human. And without the video, we are spared the usually unfunny sight gags that infest the opening of Act III in which two characters have to act funny-drunk. (Drunks in real life are never funny.)
The singing ranges from good to very good. The leads include Julie LaDouceur (Rosalinda), Nicholas Provenzale (Eisenstein), Gavin Wigginson (Alfred), Reginald Smith (Dr. Falke), Ellen Graham (Orlovsky), Luther Lewis III (Blind), and Daniel Koehn (Frank). Conductor John Nardolillo keeps the music going at a good pace, and all seem to be having a great time.
Back in 1950, the Metropolitan Opera took a chance with "Fledermaus" with an English libretto with lyrics by Howard Dietz. It was clever, too clever by half, because it paid little attention to the German and paraphrased nearly every line of lyrics. In this recent recording, the stage director is also the translator and has more respect for what German audiences hear. Yet even he is tempted to add touches not found in the German.
All in all, for those who prefer their operetta in English, this Albany set is a very good bet.
.
Rarely Seen Rossini Opera is Performed on DVD
ERMIONE I am always grateful to the folks at Kultur who transfer operas to DVDs and distribute many that are familiar to very few people. Would one believe "Cleopatre" by Massenet? Or Saint-Saens' "Henry VIII"? One of the more recent offerings is a 1995 performance by the Glyndebourne forces of Rossini's "Ermione," conducted by Andrew Davis.
Here is a full fledged opera seria from 1819 in which grand passions are what the public wanted and what they got. Based mostly on Racine's tragedy "Andromache"—which in turn was based vaguely on Euripides' original play and parts of Virgil's "Aeneid"--it tells the tale of a complicated set of lovers. (I will use the Italian names as they appear in the libretto.)
King Pirro has brought from fallen Troy Andromaca (widow of Hector) and her son (who was supposedly killed by Ulysses). He loves her so much, he breaks his vows to Ermione (daughter of Helen of Sparta), who waxes desperate. Oreste (son of Agamemnon) arrives to plead Ermione's cause—although he also loves her. And I will leave the rest of the plot to those who see the opera.
As is the case with most opera seria, many of the arias express a single overwhelming emotion. However, by Rossini's time, the form had grown less rigid so that several of the duets do indeed further the plot. A good deal of the score is quite impressive (although not as immediately memorable as the numbers in Rossini's comic operas like "Barber of Seville" or "Cenerentola"), but stage action is minimal.
The lively finale to Act I begins starts off exactly like one of Rossini's comic opera, especially the one in "The Italian Girl in Algiers." But then it moves into a more powerful ensemble that foreshadows those of Verdi.
The cast is quite good: Linda Maguire (Ermione), Diana Mondague (Andromaca), Jorge Lopez-Yanez (Pirro), Bruce Ford (Oreste), and four others in minor roles.
The costumes are those of the composer's time, a concept that allows for lovely gowns for the women and pretty boring uniforms for the men. The single set is a lopsided interior of an opera house as seen from an actor's point of view. Since action is at a minimum in this work and the director has supplied little blocking except moving from this point to that for no particular reason, the staging is more like an oratorio than opera. But opera seria tends towards that anyway.
The running time is 138 minutes; the picture is 4:3 ratio with subtitles in 6 languages. There is a track listing but no program notes except the brief notes on the back cover of the jewel case.

Once-Popular Irish Opera is Restored
LURLINE Many histories of English music claim that there were no really great English composers after Henry Purcell (died 1695) until Arthur Sullivan (born 1842) came on the scene. And several people think that Sullivan and Gilbert invented the English operetta. The former might be correct; the latter are certainly wrong.
Before Sullivan met Gilbert, the Irish composer Michael William Balfe (1802-1870) composed about 30 operas—the best known of which is "The Bohemian Girl"—while William Vincent Wallace (1812-1873) had 6 to his credit. So lovers of old-time opera should jump at their first chance to hear Wallace's 1860 "Lurline." It is in a 2-CD set from Naxos Records and uses a recreation of the nearly lost work by conductor Richard Bonynge.
The tale of the Lorelei, the siren who lures sailors to their deaths, was a popular one; and this "grand legendary opera in three acts" is based on an old-fashioned (to us in 2010) libretto by Edward Fitzball. I won't try to give a synopsis. What I want to report is that it is filled with all sorts of now lovely, now powerful, now clichéd, now imaginative music that is worth hearing with no reference to the elaborate and incredible plot.
The Victorian Opera Chorus, Orchestra and soloists perform with sincerity, just as the original performers must have done. Lovers of Gilbert and Sullivan will certainly pick up what I call pre-echoes of "Iolanthe" and others of their works. This is truly a surprise treat from Naxos and I can recommend it as such.
It's Moses vs Pharaoh in Rossini Opera
MOISE ET PHRAON Rossini's epic opera "Moise et Pharaon" (Moses and Pharaoh) is now on 2 ArtHaus Musik discs and well worth the watching. (It was released a few years ago on the TDK label, so some might already own it.)
When Rossini decided to revise his 1818 Italian opera "Moses in Egypt" to a French libretto to satisfy the Parisians' taste for spectacular opera, he expanded the earlier work and produced what amounted to a new opera titled "Moise et Pharaon." It opened in 1827 at the Opera and was a smash. However, it has rarely been done since then, so it is good to have a decent performance on DVD. This one was performed at the Teatro degli Arcimboldi, Milan in 2003 with Riccardo Muti on the podium.
Now I must warn that the plot can barely hold up through the 3 hours performance time, even with the required romantic subplot. The Pharaoh (Erwin Schrott) promises to let Moses' people go, reneges, promises again, refuses again, and finally has to pursue the Hebrews across the parted Red Sea. In the meantime, the Pharaoh's son (Giuseppe Filianoti) wants to marry Moses' niece (Barbara Frittoli), who wants nothing of the sort.
The staging is pretty much "park and bark" with the chorus glued to their spots, dressed all in white when playing Egyptians, all in black when Hebrews. The first act is a bleak rocky area outside some edifice. The second act shows a Baroque organ dominating the background, while the last act has a very good early 19th-century example of stage magic as the Red Sea parts and then closes upon the Pharaoh's rather tiny army.
Of course, what director could avoid references to the Holocaust, assuming no one in the audience would make the connection? So we have a Broadway-like fiddler in Act I and anachronistic costumes for the Hebrews. At least none of the Egyptians goosestep.
The singing is powerful—although now and then the French pronunciation is suspect—and Ildar Abdrazakov is a powerful Moses. While the prayers of the Hebrews do become a bit tedious (how different can Rossini make them?), some are quite impressive, as are the grand ensemble numbers. It is mostly the staging that is static. The ballet (demanded by the French audiences) is interesting but too long. Still in all, it is an opera well worth the watching.
The running time is 181 minutes, the picture is in 16:9 widescreen, and the subtitles are in five languages.
Noted Soprano Essays Scenes from Strauss Operas
BREWER Opera in the 20th-century is a new art form when compared to opera before Puccini. Freud has taken over and characters are mercilessly taken apart and analyzed in the librettos. Therefore tuneful music is out of the question. How does one show the obsessive hatred of Medea or the lustful madness of Salome except in music that is itself obsessive or mad? I cannot tolerate the so-called "12 tone row" school of composition (or, better, decomposition). But I can admire attempts at nearly psychoanalytic music for complex characters if the composer gives the singers something of a melodic line so they don't sound as if they are screaming at each other and provides an orchestral score that has power and some sort of beauty.
Richard Strauss did that in his three most frequently performed works (after "Rosenkavalier"): "Salome," "Elektra" and "Die Frau ohne Schatten." (I am afraid I find his later works such as "Daphne" pretty boring.) But the person just getting a first exposure to operas like those had best start with excerpts. So it is recommended one turns to a CD such as "Great Strauss Scenes," recently released on the Telarc label.
Here, soprano Christine Brewer performs 3 scenes: the recognition scene from "Elektra" with bass-baritone Eric Owens, the imprisonment scene from "Die Frau ohne Schatten," and the grueling final scene from "Salome." (Telarc has included the lyrics in the booklet.) To vary the program, the orchestra alone plays the lovely moonlight interlude from "Capriccio" and the ever popular "Dance of the Seven Veils." The Atlanta Symphony Orchestra is conducted by Donald Runnicles.
I must mention that, after hearing Birgit Nilsson as Salome and Elektra, I find Brewer a little lightweight vocally and would still return to the older recordings with Nilsson and conducted by Georg Solti, who knows how to wring the last bit of excitement out of these complete works. Nevertheless, this Telarc CD serves as a good introduction to Strauss's major works specifically and "modern" opera in general.
It is just a pity that more recent works that try to pass as operas and whose weak-as-water scores are hailed as masterpieces today lack so much of the genius that Strauss shows in this new CD.
MUSICALS
Comic Opera Guild Gives New Life to Vintage Kern
JEROME KERN It is a Happy Day when I find yet another record company that specializes in old-time musicals and releases on CDs either vintage recordings from the past or modern reconstructions.
In the reconstruction category is The Comic Opera Guild in Ann Arbor, Michigan. Founded (not-for-profit) back in 1973, they stated as their mission "to explore and help promote interest in the comic opera art form." Now, "comic opera" (as opposed to operetta) is a loose enough term to include Gilbert and Sullivan, Offenbach, Victor Herbert, and Lehar, and even (to stretch the definition) Jerome Kern. And since one of my great loves is the American musical, any recordings of the complete scores of mostly neglected or even forgotten Kern musicals are gold to me.
It must be understood that Jerome Kern joined with Guy Bolton and P.G. Wodehouse, the creator of Jeeves and Wooster, to change the American musical from the string of clichés it was then (no, not the music; I mean the plots and characters) and bring it one more step toward maturity.
Using the tiny Princess Theatre on 39th Street, New York City, they made the action less European and fantastic (the playboy lot on Long Island). The songs were designed to forward the plot (here they were not all that successful, but then again who was?), and the chorus was to be individualized and actually take place in the action. Showgirls deserted Ziegfeld for less pay and less flamboyant costumes and—very important—the chance to show off their acting talents with lines to speak.
The best of the early Princess shows was the 1917 "Oh, Boy!" And now the entire score with dialogue can be heard on The Comic Opera Guild's 2-CD set. It contains the magical "Till the clouds roll by," and the rest of the score is bright and bubbly.
Kern, Bolton and Wodehouse had several shows running all at once in 1917, so "Leave It to Jane" opened in the Longacre Theatre. The plot was based on the hoary idea of which team would win the football match—thereby anticipating "Good News" and "Too Many Girls," which appeared not long afterwards. This 2-CD set is taken from an actual performance and so contains all the dialogue and audience reactions. The voices are a bit recessed from the microphone, but the ambiance of a living production makes up for it.
"Sally" (1920), the third Kern show I have heard in this Comic Opera Guild series, did not include Bolton (Clifford Grey took his place) and is known mostly for its classic, "Look for the silver lining." The lyrics are sugary but the melody is among the most beautiful in all American musicals. In this recording, there is some narration and a good deal of dialogue.
(One should consider how "Silver lining" was the ancestor of "You'll never walk alone," which cloned "Climb every mountain," which in turn pointed the way to the vulgar "Tomorrow" in "Annie.")
In all these sets, the singers seem young and bright, letting their enthusiasm come across to the listener. But musicals back then were supposed to uplift, not muckrake in the dark side of the Force! Each performance in these sets is accompanied by two pianos, which creates a more intimate feel to the proceedings.
I suggest that the reader look at their fascinating website catalogue at www.comicoperaguild.org. I hope to report on many more of their sets, especially the DVD versions of some of their productions.
And local theatre groups should strongly consider putting on some of these vintage gems rather than their 19th "Oklahoma" or "Oliver."
The 1954 Garland Classic is Shown Complete on DVD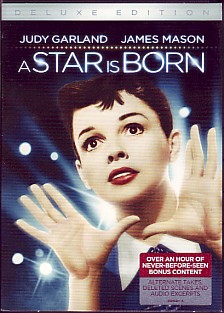 A STAR IS BORN The much admired 1952 film "A Star is Born" is the third version of the story of an unknown who rises high in Hollywood because of and then despite a drunken ex-star whom she marries. "What Price Hollywood?" (1932) had Constance Bennett and Lowell Sherman in the leads; and Janet Gaynor and Frederic March took on the roles in "A Star is Born" (1937).
When Warner Bros. decided to do the story yet again, they chose Judy Garland—a decision that dictated that this version would be a musical. Although about sixth on a short list of actors, James Mason was cast as the drunken ex-actor, Norman Maine. Because of Garland's personality and medical problems, the filming went very slowly. Then, when it was in the cans, someone decided to add a 15-minute musical number to the Harold Arlen-Ira Gershwin score, bringing the running time to about 3 hours. So two songs and some scenes were deleted, and movie house showings and video versions had all sorts of different running times.
Now Warner Bros. has made amends, of sorts, by releasing the 1954 "A Star is Born" as intact as possible on a 2-sided DVD with a running time of 176 minutes, and a bonus DVD with about 4 hours of extra material, including the radio broadcast of 1942 in which Garland played the lead.
Several minutes of visuals no longer exist; and so about 40 minutes into the film, the dialogue continues as stills are shown. It is distracting but at least a degree of continuity is preserved.
In a good musical, the songs should advance the plot. In this version, Mason overhears Garland singing with a small combo and decides to make her a star. All the other songs could be cut with no effect at all on the main plot. Of course, Garland is superb in these numbers and they are the reason for the remake. It is interesting that only once Garland sings to music that is only on the soundtrack. All the other songs are part of a performance of some sort in which the musicians are visible. In one of them, she performs to a recording that supplies the music, not very convincingly.
The acting is on a high level, and it is so good to see again the grand old contract actor Charles Bickford. Even comic Jack Carson creates a believable character, which says a lot for Director George Cukor.
This is a much-recommended DVD release

"Addams Family" Score Fails to Score
ADDAMS FAMILY Reading various reviews on the Internet of the new (and possibly already closed by this time) musical, "The Addams Family," affords a good study in human psychology. Those who hate it give their reasons. Those who love it feel they must attack the first group. The latter simply have no tolerance for the opinion of others, who must be "crazy not to like" what they do.
As for the show itself, the critics pretty well savaged it, basing their poor reviews on three premises. (1) Since the Addams consider themselves perfectly normal, why are they so aware of their abnormality in this show? (2) The plot is a trivial rerun of every play in which the "normal" daughter of a cuckoo family falls for a "normal" fellow from a normal family [as in "You Can't Take It With You" and countless other plays and films]. (3) The music is derivative at best and utterly banal in general.
(The critics, too, have been savaged in turn by those who praised the show—which is no surprise.)
While I am sure I might have enjoyed seeing the show, I have only the Decca CD release of the score with the original cast: Nathan Lane (Gomez), Bebe Neuworth (Morticia), Kevin Chamberlin (Fester), Jackie Hoffman (Grandma), and Krysta Rodriguez (Wednesday). While I found it all pleasant enough, I must agree with the three complaints and add a fourth.
The music should be in keeping with the Family itself: spooky. Except for the opening number, just about any lyrics would fit the score as it stands. It reminds me of the film flop of "The Avengers" vis-a-vis the television series. The film in no way caught the sophisticated humor of the original. Perhaps composer-lyricist Andrew Lippa would have profited from studying the ghost music in Gilbert & Sullivan's "Ruddigore." Or even the incidental music to "Abbott and Costello Meet Frankenstein"!
What there is in the score is bouncy enough and could be enjoyable—given another plot and set of characters. But the Addams Family demands special and special is what it does not get.

ORCHESTRAL AND INSTRUMENTAL
Mendelssohn and Shakespeare Mix Well
MIDSUMMER NIGHT'S DREAM Those of us who grew up with classical LPs were sure to own at least one copy of music from Mendelssohn's setting for Shakespeare's "A Midsummer Night's Dream." These discs held a handful of excerpts from the complete incidental music: Overture, Nocturne, Wedding March, and so on. When the vocal parts were included, they were either in German or English, depending on the whim of the conductor or producer.
With the advent of the CD, more of the score could fit onto a single disc; and there were even one or two complete readings of the original play with the Mendelssohn score coming in on cue.
A happy compromise has been reached on a Naxos CD titled "Complete Incidental Music for William Shakespeare's A Midsummer Night's Dream," performed by the New Zealand Symphony Orchestra and soloists (vocal and dramatic) under the baton of James Judd.
This version includes all of the orchestral and vocal numbers (in English) and adds to them all of the spoken stretches of dialogue for which Mendelssohn wrote background music. This would be a disaster, as it was on a recording decades ago, if the dramatic cast were poor. The actors in this recording are quite good, all of them doubling and tripling roles. (David Timson's voice should be familiar to those who listen to Naxos Audio Books.)
All in all, it is good to hear the very familiar music used in the context of the original play, especially since it is performed so well.
GERSHWIN FOR TWO PIANOS SOUNDS GREAT
GERSHWIN FOR PIANO If I had to vote for the "best" piece of American music, I would have to choose George Gershwin's "Rhapsody in Blue" in its original jazz form. Yet I can enjoy it played by brass band, string quartet, and especially as it was played by the Labeque sisters, Katia and Marielle, on their 1980 recording, coupled with Gershwin's "Concerto in F." It has now been reissued on a Newt On Classics CD, for which I am most grateful.
Actually, the Rhapsody was originally written for two pianos, because Gershwin was not yet ready to do his own scoring—that was entrusted by Paul Whiteman to composer Ferde Grofe—and prepared the orchestra part as if for piano alone. The result, back in 1924 on that cold winter's night, was electrifying—especially the opening clarinet glide that came about by accident during a rehearsal.
Due to a late start on the work, Gershwin had the piano part in his head but not on paper; and Whiteman had only a vague idea of where the cues where. So during the concert, legend has it, Gershwin had to nod to Whiteman when the piano parts were about to be heard. In spite of all this, the piece came off triumphantly and an American classic was born.
While I respect his Concerto, I never really liked all of it. The opening, it seems to me, is a miscalculation: an overly long buildup (lots of brass and percussion) to a relatively weak piano passage. But millions find no fault and each to one's own taste.
It is interesting that in the two-piano renditions, the keyboard cannot produce the thrill of the clarinet at the very opening of the Rhapsody. On the other hand, I prefer the two-piano introduction to the Concerto to all the percussion of the original fully orchestrated piece. Such is the nature of piano transcriptions.
The running time is just over 43 minutes; and I could have wished that more from the Labeque recordings of Gershwin had been used as a filler.


The Pipes are Calling
AULD LANG SYNE Even before I saw my first pipe and drum competition many decades ago in a park in the shadow of Edinburgh Castle, I had loved the skirl of the pipes and the sad beauty that imbues so much of the music of Scotland. During the LP days, I collected many discs containing such music and now I want to do the same on CDs.
Fortunately, the Allegro Media Group has in its catalogue several such collections. The one I have is titled "Auld Lang Syne: The Royal Scots Dragoon Guards" on the Scotdisc label. There are 18 tracks, 7 of which are medleys. Many of the tunes are traditional ones arranged by various musicians and a very few composed by known musicians.
To list merely a few of the selections, there are "Flower of Scotland," "Amazing Grace," "Bonnie Dundee," "Scotland the brave," "Queen of the Rushes," "Boys of Ballymore," and even "When the saints go marching in."
Although the music was recorded at the Angel Studios, London, it sounds as if it were recorded outdoors—which befits music such as this. I would advise those interested to visit the Allegro website to see what else is available in this and other musical lines.

Old-time Music is Played the Old-time Way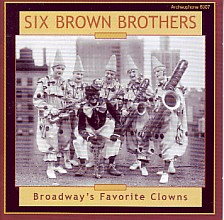 RECENT ARCHEOPHONE GEMS In the past, I have heaped the highest praises on CD releases from Archeophone Records, and their latest releases have not a whit modified my admiration for what they are doing.
Their specialty, for those who have not read my earlier reports, is to gather vintage recordings from cylinders and acoustic 78s, rigorously clean them up, and gather them on CDs, including informative booklets that are alone worth the price of the disc. The materials used embrace so many genres of music (and sometimes speech) that their catalogue must be separated into several subseries. Out of their Pioneer Instrumentalists releases comes "Masters of the Clarinet, 1892-1920."
Among the pieces selected are such popular ones as "Comin' through the rye," "My old Kentucky home," and "Blue bells of Scotland"; among the classical are selections from "Il Trovatore," "Rigoletto," and "Mignon." Among the players are R.K. Franklin, Felix Jardella, Joseph Norrita, and William Tuson, all noted clarinetists of their time, whose names and talents would have fallen from memory were it not for restorations like this one.
Of course, the sound of the first few tracks (from the 1890s) is full of computer-resistant pops, squawks, and ancient acoustics. But what fascinate here are not only the selections chosen but the techniques of the different players through the two decades represented here. Any student of the clarinet, as well as every student of the history of recordings, will find this Archeophone CD a must.
Several years ago, I reported on a book titled "That Moaning Saxophone: The Six Brown Brothers and the Dawning of a Musical Craze" (Oxford University Press, 2001). Then I reported on a CD from Archeophone, titled "Those Moaning Saxophones" which consisted of about two dozen recordings by that Canadian group who helped popularize that instrument.
Now Archeophone has given music lovers a follow-up CD titled "Six Brown Brothers: Broadway's Favorite Clown," and it is now part of their Jazz, Dance & Blues series. As the informative booklet states, "The selections on this new collection paint a more rounded likeness of their stage repertoire…." Included are "Tramp, tramp, tramp," "La Paloma," "Rigoletto Quartet," "Somewhere a voice is calling," and "Twelfth Street rag"—the latter making it quite clear in what era these discs were produced. The sound is excellent, considering the age of the recordings, 1911-1920.
The virtuoso playing gives no hint as to why the Brown Brothers are called "clowns" in the title; but one look at the several photos in the booklet will clearly show how they were costumed when playing these selections on stage.
A very good choice for any lover of old-time light music played in the old-time way!
Note: The articles that appear here every other month originally appeared, more or less the same, in Brattleboro Reformer (VT), Bellows Falls Town Crier (VT), and Keene Sentinel (NH).