CD and DVD Opera Reviews
By FRANK BEHRENS
ART TIMES August 2009
SO MUCH MUSIC is being offered on CDs and DVDs that keeping up on what is worth purchasing becomes problematic. A few magazines are devoted to classical recordings; but some of their reviews are months behind the release of the albums.
This month, I have culled from The Keene Sentinel, Brattleboro Reformer, and Bellows Falls Town Crier some of my reviews of some opera DVDs and one CD that have appeared in 2009, touched them up, and offer them to readers of this website for their consideration. I hope they are helpful.
Rossini Opera Has Silly Plot, Bubbly Music

Rossini considered his opera "L'Italiana in Algeria" (The Italian Girl in Algiers") enough of a success to warrant a sequel. He called it "Il Turco in Italia" (The Turk in Italy), but it never quite caught on. One can judge its merits from a 2007 production now on a single Naxos DVD.
Although it has an interesting framing device, the plot is quite silly (as it was in the earlier opera) but the music is not as arresting and memorable as the score of the earlier opera. A Poet needs a plot for his next opera and runs into a group of gypsies; one of them, Zaida (Elena Belfiore) who is the old love of a Turkish Pasha; a good-time wife Fiorilla (Alessandra Marianelli); her desperate husband (Andrea Concetti); her lover (Filippo Adami); and a visiting Turk (Marco Vinco), still in love with Zaida but ready to woo any pretty face in sight.
The two leading ladies are very attractive indeed, and the way in which Fiorilla manipulates her husband in this staging is fairly sexy for a Rossini work. But the director has chosen to play up the farce rather than to portray of human beings; and while things run along smoothly, it is difficult to feel for any of the characters. The clownish chorus of male admirers grows tedious, while the gypsies have little to do.
There is a more elaborate production of "Il Turco" on another label, but this one does have its goofy charms.
This performance was filmed at the Teatro Rossini, Pesaro, Italy. Antonello Allemandi conducts the Orchestra Haydn di Bolzano e Trento and the Prague Chamber Chorus. The running time is 165 minutes, the picture is in wide screen format, and there are subtitles. There are no bonus materials and absolutely no information about the production in the program notes. There is, however, a good track-by-track synopsis; and the full libretto can be seen on the Naxos website.
For those who want top-drawer Rossini, "The Barber of Seville" is the one to start with and those interested can ask me for recommended videos of that work. (Most are fine, two at least are to be avoided.)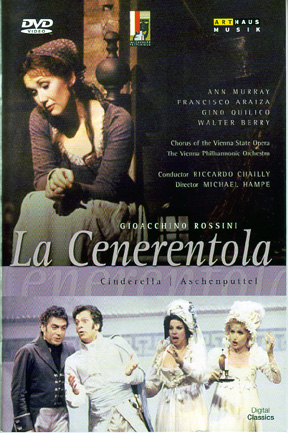 Rossini's Cinderella Enjoys a Good Production
After "The Barber of Seville," "La Cenerentola" is probably Rossini's best comic opera. In fact, it borrows a good deal of the elements that make "Barber" so great, even down to a thunderstorm late in Act II. (His third thunderstorm is in the overture to "William Tell.")
One might note that "Barber" is so packed with catchy tunes that all his other comic works suffer by comparison. Yes, as delightful as they are, they are not less tuneful--only less memorably so. But comparisons aside, "Cenerentola" is quite enjoyable on its own merits.
Cautious, if not afraid, of what the church would think, Rossini removed all the supernatural elements; and the Fairy Godmother is replaced by an aged male member of the court. Bearing this in mind, there are many ways in which to play Cinderella, and two extremes have been captured on video. The 1981 filmed version with Frederica von Stade shows her to be almost saintly in her patient suffering. The 1996 Houston Grand Opera version has a feisty Cecilia Bartoli. Then there is a production given at Glyndebourne in 2005, directed by Peter Hall, noted for its lack of cartoonish characterizations, with the totally charming Cenerentola of Ruxandra Donose taking a middle course.
An excellent version from 1982 at the Festspielhaus in Salzburg is now available on an ArtHaus Musik DVD. In no way does it suffer by comparison with the other videos, simply being a fine and intelligent production on its own. Here we have a lovely Cinderella in Ann Murray, looking like Alice Kramden in "The Honeymooners." Her wicked sisters are two attractive singers, Angela Denning (Clorinda) and Daphne Evangelatos (Tisbe), her wicked guardian is the venerable Walter Berry, her Prince Charming (called here Don Ramiro) is the ever dependable Francisco Araiza, and the comic servant Dandini is Gino Quilico who plays without undue clowning.
The sets are a notch above minimal, but the carriage rushing through the storm and breaking down (I won't say how, but it is clever) just in front of the right house deserves the applause it gets.
The running time is 171 minutes, the picture in full screen, and the subtitles are in five languages.

A Wicked Woman Dominates a Donizetti Opera
Although history does not prove she deserves it, Lucezia Borgia is reputed to have committed all sorts of nastiness, especially with poisoned wine. When Victor Hugo wrote a play about her, he brought the audience to its feet and the censors on his back. He also inspired Donizetti to compose an opera on the same subject.
"Lucrezia Borgia" is not a particularly great opera, perhaps not even a good one, but it stands as a turning point in Donizetti's career. The composer turned away from the old fashioned opera seria and experimented in his 31st work for the stage with the new spirit of realism that was coming into Italian opera.
One can judge its artistic value from a 2007 production given at the Bergamo Musica Festival that has been released on a Naxos DVD. The performance is a modest one by La Scala or Metropolitan Opera standards; but at least it is staged in period costumes and tries hard to make sense of its silly plot.
Gennaro (Roberto De Biosio) detests the Duke of Ferrara (Enrico Giuseppi Ilori) and especially his evil wife Lucrezia (Dimitra Theodossiou). When Gennaro is sentenced to death, Lucrezia tries hard to save his life—for a reason I will not divulge here. The work does end with the death of most of the cast, but this was the kind of stuff the public wanted and the librettists gave.
The Festival stage is small, the scenery dull, and since there is no female chorus, five female dancers do double duty as guardsmen in ridiculous outfits that are complete with voluminous skirts. There is one good aria for a character that is onstage a lot but does not contribute much to the plot, Maffio Orsini (sung by a petite contralto, Nidia Palacios). Several of the choruses are good and look forward to the more masterly ones by Verdi. Although it is completely out of character dramatically and musically, an 11th-hour aria that the original Lucrezia insisted upon is retained for this production.
I thought it was a lot of fun and historically quite interesting. Conductor Tiziano Severini keeps the piece moving nicely. There are subtitles in English and Italian, and the complete libretto can be downloaded from the Naxos website. The running time is 138 minutes and the picture is in widescreen.
Romeo and Juliet Love and Die in Salzburg
Charles Gounod's opera "Romeo et Juliette" has a libretto that shows great fidelity to Shakespeare's play. It is constructed around four duets by the title characters: their first meeting, the balcony scene, the morning after their wedding night, and their deaths. There is one stunning tenor aria, a long soprano monologue, a charming song for a mezzo, a patter song for a baritone, three duels within minutes of each other, and a ballet (that is almost always cut). It is Grand Opera in the original sense of the term.
The 2008 production given at the Salzburg Festival is available now on a Deutsche Grammophon DVD, which preserves a good deal of the grandness and is competitive with an older production on the Kultur label. One no longer hopes that French opera will be sung by an all-French cast; but even modern French singers have lost that national style for which Gounod composed his works.
Rolando Villazon is one of the rare tenors who are not overweight and looks convincing as a young Romeo. His acting, alas, could use some work. Nino Machaidze does her best to look like a 14-year old, despite a fit of the cutes when the director has her first appear as an awkward little girl. Seeing Romeo matures her very quickly for their first duet, however! Vocally, the pair is pleasing.
Director Bartlett Sher has several actors entering down the aisles, even committing that stale joke of letting a character speak to one of the audience.
The scenery, given the vastness of the stage, is minimal; and the costumes have been updated from the Renaissance to the 1700s, to allow for, I assume, a festival atmosphere in Verona. At least they are not costumed in the almost required "modern" garments that tend to create visual boredom.
The ballet and some shorter scenes necessary to the plot are cut, and the total running time is 162 minutes, including the curtain calls in which the conductor, Yannick Nezet-Seguin, receives louder cheers than do the leads. The bonus materials have Villazon giving the briefest of synopses (in German), some short looks behind the production and some shots of Verona. They can all be missed. The picture is in widescreen with subtitles in five languages.
In sum, I found it a fast moving production and one I can, with some reservations, recommend over the earlier video.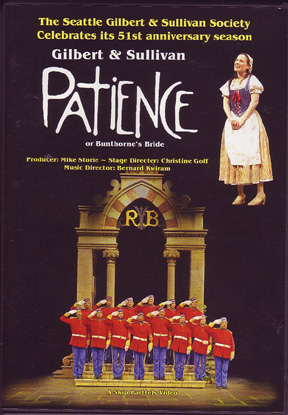 "Patience" is Given a Colorful Production in Seattle
The Seattle Gilbert and Sullivan Society has been producing the "Savoy" operettas for several decades now; and many of their more recent ones are on DVD. While a reporter should not hold them to professional standards, this group does a splendid job of presenting the audiences with productions that show great respect for both composer and librettist.
Their 2005 "Patience" is a good example of their many virtues and two or three faults. Except for one anachronistic phrase in the dialogue, every word is as Gilbert wrote it and every note as Sullivan composed it. The costumes are colorful, as is the scenery with its revolving set, and the cast is having such a good time that the audience responds in kind. Bernard Kwiram's lively tempos in the pit help enormously.
Cristina Villareale as Patience insists on (or is directed so) mugging shamelessly and standing forever pigeon-toed (a director's choice, surely) to show her simple rusticity. Indeed, she is more of a comic character than Dave Ross's Reginald Bunthorne, who is not quite eccentric enough to get the laughs the role usually gets.
The role of Reginald's rival poet, Archibald Grosvenor, is played by John Brookes with too much exaggeration; and, although this is a baritone role, his tenor-sounding voice is more than a little strange. (One must hear it to understand what I mean.)
On the plus side, Alyce Rogers' Lady Jane is a hoot, the Love Sick Maidens look good in their pre-Raphaelite gowns and again in their Victorian dress at the end. I was surprised that the Reginald-Jane comic duet was not encored but the Reginald-Archibald one was. I was also surprised and delighted to hear for the first time the second stanza of the "He was a little boy" duet. I believe that a restoration of "lost" lyrics is always a good idea in any musical production.
I hope that future recordings will include subtitles for those who have not memorized every word in advance.
This and the other videos in the series can be purchased through the Seattle group's website, www.pattersong.org.
"Faust" as It Was Heard in Old New York
Edith Wharton's "The Age of Innocence" opens at a New York opera house in which Gounod's "Faust" is being performed—in Italian. Wharton explains that the language change was because "an unalterable and unquestionable law of the musical world required that the German text of French opera sung by Swedish artists should be translated into Italian for the clearer understanding of English-speaking audiences."
Actually, most European opera houses once performed all operas in the language of that country. It was not until the airplane made it possible for artists to hop from city to city, having learned their roles in the language the composer intended. All this to report on a 1920 recording of "Faust " in Italian that has been rescued from oblivion and put into a 2-CD set on the Divine Art label as part of their Historic Sound series.
Of course, it is abridged (the Walpurgis Night sequence is entirely omitted) and the sound is very good acoustic (pre-electric). Granted that, its being sung in Italian gives it a certain historic quality. The cast is quite good, especially the Mephistopheles of Fernando Autori, who does not ham things up the way some Slavic bassos have done in more recent times.
The others in the cast are Giuliano Romagnoli (Faust), Gemma Bosini (Margherita), and Adolfo Pacini (Valentino). Carlo Sabajno conducts the Chorus and Orchestra of La Scala, Milan in this 143-minute version that can stand on its own vocally against some of the more recent French-language versions (featuring several Italian singers in much need of French pronunciation lessons).
Much of the Italian text sticks closely to the French original, and linguists will be interested in the departures that change some of the meaning of crucial passages.
I was delighted to find the entire Italian text (but no English translation) included in the very informative booklet. Those who can bring up the PDF file on the second disc can follow the French-English-Italian text on their screens or print it out for easier reference.
"Faust" in Italian? Why not?
Note: The most authentic recording of "Faust" was made in 1931 with an all-French cast that included the definitive Mephistopheles of Marcel Journet. It was put onto CDs and can be found as a "used" item on Amazon.com and other websites. The worst is a 1930 performance in English, conducted by Thomas Beecham. It is available on CD, but do not bother.
fbehrens@ne.rr.com