Music:
CD and DVD Reviews
By Frank Behrens
ART TIMES Online April 2012
Here are the reviews for recordings that came my way since February 1. As always, it is an interesting mix. They all appeared in Keene Sentinel (NH) and Brattleboro Reformer (VT).
ORCHESTRAL
CONCERTS ON DVD I find myself more and more fascinated with vintage and recent concerts of classical music on DVD. One of the reasons is being able to watch the baton techniques of the various conductors. I keep away from early Van Karajan because of his immense egotism and late Van Karajan because he keeps his eyes shut and seems to be chewing his cud as he directs. And others' histrionics as they "feel" the message of the music are equally off-putting.
In two DVDs on the ICA Classics label, we have two examples of the above; but I must admit up front that very little of the visuals focus on the conductors.
The earlier example is "Boston Symphony Orchestra: Charles Munch," which features three telecast concerts, the dates of which are given in parenthesis. First is "Water Music Suite" (1960) in which Handel's music is arranged by Hamilton Harty. Then comes the delightful "Symphony No. 36 in C, 'Linz'" by Mozart (1958), followed by Mozart's "Symphony No. 38 in D, 'Prague'" (1959).
Of course the music is what music sounded like on television back then; but watching Munch in action is what held my attention throughout.
From June 2011 comes "Liszt & Wagner." Here Pierre Boulez conducts the Staatskapelle Berlin and pianist Daniel Barenboim in a Liszt-Wagner program. Wagner is represented by his "Faust Overture" and "Siegfried Idyll." Liszt is represented by his two Piano Concertos and two shorter solo works. I find his "Piano Concerto No. 1" very enjoyable indeed, especially with that little triangle solo that opens the second movement. I don't think much of his flamboyant No. 2.
It is interesting to watch Barenboim signal (if that is really what he is doing) the orchestra from the keyboard when they are to come in, but that is the conductor's job. Perhaps a reader can let me know what he actually doing. Still these are the little things that CDs cannot possibly demonstrate; and even when one is at the actual concert, these subtleties can easily be missed.
Note: The titles of some concert DVDs are shown differently on the spine and on the front of the jewel case. What I wrote above is a compromise.
NEW YEAR'S CONCERT "What took them so long?" I exclaimed when there arrived in the mail on January 20 a 2-CD album titled "New Year's Concert 2012," that took place less than a month before! Where? Vienna, of course, as it has for the past 70 New Years Eves. The orchestra? The Vienna Philharmonic. The conductor this time around, Mariss Jansons.
The program? A good many composers surnamed Strauss: Johann I, Johann II, Josef, and Edward; to which can be added Tchaikovsky, Hans Christian Lumbye, Joseph Hellmesberger II, and Carl Michael Ziehrer. The last three add some novelty to the usual overly familiar selections that turn up on these occasions.
The inevitable applause at the end of each selection grows tiresome, but one can tune it out. At least the audience waits for the music to end before clapping.
So what to say about all this ritualized annual musical welcome to the New Year, which varies little from decade to decade? Well, it is difficult to feel depressed when hearing these pieces. And as things are going today, that alone is not a bad thing.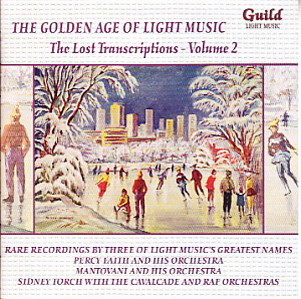 LOST TRANSCRIPTIONS 2 As I have been writing for years, Guild Light Music has been releasing a seemingly endless series of CDs under the main title of "The Golden Age of Light Music." They are now up to the 81st entry and it is a most unusual one. It is the second departure from the past compilations of commercial mono and stereo recordings of the late 40s to the middle 50s.
"The Lost Transcriptions, Volume 1" (which I reviewed in 2011) and now Volume 2 consist of recordings that were never meant to be sold to the public. As the excellent program notes tell us, musical selections were transcribed onto 7-inch and 12-inch 78 rpm discs as well as 16-inch discs that played at 33 1/3 rpm. They were sent to the troops all over the world to be played in barracks or over PA systems for the whole camp to hear.
(It is said that the Germans close enough to hear would wait for Bing Crosby, because he sounded like a German baritone. They affectionately called him Der Bingle!)
The sound is not bad, given the dates (from 1943 to 1955); and these selections are a good mix of the familiar and unfamiliar. The 25 selections in Volume 2 feature the orchestras of Percy Faith, Mantovani, and Sidney Torch.
Many of the songs come from stage and screen musicals: "Falling in love with love," "In the still of the night," "Why do I love you?" and "Dearly beloved." Less familiar pieces include "Imp on Broadway," "Jamaican juggler," "Snakes and ladders," and "Rhapsody in rhythm."
As the notes inform us, all of these discs were to be destroyed after hostilities, but many servicemen took one or more home as souvenirs. It is from these surviving copies that Guild has gathered its material for this historically and musically interesting collection.
Note: Vol. 3 has been issued since I wrote the above and will be included in my June reports.
CHAMBER AND INSTRUMENTAL

WALLACE Say "William Wallace" to a Scotsman and "national hero" might be the instant identification. But this article is about William Vincent Wallace (1812-1865), the composer of at least three immensely popular operettas and victim to the decline of the public's taste for his kind of musical theatre.
But part of his legacy was a treasure chest of piano pieces based on Scottish folk melodies, 20 of which are heard on a delightful Naxos CD titled "Celtic Fantasies." Rosemary Tuck seems to be having a lot of fun with them; and, although conspicuously listed as soloist, Richard Bonynge plays only one selection.
Several melodies will be familiar to the listener: "The harp that once through Tara halls," "Those endearing young charms," "The blue bells of Scotland," and "John Anderson my Jo." It makes one want to grab a claymore and…play the disc many times.
WORKS FOR STRINGS Here are brief mentions of two CD that have recently appeared.
I cannot count how many recordings have been made of Dvorak's "Cello Concerto," so any newcomers had best have some reason for entering the crowded field. A CD from Telarc is worth consideration, which I leave to my readers. Here Zuill Bailey takes on one of the most beautiful works in string music with the Indianapolis Symphony Orchestra, conducted by Jun Markl.
To fill out the disc, Dvorak's tone poems, "The Water Goblin" and "In Nature's Realm" are included. I think the former needs a bit more magic than Markl gives it.
On Sony Classical, we have "French Impressions" with violinist Joshua Bell and pianist Jeremy Denk performing three sonatas for violin and piano. The composers are, in the order played, Saint-Saens (D major, Op. 75), Franck (A major), and Ravel (no key in the title). The program notes discuss some of the uses of key in these three works and some elements of French paintings of the time. Food for thought.

SHORT REVIEWS For lack of space, I have had to neglect certain CDs that deserve at least mention. So here are a few quick looks at some, all from Sony Classical.
Yo-Yo Ma has strayed quite a bit from traditional western classical music, as is demonstrated in "Goat Rodeo." Here with three players and a vocalist, Ma takes an air pilot's term for "high risk situation" and joins in 11 selections that call for very intricate ensemble work. A disc for those who like the different.
The liner notes for "Something Almost Being Said: Music of Bach and Schubert" quote a poem, "The Trees," by Philip Larken, which is supposed, I suppose, to tie in with the three selections played by pianist Simone Dinnerstein. They are J.S. Bach's "Partitas No. 1 in B-flat and No. 2 in C-minor," and Schubert's "Four Impromptus, Op. 90."
Several decades ago, EMI had a best selling set of collections of Gregorian chant. Now Sony Classical has "The Monks of the Desert: Blessing, Peace & Harmony," featuring the voices of the Monks chanting parts of their "strict daily prayer schedule." It might prove the most soothing CD in one's collection!
BALLET
BALLETS BY ASHTON The name of choreographer Frederick Ashton is one to be reckoned with in the annals of classical ballet. So whether a rabid fan of all ballet, an admirer of Ashton, or just a "take it or leave it when it comes to ballet" person, one will find gold in an Opus Arte DVD titled simply "Frederick Ashton." The three featured works were all filmed at the Royal Opera House in London.
The star dancers are far too numerous for me to list in this report, but fans of the Royal Ballet will recognize most of them on the disc by name and then by technique.
The most pleasing of the three works is the opening one, "Les Patineurs" (The Skaters), based on music from two operas by Giacomo Meyerbeer as arranged by Constant Lambert. With a good deal of humor, Ashton has created a typical day at some skating rink in about the late 1800s. Yes, the dancers actually look like they are on ice, even including three pratfalls along the way. This is a piece I would use to convince an outsider that ballet that does not tell a story can be a lot of fun. A short "extra" follows, in which ballet master Gary Avis states his thoughts about some of the dancers in the performance.
The second piece is really a series of pas de deux with one solo. It is called "Divertissement" from that part of a classical ballet, usually in Act II, when the leads sit down and watch other artists in the company "do their thing." The best known example is found in the "Nutcracker Suite" which includes most of the specialty dances from the complete ballet.
In the order given, the dances are "Awakening pas de deux" from "Sleeping Beauty" (Tchaikovsky), "Devil's Holiday pas de deux" and "Devil's Holiday variations" (Tommasini), "Thais pas de deux" (the Meditation from "Thais," Massenet), "Five Brahms Waltzes in the manner of Isadora Duncan," and "Voices of Spring pas de deux" (Strauss II).
Those unfamiliar with ballet ritual might smile or even laugh at the follow-up to each of the Divertissement sections. The curtain closes to applause. Then it opens to show the dancers for more applause. Then the curtain closes again and is pulled slightly aside for the dancers to appear before it for even more applause. Somewhere in this last part of the procedure, the male bows gallantly to the female before they both disappear behind the curtain. In fact, the entire ritual seems to last as long as the selection itself.
I did not entirely enjoy the third offering, "Scenes de ballet" with music by Stravinsky. I found the brooding music out of synch with the choreography. The program notes call this piece Ashton's favorite and "surely one of Ashton's greatest achievements." But the writer must see more in it than I do.
All in all, especially for the sake of "Les Patineurs," this DVD is a Grabbit for any one interested in the Dance in any of its forms.
OPERA
CIRCUS PRINCESS How was Viennese operetta faring in 1926? That is the year that saw Gershwin's "Oh, Kay!" and Rodgers and Hart's "Peggy Ann" on Broadway. Of course, there was also "The Desert Song" playing down the street, so the taste for operetta was still strong, though ready to decline. But in Europe, Emmerich Kalman gave the world two hits: "The Countess Maritza" (1924) and "Die Zirkusprinzessin" (The Circus Princess, 1926). A lively film version from 1969 of the latter is now available on an ArtHaus DVD and much worth the seeing.
Note: Some of these German television versions of operettas play fast and loose with the dialogue and sequence of the songs. However, none do as much damage as did the 1934 and 1952 Hollywood versions of "The Merry Widow."
Any operetta after "Die Fledermaus" and "The Merry Widow" was judged by their standards. At any rate, audiences didn't much care for originality of plot. They demanded gorgeous love songs, comic duets, farcical situations, and rousing choruses. Kalman certainly learned from Johann Strauss II and Franz Lehar to provide all these elements. In fact, one of the comic duets between the secondary love pair has a strong jazz beat that reminds us that music had reached the early 20th century.
The serious lovers are the Princess Fedora (Ingeborg Hallstein) and the trapeze artist Mr. X (Rudolf Schock). She does not have a really a vulnerable face and he looks far too old for a man who can do a triple summersault from a trapeze and land astride on a horse! "But it is the voice that counts" I hear many readers telling me!
Realizing that many of these German films played somewhat loose with the original dialogue and order of the songs, we can still depend on the main plot's being fairly faithful to the original.
His marriage proposal to Fedora being rejected, the evil Prince Sergius (Ernst Fritz Furbringer) plans to humiliate her at a party. (Yes, just as in "Die Fledermaus" when one character invites all the others to a party to humiliate one of them.) The secondary plot involves the playboy Toni (Peter Karner) and the tightrope walker Mabel (Isy Oren). When she falls for him, it is unfortunately off her rope. The funniest scene is when he takes her back to his Mother (Jane Tilden), who is a Mama Rose with a good sense of humor.
While the original production took place outside a St. Petersburg circus tent, the film bring us inside, where we see bits and pieces of actual circus acts and a sexy lineup of high-kicking dancers. (And why are clowns never really funny?)
All in all, it is a lot of fun.
The running time is 111 minutes, the picture is in full screen, and there are English and German subtitles.


LEGEND OF THE INVISIBLE CITY Back in the days of the LP when rarely performed works were seldom available on discs, I fell in love with the suites from the Rimsky-Korsakov operas. I found them especially thrilling and hoped some day to hear the complete works, lyrics and all. Now that my wish has been partly answered on CDs, I am now looking forward to DVD versions. A 2-DVD Naxos set has provided a performance of "The Legend of the Invisible City of Kitezh" as it was done in 2008 at the Teatro Lirico di Cagliari, under the baton of Alexander Vedernikov.
Though professing not to admire Wagner very much, Rimsky-Korsakov did liken this late work to "Parsifal" (not in any negative sense, I assume) because of the spiritual message of both operas. As with most Russian operas, the plot is developed in a bit of a choppy way. The main scene in "The Legend" is the disappearance of the entire city of Kitezh just when the Tartars are about to attack. The effect does not come off well on the stage in this production.
The love plot involves the beautiful child of nature, Fevronya (Titania Monogarova), and her beloved Vsevolod (Vitaly Panfilov). The program notes supply a synopsis so there is no need for one here.
The test of any opera is "How impressive is the music?" That last question is highly subjective. No one would (I believe) call the score to "Lulu" beautiful or even enjoyable, but it certainly is appropriate to the story it tells. Rimsky-Korsakov was noted for weaving Russian folk melodies into his scores; and the score to the work in question here has absolutely gorgeous passages, mixed with periods of dry recite that can be dully repetitious.
I am deeply disappointed with the production on these discs. In the past, works like "Sadko" and "Le Coq d'or" were given sumptuous scenery and costumes to delight the eye as well as ear. Here the director decided upon minimal scenery and fairly dull costumes in the first three acts, with a bit more colorful sets and costumes in the last act. Sorry. Less is not better in sets for opera productions. However, the cut-outs of deer and other woodland creatures in the first scene are kind of cute!
The running time is 188 minutes, the picture is in widescreen format, and there are English subtitles.
NOTE: The first sets of "Legend" had a sound-video synch problem on Disc 1. These were recalled by Naxos. The corrected sets have been issued. Should your set have that problem, return it to your purchaser for an exchange.
ADRIANO IN SIRIA The "opera seria," which was so popular during the 1700s and dying out by the end of that century, was notable for its use of castrati in the roles of great heroes, an almost all-female cast, and the da capa aria. Another feature is their being so serious that a comic interlude or intermezzo had to be performed after Act I or II to bring some gaiety into the proceedings.
An excellent example is Pergolesi's "Adriano in Siria," a very good performance of which is now available on a set of two DVDs from Opus Arte. A good selling point is that it includes the very intermezzo, "Livietta e Tracollo," that was performed with "Adriano" back in 1734. The site, obviously not air conditioned, is the Teatro G.B. Pergolesi, in Jesi, Italy.
Most opera seria plots involve A who loves B who loves C who loves D who loves A. This plot has Emirena (Lucia Cirillo), a prisoner of Rome, loving Farnaspe (Annamaria Dell'Oste), a prince of Parthia. But the Emperor Adriano (Hadrian, played by Marina Comparato) also loves Emirena, although he is betrothed to Sabina (Nicole Heaston). And so on. No one back then really cared about the plot.
A typical opera seria, "Adriano" is a string of solo da capa arias, in which the same lines are sung over and over, so that the plot, such as it is, moves very slowly between them. The cast of this production includes five sopranos and one tenor, reflecting the preference of 18th century audiences for high voices.
The intervening comedy is, I must confess, more silly than funny; but again the original audiences got what they wanted. Monica Bacelli and Carlo Lepore, as Livietta and Tracollo, do their best with the absurd plot and lyrics.
Opus Arte does not provide any tracking list in the booklet, so one must go to the disc itself to see which aria is on what track. But all the information given is the first words of the aria without any timing. Very user unfriendly.
There is a short extra in which Conductor Ottavio Dantone talks about the score in a hesitant way as if trying to translate from Italian to English as he goes. Perhaps a written script would have helped.
The picture is in widescreen and there are subtitles in five languages.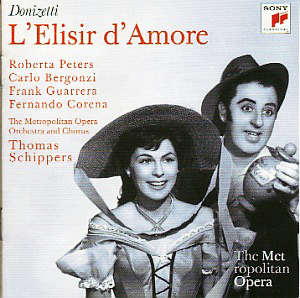 VINTAGE MET BROADCASTS
I am quite happy that Sony Classics is continuing to issue, on CD, vintage radio broadcasts from the Metropolitan Opera. Here are my thoughts on three of them.
I don't suppose that any one would put on their list of favorite Verdi operas LUISA MILLER (1849). Some say its good points are overshadowed by the three operas that followed, "Rigoletto" (1851), "Il Trovatore" (1853), and "La Traviata" (1853). Yes, the plot is awkward: letters written under duress, vows of secrecy, hidden identities. Yes, some of the music is a guitar-like strumming, and some passages sound like comic opera in the Rossini style, although there isn't a laugh in the lot.
In this broadcast from February 14, 1968, Tucker's character (Rodolfo) is not quite likable, but Tucker wasn't always good at creating a role. Montserrat Caballe sounds a bit mature for the title role but sings well. Sherrill Milnes (Miller) and Giorgio Tozzi (Walter) sound pretty much alike vocally. And who could carp about an opera with a villain named Wurm (Ezio Flagello)? But they all sound like they are into their roles, and they are helped by Thomas Schippers conducting.
I noticed, by the way, several cuts along the way by following a Met libretto from 1965.

In a CAVALLERIA RUSTICANA/PAGLIACCI double bill from April 11, 1964, Tucker is surprisingly passionate as the Sicilian village rake Turridu, son of Mama Lucia (Lili Chookasian), seducer of Santuzza (Eileen Farrell), and adulterer with Lola (Mildred Miller), wife to the hot-tempered Alfio (Cesare Bardelli). I trust most of my readers already know the details of the plot. The performance moves right along under Nello Santi's conducting.
Note: The version of "Cav" shown in "Godfather III" is absurd on many counts, not the least of which is an audience coming to see only a work that lasts little over one hour for a full evening's entertainment. Those familiar with the original will cringe at what Coppola does to it.
In "I Pagliacci," Franco Corelli sings Canio with clarion tones, holding every high note as long as he can without being ridiculous. Anselmo Colzani is a rough-voiced Tonio whose Prologo is wildly applauded, twice—once when the audience thought it was over and again when it really was. The rule is: Never applaud while the music is still playing. Period. But this is too much for some audiences who come to applaud rather than to enjoy the score.
I find Lucine Amara (Nedda) a touch above adequate, and I have yet to find a baritone who makes an interesting lover out of Silvio. Calvin Marsh tries, but the mostly pedestrian music for the duet makes it a losing fight.
But bear in mind that none of these broadcasts, digitally enhanced as they may be, are going to be first choice recordings. It is the historical value of each, even the poorest, that makes these Sony sets such a valuable addition to one's collection.
Among the CD transfers in this series, two of the more recent releases star Carlo Bergonzi in the tenor lead--one a tragedy, one a comedy.

Verdi's ERNANI (just seen by many as an HD telecast at local theaters) is based on a play by Victor Hugo. Francesco Maria Piave, who wrote many a libretto for the Master, did a good job boiling it down to a straight love-plot and omitting most of the political matter that made Hugo's play so startling for its day.
Basically, Ernani (Carlo Bergonzi), who turned bandit after Don Carlo killed his father and seized his property, is in love with Elvira (Leontyne Price). But so is Charles V of Spain (Cornell MacNeil), and so is Elvira's uncle Don Silva (Giorgio Tozzi). Though not as incomprehensible as "Il Trovatore," the plot of "Ernani" seems a little silly to audiences today, hinging as it does on bravado oaths and how Honor must be served. (W.S. Gilbert spoofed this sort of thing in "The Pirates of Penzance"; but Verdi was a hot blooded Italian and to him a man's word meant something.)
As much as I dislike Franco Corelli's excesses, I think I would have preferred him to Bergonzi in the role. The latter simply does not have the clarion tones that such a heroic role demands. The audience at that December 1, 1962 performance, however, adored him. An energetic reading of the score by conductor Thomas Schippers helps a distinctly impressive cast.
On March 5, 1966, Bergonzi appeared in Donizetti's L'ELISIR D'AMORE as the prize village bumpkin Nemorino, who loves the lovely Adina (Roberta Peters), who loves to read about Tristan and Isolde's magic love potion and is herself loved by the army officer Belcore (Frank Guarrera). Known for opera buffa roles that require patter technique, Fernando Corena is the believable charlatan, Dr. Dulcamara.
The libretto by Felice Romani is little more than a sequence of duets; but the score is bubbly enough, especially under Schipper's baton, to keep things from getting dramatically boring.
Here I find Bergonzi's voice to be just right for the innocent he is playing. I did, however, find some fault with his bel canto technique in the gem of the score, "Una furtiva lagrima," halfway into Act II. Others may disagree.
Peters is at her usual chirpy soprano, Guarrera is an imposing Belcore, and Corena does what he does best. It is difficult to be funny on a CD, but he comes close.
Both operas have some cuts, "Ernani" more than "Elisir" and all the sets mentioned here take up two CDs.