Music:
CD and DVD Opera Reviews
By Frank Behrens
ART TIMES Online April 2011
ORCHESTRAL
TUNEFUL PERCUSSION I like the music of Percy Grainger, he of "Country Gardens" and "Shepherd's Hey." I have on CDs much of his music for piano, arranged for brass ensemble, for wind ensemble, for full orchestra. And since there is no end of surprises in this world, I now have some of his music arranged for steel marimba, xylophone, and several other familiar and seldom heard percussion instruments. Using the composer's own phrase, this new release on the Move label is titled "Tuneful Percussion."
There are 16 selections, many of which are recorded for the first time. Some are original Grainger tunes and some are arrangements of music by other composers, among whom are J.S. Bach, Debussy and Ravel. Others are based on English folk tunes and melodies from other cultures. Two or three have a vocal part. It is indeed a most unusual collection.
The quartet of percussionists playing on this CD calls itself Woof! (with the exclamation point). Woof! formed in 1995 and became very popular in Melbourne, Australia. But these arrangements are not a simple gimmick. Grainger was passionate about music for percussion instruments. The program notes explain in detail how this collection came to be, so it remains for me only to give it a high recommendation for those who appreciate originality in light classical music.
[Very shortly after that last review appeared, the following surprisingly became available.]
PERCY GRAINGER Never wish for what you want most (they say) lest you get it! I set myself a challenge to collect on CDs every piece Percy Grainger ever composed. I had about 7 CDs when lo and behold, Chandos Records issued a 19-CD boxed set of (ah, yes) just about every piece Percy Grainger ever composed—in this 50th anniversary of his death.
There are 354 little gems found in this set and they are broken down into several categories: works for (CD 1-3) Orchestra, (4-7) chorus and orchestra, (8) unaccompanied chorus, (9-10) wind orchestra, (11-12) chamber ensemble, (13) mezzo-soprano, (14) tenor, (15) baritone, (16) pianos, (17-19) solo piano. So some of his more popular numbers show up several times, such as "Country gardens" "Shepherds' hey," and "Irish tune from County Derry" [this last better known as "Danny boy."]
Among the singers are Della Jones (mezzo), Martyn Hill (tenor), and Stephen Varcoe (baritone). The artist who plays all 3 discs of solos for piano is Penelope Thwaites. Among the conductors for the orchestral pieces is Richard Hickox with the City of London Sinfonia, while the Chamber Ensemble of St Martin in the Fields plays most of the chamber pieces.
A very generous 179-page booklet gives all the track listings, lyrics, and lots of information about the selections. My only complaint is that there are no track listings on each CD sleeve. So picking up any given disc in the box, I have not a clue as to exactly which pieces are on it. I suppose one must work from the booklet outward, so to speak, to find and play one's favorite selections.
I must add that Grainger's arrangements of traditional songs are simple and to the point. Too many other composers, Benjamin Britten being one of the worst, make them sound like art songs, and gone is the simple beauty that makes them so attractive to begin with.
Although selling at a "special price," this entire collection is still pretty steep—but worth every dollar. And for those who don't really want to hear "Danny boy" in half a dozen settings, CDs can be programmed to skip whatever is not desired.
Now I can get back to collecting every thing that Offenbach ever composed!
FILM SCORES
CARMEN (1926) Yes, it is a good thing when music with a strong historical interest is also a pleasure to hear! Take the case of a recent CD from Naxos that contains 17 extracts from the score to a 1926 silent film version of "Carmen." The program notes give a count of about 80 film versions—including adaptations and perversions—of the tale of the Gypsy femme fatale. Some are based on the opera scenario, some on the original story by Prosper Merimee. ("A Burlesque on Carmen," made in 1916 with Charlie Chaplin as Darn Hosiery, specifically spoofs the Cecil B. DeMille version of the story made the year before with Metropolitan Opera star Geraldine Farrar in the leading role of this silent film.)
Readers can find much more than they really want to know about these films in "Carmen on Film, a Cultural History" (Indiana University Press, 2007) by Phil Powrie and others.
Being this as it may, Ernesto Halffter--who studied with DeFalla, Stravinsky and Ravel--was hired to do the background music for the 1926 film, which would be played on large phonograph discs at the movie houses. Avoiding the temptation to merely rearrange Bizet's score, Halffter composed a lovely score that can be heard on its own terms as abstract mood music. Of course, it is so much more meaningful if the listener is aware of what is on the film as each track plays. (Some conjecture was used by those preparing the program notes concerning which scenes were accompanied by which music in several cases.)
On this world premier recording, Mark Fitz-Gerald conducts the Frankfurt Radio Symphony Orchestra. The running time is 67 minutes.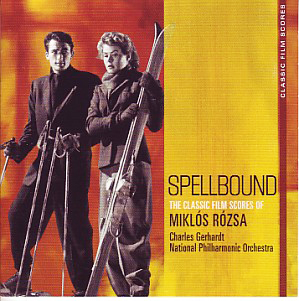 MIKLOS ROZSA It is always a treat to hear once again music from the films that have become our favorites, especially those from the late 1930s and through the next decade. So it is good that Sony Masterworks is issuing on RCA Red Seal CDs its Classic Film Scores series.
Each title starts with "The Classic Film Scores...." Some are devoted to the great Hollywood composers: Bernard Herrmann, Franz Waxman, Miklos Rozsa, Max Steiner, Erich Wolfgang Korngold, Alfred Newman, and Dimitri Tiomkin. A few salute certain stars by offering music from their films: Humphrey Bogart, Bette Davis, and Errol Flynn.
I chose to hear my favorite composer in this lot, Miklos Rozsa. He was known later for his epic film scores ("El Cid," "Ben-Hur," "King of Kings"), but this CD, "Spellbound: The Classic Film Scores of Miklos Rozsa," draws upon earlier works. Among them are "The Red House, " The Lost Weekend," "The Four Feathers," "Double Indemnity," "Knights of the Round Table," "Spellbound," and "Ivanhoe." Two other films, "The Thief of Baghdad" and "The Jungle Book," are represented by a single selection each: These last two works are so hauntingly beautiful that I have transferred from DVDs the complete sound tracks of these films to my iPod for repeated hearings.
All of the selections are played by the National Philharmonic Orchestra, conducted by Charles Gerhardt.
INSTRUMENTAL
BRAHMS Not only were cellist Zuill Bailey and pianist Awadagin Pratt old school chums, but each has gone on to make a big name for himself in the concert world. When they play together, there can be detected a fine chemistry between them, as witness their new CD from Telarc, tersely titled "Brahms."
This 77-minute collection of Brahms' works for cello and piano contains "Sonata in E-minor, Op. 38" and "Sonata in F-major, Op. 99." Surrounding those two major works are 8 shorter Brahms works, including his familiar "Wiegenlied, Op 49" (better known to us as "Brahms' Lullaby")
I find this CD to be one of the lovelier classical offerings to come my way in recent years, and it will perhaps find a permanent place in many of readers' collections.
LONDON HARP SOUND If one harp sounds heavenly, what about 16 harps? A CD from Cala Records, distributed by Albany Music, just might answer that question. Named after the featured ensemble, "The London Harp Sound," conducted by Geoffrey Simon, dishes up a varied program that ranges from 3 songs made popular by Edith Piaf to Brahms' "Lullaby," from "The windmills of your mind" to a Bach Prelude, from "Afternoon of a faun" to "Andalusia," and from "The music of the night" to a movement of Berlioz' "Symphony fantastique."
For those always on the lookout for just the right musical ambiance for dining or quiet get-togethers, this unusual CD might be just the ticket.
EHRET EURE MEISTER To me, the sound of the hunting horn is one of the most beautiful sounds of music in the world. (The French horn comes a very close second.) Therefore, I was very happy to find a treat on a CD from Preiser Records titled "Ehret eure Meister," which translates to "Honor your master."
This little gem features (to give the English name) The Hunting Horn Academy, Austria, playing "Hunt music from Lower Austria then and now." There are 21 selections, not one of which is familiar to me, mostly by equally unfamiliar composers. It is all very exciting—I have already played it thrice through—and certainly provides a different musical dish for those looking for something out of the ordinary.
The program notes, in German and English, are packed with details about the music and the tradition of which it is a part. This CD is part of the Albany Music Distributors catalogue and should not be passed up.
ORATORIO AND OPERA
CREATION Some works can be described only as "monumental." Among them are Beethoven's "Symphony No. 9," Mozart's "Requiem," and Haydn's "The Creation" (German, "Die Schoepfung"). A wonderful video of this Haydn cantata is now available on an ArtHaus DVD, with Gustav Kuhn conducting soloists, the Arnold Schoenberg Chorus, and Collegium Aureum.
This performance was given in 1982 to celebrate the 250th anniversary of Haydn's birth; and the chosen site is the very building in which the work was first heard in 1808, the Alte Universitat, Vienna. An 18-minute documentary—not very imaginative but quite informative—that opens the disc includes a painting of the infirm Haydn receiving a blanket to keep his legs warm during the performance; one can almost sense his presence during this 1982 presentation.
The soloists are sopranos Aileen Auger (Gabriel) and Gabriele Sima (Eva), tenor Peter Schreier (Uriel), baritone Roland Hermann (Adam), and bass Walter Berry (Raphael). Berry, a good actor on the opera stage, is particularly good in showing joy over the wonders of Creation.
There is no need here to go over the delights of this 115-minute work. But I do wish to point out an example of Haydn's genius. The work opens with a conception of the chaos that must have existed before the first day. Haydn somehow developed a pre-cosmos tonal picture that does not change even when the chorus sings its first lines. But when they get to the words, "And there was light," the full force of chorus and orchestra combine on the single syllable of "light" to dramatize the first miracle. The most ardent non-believer cannot but react in amazement at the first "great moment" in this work.
The German text of Gottfried van Swieten, based on John Milton's "Paradise Lost" and the Book of Genesis, is used in this performance and English subtitles are available to those who need them. Much recommended.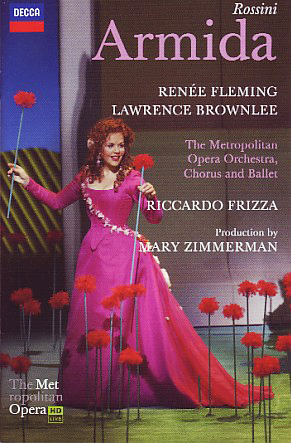 ARMIDA Between 1808 and 1829, Giaochino Rossini composed (unless I counted wrong) 39 operas, the last being "Guillaume Tell" (known more for its overture than for the three or so hours that follow). Before Renee Fleming decided that she wanted to sing the title role of his "Armida" (1817) and the Metropolitan Opera fell over itself to oblige her, few people had even heard of it. By now, thousands must have seen the HDV screening at some local theatre; and Decca Records has released it for a far wider audience.
The plot is one of those absurd tales that show up in the 16th-century epic "Jerusalem Liberated" by Torquato Tasso. Many composers were drawn to the tale of the sorceress who tried to stop the Crusaders but fell in love with one of the Christian knights. Previously, Handel had handled the story in "Rinaldo," and the French innovator Lully treated of it in his "The Tragedy of Armide."
A good reason why this opera was never revived after 1817 is that the cast consists of one soprano (and no other female soloist), two bassos (to sing the evil male characters), and (hold on here) six tenors!!! This production gives two roles to one of the tenors (Barry Banks), one of whom is killed in Act I and the other first shows up with no change in makeup in Act III—which made me wonder if the earlier character has been resurrected.
To boot, Act II is simply a duet followed by a long ballet, and dressing the devils in costumes that suggest the dark side of "Cats" does not help. But audiences back then had different standards, and Rossini was always ready to oblige!
After directing a grade-B ghost story version of "Lucia di Lammermoor" and what must be the all-time worst Met Opera staging of any opera, "La Sonnambula." (it was done as a dress rehearsal!), they allowed the same director, Mary Zimmerman, to do what she could with this Rossini work. Happily, she decided not to Eurotrash it—and I suppose few could have made this plot believable no matter what.
I am going to be murdered by the " Fleming-can-do-no-wrong" clique, but I find her characterization of the wicked witch of Damascus very bland. Had I known nothing of the plot or what was being sung, I would have supposed that she was just one of those lovable pagans in love with a Christian knight. At no moment in her voice or body motions does she suggest a powerfully evil character, even when she conjures up a storm at the end of Act I. Perhaps it is the fault of the music, but that never would have stopped Cecilia Bartoli or Maria Callas.
Her beloved Rinaldo (Lawrence Brownlee) is celebrated for his "Rossini style," but a some more acting skills would have helped. The music for his duets with Fleming is gorgeous, but the vocalizing and acting lack drama. The impressive score is conducted by Riccardo Frizza, who tries to instill excitement into the slow paced scenario.
The opera is spread over two DVDs, and there are those breathless backstage interviews, this time with Deborah Voigt, in which a singer explains how difficult the role is and others of the cast proclaim how wonderful every one else is, especially the stars. The subtitles are in 5 languages, the picture is 16:9 widescreen, and the running time of the opera is 171 minutes.

RIDERS TO THE SEA In 1904, Dublin first saw J.M. Synge's half-hour play "Riders to the Sea." In 1937, London first heard Ralph Vaughan Williams' opera "Riders to the Sea," which some consider his finest work. I know of no video recording of the play, but Kultur International Films has released an Irish television production of the opera, and I believe it is required viewing for both lovers of the legitimate stage and of the opera.
The plot is nearly non-existent. Having lost all but one of her sons to the sea that governs the lives of the inhabitants of the Aran Islands off the west coast of Ireland, Maurya (Sarah Walker) dreads losing her one remaining son, Bartley (Hugh Mackey). He is planning to bring some horses by water to the Galway Fair; and she and her daughters Cathleen (Yvonne Brennan) and Nora (Kathleen Tynan), as in a Greek tragedy, fear the worst. I will not reveal any more for those unfamiliar with the story.
What Vaughan Williams did was to take the Synge play intact, jettison about 20 lines, and set the text to the sort of dramatic declamation that brought opera back to its 1601 beginnings when it was called "fabula con musica." 20th-century opera has bid farewell to the melodies, choruses, arias, duets, ensembles. Now it is not the vocal lines that impress one but the orchestrations.
This can be very boring with composers that lack the genius of Vaughan Williams. Here the constant grinding of the sea in the orchestral music keeps one's interest throughout the short 42-minute running time of the work.
The cramped single set of the video emphasizes the crushing poverty of the people, while superimposed shots of a raging sea symbolize the hopelessness of their situation. The last lines of the play and the opera are spoken by the mother: "No man at all can be living for ever, and we must be satisfied." This is the eternal lament of women who see their men go off to battle nature—or other men—and must be satisfied!
This mini-opera (with a short introduction about Synge himself) will speak for itself. Much recommended as an example of what we must call, once again, "story with music."
MET OPERA BROADCASTS At long last! After being available only to Metropolitan Opera subscribers and Guild members, several vintage radio broadcasts from half a century ago are now available on CD from Sony Classical. There are "La Boheme" (1958) and "Tosca" (1962), neither of which I have heard. And there are "The Barber of Seville" (1950) and "Romeo et Juliette" (1947), both of which are now in my collection.
"Barber" is strongly cast with Giuseppe Valdengo (Figaro), Salvatore Baccaloni (Bartolo) and Jerome Hines (Basilio). The Rosina of coloratura Lily Pons is a matter of taste. The role is written for a mezzo; and that makes a big difference in the ensembles. Pons, by choice or by being directed to do so, adds all sorts of ornamentation to her entrance aria "Una voce poco fa," and substitutes an English translation of "Mother dear, I say to thee" (to the tune of what we call "Twinkle, twinkle, little star") for the plot-related aria Rossini composed for the "lesson" scene. But this recording is living opera history and the work is after all a merry romp in the Old Italian style.
"Romeo" boasts Jussi Bjorling as the world's most famous lover. His Juliette is also a matter of taste. Bidu Sayao was a Big Name back then, but some found her voice a bit sour. At least, she manages to sound like the young girl the role demands. Baritone John Brownlee makes a good Mercutio, and it is good to hear mezzo Mimi Benzell as the pageboy Stephano.
As many historians of opera performances have mentioned, perhaps what we call the Golden Age was a little tarnished. But at least it was great fun and much of the population looked forward eagerly to their Saturday afternoon at the Met on the radio. Thank you, Sony, for a nostalgic trip into the musical past.
Note: I vividly recall when I was in the 5th or 6th-grade and was ill of a Saturday, the radio happened to be tuned to the Metropolitan Opera broadcast of "Carmen." Perhaps my love for opera began on that day. So these CD sets have even more meaning to me than they do for others.
SIMON BOCCANEGRA Verdi's "Simon Boccanegra" flits in and out of an opera house's repertory, never quite as popular as his "Rigoletto" or "Aida" and never quite as obscure as "Jerusalem" or "Oberto." Recently, the Metropolitan Opera made a big thing of tenor Placido Domingo taking the baritone title role. EMI has just released a DVD of the same star with a different supporting cast in the Royal Opera House, Covent Garden production that took place in 2010.
This opera was first staged in 1857, but most productions use the 1881 version which changes the title character considerably. Antonio Pappano conducts the Royal Opera orchestra, chorus and soloists in an excellent production both dramatically and musically. The stage director is Elijah Moshinsky. Because this DVD might be confused with the one the Met will certainly issue, I must caution those interested that this production on the EMI is generally better sung than that of the Met.
There actually was a Simon Boccanegra, a buccaneer who rose to be Doge of Venice in 1339. As between the second and third acts of Shakespeare's "The Winter's Tale," a good many years pass between the long prologue to "Simon Boccanegra" and Act I. In both cases, a baby girl has to mature into the love interest. In Shakespeare, a character called Time comes out to apologize. Verdi's librettist Maria Piavi just skips over 25 years without comment.
Among the reasons for this work's infrequent productions is that the plot is not only extremely confusing but, as one Verdi scholar put it, persistently gloomy. I decided to stop trying to follow the events and simply enjoy the music. I have to smile at productions of "Simon" when it is obvious that the audience, through their unfamiliarity with the work, has no idea when applause is called for.
Domingo looks both tortured and commanding in the title role; and his baritone still has a burnished tenor ring to it. Marina Poplavskaya is a fragile Amelia, whose entrance aria receives only polite applause. Ferruccio Furlanetto is a powerful Jacopo, the bitter enemy of Simon, while Jonathan Summers even looks villainous as the traitorous Paolo. Joseph Calleja as Gabriele garners some bravos after his big aria. But alas, while he is fairly good looking in the bonus interviews, his makeup and facial expressions place him as the third most unhandsome tenor lead in my experience. He looks exactly like a minor hood from "Murder, Inc." and I found him hard to watch in closeups.
There are two short bonus items. The first is filled with fulsome praise of Domingo by the rest of the cast, director and conductor. The other is a not-so-bad quick discussion about directing this work. I found it annoying that each act is prefaced by comments from the conductor as he walks backstage to the orchestra pit. But that is still better than the fatuous interviews between acts of Metropolitan productions.
The picture is in widescreen format and there are subtitles in several languages.


MUSICALS
ANYTHING GOES The Archive of American Television Presents is a joint effort of Entertainment One recordings and The Academy of Television Arts & Sciences Foundation. The result has been a series of DVDs restoring for modern viewers both famous and forgotten telecasts from the past.
Their latest release is a recording of an NBC Colgate Comedy Hour as it was seen in February, 1954. When hosted by Eddie Cantor, Abbott and Costello, or Martin and Lewis, the show was given in a variety format. But when Ethel Merman's turn came, it was decided to devote the show to a single musical, and Cole Porter's "Anything Goes" was chosen.
To fit into a 60-minute time slot, several liberties were taken with the original show, mostly by way of cuts. The plot was reduced to the action among Harry Dane (Frank Sinatra), Reno Sweeney (Ethel Merman, repeating her role in the original staging), and Moonface Mooney (Bert Lahr), with able assistance from Sheree North. The program notes provide far more background material than I can in this report, as does a very badly done bonus interview with one of the music arrangers for the television version, Buddy Bregman.
Those familiar with the original show may or may not accept this quickie version that runs only 48 minutes, leaves out much of the score and yet finds time to introduce three numbers from other Porter shows. A plus is moving the action back to the Roaring 20s, given the great costumes and dances of that period.
Sinatra breezes his way through his role, Merman is simply Merman in her role, and Lahr is Lahr. Not much characterization at all, one will find. When they find themselves with five minutes left before the closing credits, Sinatra (ad lib) urges Merman to repeat the title song, heard once too often during the performance, and then he rejoins her and waves Lahr back onto the stage to form a trio. Lahr is heard saying that he doesn't know the words! But that is what live television was like back then.
Other than having great historical value, this E-One DVD is a lot of fun and a reminder of all the joy that once comprised the Broadway Musical Comedy.
HOLLYWOOD REVUE OF 1929 In his fascinating book "A Song in the Dark" (Oxford University Press, 1995), Richard Barrios spends 7 pages on the film "The Hollywood Revue of 1929" without one kind word to say about it. Now that it is part of the WB Archive Collection, I must admit that I agree entirely with him--and yet I enjoyed it immensely!
With Sound an unruly brat that upset all the artistry the film industry had developed since its conception, the studios had no idea what to do with it other than making musicals, one worse than the other; and inevitably they came to the idea of highlighting their big stars in some sort of a review. This 1929 effort was arranged by MGM to resemble an actual show put on before a live audience (whose presence quickly disappears), hosted by Conrad Nagel (who does very little) and a teenage-looking Jack Benny.
The problems with the production are glaring. There is no logical sequence of the acts, which were filmed during the night so as not to interfere with day-time filming. The comedy sketches are simply not funny—except for a "magicians" act that Laurel and Hardy had to prepare in about an hour before filming, and even there the pacing is lethargic. But these two artists are definitely a highlight in the desert around them.
And yet it is all lovable! The studios and its technicians and actors were in a brand new medium. Watch the earliest "live" television shows for a comparable situation. The sound was poor and the actors were over-enunciating to the point of slow motion. (This is still better than the rapid mumbling that passes for dialogue today.) Benny is hampered by a lack of audience response—through a lack of audience—and very untalented writers providing him with weak material.
Joan Crawford, before her face hardened into the monument she later became, tries very hard to sing and dance a Charleston. It is awful, but I was in there rooting for her. Marion Davies (yes, Hearst's mistress) has an overlong song and dance routine, in which she looks most unsure. But again, I wished her luck. Buster Keaton is given a drag dance—another terrible miscalculation—while John Gilbert and Norma Shearer first do and then spoof Shakespeare. The straight version is rotten and the spoof is obvious and not funny.
The only act that really works is Marie Dressler as a high-class dame with Burlesque in her past and blood. She can take mediocre material and make it into a classic. This sketch alone makes the film worth watching.
This WB series can be played on DVD players, not PCs or any other equipment, since they are designed to be purchased in a burned hard copy or downloaded directly from the WB website.
EDUCATIONAL
INTRODUCING I am very fond of—and naturally recommend to my readers—recordings that introduce the novice or semi-novice to great classical works.
I recall as a teenager belonging to a club that sent out LPs of symphonic works on one side and analyses by the conductors on the other side. I can still remember Leonard Bernstein demonstrating how Dvorak's "New World Symphony" was less New World than Czech, and how some other disc separated and then recombined the opposing the small and large groups of players in an analysis of Bach's "Brandenburg Concertos."
Then I fell in love with two sets of opera analysis CDs. Covering basically the same works, one series came from Naxos with the title "Opera Explained," while another series came from the Metropolitan Opera Guild titled "Talking About Opera." Each CD was devoted to a single work. First the narrator would give basic information about the composer and his times, then about the opera itself, and then excerpts from the opera with recorded examples. Alas, both series have been discontinued.
How I wish they had been on DVDs, but that invention was not yet developed back then. But EuroArts video discs have since appeared to fill the symphonic gap, and this series is very very good indeed.
Every title begins with "Introducing…," followed by the composer and work. This series has just increased by 3 and they all feature the Berlin Philharmonic. Mariss Jansons conducts in "Introducing Haydn: Symphony No. 94" and "Introducing Berlioz: Symphonie Fantastique." These concerts were both given in 2001 in the wonderfully atmospheric Hagia Eirene, Istanbul. I found the playing of the full works that followed to be very impressive.
I always thought that the so-called "Surprise" symphony had that single surprise in the second movement—the sudden loud chord; but the documentary points out about a dozen more subtle surprises that are lost on most modern concert goers. The documentary for the Berlioz work goes over familiar ground concerning the composer and the woman who did not return his love.
Claudio Abbado conducts 2000 concert captured on "Introduction to Beethoven: Symphony No. 9," performed at the Philharmonie, Berlin. Again, the background information is a thrice-told tale, but the analysis section is quite interesting. The soloists are Karita Mattila, Violetta Urmana, Thomas Moser, and Eike Wilm Schulte. It is my opinion (so don't send nasty letters) that Mattila's high soprano did not quite fit with the other three voices; but in no way can I fault Abbado's reading of this ground-breaking masterwork.
The huge chorus consists of the combined forces of the Swedish Radio Choir and the Eric Ericson Chamber Choir. It is a thrilling moment when they stand up as one for the "Ode to Joy" that comprises the last movement.
As with most recent videos of orchestral concerts, several cameras are used (12 camera men are listed for the Beethoven), giving the viewer intimate close-ups of the players and adding to the drama of the piece.
Each DVD comes with a fairly informative booklet. Some of the audio commentary is in German, but the disc shows English subtitles as a default setting. One can set the disc to 3 other languages.
Music departments and libraries take note.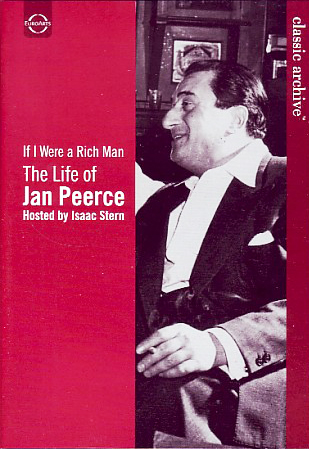 JAN PEERCE Euroarts has issued a lovely DVD titled "If I Were a Rich Man: The Life of Jan Peerce." Opera fans of the 1940s and 1950s have fond recollections of this tenor who looked anything but heroic and was afraid to sing opera because of the tights he would have to wear. But his voice attracted the attention of Arturo Toscanini and then his future was established.
No, it was not a quantum leap from synagogue to Metropolitan Opera! This hour-long documentary traces all the steps in between in two sites. About half of the program is an interview with Peerce and master violinist Isaac Stern. (I admire the comparisons they draw between singing and bowing techniques.) The rest is archival video footage of Peerce's career with a voiceover commentary by Stern.
Peerce is so likable, never egocentric, and always displaying his sense of humor. The best example is the story he tells of being the only person at a Metropolitan audition who was asked for an encore. Yes, of course I give this DVD a very high recommendation.