Get Social: Artists Take the Graveyard Shift
By Mary Alice Franklin
ART TIMES Spring 2016
While the rest of the country was resting, a sleepless night for artist Alexi Rutsch-Brock led to artistic inspiration, virtual friendships and, eventually, an exhibition. During her restless nights, Rutsch-Brock creates new works of art and browses the Internet. As it turns out, she isn't the only one. She soon stumbled upon other artists who were equally awake, posting their own insomnia-fueled works on social media and engaging in discussions about their pieces. It was ultimately her admiration (and late-night purchase) of fellow up-all-nighter Julia Schwartz's artwork on Facebook that eventually led to Pelham Art Center (PAC)'s current exhibition "insomnia." Curated by Rutsch-Brock, the exhibition explores the affect of insomnia on artists' work, but also indirectly recognizes the ability of social media to build an artistic community that sparks inspiration in its members.
It was in the middle of the night, and the wee hours of morning, that Rutsch-Brock discovered and conversed with artists who would eventually be in the PAC show. She began to slowly uncover how insomnia influences an artist's work: the works in the show are small-scale, created in manageable and succinct bursts; and the medium often differs from the artists' daytime pieces, as they work with what is close at hand in the dead of night. These works reveal a different side of the artist as his or her lines, brushstrokes and color palettes are intentional, yet less calculating than usual.
For example: Anki King's late-night works make their way into her larger daytime pieces. John Mitchell usually paints still lifes, but when insomnia hits, he draws King, his partner whom he lives with in Brooklyn. His ink-drawings often serve as a diary, with defining notations of what is going on while he works – the time, what movie was on in the background, handwritten notes. Ola Manana's dreams often make their way into her works; not just as inspiration, but as a dictation retold as narrative instead of abstract representation. Kerry Law paints the same view from his apartment night after night: the Empire State Building, which changes depending on the weather and the colors lit from the building's tower. For his nighttime work, Jason Rohlf uses remnants of his daytime work – the shop rags he cleans his paintbrushes with, – painting over the rags with colorful, abstract shapes and patterns.
On display through March 26, the presented artworks are housed in a dimly lit studio with gray walls to mimic the late-night mood. None of the works are framed, giving a casual feel to the show. An impressive several hundred artworks are displayed, often in repetition, much in the way in which they were created – one work after another, night after night. One hundred and sixty shop rags lay stacked on a table; a lattice of gray-scale illustrations hang in rows on one wall; bursts of colorful abstractions on another.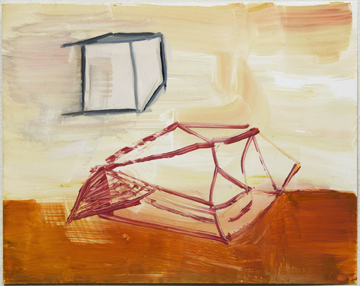 All of the twelve exhibiting artists have insomnia in common, but most of them, including Rutsch-Brock, had never met in person before PAC's "insomnia" came together. The function of social media in this scenario demonstrates how deeply it penetrates our society. The fact that an exhibition was curated through Facebook, and used to build a network, proves the beneficial impact of social media as an avenue for artists to inspire, encourage, discuss and share with one another. Social platforms connected people through common practices, interests and habits, and then provided an appropriate forum for them to foster virtual networks and friendships.
Now, despite residences in various parts of the country, from Connecticut to California, the exhibiting artists have a Facebook "group," similar to a chat-room, where they discuss the exhibition, their insomnia and their works of art. Facebook's search function allows users to explore its "groups," which assemble likeminded artists who connect with one another based on any number of factors, such as geography or artistic genre.
As easily as one can find these existing Facebook groups, one can also create their own. Whether looking for new a social outlet or hoping to extend the potential of an in-person community, creating a group can broaden networking possibilities. This is as simple as clicking the downward-facing arrow on the upper right-hand side of your Facebook screen, and choosing "Create Group."
So, take a note from Alexi Rutsch-Brock and the Pelham Art Center: making use of available resources on Facebook, and social media in general, can produce valuable benefits. Researching, building and participating in artistic communities – just as with in-person networking events – can strengthen and enrich one's experience with their work.
Here's the bottom line: participate. As with all things social media: the more engaged, the better the community. The more you give, the more you typically get back. Share resources, pick each other's brains and give and receive feedback on current works-in-progress. Organize exhibitions or in-person meetings (in a safe and secure location), purchase work and support fellow artists. Prompt conversations about supplies, local exhibitions, famous works of art, processes, practices and techniques. Whatever it is you choose to discuss, make sure you "get social." Isn't that what "social" media is all about? Become engaged and engage others. After all, these twelve artists managed to connect while we were fast asleep. For more information on "insomnia," on view through March 26, visit: pelhamartcenter.org
(Mary Alice Franklin is a Writer and Social Media Manager with an arts and culture focus. She currently works at ArtsWestchester, and as a freelance writer and social media contractor. A selection of her work can be found at maryalicefranklin.com.)