Get Social: Artists: Increase Your Exposure on Twitter
By Mary Alice Franklin
ART TIMES Spring 2015
Mary Alice Franklin's recurring "Get Social" column is designed to help artists build their social media presence.
Twitter may seem like a foreign, overwhelming world with which to become acquainted. When looking to develop a thriving, engaged audience, it can be difficult to assess where to begin. Knowing helpful tips and best practices can help build your social foundation and attract relevant followers: target local and industry influencers, learn what is best for your individual account, actively become a team player and, of course, be "visual." You are an artist, after all. The biggest key to increasing exposure is to produce information worth following and engage with your community.
It is important to note that in the world of social media, numbers aren't everything. Your focus shouldn't be on how many followers you have, but on the value of those followers. If you are utilizing the platform properly, chances are that your fans will be like-minded individuals or companies with whom you can connect and engage.
FOLLOW THE TREND:
Engaging in popular and relevant subject matter is an excellent way to attract new followers. If you don't know where to begin, let hashtags be your guide. Represented by the # symbol, hashtags are used to mark keywords or topics. Clicking on the hashtagged word allows you to see all other posts that mention the same keyword, making it a great way to find (and be found by) people with similar interests. In turn, this drives new followers to your account and your work. You can take part in industry discussions by including hashtags on your related tweets as well as responding to, and following, others whom you find interesting.
You don't need to exclusively focus on interacting with other artists to become noticed by relevant people. Twitter displays the ten most popular keywords – "trending topics" – at any given time. Take note of these popular topics, or any pop culture happenings, and participate in any discussions related to your work. Sometimes, breaking outside of your community can make you even more relevant. Do you sell fashion illustrations? Then watch the Grammy Awards and comment on the red carpet looks. Does your work ponder the boundless existence of the universe? Then watch Neil deGrasse Tyson's new show and tweet about how it inspires your work. People who are also following these popular shows on Twitter may share or engage with your tweets. Just remember to always be a part of the conversation as opposed to simply "selling" your work.
EXPLORE OTHER ACCOUNTS:
Get to know the tastemakers in your industry and follow the accounts that you want to model yours upon. Use Twitter's search bar to look for users by name ("Metropolitan Museum of Art") or by keyword ("art museum"). These accounts will give you inspiration for your own. Strengthening your tweets will make your account worth following; so learn from the best – museums and galleries, artists, suppliers, nonprofits and industry publications. Some wonderful models and influencers include the New York Times Arts, Americans for the Arts and Hyperallergic.
Investigate what accounts your influencers follow. If The Louvre finds an account valuable, perhaps so will you. Go to the profile of the accounts you most admire and click on their "following" link. Read the bios and observe the tweets of some of these accounts to discover which ones are valuable to you as well. Remember that an account doesn't need to be famous to be helpful to you. While there is no guarantee, by following someone, they may follow you back. For that to be the case, you should always be posting informative, relevant and inspiring posts as well.
MAKE YOUR ACCOUNTS KNOWN:
It is unlikely that anyone will discover you unless you put yourself out there. Make sure your social accounts are included on anything and everything that you make public. This is one of the simplest, and most effective, ways to gain new followers and exposure. Your Twitter account should be listed on all materials that promote your artwork: business cards, website, blog, other social platforms, email signature, any postcards or collateral released, e-blasts, etc. Chances are that if someone is already exploring your blog, or being handed your business card, they are already interested in your work. Including your social networks will help you to make the most of their initial interest.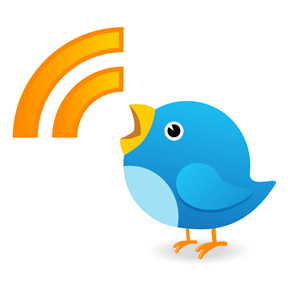 Since your bio, profile picture and cover photo (the banner across the top of your page) are among the first things seen by new visitors, you should make sure that these materials are representative of your work. This information should also be consistent across all platforms to increase your branding and recognition.
NURTURE A COMMUNITY:
Just because Twitter is part of the vast Internet doesn't mean that you shouldn't connect to those who live in your area. Making meaningful connections to individuals or companies with local accounts can produce important relationships.
Be sure to take note of the Twitter accounts of local colleagues or locations such as nearby galleries and stores. We're a close community, and a supportive one, so giving a shout out to these places can help build a relationship with them. Just as in the "real world," a kind digital word can go a long way. Posting a photo with "I got this wonderful new brush at @MaggiesArtSupplies. They were so great with helping me to find just what I needed!" is likely to be retweeted, or responded to, by Maggie's Art Supplies.
Just sitting behind your computer can only do so much. It's great to also meet local influencers by joining and attending meet-ups, networking events and local lectures. After becoming acquainted, consider hosting a TweetUp with nearby tweeters. A TweetUp is a get-together for people on Twitter to meet up and network in person. Invite artists, art collectors, gallery owners and anyone serious about art. Don't forget that businesses, hotels, galleries and independents all buy art and can be valuable contacts.
Networking in person is a great way to create and further grow these valuable connections and can produce a great brainstorming opportunity. If it is successful, you may even consider making it a regular occurrence by encouraging everyone to reconnect a few times a year.
KNOW YOUR OWN ACCOUNT:
Increase your exposure by getting your tweets "out there" at the right time. Content matters tremendously, but so does timing. The proper combination of the two is truly what makes the difference in your ability to reach your audience. A brilliant article that is tweeted when no one is paying attention will still fall on deaf ears. A meandering or innocuous statement when all eyes are on you will be a wasted opportunity.
Though the answer differs for every industry, knowing what days, or time of day, you get the most response and engagement can help to assess best practices for your own particular account. That said, an increasing number of users are accessing their social networks via mobile devices. So busy times for social media tend to include midday during lunchtime and during the morning and evening rush hour commutes.
INTERACT:
It isn't enough to just broadcast your thoughts. You must share, interact, engage and be proactive in your Twitter use. Instead of simply retweeting, respond to other people's tweets, ask questions to encourage dialogue and share other people's information. This last piece can seem counterintuitive, but when you build a relationship with another tweeter, they're likely to return the favor. This thereby helps your tweet to extend into their web of followers.
"Tag" anyone mentioned or referred to in your tweets. To tag, apply an @ symbol to the beginning of the person's account name. This acts as a notification for that person and lets them know that you are speaking to, or about, them in your post. Keep in mind that these tags are public.
When an entity sees that you are promoting them or their work, they will be more likely to favorite, tweet or retweet (much like Maggie's Art Supplies). For instance, when I post this article on Twitter, I will include @ArtTimesJournal in my tweet. In that instance, Art Times will get a notification that I mentioned them in a post and they may retweet it. This benefits Art Times by giving them an opportunity to show their followers that others are enjoying their paper and website.
BE VISUAL:
Visual content, especially for an artist, is vitally important for success on Twitter, and social media in general. The first step is to beware of proper etiquette and usage. Make sure the image is relevant to the textual content and displayed properly to get the most out of the post. Knowing the proper dimensions at which to resize the image will prevent it from getting cropped or displayed unsatisfactorily (though it can change from time to time, right now the proper dimensions are 440x220px). It is also imperative that you respect the work of fellow artists by not posting copyrighted visuals and by getting permission when you wish to use someone's work.
As posts appear and disappear quickly from someone's Twitter feed, a striking image will make your tweet stand out in the mix. You are an artist – let your work reflect that through a visually compelling account.
Mary Alice Franklin is a Writer and Social Media Manager with an arts and culture focus. She currently works at ArtsWestchester and as a freelance writer and social media contractor. For more information, visit: www.maryalicefranklin.com.