Film: The International Film Festival of Kerala
By Gail Levin
ART TIMES Spring 2016
Indian cinema based in Kerala is called Mollywood, just as that in Mumbai (formerly known as Bombay) is called Bollywood, a name that is much more famous in America. The 20th International Film Festival of Kerala, which opened December 4 and closed on December 11, offered a look at some 180 films from Indian and around the globe with a particular emphasis on Asia. The Kerala festival takes place each year in Thiruvananthapuram (Trivandrum is the old name), the capital city of the state of Kerala in the South East of India, where the food is super spicy, the weather hot and humid, and the people friendly and welcoming. You have to learn that the way they gently smile and shake their head from to left to right actually means, "yes!" instead of no.
People in Kerala speak Malayalam, a Dravidian (not Indo-European) language spoken by about 35 million people. Malayalam is closely related to the Tamil language, spoken in the state of Tamil Nadu and in Sri Lanka. Mollywood takes its name from the Malayalam cinema industry that has grown up since its beginnings in the 1920s. After flourishing in the 1940s, the industry decamped for a time to Chennai (formerly Madras, where the recent floods were) in Tamil Nadu, but returned to Kerala by the end of the 1980s.
This year's festival featured different categories, including: International Competition, Malayalam Cinema Today, Indian Cinema Today, Country Focus (such as Lithuania, Myanmar), World Cinema, Contemporary Masters, Tributes, Retro Films (included restored earlier Malayalam films lacking subtitles), 3D films, and Lifetime Achievements. A group of films were shown around the theme "Women Power." The international competition was among 14 films including two Malayalam films, one each from Iran, Nepal, Argentina, Israel, Brazil, Haiti, Turkey, Bangladesh, Kazakhstan, and two other Indian films in Bengali and Hindi, two of India's many other languages.
The people of Kerala are great fans of cinema, especially the younger crowd. It is said that there are more than a thousand single-film screens currently operating in the state. Clearly this crowd loves to go out to the movies, not just watch at home. This makes for lively viewing of films, especially Indian ones, because the enthusiastic fans, having waited in orderly entrance lines, cheer and applaud during the course of the movie. Sometimes they cheer an actor, sometimes exquisite photography of landscape, but more poignantly they applaud for content that they favor.
In the notable Malayalam film, Ain (The Eye), the leading character, a naïve young Muslim man named Maanu, played by Mustafa, has witnessed a murder and fled his village. Maanu lands in the home of an elderly and wise shopkeeper whom he asks whether a man under discussion is a Sunni or a Mustaali Muslim. When the elder shopkeeper responded that that there was no difference, the audience roared in approval. In the diversity that is India today and especially marked in Kerala, these ancient distinctions among Muslims do not appear to matter. The film, both written and directed by Sidhartha Siva, goes on to deal with ethical values and the need to do the right thing even when it puts one at risk. The engaging actor, Mustafa, attended the screening and was around to greet his fans afterwards, looking much more handsome with his full head of thick hair rather than his character's close-shaven head.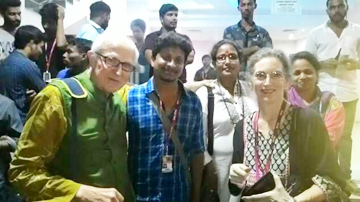 The Malayalam film, Ottaal (The Trap), directed by Jayaraj, is a retelling of Anton Chekhov's Vanka, now set among Christians in a small village in Kerala with magnificent scenery along the water. The story focuses on a talented eight-year-old boy, who has been orphaned when his desperate parents, burdened by debt, committed suicide. The film opens just as he has come to live with his aging grandfather who makes his living raises ducks and selling their eggs. When the old man becomes seriously ill, he tries in vain to find someone to adopt his grandson, finally sending him off to work in what (unbeknownst to him) turns out to be child slave labor in the fireworks industry. A moving testimony to the need to end the enslavement of children, this film played to a full house that clearly loved it. This film won many awards at the festival, including best film.
Another telling Malayalam film, Nirnaayakam (Final Verdict), directed by V. K. Prakash, tells the tale of Ajay, a fearful young man who flees military school, where he has gone to become an officer. Back at home, he bristles at the presence of his mother's lover, just as he is contacted by his father who has neglected him for more than a decade. The young man goes to meet the stranger who is his father. He discovers a fierce and principled lawyer who is fighting corruption while suffering from a fatal disease. The film chronicles the reconciliation of the father and son and the son's maturing, all in the context of Indian politics.
Some of the other outstanding Indian entries in the festival were in Bengali, the language of ancient Bengal, spoken today in some states in the North East of India and in Bangladesh. (The Bengali poet and novelist Rabindranath Tagore won the 1913 Nobel Prize in Literature.) Onyo Opalaa (The Journey of a Woman) is directed by Satarupa Sanyal, a producer, actress, poet and social activist based in Kolkata (formerly Calcutta). She is known for her feminism, but her content is universal. Her stance probably resulted in a few men walking out after only a few minutes—surely those who needed to stay and hear her message.
The story is that of Opalaa, a middle-aged widow, whose arranged marriage at a tender age into an aristocratic family turned in surprising directions. It shows how little charge of their own fate women in such situations have and how such social circumstances are entrapping for some men as well. The film both reveals the value of empathy and offers a look at an exploitive Hindu guru with repugnant character traits that people of any religious pursuit might recognize. Flashbacks in time show the same characters some quarter of a century earlier—always set in the same elegant family home, beautifully filmed. The acting is also superb. Not surprisingly the audience responded with enthusiastic applause.
Also in Bengali, Natoker Moto's Like a Play is the compelling story of an investigation into the mysterious death of a young actress in Kolkata. The film explores aspects of women's social status that demand submissive behavior, mother-daughter relationships, and how theater groups function and survive. The reality of the close-up look at the theater benefits from the director's own experience of working in theater for more than twenty years. He spoke at the festival's screening for this, his first film.
It's interesting to compare these small budget Indian films with their big ideas to entries from other nations. Two of Turkey's four entries, Secret, directed by Sakli, and Mustang, directed by Deniz Gamze, deal with their society's obsessive concern with premarital chastity and with taking young girls to a gynecologist to confirm their virginity. Mustang features five adorable orphaned sisters who offend members their community by their playful antics with boys. Their grandmother and uncle move to guard their reputations and their chastity, prohibiting their freedom of movement until their home resembles a prison. Arranged marriages at tender ages are forced upon the two eldest, prompting tragedy for the third and the two youngest to plot a dramatic escape.
Pablo Aguero's Eva no duerme (Eva Doesn't Sleep) deals with fantasies about the disappearance of the corpse of Argentina's political leader, Eva Peron, the second wife of President Juan Peron—the character of Broadway's Evita. It engages with politics, but does not register on the same sensitive emotional level as the Indian films.
Norway's The Wave by Roar Uthaug is a Scandinavian take on the genre of a Hollywood disaster film, but made with less special effects and a smaller budget. This is sometimes all-too-real story of a family of a geologist caught up in a geological disaster when a huge rock cliff collapses into a fjord or lake and causes a tsunami killing many in the small coastal town. The film, which draws upon similar disasters in this region, forces the cringing viewer to experience the disaster as it happens.
The festival's opening night featured the Chinese-French film, Wolf Totem, directed by Jean-Jacques Annaud. It required 3-D glasses, an interesting choice since the first 3-D film in India is said to have come from Kerala. While Wolf Totem tells a story of a Chinese student sent to Inner Mongolia during China's Cultural Revolution to teach shepherds, but instead he learns about the threat by a government apparatchik to the wolf population and tries to intervene. The sets, especially in the beginning, lack reality and look painted. Despite this distraction, a touching story, wonderful acting, sets of yurts, and costumes, and some remarkable trained wolves make this film worthwhile.
3D glasses were also necessary for Pan, directed by Joe Wright, which is advertised as a newly invented story of the origin of the classic characters in Peter Pan, created by J. M. Barrie. This action-packed film takes place in the magical "Neverland" and depends on special affects. This time my disposable 3D glasses seemed to be defective, but I don't think that I would have liked the production in any event. I prefer the original story, a classic that should be left alone. Since it was advertised as a "USA-UK-Australia" production and the content was rather trite in contrast to most of the Indian films and to many other nations' films shown here, I felt embarrassed by this entry.
Not all of the films take on issues of significance. The South Korean film, Right Now Wrong Then, presents a young woman painter's chance encounter with a filmmaker visiting her town from the big city. The director, Sang-soo Hong, offers the viewer two alternative endings. This somewhat puzzling film manages to show both Korean customs and a contemporary tale that could take place almost anywhere in the modern world.
In The Violin Player, the Indian director Bauddhayan Mukherji also offers two alternative endings, although more subtly so that one can imagine that the first one was just the character's fantasy and the other version was what really took place. The film, in Hindi, is set in Mumbai. It tells the story of a musician who works in the Bollywood film industry, barely making a living until one day a chance encounter on a railroad platform gets him the job of a soloist. Like Right Now Wrong Then, this film is also meta-cinematic, offering a filmmaker's insights or fantasies about aspects of his craft.
Many films in this festival are meta-cinematic, but the most moving of these was Memories On Stone, a German/Iraqi production. It tells of a Kurdish filmmaker in Iraq trying to make a film about a massacre of Kurds that took place under Saddam Hussein. The search for a young female lead reveals a lot about constraining social conventions and the collective memory of the tragedy that occurred there. The film is a useful reminder of why Western intervention needed to take place there.
The Kerala festival's selection of international films is diverse and satisfying. It's a film festival worth attending. Although most of the audience was Indian, I encountered other attendees came from the United States, Latin America, and Europe.
This year, the festival's honored director was Iran's Dariush Mehruji, now 75 years old. I got to see two of his films: Leila and Ghosts, the latter based on Ibsen's play, reset in contemporary Iran. Dysfunctional aspects of rigidity in Iranian society are emphasized. The leading character, Leila, who cannot conceive a child, gives in to her meddlesome mother-in-law and forces her loving, devoted, and reluctant husband to take a second wife, which is allowed by Islamic law. Even in scenes in interiors, each of Mehruji's female characters wears a head scarf or hijab, something that had to be done to get the film by Iranian censors. Still, Mehruji presents what appears like a view into Iranian social relations.
A rather different view of Iranian cinema was Taxi, directed by Jafar Panahi. Most of the film is shot from the vantage of a taxi driven by the filmmaker himself who converses with those whom he is driving. Among the passengers is his young niece, an amateur filmmaker with her own little video camera, who without judgment recites the absurd criteria her teacher says are necessary to pass the government film censors to market a film in Iran. Among the criteria are that all the women must always have their heads covered. Other passengers also underline the oppressive conditions under which this director struggles. Panahi opposes the current government and they in turn ban his films. His credits states that he would like to acknowledge all those who helped him with this film, but that he does not wish to risk implicating them.
In the evenings, the festival organized live performances of Indian traditional music and dance, but films went on until almost midnight. You could see about four or five a day, going from theater to theater to get your choices. Torrential frequent storms created the sense that I was risking my neck traveling these pitted roads with deep puddles in auto-rickshaws, which are mostly open to the elements. That's too much like the beginning of a disaster film…
Gail Levin held a Distinguished Fulbright Chair based in Thiruvananthapuram (Trivandrum) Kerala in the South of India. She returned to teaching at the City University of New York in February .