Film: OMG — What's Next?
By Henry P. Raleigh
ART TIMES October 2014 online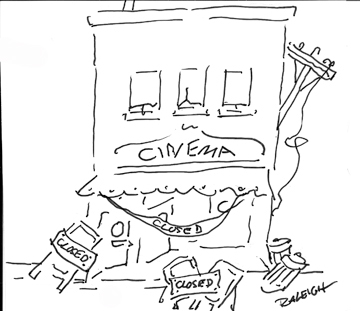 We're still reeling, stunned is more like it, from that June conference at Southern California film school. I'm sure you heard, lives have not been the same since, I can tell you. It was there that the two gurus of filmdom, Steven Spielberg and George Lucas, looked into the future and were shaken by what they saw. First of all, now grab your socks, Hollywood, as it today exists, will soon self-destruct, finally done in by financial failures of the mega-million, multi-dimensional, super-CGI extravaganzas and the rising cost of 3-D glasses. Across the country movie houses will shut down save for the nicer ones in major cities. The bulk of movie business will complete its move to online video and film ratings will be declared null and void in perpetuity, forever and ever. And if Mr. Spielberg gets his druthers we will, well probably not we of the moment but rather following generations, wallow in total emersion in film. You see, this bunch will have been weaned on video games, it has seeped into their DNA, they will demand the same interactive roles they have become accustomed to all their lives and that includes, I imagine, the usual array of weaponry. I don't know how this can be pulled off, Steve didn't explain that part. I guess maybe it will involve holograms and algorithms. I think I'd be a little uncomfortable if I had to be made into a hologram. I'm pretty sure I have no DNA for that and I've never gotten along well with algorithms either. But as Mr. Spielberg put it we're not going to be merely an audience for film but "players" in the film and that's all there is to it.
Mr. Lucas didn't go as far in his prediction but foreseeing the day a movie ticket may run you $50 to $200 is far enough to my mind. The better the film the more the cost of admission — a rating usually based on the production cost. Now mega-price tickets will get you more than just another superhero franchise movie. No sir, some modest practice runs have already been tried out in Los Angeles, Philadelphia, Atlanta and San Diego and for as little as fifty bucks viewers got an advanced screening of "World War Z," with a full-size swell movie poster and a DVD of the film. Nor did the largess end with that for even a small popcorn was thrown in. Niftier gifts are planned that will be commensurate with the price of the ticket. And it's best to keep in mind that after all you get nothing whatsoever for watching a film online.