Film: Looking into the Abyss
By Henry P. Raleigh
ART TIMES May/ June 2012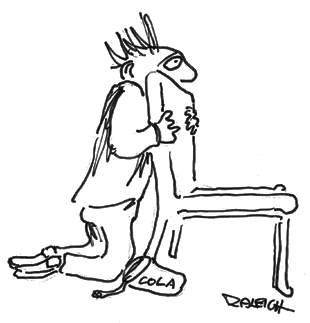 The sequel to Tom Six's 2010 horror film, "The Human Centipede (First Sequence)", went into American theater release a few months ago. Titled "The Human Centipede (Full Sequence)" it has fared better on our shores than it did in Britain where it cannot be legally shown or sold. So OK, some minor editing was required before being offered here — even serious torture porn may need a little tasteful touching up now and then. The central feature of this Dutch filmmakers movies is stitching together of human subjects, end to end—three in the first, eight in the second. Mr. Six plans a third and I guess this will add a few more to the string. That's the creative mind for you, ever pushing ahead, going one or two announced this would be "The sickest movie of all time", a proclamation that apparently annoyed the Brazilian horror filmmaker Jose Mojica Marins who, in a recent interview, countered with "I'm an original, unlike anybody else". Mr. Mojica has a good deal of experience in the horror genre. Nearly all his movies, as "This night I'll Possess Your Corpse" and "At Midnight I'll Take your soul", have earned numerous critical responses liberally laced with such descriptions as 'obscene', 'sadistic', 'nauseating', 'glory', 'blasphemous'. Notably Mr. Mojica movies have a special appeal to punk and heavy metal bands. Singer and filmmaker Rob Zombie, in a tribute to artistic cross-fertilization, even incorporates Mr. Mojica dialogues in his song lyrics. Unless you wish to travel to South America Mr. Mojica's movies are only available on DVD.

Mr. Mojica and Mr. Six may now be locked, mano a mano, in a battle to see who can produce the most stomach turning movie yet they are but a momentary high point in an ascending evolution of the horror genre that began with an adaptation of Mary Shelly's Frankenstein by the Edison Studio in 1910. While a commercial failure the American horror film was to remain and flourish, its history entertainingly given a documentary, "Nightmares: Red, White, and Blue— From Edison to Freaks". The doc, narrated by Lance Hendricksen, is amply illustrated by film clips and commentaries of our leading horror film producers. Among these are George Romero ("Night of the Living Dead"), John Carpenter ("Halloween"), Joe Dante ("Gremlins', "The Howling") and Wes Craven ("Last House on the left"). Introduced with the question of why Americans seem to delight in violence the commentaries, while maybe not on a scholarly level are, so to speak, straight from the horse's mouth, answering the question quite simply - we like it and we appear to like it more and more. Thus the progress of the horror film moves inexorably towards an increase in violence, sadism, grind house sex, shock, and gore. Unsettling is the notion given that horror films are reflections of disruptions in our cultural stability. As one filmmaker put it, " The horror film comes back with every social discomfort". The horror film "Hostel" for example, conceals beneath its surfeit of sadomasochism up-to-the minute political and sociological meanings — of course, you miss these if you had been hiding your eyes. In similar fashion the calamitous event of 9/11 helped spur the "Saw" film series, the highly successful horror franchise that marked the first decade of the new millennium.

Early on our fears could be titillated by movie monsters and aristocratic vampires who might even be viewed with some sympathy — Dracula was first billed as a love story — moved on to the mutated bugs of the 50's, slasher films of the 70's, icons like Freddy Krueger and Michael Myers, zombies, the current horror metaphor for the mess we're in at the moment, and along the way Hitchcock's "Psycho" showed us that the most innocent among us can be the real horror. Just to keep new generations up on the best of the genre we see updated and bloodier versions of those old favorites "Dawn of the Dead", "Texas Chainsaw Massacre", "The Hills Have Eyes". We arrive now at the point where just about everything is to be feared.

And this brings us back to Mr. Mojica and Mr. Six who are doing their damnedest to up the ante on horror. It's onward and upward in this business, all right. Look — it has been said before, there's no such thing as a bad film, if it makes money. And boy, do horror films make money.