Film: Harlow
By Keith Nieto
arttimesjournal March 20, 2017
| | | | |
| --- | --- | --- | --- |
| | Keith Nieto age 8 | | |
Picture this if you will - an innocent boy of eight with huge gray eyes. The year is 1965. The boy is in the back seat of a new, white Pontiac convertible. By his side, a beautiful Puerto Rican girl with big brown eyes and a beautiful smile that could light a dark movie house. We were headed to a drive-in movie lot in Upstate New York. The boy was aware only that they were to see a film on the big screen. He was along for the adventure, but too young and too shy to ask questions.
That young boy was me. Sometime that year, the beautiful girl and I decided we should become cousins. How nice to choose your family. In the front seat of this dream boat sat a glamourous couple - Shorty and Lucy - who would become my "chosen" Aunt and Uncle.
What a way to arrive at a drive-in! I remember the thrill of people staring as the gleaming, chromed chariot rolled into the lot. I also remember pizza with cardboard dough and loving it. Uncle Shorty lowered his window and installed a huge heavy metal speaker. Cousin Carla and I, in our PJs, snuggled comfortably in the back seat. The magical aroma of buttered popcorn filled the air.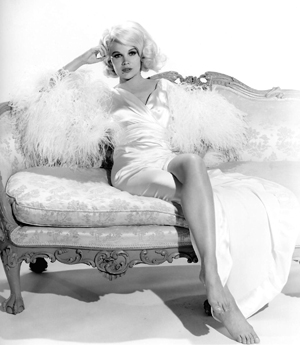 Lights and titles flickered on the immense outdoor screen announcing the film Harlow. Harlow? Although at that tender age I knew nothing about Jean Harlow, I instantly fell in love with the 40 foot image of the beautiful platinum blonde portrayed by Caroll Baker. That night my eight year old senses were overwhelmed by the monochromatic splendor of searing platinum blonde, silvery white bias-cut gowns, glamorous sets, and glorious sweeping music by Neal Hefti. Years later I discovered just how inaccurate this film was in portraying the short life of the iconic star. The hair and makeup were strictly 1960s and historical untruths abounded. An important story about a real young woman during the golden age of Hollywood deserves better storytelling.
The film we watched that evening would forever change my perspective on Hollywood and the movie star system. I am compelled to share the impression it made on a young boy who grew to love the productions of a powerful studio system that is no longer with us. The "Golden Age of Hollywood" has a great ring to it! Although, I would not consider the 1965 biopic "Harlow" as part of this age - it was for me but an early introduction. Miss Baker's performance and Neal Hefti's haunting score surely led me to explore and research the real Harlow, filmmaking in the age of studios, and to dream about working in film.
Jean Harlow left us at the tender age of 26. I encourage people to revisit her body of work which left a glowing legacy. Numerous films, books, documentaries speak of her lasting contribution to developing the role of women in film. Marilyn Monroe was one of her biggest fans!
Keith Nieto loves classic film in all its forms. He studied film at Hunter College, works on numerous film sets as set decorator and has an extensive collection of film memorabilia that can be found at Keith's Classic Film Retreat in Newburgh.
His motto is "A classic movie a day keeps the doctor away."