Film: Recollections of the First TCM Film Festival
By Keith Nieto
arttimesjournal June 17, 2017
"Dear [Mr. Osborne]...I guess I'm just another fan of yours,
and I thought I'd write and tell you so" [This is a take-off from a song Judy Garland sang in 1938]:
Dear Mr. Gable "You Made Me Love You -I Didn't Want to Do It"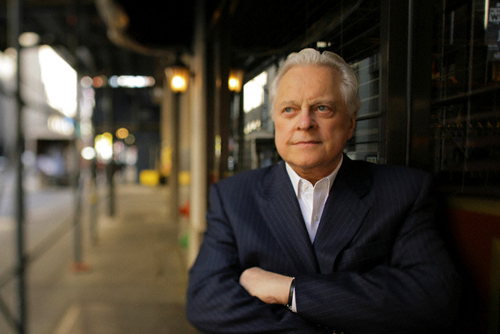 Robert Osborne
It was a sunny day in April, when I just happened to be strolling down Hollywood Boulevard, who should stop me in the street, but Robert Osborne himself!
"Hello I'm Robert Osborne. I noticed your festival badge. Where are ya from?"
Trying to match his friendly smile, I answered, "I'm from Newburgh NY. I came all the way here by train to attend your TCM Film Festival!"
I struggled to grasp the realization that I was face to face with a man I worshipped - the man I dreamed of growing up to be. A man whose warmth and knowledge of classic film allowed me to believe idols still roam the planet.
"Well we are so happy to have you here with us and it's not my festival but ours. You're going to have a great time! All the way by train? What an experience!"
Still smiling, he excused himself, and said, "I have to run. It's going to be a blast! We have a lot planned so make sure you take in as much as you can. Wonderful to meet you!"
And he trotted off like a man half his age. I thought to myself, "Oh my gosh! This is why I made this journey" Little did I know this adventure would change my life.
As an avid TCM viewer I believed the network was created just for me. Silly really. Watching Mr. Osborne over the years and listening to his insightful commentaries created a strong bond. Robert Osborne seemed to me a warm, intimate old friend - approachable without airs. Apparently he was!
The Train
Months before that warm April day in 2010, I convinced myself I had to attend the first-ever TCM Film Festival in Hollywood. I don't enjoy flying. I would make the journey by train, and pretend I was Carole Lombard on the 20th Century Limited. My compartment - roomette, as they are called - was more like a tiny bathroom with two facing chairs. A marvel of ingenuity considering what one could fit into it. With its panoramic window, I would see America pass by over the next five days. I would enjoy sharing dining tables with strangers, as they shared my adventure. I loved every minute of it!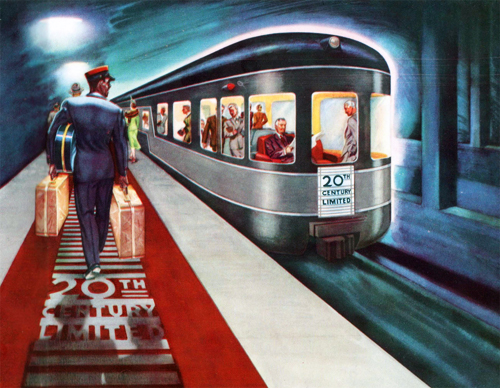 20th Century Limited
Okay - maybe not riding through Kansas. Our attendants warned us that the state of Kansas does not maintain their tracks. Imagine sleeping in a washing machine going through its cycles...without water. As hours and hours of plains passed, I fully understood Dorothy Gale's need for a change of scenery. At a crossroad in Kansas, at 3:00am, the train stopped. I raised my window shade, and not ten feet away sat a cowboy in an old pickup waiting to cross the tracks. We looked into each other's eyes awkwardly, and waved. Friendly I thought.
Arriving at the Los Angeles Union Station in its grand Art Deco splendor let me know immediately I was no longer in New York. For the next five days, my home would be the historic Roosevelt Hotel, which sits along the Hollywood Walk of Fame, opposite Grauman's Chinese Theater. This iconic, restored Spanish Colonial "Grand Dame" hosted the first-ever Academy Awards in 1929. Indulge yourself in some magical time-travel, and imagine who would have been at that first Academy Awards ceremony!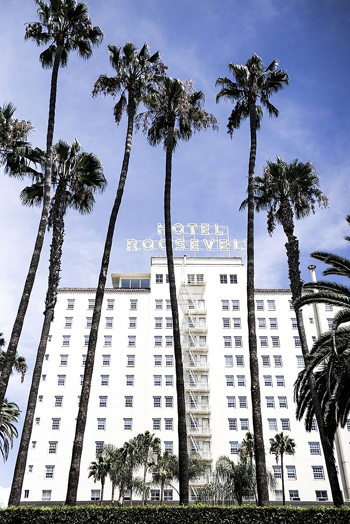 Roosevelt hotel
I made sure I purchased the big ticket, so I could shamelessly enjoy the pleasure of walking a red carpet at Grauman's Chinese Theater and attending the Vanity Fair party, celebrating the Blu-ray release of Judy Garland's "A Star Is Born", in the style of a Hollywood premiere. I wondered and wondered - "Who might be in attendance?" I am not, by nature, an autograph-seeker or star-stalker. I was on a mission. A mission to mix with old Hollywood, as if I had grown up in this tinsel town.
The Bucket List
There were objectives - a bucket list, so to speak
1. See America by train
2. Shake the hand of Robert Osborne
3. Walk a red carpet event in a tuxedo
4. Meet Juanita Moore, nominated for Best Supporting Actress, "Imitation Of Life" 1959
In "Imitation of Life", Ms. Moore owned the film with her portrayal of a black woman whose mixed race daughter passes for white, and puts her mother through Hell. I understood Ms. Moore would introduce this classic Douglas Sirk melodrama starring Lana Turner, John Gavin, Sandra Dee, Susan Kohner, Robert Alda and the mesmerizing Mahalia Jackson - what a cast! - sharing her memories of this important film dealing with racial tensions.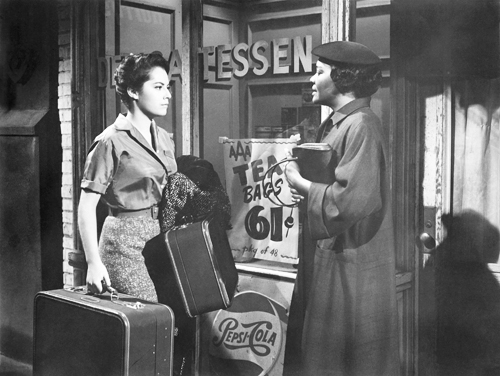 Imitation of Life
What chance had I of meeting this extraordinary actress? Attendees were expected in the thousands. But most of can attest to at least one magical time, when the universe seems to turn in our favor.
The Red Carpet
At the premiere there were three straight lines of access, divided by red ropes and stanchions. One line was reserved for TCM attendees, one for movie stars and the last for paparazzi. I dutifully walked the TCM line. I had made a new friend, who agreed to video-record my first red carpet experience, and I wanted another "Take"!
Rather suddenly, I decided to do a U-turn at the theater doors and join the celebrity line where movie stars were being interviewed and photographed. What was the worst that could happen? To be called out as an imposter by security, and thrown down to the red-carpeted ground?
I mixed right in, and with my tiny, brand new video camera, began to conduct impromptu interviews with Tippi Hedren, Stephanie Powers and Jacqueline Bisset.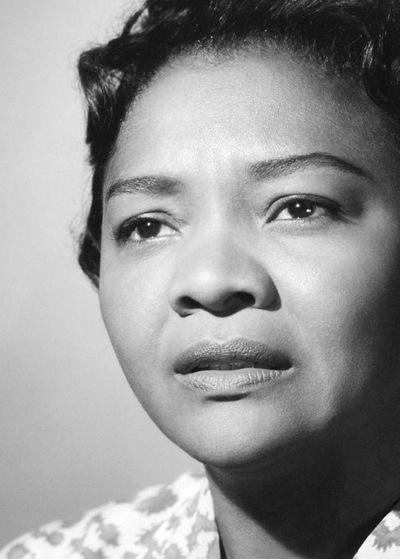 Juanita Moore
As I brazenly told Miss Hedren that she was one of the most beautiful women ever captured on film - I noticed an elegant, elderly woman, with a young man on her arm, struggling with a cane. I excused myself from Ms. Hedren, and walked toward none other than, Ms. Juanita Moore, who was having difficulty navigating the red carpet. My parents raised me as a gentleman, so I asked if she would like another arm to guide her to her seat. "Honey that would be just lovely".
I simply could not believe the woman I had traveled thousands of miles to merely glimpse, took me by the arm as though we were on a date. Approaching her 90th year, Ms. Moore looked amazing. Together, with the young man, her grandson, on the other arm, we walked very slowly and carefully to her seat. I wasted no time in telling her I thought she was one of the finest actors of her generation. She giggled like a young schoolgirl, and was visibly excited to be at the first-ever TCM Film Festival and enjoying the attention. On that long walk, as we chatted and introduced ourselves to one another, it warmed my heart and reinforced for me the idea that great actresses are borne from women of great substance.
Next column...the actual party hosted by Mr. Osborne...