Film: How to Talk Smart About Films
By Henry P. Raleigh
ART TIMES February online 2012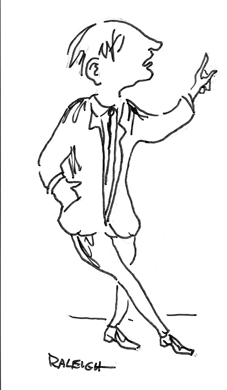 Do you ever find yourself in a discussion with movie enthusiasts and find you are over your head, lacking the latest scoop on current films, not up-to-date on celebrity marriages, divorces, scandals? Well sir, I've assembled a few cunning ploys that are easy to remember and can be introduced into a conversation leaving everyone admiring the breadth of your cinematic knowledge and encyclopedic memory. For example, suppose you are at a cocktail party and being ignored by a gaggle of Vassar College professeurs arguing the merits of Tarkovsky versus Yutkevick. Casually throw in this, "Did you know that Robert Montgomery was born in Fishkill, Mel Gibson in Peekskill, and William S. Hart in Newburgh" remind them that Gene Hackman made some disparaging remarks about Poughkeepsie in the "French Connection." Imagine the surprise and delight that would cause. Or if being smothered by some smart-alecky New Yorkers announce that Brooklyn has been the birth place of far more prominent actors than the Bronx- name a few: Rita Hayworth, Mickey Rooney, Lena Horne, Harvey Keitel, Barbara Streisand, Steve Buscemi, Susan Hayward, Eliot Gould. Challenge them to name any actors who would even claim a Bronx birth. Not likely June Allyson or Tony Curtis will come to mind. This will put them in their places, all right.

The following is a list of astounding facts that may be employed whenever needed.
• Debbie Reynolds could play the french-horn and bassoon.
• Winona Ryder was born in Winona, Minnesota.
• Alan Ladd was 5'6''
• Jennifer Aniston played Rachel Green in 238 episodes of Friends
• Hedy Lamarr's real name was Hedwig Eva Maria Kiesler
• Scarlett Johannson's real name is Scarlett Johannson


• Walter Brennan removed or restored his false teeth depending on his film role.
• Walter Brennan went toothless in "Red River."
Use these freely in any film discussion, two or more if you like. In film discussion the participants are only really interested in their own opinions and never listen to other's with any close attention. You will soon be in demand at film conferences and all the best festivals.