Last Man Standing
By Henry P. Raleigh
ART TIMES Online August 2010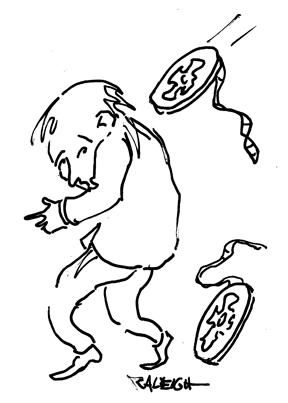 Haven't I told you so? Haven't I been giving warning for months now? I've been unceasing in my effort to point out the diminishing ranks of professional film critics, our numbers decimated by the economic struggle of print publications and by the infernal, pretentious, self-indulgent, blogging internet riffraff. Well sir, the latest casualty figures were reported very recently by Mr. A. O. Scott, a genuine film critic in the New York Times (April 4). The losses are staggering: Variety drops its senior film and theater critic; a disillusioned Robert Schickel of Time magazine bitterly states that film criticism was "pretty much worthless and always has been"; and, sadly, the long running television movie review program, At the Movies, would finish its season in mid-August, never to return. Started by Gene Siskel and Roger Ebert in the 70's the program had continued under an occasional change in title and a succession of other reviewers, Mr. Scott and Mr. Michael Phillips the current and to-be last of the show's co-hosts. You can bet we will remember the 'thumbs up/thumbs down' routine of Siskel and Ebert. If viewers couldn't follow their critical arguments the sight of an ascending or descending thumb was all they needed to know. Their successors dared not swipe that signature routine and maybe that's what eventually did the show in.

Mr. Scott ends his thoughtful Times article evoking the complaining ghosts of T.S Elliot and Samuel Taylor Coleridge to remind us that cultures are ever unhappy with their critics. Mr. Scott shouldn't feel so bad although losing your TV gig and seeing how the job situation is for critics does give you pause, I suppose. Despite it all he does feel that out of this blogosphere morass criticism will yet move forward, "…discovering its principles and best practices…" And Mr. Scott you can count on me to help out all I can.

Not to be overly dramatic but you see we film critics are like old soldiers thrown into battle too many times and figuring the odds of survival are closing in. So it's hi-ho and c'est la guerre and of Mr. Scott and I who will be the last man standing, I ask you?