Dance: Way Down Yonder in Chelsea
Navarra Nickemil and the Cedar Lake Dance Company

By Phyllis Goldman
ART TIMES July/ August 2012
Nestled in lower Manhattan, surrounded by numbers of new restaurants, chic clothing stores, and brazen new art galleries is the home of the Cedar Lake Dancers, a company that reads like the roll call of the United Nations. These dancers, drawn from a multitude of different backgrounds and training, are a quiet addition to the dance community of New York, but nonetheless a fresh and exciting one. They are amazing technicians. They can do anything with their formidable limbs and they possess unending stamina.
Navarra Novy-Williams, is one of those dancers. She began to train at home in New Jersey in a community ballet school under the eye of two prominent teachers, Elaine Kudo and Buddy Balogh, former members of American Ballet Theater. But it was at Juilliard, the famous music school now known for its amazing dance program as well, that her love of dance was nourished. Under the direction of Lawrence Rhodes, the classes made her into a dancer. Proof was her performance in "Sir Isaac Apple," the famous Ramp dance created by Eliot Feld, as a supreme torture exercise and a brilliant test of endurance.
"Oh, I'll never forget it," Williams laughed. "It was like a mediation, down this amazing ramp structure, turn around and up the sides. 96 counts—and if you became unfocused and missed a count, it was hopeless to find your spot. If you could last through 'Ramp Dance' you could do anything."
Having conquered the Feld piece she then attracted the attention of Ohad Naharin, the director of Batsheva in Tel Aviv, and she was invited to study with him. "Ohad encouraged me to come to Israel to see how I felt about living so far from home and working with this company. And so I did." It was a struggle for Williams, not knowing the language, the culture, the climate, but there were no regrets. "Learning the GAGA technique from its creator was invaluable."
From there she moved on to "Les Grands Ballets Canadiens," a classical and modern dance company where her performing skills were polished, and then on to Cedar Lake where she has been for the past four years.
In July of this year, the company inaugurated their first season of choreography by members, called "Cedar Lab." Navarra Novy-Williams was one of the dancers who took up the challenge of creating new choreography for this two-night presentation. Entitled "Muse" she used 3 women "muses" –each with a wide range of dance capabilities, both athletic and aesthetic and a great stage presence. It was beautifully presented and performed.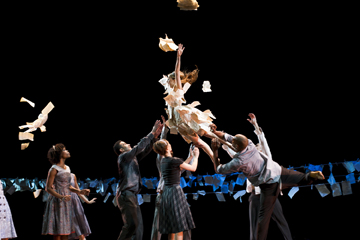 Williams is a delicate fresh-faced dancer with long limbs that seem strong enough to move mountains. Now she wants to flex her choreographic ideas and with "Muse" she has mounted a successful beginning. Each company member who qualified for the Cedar Lab program was given 15 hours of rehearsal time in the lavish studios at Cedar Lake. Not much, when one considers Jerome Robbins was permitted to rehearse 6 months for his show, "Jerome Robbins Broadway." Nonetheless, William was eager to take up the gauntlet of moving bodies in a design of her choosing, finding music, and mounting her own piece on stage.. "I kept reminding myself that this was an opportunity to learn more about my craft without incurring expenses I couldn't handle. We're
Cedar Lake Ballet Company has been home to Williams for the past 4 years. The new director, Alexandra Damiani, wants to show off the varied, strong technique and elegant lines of this extraordinary company in the coming season. She hopes to create pieces within the company rather than buying ballets to set on the dancers." This is a dream opportunity for this group of dancers who are given a year-round contract, insurance benefits, great clean studio space to work in, and a home base theater in Chelsea. Williams sums up: We've explored a lot, and I'm certain we are still exploring."