Dance: Jose Carlos Martinez
By Justine Bayod Espoz
ART TIMES Summer 2015
With only two months until close of the 2014/15 season of Spain's Compañía Nacional de Danza (National Dance Company / CND), it's safe to say that the company's 35th anniversary year has been nothing short of inspirational. The CND - one of Spain's two entirely nationally funded dance companies - set a new and ambitious precedent at the season's start in October 2014 with a four-hour long gala that ran through the company's history and varied repertory. From its inception as a classical ballet to its 20-year run as one of the world's most lauded contemporary dance ensembles under the directorship of Nacho Duato, the CND had danced pieces by choreographers as disparate as Bournonville, Petipa, Cue, Fabre and Naharin, and at the gala, the current company members masterfully danced them all.
Since his induction as the CND's sixth director in 2011, Jose Carlos Martinez has made it his goal to prove that Spain should and could have a world-class dance company that performs a balanced and expertly crafted classical and contemporary repertoire. However, re-integrating classical dance over his first three years of tenure has been no easy task. The former Étoiles of the Paris Opera Ballet and recipient of France's highest cultural honor, the Commandeur de L'ordre des Arts et des Lettres and Spain's National Dance Prize, inherited a company almost entirely populated with contemporary dancers with little to no classical training.
Upon his appointment as artistic director, Martinez explains that he "had no intention of firing people and starting fresh. I wanted to build on the company, not destroy what Nacho [Duato] had done before me in order to start from scratch. I wanted to use what we already had to continue dancing and increase the company repertoire to include more diverse works."
Dancer's and the integration of a new style of dance aside, there was yet another obstacle to successfully steering the company in a new direction. Feeling slighted and angered by the Ministry of Culture's decision not to renew his contract, Nacho Duato refused the CND the rights to perform his choreographies. Although these choreographies has been created under the auspice of public funding, for the CND and using the CND's infrastructure, Duato had a clause in his contract that allowed him to deny their use. The ex-Director subsequently stated that he would never allow the CND to dance any of his choreographies again.
The company's repertory, which was heavily based around Duato's works, had been decimated. Therefore, before he could tackle anything else, Martinez had to select, purchase the rights to and rehearse several new pieces in order to have a program with which to start touring. "When I arrived, there wasn't a single planned show for the following season and no choreographers had been contracted. Nothing had been prepared. I have danced in a lot of companies, and whenever the director changes, he always leaves the following season outlined so that when the incoming director arrives the next shows are ready and he can begin to add to them. This was not the case."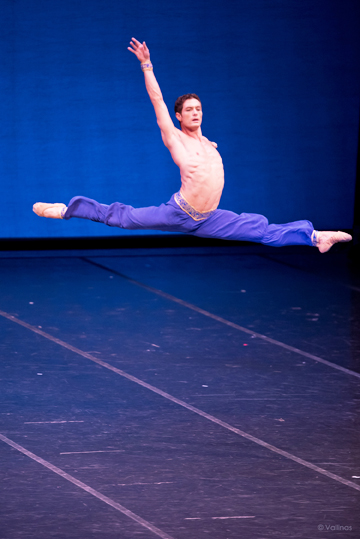 Upon his arrival at the CND, Martinez says that only three or four of the company's dancers chose to quit in order to continue dancing solely contemporary works but that the rest were willing to try a new way of doing things. "I started with the piece Artifact by Forsythe, in which only two girls danced in pointe shoes. We began using pointe shoes in class, studying more and more each year. In 2012, I choreographed a piece called Sonatas in which several girls danced in pointe shoes in a neoclassical style. Then we staged Who Cares? by Balanchine. Little by little, over the past three years, we have moved towards a neoclassical repertoire, and the dancers have changed. The majority of those who have gone have either retired from dancing or left to work at specific companies that interested them, but the change has been fluid, and we've taken in dancers with a stronger classical technique."
Although the process of integrating classical dance progressed slowly but surely, Martinez admits that it's impossible to expect to have a company entirely populated by dancers who dance both contemporary and classical dance with the same precision and level of skill. "We have a much more contemporary group and a much more classical group. This has allowed us to have a much larger repertoire. Sometimes the groups mix, but when we perform Raymonda, it can't be a mixed group. However, when we performed, for example, Romeo and Juliet by Goyo Montero or Minus 16 by Ohad Naharin, all of the dancers worked together. But what I have noticed is that when contemporary choreographers come to work with us, they always choose the dancers from the contemporary group, while the other dancers have to work harder to make their dancing stand out in the auditions."
Working with two ensembles is understandably challenging, as it requires twice the amount of management, yet it also allows the company to "create more shows with fewer means. For example, we just premiered Don Quijote Suite in Murcia, while at the same time we had another group of dancers in Madrid preparing Carmen. So that means that while one group is touring, the other is creating, and then they switch so that we can create more works in less time. This is what has allowed us to create so many pieces in the past three or four years: dividing the company. Only when everyone is joined together to work on one big show are we working on one project at a time."
When Martinez began his tenure at the company, he told the Ministry of Culture that it would take at least five years to get the company in good enough shape to perform classical ballet, but just three years into his directorship, the company performed its first classical piece in over 20 years, the third act of Peitpa's Raymonda. Running ahead of schedule, Martinez is already working on a new classical, three-act version of Don Quijote, which will premiere in December 2015. However, there are challenges that come with this next step. "If I am going to maintain all of the company's contemporary dancers, I am going to need more classical dancers. The ministry will have to give me the opportunity to increase the number of contracted dancers even if it is only for three months in order to have a complete cast for Don Quijote. If not, I won't have enough people. It's complicated."
Don Quijote will be the first time the CND's contemporary dancers will be involved in a full-length classical piece, so Martinez and half of his dancers will be venturing into uncharted territory. It is a necessary gamble, not only to move the company along its newly intended path, but also because it makes commercial sense. "When I first arrived, we began programming triple bills because it was what was most affordable and we could optimize our time. Later I realized that triple bills are harder to sell. When we would try to sell the shows to theatres, some of them said that they didn't have the money to program the CND, but when we proposed brining Goyo Montero's Romeo and Juliet, which was more expensive and had more dancers and more sets, they suddenly had a big enough budget." Martinez learned quickly that although the company's reputation abroad was that of a contemporary dance troupe, in Spain, both programmers and the general public wanted classical ballet.
The CND closes its outstanding 35th season with the world premiere of Carmen in Madrid on April 9th and a subsequent Spanish national tour. "Despite being choreographed by Swede Johan Inger, it remains a Spanish title. In addition to Bizet's score, we will include new music by Marc Álvarez in order to stretch the piece to an hour and a half and give it an identity that no other versions have. It will be the CND's Carmen ," says Martinez.
In the long term, Martinez hopes that the company will continue to grow and evolve. He dreams of the company having its own theatre, so that the CND can have a stable season. He has no intention of supplanting contemporary dance or new contemporary creations, as he believes Spanish choreographers have a lot to offer. And most of all, he wants to build a solid base on which the company will continue to thrive long after he is gone. With any luck, his departure is still in the very distant future.
(Justine Bayod Espoz Justine Bayod Espoz works as a journalist and producer in the US and Spain.)