Dance: Dance and Fashion
By Dawn Lille
ART TIMES Spring 2015
The Museum at the Fashion Institute of Technology (MFIT) is, for many, one of the hidden institutions of New York City. Located on Seventh Avenue and 27 th Street, it is accessible and a small gem of a museum. A recent exhibition, Dance and Fashion, was well researched, beautifully lighted and set, with excellent signage.
Dance historians often discuss the question of popular dance influences on the stage versus performance affecting the dance of ordinary people. This debate was, in a way, transferred to costumes and clothes in this exhibition. Since FIT is a school of fashion design, there was slightly more emphasis on fashion and fashion designers than actual costumes, although there were many. But it was an outstanding presentation.
Choreographed dance as indoor entertainment in the West goes back to Renaissance Italy, where men and women in court productions wore elaborate costumes often based on historical or mythical figures. At the end of the 17th century women began to appear on stage, originally in costumes and shoes that replicated what was worn socially. Throughout the 18th century this remained true, with women wearing corsets sand heeled shoes and men leg baring knickers. By the end of the century women had shortened their skirts, corsets were disappearing and shoes were softer and heelless.
The exhibition began in the 1830's and 1840's – the Romantic era – by which time the ballerina, the ideal woman, wore a fitted short sleeved or sleeveless bodice with a flowing tulle skirt that ended mid-calf. She had started to rise on the tips of her toes in a softly constructed shoe, but by 1830 the box or front of the shoe began to be more supporting.
On display were costumes and related fashions from this period, including the Spanish style dress worn by the dancer Fanny Elssler (referred to by the critic Gautier as the "pagan" ballerina) for her famous solo "Cachucha." In pale pink satin trimmed in black lace, a weighted hem and fitted at the waist, it resembles, yet contrasts with, the nearby white tulle typically worn by Marie Taglioni (whom Gautier called the "Christian" ballerina). Those white, ethereal costumes connoted the purity of the ideal woman of the time, represented by the ballerina, and the pointe shoes raised her even nearer to heaven.
Included in this section of a subtly lighted exhibition, with a shape that invited movement, were examples of the "classic" tutu that came into existence at the end of the 19th century. In this, the tightly fitted bodice remained, extending down to the hip, and the skirt, composed of many layers of stiffened tulle, stuck out and stopped well above the dancer's knees. The trick to wearing this costume lies in the ballerina's ability to keep a perfect balance high up on her toes so that the tutu never tilts.
Barbara Karinska was the best-known ballet designer of the second half of the 20th century. George Balanchine once said that he owed half the success of his ballets to her. Not only did she understand the dancer's body, which made it a joy to wear her costumes, but also, in their elegance and frequent use of jewels, they were works of art in themselves. Several examples of her creations were on display, outstanding among them her designs for the Balanchine ballet "Jewels," with its three sections of Emeralds, Rubies and Diamonds.
The costume for a dancer should be designed and constructed with the realization that the wearer must be able to move with ease and fluidity. The costume should not interfere with the movement and the dancer should not feel points of pressure or worry about the clothing falling off. The big difference between costume and couture is that the costume must be visible from a distance. In the case of dance the important element is that the costume is moved by what the performer's body does to it, an act that must also be visible from a distance.
There were several examples of fashion's influence on the stage. One saw three examples of deconstructed tutus by fashion designers: Jean Paul Gautier created a "proto punk" ensemble based on the Romantic tutu; Christian Lacroix had Karol Armitage's dancers in long polka dotted sleeves and a short pleated skirt; Tara Subkoff came up with a small tutu-like skirt and brassiere for a Stephen Petronio modern dance. Narcisco Rodriquez, who has also designed for this choreographer, says that the beauty of the dancer's body is always his starting point.
Iris Van Herpen called on fashion architecture and computer knowledge to produce the black plastic-like tutu- resembling costumes for Benjamin Millepied's ballet "Neverwhere" at the New York City Ballet. Mark Happel, the costume director for that company and a designer himself, says that Dior and Balenciaga come to his mind whenever he thinks about classical ballet. The choreographer Twyla Tharp has turned to Isaac Mizrahi (whom Mark Morris has also commissioned), Gianni Versace and Norma Kamali for works she created for American Ballet Theatre, all on view at MFIT.
Sometimes the combination of fashion and dance does not work. Rei Kawakubo's designs for Merce Cunningham's "Scenario" were interesting to look at, with their padded protuberances, but they deformed the body and, reportedly, hindered movement.
The influence of dance costume on fashion can be seen most in the migration of rehearsal clothes – leotards, tights, wrap sweaters, jersey skirts, leg warmers – to ordinary dress wear. Martha Graham originally designed all her own costumes. Her use of jersey, that could be form fitting or stretched to engulf the body in dramatic shapes, created a synthesis of fabric and body that has also been copied. Halston, one of her great admirers, later designed costumes for her company.
The Spanish flamenco costume, the bata de cola, is a full- length dress with a top fitted to the thigh and graduated layers of ruffles. It has long attracted the attention of women off stage. Oscar de la Renta and Ralph Lauren are outstanding examples of designers who have appropriated this look.
But it was the Diaghilev Ballets Russes (1909-1929), performing in Paris in the years prior to World War I, that had the most outstanding influence on fashion and on design in general. Leon Bakst's creations for Schéhérazade (generously represented at MFIT) launched an Orientalist style. There were Turkish trousers, tunics, turbans, sashes and the brilliant colors of magenta and red and pink in combination, popularized in the couture collections of Paul Poiret. This influence can still be seen later in the 20th century, especially in Yves Saint Laurent and Ralph Lauren.
The costumes for Katherine Dunham's company, many of which were on exhibit, were designed by John Pratt. He understood the intensity, the jazz and the ritual involved in her Caribbean influenced dances. The various sized and placed ruffles on his stage clothes almost allow one to visualize the movement.
Shoes have always been of major importance for the dancer, and ballet changed when women began to wear toe shoes and perform en pointe instead of wearing footwear that resembled the shoes of their time. In the Romantic section there were a pair of early toe shoes that looked embroidered. Anna Pavlova's pointe shoes had a more squared off toe box and a pair by the dance retailer Capezio showed the suede toe covering they devised. No mention was made of the fact that a dancer can require a new pair of pointe shoes each night and that every dancer has her own eccentricities and requirements for a costume component that can cripple the foot.
Imelda Marcus was not alone in her passion for fashionable shoes and those that are dance inspired run the gamut from the ubiquitous ballet flats to those seen in the video of Lady Gaga wearing the Lady Pointe shoes designed by Noritake Tatehana. They are 18 inches high and have elaborate ribbon crossings. Alexander McQueen's Titanic Ballroom Pumps of 2010 are huge fanciful platforms with very high heels and Christian Louboutin's shoe in black patent leather, again with stiletto heels, is called Fetish Ballerina.
The long hall outside of the formal exhibition space had one wall of large photographs of two dancers from the Paris Opera Ballet, Aurélie Dupont and Jérémie Bélingard, dressed in costumes from different ballet productions. The pictures and a film, "Metamorphosis," were created by the photographer Ann Ray. In the film Dupont remains in a diaphanous costume from the ballet "Siddharta," designed by Berio, and Bélingard is seen in many different outfits, including the clown from "Petrouchka." Without words, but with a musical accompaniment, "Metamorphosis" suggests that different costumes evoke different kinds of movement.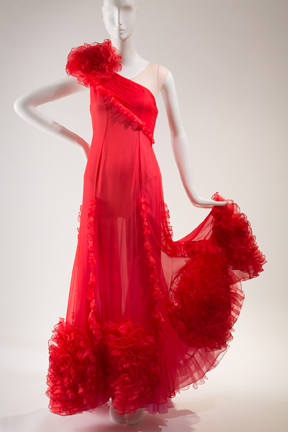 There was also a video of many short excerpts from numerous ballet and modern dances, old and new, with varied costumes. These included Josephine Baker in ostrich feathers, Martha Graham covered head to foot in jersey, the Dunham Company in "Lag 'Ya,' the Dance Theatre of Harlem's Creole "Giselle" and the shiny black costumes and knee high pointe shoes in Millepied's work. Since many of the costumes were displayed in the exhibition, it was fun to come back and look at them again on dancing bodies.
The most interesting moving image in the hall was David Michalek's video, which is a motion portrait of the ballerina Wendy Whelan. At first glance, this seems to be a fluid series of still photos of this dancer, clothed in a printed dress with flowing sleeves and many tiny pleats on a long body skimming skirt. But careful viewing reveals her body causing incremental movement of the material. The result is slow moving beauty, where the body and costume are one.
Valentino's long, red, ruffled, one shoulder dress for the ballet "Sophisticated Lady" (2012) at the New York City Ballet was among the many items enticingly displayed. It was a creation that made a woman wish to pull it off the mannequin and find an occasion on which to wear it, even more than the black Dior evening dress called "Cygne Noir." An exciting exhibition intertwining two art forms devoted to the human body, this project was successful.
dawnlille@aol.com