Dance: Fringe Danish, American and Dinner Theatre
By Justine Bayod Espoz
arttimesjournal September 29, 2017
If a decade of participating in the Edinburgh Fringe has taught me anything, it's that it is not dissimilar to running a marathon. You have to wear comfy shoes and clothes for navigating the city's copious and imposing hills, you must be prepared to run from one venue to another hoping not to be late to your next show, and above all, prepare yourself for several hours in uncomfortable impromptu venues if your goal is to find the truly stellar performances that pepper the Fringe.
The first day of the festival, you're pretty much flying blind, no reviews or good word of mouth to steer you in the right direction, so it's a toss-up whether your first day will put you in an exuberant mood or leave you nodding off in your theatre seat. I lucked out with my first day at the 2017 Fringe.
The jetlag that put me to bed early my first night in Edinburgh and waking me at 6am the next morning dictated the choice of my very first show of the season: Nothing by Danish company Theater V. For just about anyone, seeing a play at 9:50am is a bit challenging, and seeing a play about existentialism and nihilism so early in the morning may be wholly unappealing. But what a mistake it would be to let the hour and subject matter deter you! Nothing is a work of stunning philosophical and narrative complexity made entirely accessible through expert storytelling and a minimalist staging that allows the viewer's imagination to fill in the blanks.
Nothing is Pelle Koppel's engaging stage adaptation of Janne Teller's eponymous young adult novel. And don't let the novel's intended audience fool you, this story has a depth and a darkness that unflinchingly reflect internal as well as societal struggles.
A chain reaction that will change the lives of the children in a small Danish town is set in motion when Pierre-Anthon declares to his classmates that life has no meaning. Determined to prove him wrong, Pierre-Anthon's peers soon realize that trying to produce evidence to support the meaning of their lives can have destructive consequences. It's a heady trip that leaves its mark, causing one to revisit the play's themes over and over, long after walking out of the theatre.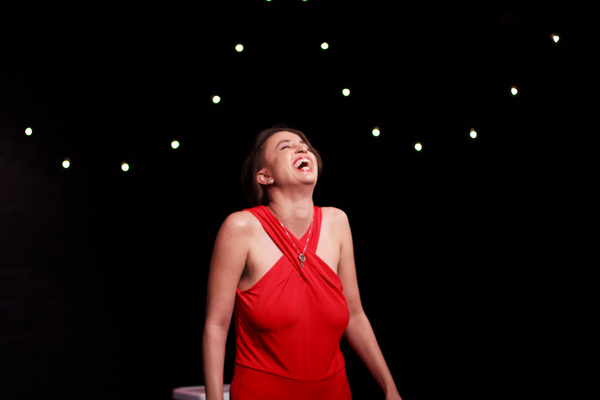 Another compelling work for the stage came later that day at the hands of American artist Mariah MacCarthy. Her one-woman, autobiographical show Baby Mama: One Woman's Quest to Give Her Child to Gay People is an ode to parental love, both biological and adoptive. MacCarthy's work is staggeringly personal, and her honesty is what makes Baby Mama a moving and inspirational work of solo theatre. From her sexual encounters, to her pregnancy, to her equivocating about whether to keep her child or give it to a couple that can provide a better life, this is as raw and realistic as it gets, masterfully portraying the gray areas in life that create so much joy and pain, as well as the unyielding love of a mother for the child she chooses to give away.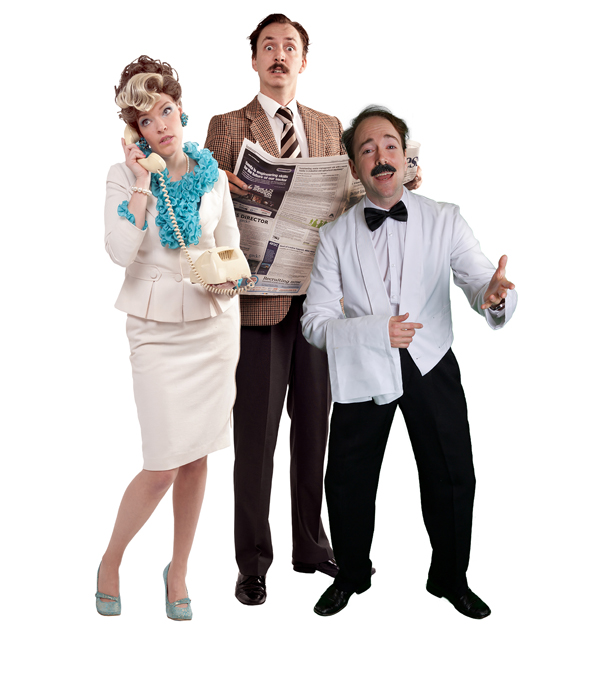 A fantastic day of "serious" theater, culminated in an evening of comedy, the genre for which the Fringe is best known. One of the festival's most successful yearly comedy sensations has been Faulty Towers The Dining Experience. Fans of Fawlty Towers, the BBC sitcom that aired from 1975 to 1979, come in droves to share an evening with Basil, Sybil and Manuel, even if it means being berated and having their meal constantly interrupted as they bear witness to a comedy of errors. This most unique of dinner theatre experiences celebrated its 20th anniversary in 2017, as well as its 10th Edinburgh Fringe run. If the number of strongly attended serving/performances each night is any indication, the show can expect to continue celebrating milestone anniversaries in Edinburgh.
Each night, some of the most memorable situations from the now cult hit program's storylines are reenacted by actors who have managed to perfectly capture the spirit, facial expressions, movements and intonations of the show's characters originally played by John Cleese, Prunella Scales and Andrew Sachs respectively. With a healthy dose of improv and audience interaction thrown in, anyone who loves the original TV show will love playing the role of one of Basil Fawlty's unsatisfied customers.