Dance: Paul Taylor's AMERICAN MODERN DANCE
By Dawn Lille
ART TIMES May 2016 online
The Paul Taylor dance company gave its annual three- week season in the David Koch Theater at Lincoln Center in March. True to his promise two years ago to convert his troupe into an American modern dance company, Taylor's name was smaller and in a blue shade (red and white are the other colors) that was barely visible on all printed matter. The company presented two works from America's legacy, two created by contemporary choreographers, two new ones by Taylor and fourteen from his vast and amazing repertory. There was live music at every performance.
The sixteen- member group, as always, danced every step with a nuanced intensity, dissecting the space with a variety of qualities and ending every performance with as much energy as they began it. Each of these dancers is a unique individual, unbelievably rich in education and experience, but they are capable of melding as one when a work requires this. What a joy to experience them.
Martha Graham once complimented Rena Gluck, who studied with her and danced many of Graham's own roles with the Bat Sheva Company in Israel, on the wonderful way she had adapted the Graham technique to her Israeli students. This came to mind when viewing the Taylor company's performance of Diversion of Angels, Graham's most lyrical creation, rehearsed by Linda Hodes, her trusted rehearsal director. Making good his promise to present works that are essential to America's dance legacy, Taylor chose this uplifting paean to love.
The woman in white could be called mature love, the one in red sensual love and the one in yellow girlish love. Each, with her own male counterpart, glorifies the emotion in its many manifestations, supported by the music of Norman Dello Joio.
Did they look like the Graham company? No, they were less angular and percussive, but they moved beautifully and presented the choreography. Every ballerina dances Swan Lake differently, every orchestra plays Mozart differently, Merce Cunningham's work looks different on a ballet company and over seventy five companies throughout the world dance Taylor's works – each with a different coloration.
So there was no reason for the Taylor dancers to look like anyone else. Dancing this work for the first time, they gave it a joyful flow and a softer look, but the girl in red still zoomed across the stage on a diagonal, arms piercing the space, and I still loved it!
The other legacy work was Rainbow 'Round My Shoulder, Donald McKayle's 1959 work about southern chain gangs. With its seven men and one woman, who represent each prisoner's imaginative vision of sweetheart, wife or mother, it was performed by the Dayton Contemporary Dance Company with great conviction. The music, performed by Broadway Inspirational Voices with Destan Owens, Michael Mc Elroy and Gary Sieger on guiter, traditional songs from the John and Allen Lomax collection, is still another part of American history, as are the chain gangs to which many of these songs are related.
This work was an early one by McKayle, who has been named one of America's Irreplaceable Dance Treasures. He has since created many more that are seen internationally, on Broadway and in Hollywood films. In addition to all his awards and honors, he held an Endowed Chair at the University of California at Irvine.
This is a deeply felt work in which the suffering is not new, but certainly has not disappeared. One wonders how it would look on the Taylor dancers. It is interesting to note that in the 1950's McKayle and Taylor, both new to the Graham Company, danced in Diversion of Angels.
Of the two new Taylor pieces, I saw only one. Dilly, Dilly, set to a recording of Burl Ives singing folk songs, was light and often fun. Although not a major work, its careful folk-like steps and "sort of" cowboy/girl couples, presented a bit of Americana that no other choreographer can do as well. His smooth movement phrases and body attitudes are more penetrating than so many others.
Doug Elkin's The Weight of Smoke is a new commissioned work danced to excerpts from George Frideric Handel. It must have been a fun outlet for the entire company to dress and dance "with cool." In its casualness the piece created another realm for the performers, who meandered through moves reminiscent of vogueing, street dance and youthful camaraderie. Since Elkins credited the dancers with "collaboration," each might also have had some personal input. This is a dance with appeal to the young, and there were plenty of them in the audience the night I saw it, shouting their approval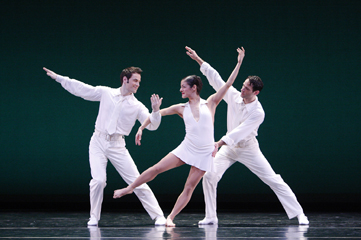 For two of the repertory works on the many varied programs my companion was a first time Taylor attendee. Equinox (1983), to Brahms' music, is a gentle poem for eight dancers and a live string quintet. There is a sense of calmness in the four women and four men dressed in white, with their arms spread wide, movement phrases that render the music visually, and constantly changing momentary tableaux. A favorite is three dancers using their angled bodies to form a three sided shape filled with space. They keep moving and transitioning in a kind of balance, not unlike the twice yearly times when the sun crosses the equator and day and night are of equal length.
Promethean Fire (2002) is set to three Bach pieces orchestrated by Leopold Stokowski. It was brave of Taylor to use this particular version, since it is known to millions from the Disney film Fantasia.
As in many Taylor creations, there is no story line in this powerful work that seems to deal with the different range of emotions imbedded in human beings, so many of which lead to destruction. The movement is full of despair and rage, with references to the ways the species has almost extinguished itself. The entire company, dressed in black velvet tank top leotards, with metallic infused ribbon winding from ankle to shoulder in a chevron pattern, followed constantly weaving patterns. There were crisscrossing lines, individuals and couples, but always this relentlessly moving group. The program note reads: Fire "that can thy light relume" – William Shakespeare.
Bach's music is much beloved by choreographers. Its inherent energy almost makes the listener see space and lines and Taylor's uncanny ability to transfer this to a form on stage is renewable satisfaction. At one point, when the group has disintegrated into a pile of bodies, reminding some of scenes from the holocaust, a lone male emerges and pulls a female from the rubble of bodies. Surely a sign on this dimly lighted stage that there is hope. My companion is a fan.
dawnlille@aol.com