Dance: Striking a Balletic Balance: Christopher Hampson's plan for the Scottish Ballet and its dancers
By Justine Bayod Espoz
arttimesjournal June 2, 2017
Angelin Preljocaj's MC 14/22 «Ceci est mon corps» is a complex work that explores themes of virility, violence and the masculine form through a series of biblical allusions. It's a raw piece, striking in its harshness and punishing physicality, which at times seems almost a cruelty to inflict upon the male dancers of the Scottish Ballet, who perform with a vicious beauty. Artistic Director Christopher Hampson chose the piece with the goal of challenging the company's devoted audience by forcing them out of their ballet comfort zone.
In August 2016, the Scottish Ballet had the privilege of being the first company in the UK to perform Preljocaj's MC 14/22 and the first European company to perform Canadian choreographer Crystal Pite's Emergence at the Edinburgh International Festival. The company now brings this double bill of starkly contrasting balletic styles to London's famed Sadler's Wells from June 7 – 10, 2017.
For Hampson, a Manchester-native took the reins at the Scottish Ballet as artistic director in 2012 and later incorporating the position of chief executive director in 2015 - variety is the key ingredient to spicing up the ballet's reputation and international appeal. His leadership has contributed to the blossoming of a more technically outstanding and artistically diverse ballet and the creation of a supportive atmosphere for outstanding dancers.
Hampson's five-year plan focused on exponentially developing and expanding the ballet's repertoire. "I wanted to make sure that we were working with the best creative voices – choreographers, composers, designers – so that our repertoire was growing in real time and not relying on buying in lots of productions," he explains.
Former Artistic Director Ashley Page had developed a strong repertoire, but one that centered almost entirely on neoclassical ballet, so Hampson knew that he'd have to begin pushing boundaries. He confides that it took the company about a year-and-a-half to fully trust him, something he understood and respected. During his first year he had two test pieces with which to get a feel for his new dancers and gain an understanding of the audience.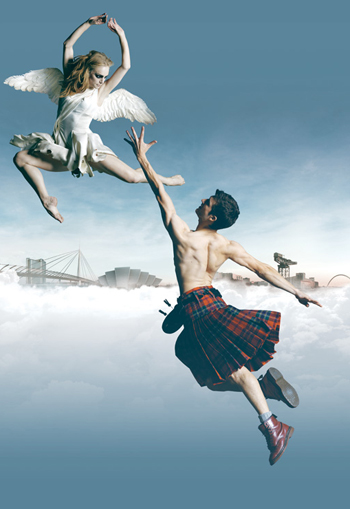 "I brought in Hans van Manen's Five Tangos, a good company piece that allows everyone to shine. It allows the dancers space to show me what they can do and allows the audience to see that company with clean lines and no clutter. And then I brought in Matthew Bourne's Highland Fling, which is Matthew's take on La Sylphide. I was testing the company working a different way. Matthew has never allowed any ballet company in the world to ever do his work, and the deal was that he was able to work with the company, and how he would work with his company. So he didn't have to fit into our mold, we fit into his. That has become something that I expect of the company with every single person we work with," remembers Hampson.
In order to successfully dance the broad repertoire that he has steadily introduced, Hampson demands that his dancers have a high proficiency in classical dance. "I look at dance as a language; once you can speak classically, then you can speak other languages. That's the backdrop of the company; the clue's in the title."
Hampson also insists that his dancers strive for personal and professional excellence, explaining that they have to be ambitious, curious and fully in charge of their own careers. "I want them to contribute creativity to the company. Creativity is at the heart of everything we do. They need to invest in the company and its projects."
To sustain that creativity and a high degree of dedication, Hampson expects company dancers to look for subjects of study and interest outside of dance. "My generation had directors in front of us that said that if you are not doing dance every minute of every day, you are not committed. I was stupid enough to believe that for a while, but now I know that when you've been away and had your head in a different space, you come back to the studio so much more motivated."