Dance: MMDG = Mark Morris Dance Group
By Dawn Lille
ART TIMES Summer 2013
The Mark Morris Dance Company gave twelve performances in the intimate James and Martha Duffy Performance Space at the Mark Morris Dance Center in Brooklyn during the first two weeks in April.
Mark Morris is from Seattle, where he studied ballet, Spanish dance and music. He later danced with a Balkan dance group and studied flamenco in Spain before moving to New York City, where he performed with several modern dance companies. He formed his own company in 1980 and has since created more than 140 works for it. From 1988 to 1991 they were in Brussels, where he was Director of Dance at the Theatre Royal de la Monnaie. His work in opera, both as choreographer and director, is extensive and he has been the recipient of a MacArthur Fellowship. He opened the Dance Center, a school, rehearsal space and the source of an outreach program for children and seniors, in 2001.
Morris is musical in the most obvious way: he listens to the music and allows his dance creations to absorb and enhance it. He doesn't play hide and seek with the notes, so that, to this viewer/listener, the sound and the movement enrich and support each other, frequently producing a glorious result. The company always dances to live music played by expert musicians, which makes each performance a special one.
The MMDG Music Ensemble was formed in 1996 and is an integral part of the dance group, performing with the company around the world, including the Mostly Mozart Festival at Lincoln Center. It often includes guest artists such as Yo Yo Ma. One could almost say that MMDG stands for Morris Music and Dance Group.
The Morris choreographic style varies with each creation and his moods can range from elegiac to wonderfully silly. All his works seem to offer a direct, unadorned simplicity, which is not simple at all, often building to be as complicated as some of the music to which it is tied. He has a sometimes wicked sense of humor and an air of insouciance seen also in his own now rare dancing. His time with the folk dance company can be glimpsed in the occasional insertion of a folk step or gesture into the choreography.
Morris has those who adore him and his share of detractors as well. His attitude of "Who cares – I'll do what I wish" is probably bone deep!
The program seen in April contained four works: The Office, A Wooden Tree, Jenn and Spencer and Crosswalk, the latter two being world premieres. Mikhail Baryshnikov appeared as a guest with the company.
The Office, to Anton Dvorak's "Bagatelles for Two Violins, Cello and Harmonium, Op. 47," was created in 1994 and involves six bored people waiting on mismatched chairs in a bare room. They move in twos and fours or as a group until a woman with a clipboard appears and takes one away. This happens over and over until the curtain descends on one remaining figure sitting in a chair. The movements, some in a fast moving circle, are walks and runs and sudden changes of direction that create an almost architectural form. Is this a job interview, a death camp, an audition – or just life? We never know.
A Wooden Tree, which premiered in 2012, is accompanied by the songs of Ivor Cutler, an eccentric and iconoclastic Scottish poet, songwriter, singer and humorist. The songs bear names such as "Stick Out Your Chest," " I Got No Common Sense," and " I Love You But I Don't Know What I Mean." The eight dancers, including Baryshnikov, who tapped Morse code on a chair in one vignette, rearranged themselves for each song tableau. The result was a delightful mélange of bodies moving to and sometimes seeming to illustrate songs few in the audience had ever heard. They were like tiny morsels of dessert.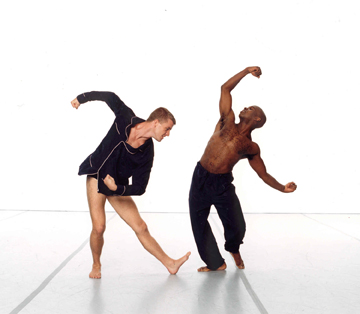 Baryshnikov was one of the ensemble, all of whom gave intensely concentrated performances If he stood out a bit it was because he is older and one of the world's greatest dancers. Now 65, he arrived in America in 1974 as a defector from the Soviet Union. His innate virtuosity, intelligence and ability to enter into any role made him an instant hit at American Ballet Theater. After he became head of that company in 1980 he brought a Morris work into the repertory. Among his many endeavors after leaving was the co-founding in 1990, with Morris, of the White Oak Project. This was a small group of modern and ballet dancers who performed modern works, many choreographed by Morris.
Spencer and Jenn, to Henry Cowell's "Suite for Violin and Piano," featured Spencer Ramirez and Jenn Weddell in a duet that focused on a relationship that seemed to grow deeper and more complicated. It began with linear walks past each other and evolved into movements with her hair and dress flowing through space. At one point they projected the image of a couple of wild horses. There were convoluted turns of their bodies within the space that caused the viewer to have a quick intake of breath. This was not a simple or easy relationship, but they were beautiful.
Carl Maria von Weber's "Grand Duo Concertant for Piano and Clarinet, Op. 48" was the musical half of Crosswalk, where eleven dancers moved back and forth as if their bodies were the clarinet and the clarinet was a body. I have no idea what the crosswalk was or is, but it was exhilarating to see these dancers, particularly Laurel Lynch, who seemed to expand and pull out the music and play with the clarinet.
This concert had so much generosity in it: the form of the choreography that seemed to put each dancer in charge of their own body; calling the duet by the names of the dancers; giving the music an equal place; Baryshnikov's willingness to be just one of the dancers. It was a pleasure!
dawnlille@aol.com