Television and Dance Good or Bad Partnership?

By FRANCINE L. TREVENS


ART TIMES

October 2008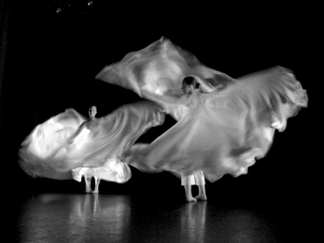 "Ghosts." (photo by Jody Sperling)
HOW OR WHEN did you first discover dance? Was it at a wedding? At school? On stage, films or television? If you are under 35, more than likely, TV was your first experience viewing dance.
If you have never seen a dance performance on stage, you have missed one of the greatest visual and emotional experiences of your life. For staging dance is not just a matter of where the dancer's feet will go or how their bodies will move. It is also an ever moving design of space. The choreographer uses various dancers in different parts of the stage to make a complex and compelling picture.
Would we be as apt to burst into applause if one dancer was doing the Rockettes high kick routine? No, it is the precision of all the women dancing in synch, it is the spectacle of the entire stage line moving to the beat which makes it so awe-inspiring.
The dance corps behind the lead dancers are as significant to the design as are the stars. They do not merely dress the stage, they entrance the eye of the viewer. What they do plays off of and feeds into what the lead dancers are doing.
Dancers are part of a pattern – if one couple moves erroneously, the design is destroyed – the pattern no longer exists, and it can throw off the other dancers into whose space they have wandered.
Dancers are aware of where they should be on the stage, in relation to the other dancers, at all times. They must not only remember what movements to make to the music, but where those movements are to be made.
Dancers must trust each other implicitly. Not only to catch the ballerina when she leaps into the male dancer's arms, but also to keep the picture flowing as it was conceived by the choreographer.
Sitting far enough back in the theater enables you to see this stage pattern. Sitting in a balcony is even better for this. And it was one reason I hated watching filmed ballets. The camera selected what was to be watched, instead of allowing the viewer to see and enjoy the whole and focus in on something at one's own whim and will.
As astonished as many award show watchers were when Pilobolus appeared moving from individual bodies into familiar shaped objects, seeing the troupe on stage is even more stunning, for stage pictures continue to evolve, the shape of the troupe continues to change and amaze.
If one watches a filmed or taped sequence from a Martha Graham recital, he may focus in on one couple, or even the feet of one dancer. But there is an entire world of dance on stage, moving to music, making a story of excitement and precision all around the stage.
Still, television and dance have made a significant partnership. The small screen has helped introduce several generations to dance in their own homes, and this awakening has fed into the wider world of dance.
With today's trend to reality TV, people avidly watch dance competitions with stars and unknowns. They pick a favorite couple and practically will them to win. The medium has reintroduced the glories of ballroom dancing to people whose only idea of dance was individual gyrations to manic music. These dance competitions have shown the elegance and grace which can be expressed by two dancers moving together to music. Those who relished the Astaire/Rogers or Gene Kelly/Cyd Charisse large screen moments can remember what a thrill this was to the eye, and see it again. TV now revives these old movies for the viewing public, re-introducing a time when dance was elegant and exciting, when musicals featured dance numbers that filled the screen and fueled the memory. "Singing in the Rain," with its simplistic plot is remembered for its dances and treasured for them. "On the Town" as well. Seeing them on the small screen is not as dramatic as in a movie theatre, but it does remind us of the power and potential of dance.
Another service TV does to dance and dancers, is the special program. Not only do PBS and Arts & Entertainment channels present such programming, but so do many other stations as well. It is wise to check through listings regularly to find these unexpected nuggets. For example, one afternoon this summer I found a three hour special on Margot Fonteyn airing on Ovation. Late night is another good time to find dance specials. Check program guides and tape these odd hour nuggets for enjoyment at your leisure. Also this summer, the early stage work of Rudolph Nureyev was telecast in a tribute composed of film footage from Russia. A Martha Graham Special ran in prime-time mid summer. Recently a local New York City channel ran several programs on dance at Juilliard.
Other such specials appear at odd hours of the day or night, but are well worth watching.
While this medium will never replace live dance concerts in parks, at festivals, and on stages, it does present a significant historic perspective for lovers and students of dance. Where else but on film or TV can you see Nureyev in his prime, Baryshnikov in his youth, and the works of innovative choreographers such as Fosse, Balanchine and Graham?
Why then do many in the arts or who enjoy the arts have a snobbish attitude towards that small screen in their homes, thinking it good for nothing but crass comedy or horrifying news bites? Television is like the internet. Search hard enough and you can find the nuggets that you really wish to mine.
In these economically challenging times, it is wonderful to be able to sit in a comfortable chair at home and luxuriate in the spectacle of dance. Even a commercial of a Broadway musical, such as "Mary Poppins" can get your toes tapping as they air a clip of an exuberant dance.
So, check your monthly calendar from PBS stations, check your daily papers for dance programs, and take time to check out what dance events may be broadcasting. Think of it as a smorgasbord where you can freely taste all different types of dance, from this era and the past, to develop an appreciation of various dance forms. Then, even if you are snowed in with mounds of white covering your door during the winter in some little cottage in the woods, if you have electricity, you have access to dance!
Once you have determined what you like, treat yourself to a small dance venue in your area. See if you agree there is nothing like live performances.
See what colleges such as Vassar or Tulane, or whatever is in your area are presenting.
For example, on November third Vassar is offering a free program of choreographer Jody Sperlung's TIME LAPSE DANCE CO, including a performance of GHOSTS, which was developed during a collaborative residency with Vassar lighting designer David Ferri.
Tulane University is offering An Evening of Dance by the Newcombe Dance Company, Alice Pascal Escher, Artistic Director, Nov 14 & 15 evenings and Nov. 16 matinee in their Dixon Auditorium.
See if small theatres are presenting dance at prices competitive with movies – such as Martin Zimmerman's "Three Movements" in mid October on Theatre Row, NYC, based on the life of ballet legend George Balanchine, with choreography by Avichai Scher. It's priced at $18. If you go to a first run movie house in Manhattan, and buy popcorn and a beverage, you'll have paid that much!
Keep your eyes and ears open to what may be happening dance-wise in your area, wherever you may live – but also, keep your eyes on TV dance programming as well! The TV attractions have the best price tag of all – they're free and convenient, no travel time lost and no gas wasted getting to them!