Dance: Spring – Season for A Surge of Young Dancers —
And the Progress of a Young Choreographer
By Francine L. Trevens
ART TIMES May/June 2012
Spring – the renewal time when hope blooms anew along with flowers and the graduation performances of young dance students. It's the time of year when many dance schools have end of year performances to show off the accomplishments of their students. For example, New York Theatre Ballet's Ballet School NY will have their recital on June 9 at 4 pm at The Miller Theater at Columbia University, Broadway at 116th Street.
I enjoyed seeing the Joffrey Ballet School Performance Company in March at the Manhattan Movement and Arts Center. I was also impressed with the recent alumni of La Guardia High School when they danced a piece with the new dance company, Kymera Dance. The piece they performed was originally choreographed for them at La Guardia.
At the end of April a special competition for young dancers was held at Lincoln Center by Youth America Grand Prix (YAGP), the largest student ballet scholarship competition in the world. The Final Round of this event was held April 26. On April 27 YAGP celebrated the stars of today (including Sergei Polunin, Misty Copeland, Tamara Rojo, Herman Cornejo, among many others) and the stars of tomorrow (2012 competition finalists). And on April 28th, YAGP held a tribute to Natalia Makarova, with performances by Diana Vishneva, Natalia Osipova, Ivan Vasiliev, Yuan Yuan Tan among others).
I attended the Friday eve performance of YAGP's stars of tomorrow and stars of today. It was a spectacular evening and ensures there will be no dearth of great ballet dancers for many years to come. The contestants in YAGP are amazing. I was so impressed will do a follow up article on this on line in June. The finalists were spectacular and indicate great training and expertise.
Individual dance companies also were on stages in April. After attending Avi Scher & Dancers performance at Alvin Ailey, I realized it is four years since Avi Scher launched his company. At the time, I interviewed the enthusiastic and very verbal young choreographer. It occurred to me time might have changed much of what he hoped and believed back then. I selected some of his old quotes and got an update on his concepts and plans as he heads into his fifth year.
Avi still presents dancers with excellent credits, such as principal Herman Cornejo of American Ballet Theatre (who also appeared in the Youth America Grand Prix) and Misa Kuranaga from the Boston Ballet who danced "Phased," which Mr. Scher created for them. Live music was provided by guitarist Hector Villa-Lobos. While there were some lovely movements, there was never an "Aah" moment. Nevertheless, the piece was enjoyable.

In "The Gift" he presented Joffrey Ballet dancer, Derrick Agnoletti with Laura Feig. The evening was dedicated to his mentor, Mark Goldweber a former Joffrey Ballet star and ballet master when Avi danced with that company. It was a gentle and touching work.

Two excerpts, one from "Touch" with Victoria North and Derrick Agnoletti had two accomplished dancers dancing together yet separately – not touching – for most of the piece. It was a lovely, flowing dance. The other was from "Mystery in the Wind" and featured exuberant dancing by Kelsey Coventry, Madeline Deavenport and Nancy Richter.

In what I found the most exciting of the works that evening, "Dwindle" Carlos Lopez plus members courtesy of ABT: Sterling Baca, Zhong-Jing Fang, and Sean Stewart, were joined by Kelsey Coventry, Madeline Deavenport, Laura Feig, Victoria North and Nancy Richer. This dance showed Scher's wonderful sense of stage pictures and usage. I felt it was a more advanced work than many of his I had seen previously.
In 2009 when my interview of Avi ran, he said it was his intention to build a young audience for classical and contemporary ballet, using top quality dancers and new works in all venues. I wondered how he feels he succeeded to date.

"I think it's been successful!" was his response, which he explained with, "Since then I've self produced 3 seasons at Ailey which collectively played to 90% capacity. I saw many young people there and sold many student tickets. I've had principal dancers from all the major companies in the US, often with live music and I feel good about the quality of the choreography."
At that time, Avi, a professional dancer since childhood, occasionally danced with his company but finding "there are not enough hours in the day" stopped doing so in 2010.
He surprised me at our first interview by stating he did not seek a personal signature style. Most choreographers and many directors strive for a style they can imprint on their works. Avi remarks now, "I still don't worry too much about this. Obviously I am committed to ballet vocabulary and am very driven by the music, and usually have a narrative or progression for the dancers, but I start each piece with a fresh slate and see what comes out."
He claimed four years ago his focus was on relationships and narrative. He continues those interests. "In the recent 2012 season I did a piece called 'The Gift' which I intended as a touching coming out of the closet piece. My 'Phased' looked at a troubled relationship in a past, present and future way.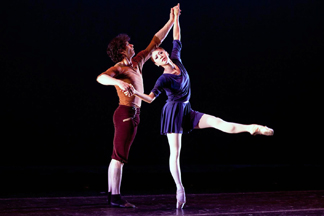 While I got the message in "The Gift," I admit to some confusion while watching "Phased." Apparently I was not alone, for Avi explained, "I had clear ideas for everything but I love talking to audience members and hearing what they saw, if anything."
Since he claimed years ago he "takes little things away from everyone," I now asked for examples and he said, "Alexei Ratmansky's 'Namouna' definitely made an impression on me, it was just so classical but also fresh and I loved that. I recently also made a piece for Ballet West and there was another piece on the program there by Christopher Ruud called 'Trapped' and that stuck with me."
One hope he has been unable to fulfill – the hiring of other choreographers to create dances for his company. "The budget and scheduling has made this difficult."
And so to the final question — Are you applying for grants or can you continue to grow with just private donations?
"I have applied for grants but have found most grants are geared to small and modern or large and classical and I don't fall into either category. As far as growth, most of the budgets for ballet companies come from individuals so that's why I think I've been able to do as much as I've done."
As for where he will be a few years from now, he gave the most logical answer of all, "Not sure what the future holds."
In view of his consistency of vision, his dedication to great dancers and his improved lighting and costumes, his willingness to follow his own vision and to attempt ever new and more challenging works, I predict the future will find him a mover and a shaker.
And maybe a few years hence, the recent new crop of dancers will attain the expertise and grace to be one of his dancers as well.
(You can follow Francine at her blog http://stagesandpagesfrancine.blogspot.com/
and her website, www.writerfrancinetrevens.co)