Dance: Tony Waag:
            Artistic Director American Tap Dance Foundation, Inc.
            How Did He Get Here from There?
By Francine L. Trevens
ART TIMES May/ June 2011

You can't always tell how an interview will go. They can be stiff and formal and still yield great information. They can be silly and giggly and fun and leave you with insufficient information. They can be friendly and relaxed and yield gold.

Before I even set up an interview with the accomplished Tony Waag, who conceived and established the annual New York Tap City event, through his American Tap Dance Foundation, I knew we must have tons of friends and acquaintances in common. He is an easy interview with a personality as open and dazzling as his eyes, as well as a relaxed speaker. I took up too much of his time enjoying our interview, but he was cordial and pleasant throughout.

An old saying claims the child is father to the man, so I began there in our meeting. I wondered how Tony Waag, growing up in Colorado, came to dance and how his family felt about it in the latter decades of the twentieth century.

Tony, inspired by an uncle, an amateur sculptor, intended to sculpt. Tony thought his destiny was to be a pro at this very hands-on art. While in High School. Tony, who had appeared in a few High School musicals, including a stint as the Mad Hatter in Alice in Wonderland, found his true métier, tap dancing. His parents - both sets - (his mom and dad had divorced when he was quite young) were all supportive. He said it was probably a relief to them that he had not gone on to be a sculptor: tap dancing had more promise of supporting him as well as making him happy.

Tony had studied tap with Diane Montgomery back home in Colorado, but it wasn't until he took a tap dance workshop wih Brenda Bufalino that he followed his dream. Ms Bufalino was equally impressed with him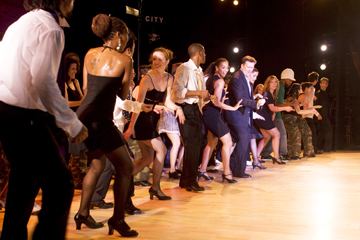 Tony took some famous advice after High School: "Go West, young man" - he went to college in Utah, where they presented 65 productions a year at the school. He called it "the Berlin of Salt Lake City." Not the kind to sit around waiting for dreams to materialize; he left college and went to San Francisco, where he studied with the likes of tap heroes such as Eddie Brown and Tony Wing. (His early dance heroes were comic dancers, such as Ray Bolger and Donald O'Connor. That's still one of his favorite forms of tap.) He performed in cabaret, choreographed a few musicals, waited tables, was a tour guide at a corporate building; (where he once got stuck in an elevator with a group of people and they all sang songs while awaiting rescue) and even posed nude for art classes … everything to survive until his career ripened.

Rather serendipitously, when he ultimately made the move to New York, he ran into Brenda Bufalino his first day there. He worked with her American Tap Dance Orchestra as a dancer. He also fortuitously served as an administrator. They toured the USA and around the world. He found he had an aptitude for administration and enjoyed it.

Asked if he felt tap dancing itself, or administration, creativity or promotion was his favorite, he answered "all of the above." His success in all of the above proves his flexibility and multi talents have really paid off.

"I had NO idea that tap dance would take me all around the world and into the lives of so many incredible people. I have been influenced by many of the great masters, and I am humbled by the cultures and people I have had the good fortune of getting to know over the years. I want so desperately to pass on their love and support for this amazing art form. I think young people especially, could use some of that positive energy right about now," Tony declared. He has spent most of his life "passing it on,"

Years ago, he went to 60 cities in Europe and Africa for two months as master of ceremonies of the Hoagie Carmichael Centennial Celebration. He found few tap dancing resources or schools. All that has changed, in part because of what he has done.

"I feel I pulled the tap dance community together in New York, representing trap as it should be. " Taking that same spirit to countries around the world awakened in those countries the love of tap and the desire to make it part of their culture as well.

In 1986, Tony, Brenda and the late Charles "Honi" Coles, founded the American Tap Dance Foundation (ATDF). Tony served as Artistic Director long before he created, in 2001, Tap City - an event that offers all-day classes on all levels and styles taught by a who's who of tap, presents concerts of tappers from around the world, screens feature films and lectures on tap. Tony is usually the emcee for the shows.

After months on the road, dancing one night stands throughout the world, Tony returned to New York to find there was nothing happening for tap dancers. He decided to do something for the art he loved. Turns out, he did an amazing thing. He founded Tap City.

He contacted the best tap dancers to get them on board. Gregory Hines was one of the first he contacted, and Gregory instantly said yes. Today, Greg's former wife, Pamela Koslow Hines is still on the board of Tap City.

Tap City is one program of the American Tap Dance Foundation, founded to preserve the art, to educate people in tap - a dance form which needs no special body type. Through this foundation, he brought tap dancing back into the forefront of dance here and around the world. It is international again, Brazil, Germany, Japan, France China, Russia.

"Even Estonia!" he enthused, "Estonia!" I admit, I had to check a map to see where little Estonia was! So, you name it, they teach tap and perform tap dancing in all those countries, "combining it with their own cultures and music," Tony noted.

Greg Hines was one of the mutual acquaintances I had assumed we had. One I did not expect was Armand Assante — not a dancer. Actor Assante had appeared frequently at Stage West in Springfield when I was a theater critic there, and we had become pals. Tony Waag met him on Tony's first SAG film, with Meg Ryan and Armand. He was Armand's understudy.

Tap City will be alive and well in New York July 5-10. Earlier this year, May 16 the American Tap Dance Foundation is presenting at Symphony Space 'RHYTHM IS OUR BUSINESS'in Support of the Gregory Hines Youth Scholarship Fund (which offers financial help to serious and talented young tappers)with Guest Host Brian Stokes Mitchell.

The evening also celebrates 25 years of tapping, honoring the founding by Charles "Honi" Coles, Brenda Bufalino and Tony Waag of the American Tap Dance Orchestra, created in 1986, which evolved into Waag's American Tap Dance Foundation.

It celebrates 25 years of creating new venues for tap, presenting original productions and contemporary choreography, and unique artists from the U.S. and around the world, also educating the next generation and building new audiences while preserving and honoring the history of the uniquely American art form of TAP!

It took years before Tony's American Tap Dance Foundation found a home in 2009 at 154 Christopher St. It has about 190 kids and 300 adults currently enrolled - all levels and ages studying practicing, and performing tap-dancing. It offers year round classes, rehearsal, and space for tappers to experiment and create.

Tony still dances with great abandon and glee. He's earned the right to kick up his heels.

Some people might be content to sit back on all those laurels. Not Tony Waag.

"I have spent 35 years dedicated to this cause and I am proud to call myself a tap dancer. Everything is copasetic at the moment. So watch out, there's more to come for sure!"

Francine L. Trevens' latest book is available on e readers. Pixie Tales is 5 enchanted illustrated read-to-me stories - a Little Book about Wee folk for Small fry. You can also follow Francine on her blog,
http://stagesandpages-francine.blogspot.com/