Dance: The Laddie Doth Profess Too Much
By Francine L. Trevens
ART TIMES March/ April 2011
Milo Magliore is the charming artistic director and choreographer of New Chamber Ballet. Went to see their program three the other night in an upstairs space in city center. A goodly number of dance writers were in attendance, along with a very enthusiastic and eager audience of a wide age range. The press kit I was given showed how often critics have lauded Magliore's work.

I was prepared for a delightful evening pf classical dancing, and in that, I was not disappointed. Problem is, I have always been one of those people who hate to read the foreword to a book prior to reading the book, or read the explanation of a dance prior to seeing it. I hate imposing an image on what I'm about to see. I want the dance piece or book to talk to me directly.
Many years ago when I submitted a book manuscript to a writer's conference, they asked for author's comments on his or her work. I wrote I wanted my script to speak for itself. I still want a work of art, whether on stage or page to speak for itself.
Had I heard nothing about these New Chamber dances, but merely observed them I would have commented on the charm of the evening, the grace, the technical skill of dancers, etc. I certainly would have commented on the exquisite five long limbed long armed graceful women who brought these works to life.
But Mr. Magliore welcomed us all warmly at the beginning of the evening, and spoke of his guest choreographers and a bit about the composers. Unfortunately, he also spoke about what each dance piece was intended to convey. While I enjoyed the works presented, I did not feel any of these pieces conveyed what he felt they were saying. This was most distressing.
"Virtuosa" a world premiere choreographed by Emory LeCrone, was performed to Saint-Saëns violin Sonata No 1 in D. minor. It was danced by Alexandra Blacher. She did some fascinating footwork, was gloriously lyrical throughout and often seemed to be practically in flight across the dance space. Undoubtedly she executed everything the choreographer wanted. However, the music was far more dramatic than the choreography: it built and crescendoed, but the dance did not. While I admired her expertise and the musical renditions of piano (Stephen Beck) and violin (Erik Carlson), I do not consider this a great marriage of music and choreography: the music dazzled at moments when the dancer did not, and vice versa.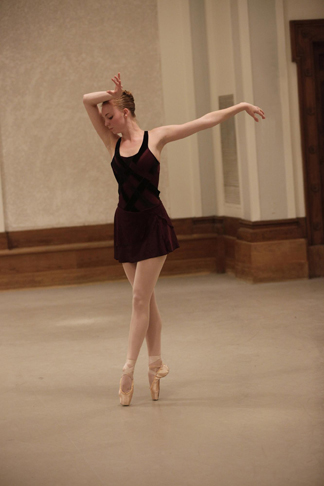 The next world premiere was "Night Music" choreographed by Mr. Magliore. It was danced by three lovelies who– Madeline Deavenport, Katie Gibson and Lauren Toole. They also provided the non-music accompaniment. Fluid, sinuous movements and a few brief dramatic confrontations were again brilliantly performed. But I again felt I was not getting the message intended.
It was then intermission, which gave me an opportunity to speak with my companion, a knowledgeable dance person, had reacted much as I had. We enjoyed the performances and musicians, even though we weren't always sure that the music and performers were on the same page. Perhaps we were trying too hard to read into it what Magliore had said it was meant to be.

After intermission, "Sculpture Garden", choreographed by Magliore, was even more lyrical and quite lovely but never quite conveyed the sculpture garden images to me. "Klavierstück" also choreographed by Magliore had as its set an ebony piano, which the two dancers used as a barre. I enjoyed that touch, as I enjoyed one of the dancers leaning her head against the piano as if listening to the murmurs of a lover. The music was by Stockhausen, and the dance had been designed in honor of the composer who, unfortunately, died shortly before its original performance. This was an unusual and fascinating dance piece in which I felt the dancers were the embodiments of the notes.
The final world premiere was purportedly sketches of a woman remembering and possibly ruing a previous decision. Choreographed by Constantine Baecher, we were advised it was inspired by the nymph from "Afternoon of a Faun" and was to be three representations of that nymph years later, having second thoughts about refusing an alliance with the sensual faun. Three excellent dancers Alexandra Blacher, Victoria North and Lauren Toole, each exquisitely precise, but again, I got no sense of regret or passion or longing in any of the choreography.
The fine musicians, elegant dancers, plus the appropriate wispy costumes (mostly by Candice Thompson) would've made for a most delightful evening. But trying to impose the concepts behind the dances detracted from rather than added to my enjoyment. I think this is a case of the laddie doth profess too much. Or my guest and I were just having an off night,
The audience appreciated every work. Whether or not they could get the images Magliore thought were there, I do not know. But for me, I wish Magliore had just left the titles and the dances and the musicians to do their work and leave the images or emotions they were able to convey directly to the audience.
I have never before felt such a disparity between the original intention and the finished work as I felt at this performance. Nevertheless I think if the ensemble of five elegant dancers and two fine musicians had been left with no explanations or intentions mentioned I would've found the evening most exciting and exhilarating. Therefore I say if New Chamber Ballet is performing near you, and you love classically trained dancers performing at their best, you'll be well rewarded for attending.
Two interesting side notes – Alexandra Blacker has the distinction of having coached Mila Kunis in the film "Black Swan". Also, The company plans to perform at the Museum of Art and Design March 16 and in April present several programs at City Center Studios.