What Next for a Broadway Baby?

By FRANCINE L. TREVENS


ART TIMES

March 2009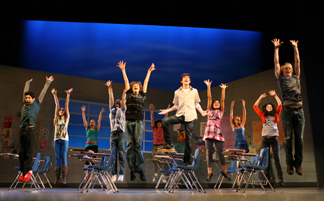 The cast of 13 (Photo credit: Joan Marcus
Photo courtesy of TADA! Youth Theater)
A fourteen year old girl, Mary Claire Miskell, who has taken dancing lessons since she was four, "more like calisthenics then," she recalls, moved into modern dance and movement which introduced her to "the musical thing."
"My mom always liked musicals, my dad was not a big fan."
When she was six, Mary Claire wanted to style food for magazines or the food network. At seven-ish she found TADA! children's theatre, where her mom took her to see different plays. Then she entered their summer program and enjoyed it immensely. Later she joined the regular school year program and even played the lead in one production. She really enjoyed it.
At thirteen, she realized "I can't keep doing this. I can't rely on it. So I wanted to be a teacher, teach little kids, connect with younger kids in a way they can understand."
Working at the kids theatre had shown her she had a flair for dealing with the younger children. It also had shown her being in a musical was lots of hard work. Still, when an audition notice was posted and a lot of her cast mates decided to audition notice for "13", a musical to be produced on Broadway, she decide to audition too.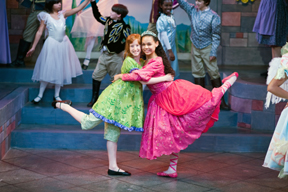 (L to R) Mary Claire Miskell as Princess Phooey and Jasmine Perez as Princess Phooey in TADA! Youth Theater's 2008
World Premiere of Princess Phooey
(Photo Courtesy: TADA! Youth Theater)
She never dreamed she'd end up on Broadway as 2008 drew to a close.
"I was really surprised during my audition: everyone was so professional and calm and assured. Many had been on Broadway before. I didn't think I stood a chance.
"I said to myself, 'just do this, get through it, you can't compete,'" recalled the longhaired youngster. She went to several callbacks with the same lack of expectation as she learned of the impressive credits of the others auditioning. Mary Claire had only performed with children's theatre, while one kid auditioning had been on Broadway 4 times.
Convinced she didn't have a chance, she wasn't awaiting word or expecting any.
So when one day in school she was called to the office, she wondered if either her mom or dad were ill, or what was wrong that she had a phone call important enough to take her out of class.
After the call she rushed downstairs to call her mom.
"I was not emotional, I thought, 'are they kidding?' I was surprised. It opened up so many things. Don't know if another call for the rest of my life could make me so happy."
Her reaction was as much a surprise to her as the call itself. Maybe it was only then that she realized she really wanted this. Her mom was thrilled and her dad totally supportive. Both parents had to put themselves out to help Mary Claire getting to and from rehearsals and performances and sometimes picking up and delivering homework when Mary Claire had to miss classes.
Mary Claire learned she had been hired to understudy five roles in "13." "Each role was more difficult than anything I had ever done," she said.
She was tentative before her first rehearsal, because she was used to the warm, supportive atmosphere of TADA! and feared she'd feel out of place at the "13"
rehearsals. The other kids were mostly strangers to each other also, and they were all friendly.
She attended rehearsals, followed the various actors, writing down their blocking. Occasionally, there'd be a call, "Understudies, kick into gear," One smart move she made, among countless others, "I used a different color to write down each person's blocking."
It's often hard enough for an actor or dancer to remember her place on the stage – but remembering for 5 different people was indeed a challenge. Writing it all down and being able to figure it out at a glance was especially important in terms of the many dance numbers, for one misstep and a whole group of dancers could be thrown off. Getting all of this straight in her head and memory, while keeping up with schoolwork was indeed a challenge.
"After performances began, we got our understudy rehearsals, we worked on stage and they concentrated on us."
All understudies were assured they would get to go on Broadway at least once. Still it was boring sitting at the theatre during performances, a major part of the understudy routine.
When told what day she was scheduled to go on Broadway, she told pals, and 50 people made a group from TADA! to attend her Broadway debut.
But something happened before that date.
She was sitting around in her p.js doing homework when the phone call came, she was going on sooner than expected – right away - and in a different role!
"We called everyone in our phone books. I kept playing the music as I was getting ready. Mom did my hair. I was so overwhelmed, I had no time to be nervous. It was days before I was scheduled to go on to play Charlotte on Nov.16. I had to go on as Lucy right away on Nov. 11!"
Charlotte is the one who spreads gossip, more part of the ensemble than a major role. Lucy is a stereotypical wealthy girl, everyone praises her, she takes control. She was like a little Napoleon as she was the smallest in the group and she was bossing a girl 5' 9".
Mary Claire was much taller than the original Lucy, but she played it just fine.
"That first performance I was on auto pilot. I had so much adrenaline. I was so focused. It all went by really fast. 'What just happened?' I asked myself. Getting into the high heels the buckle went through my finger, it was throbbing all through the performance. I held my hand at an odd angle and almost lost my balance. I was so relieved when it was over."
All of the understudies did go on at least once, one went on twelve times. Mary Claire went on again as Lucy Jan 3 for both performances, four times on Broadway total. The kid with the most previous experience went on the least often.
Christopher Gattelli, the choreographer was very different than choreographers Mary Claire had worked with before. "It was an honor to work with him. He was always serious and worked faster than the ones I was used to working with. Lots of drilling and correcting us constantly."
She reports all her friends at school and TADA! were delighted and excited for her. They came to her performances. It made no difference in their relationships with her at the children's theatre. "We're all close there and happy for each other," she summed up their reactions.
Her plans for the future – she'll go back to TADA! and continue her training and old routine.
Who can predict what her life's goals will be when she's seventeen? Maybe we have a clue in her remark, "Don't know if another call for the rest of my life could make me so happy."
Whatever the future holds, Mary Claire Miskell has been on Broadway, an experience she will never forget.