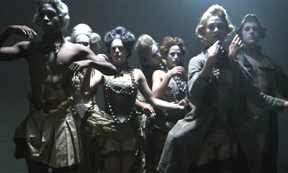 Folies D'Espagne directed by Austin McCormick,
winner of the Young Choreographers Initiative
Dance On Camera 2008, the 36th annual festival and symposium sponsored by Dance Film Association and one of the most important of its kind in this country, could be seen all over town during the first two weeks of January, in addition to the Walter Reade Theater at Lincoln Center. The varied international offerings allowed one to learn, laugh, empathize, cry, realize how far the combination of film and dance has to come and wonder where it might go.
Experiments in still and moving photography date back to 1867 and Edweard Muybridge's serial photographs of racehorses. By 1889 Thomas Edison and his colleagues had invented the Kinetograph, which allowed rolls of film to be viewed successively through a Kinetescope, producing what seemed to be a moving image. In 1895 the Lumiere brothers, in France, created what developed into the Vitascope machine, which first showed moving pictures in New York in 1896. The first luxurious "movie house" was built in Pittsburgh in 1905
The interest in moving objects during these early developments was universal and Edison and others filmed many dancers and music hall performers, leaving historians with a source of what these tightrope walkers in pointe shoes looked like. Additionally, early films exist of Anna Pavlova, about 30 seconds of Isadora Duncan (filmed by a guest behind a tree at a garden party), of Loie Fuller and numerous dance sequences, including a lengthy one in D.W. Griffith's Intolerance, as well as others that tended to satirize many dance forms. There were also the remarkable movement sequences of Charlie Chaplin and Buster Keaton.
But it was the 1930's, after the debut of the "talkies," that saw a proliferation of dance in film. It was via this that millions of people across the United States not only sought relief from the anxieties of the depression, but were exposed to dance, many for the first time. The sequences created by Busby Berkeley and shot from above, the subtle effects of the team of Fred Astaire and Ginger Rogers, the extraordinary performances of the Nicholas Brothers and other tap and jazz performers were only a few of the many dance talents that filled movie theaters.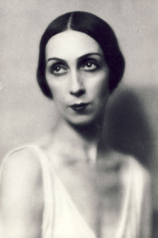 Felia Doubravska
(Photo credit unknown), from Felia Doubravska Remembered, directed by Virginia Brooks
One could also see classical ballet performed by Mia Slavenska and Vera Zorina in one of the four films George Balanchine choreographed in Hollywood, for which the musical was a mainstay. The Red Shoes, probably the most popular ballet film of all times, appeared in 1948 and was followed by others containing every possible genre of dance. Films and videos from all over the world continued to proliferate during the last quarter off the 20th century and today one can go to Youtube and see dance that was performed 24 hours earlier.
Film as an art form, and the combination of dance and film as still another creative art, have changed radically since Edison's day. Realizing that film can change or distort the viewer's perception of movement and its elements of composition and rhythm, directors and choreographers have developed different methods of collaboration, often incorporating the latest technology.
The filming of an already choreographed work is a form that was adopted by folklorists, anthropologists and choreographers wishing a record of a particular dance. Creating a dance work specifically for film is an entirely different genre. It is this meshing of dance and other media arts, always in flux, that can continue to alter time and space and the concept of what dance is.
The films shown in January ranged from a restored one of a 1975 performance of Spartacus, a Soviet era work danced by the Bolshoi Ballet, to documentaries about well known dancers, to short humorous antics and flights of the imagination, to works that are the result of the artistic vision of both the choreographer and the filmmaker.
In connection with the latter, dancer/choreographer Austin McCormick was the winner of the first DFA Young Choreographers Initiative, created to encourage new dance makers to combine their talents with those of a filmmaker, in this case Philip Buiser. The result was Folies d'Espagne a seven-minute, rich, sensual and beautifully costumed work inspired by Baroque dance. McCormick, who graduated from Juilliard in '06, also gave a surprise live performance with his group, Company XIV, that mixed dance and video.
The co-winners of the festival's first prize were Water Flowing Together, a full length portrait of the New York City ballet dancer Jock Soto by Gwendolyn Cates, and the short Flying by Phil Hardy, Rosanne Chamecki and Andrea Lerner, that used film technology to show its calmly jubilant performers seeming to fly through space. The Soto film, which contains some exciting dance sequences, had its first showing during the festival at the New York State Theater before an audience of two thousand. Its portrayal pf this very special dancer was without pretense and flowed well.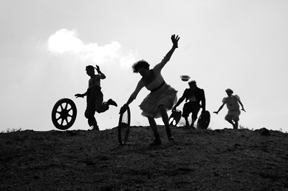 Car Men directed by Boris Paval Conem
and Jiri Kylian, Honorable Mention
Two films on the same program about Russian ballerinas, Felia Doubrovska Remembered by Virginia Brooks, and Sleeping Ballerina by Ludovic Kennedy, revealed Doubrovska and Olga Spessivtzeva. Classmates at the ballet school of the Maryinsky Theater in St. Petersburg, both had danced with the Diaghilev Ballets Russes and both eventually came to America. Ironically, Doubrovska, who had taught many in the audience, was one of a small group who worked to get Spessivtzeva moved out of a mental institution and into lodgings at the Tolstoy Foundation.
Another documentary, Pina Bausch, by Anne Linsel, shows the influential German choreographer in an open, almost relaxed mood as she talks about the path she felt she had to follow and why.
One program, entitled "The Choreographic Moves of Jacques Tati," showed a restored full color version of the classic Jour de Fete by this French actor of humor and pathos as he moved on his bicycle through rural France.
Among the "New Ideas and Shorts" category was Car-Men, a takeoff on the Bizet opera by Boris Pavel Conem and the choreographer Jiri Kylian. This is a slapstick comedy performed by four dancers who alternate between speeding in cars, stillness and clambering around a huge scrap car. Someone was heard to ask, "But is it dance?" but no one answered!
On the final day of the festival I caught up with Underground dance masters: Final History of a Forgotten Era. Made by Thomas Guzman -Sanchez, this is a history of Boogaloo, Locking, Popping, Roboting, Rocking and B-Boying, all urban dance forms closely connected to music that sprang up in different places, mostly in California. What developed in the Bronx had a Latino component. In the audience were young students from the Hip Hop Conservatory in the Bronx.
One session, offered to all and free of charge, was on "Fair Use" and was co-sponsored by the Dance Heritage Coalition. Led by Peter Jaszi, Professor of Law at American University and director of the Program on Intellectual Property and the Public Interest, it considered the Fair Use Doctrine that was written into the Copyright Act of 1976. Explained simply, this is the right of scholars and others to use copyrighted material in cases where cultural benefits outweigh economic costs or profits. Since the application of this idea can be vague, documentary filmmakers got together and decided on the criteria to be followed in their discipline. This includes when the creator of a new piece may use or quote an already copyrighted section of material. The issue is one that, ultimately, concerns all contemporary artists.
Dance Films Association was founded in 1956 by Susan Braun as a result of her frustration at not being able to locate certain films. Now directed by Deidre Towers, it fosters collaboration, tours films internationally and has inspired similar organizations worldwide. The festival was co-sponsored by the Film Society of Lincoln Center