Dance:
A Smorgasbord of Dance Events — Too Much to Digest!
By Francine L. Trevens
ART TIMES online June 2011
I am invited to so many enticing dance events that there is not enough time to see them all. One must pick and choose and miss so much.

In the last few weeks I was privileged to see Avi Scher and Dancers at Alvin Ailey, West Coast's visiting Anne Bluethenthal and Dancers at 92nd St. Y Harkness Dance Center, and such Broadway shows as "Sister Act."

To do justice to any one of them, one needs a daily forum. To see them and say nothing seems unfair, as I feel they invite a dance writer not merely to view and hopefully enjoy, but actually to write about their events. But how much can one say, in only a few lines when attempting to cover a number of events in one month?
I'll give it a go.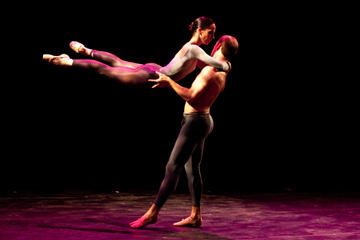 Ana Sophia Scheller and Tyler Angle in "DreamScapes"
Photo by Matthew Murphy
• I had enjoyed Avi Scher's work when I first saw it some time ago. I had declined a number of invitations in the ensuing years, but decided to take another look now, to see how this talented young man might have evolved.
What a pleasure to see such beautiful, classically trained ballet dancers joyfully performing a series of works by this energetic choreographer. His dancers were lithe and lovely and limber and lyrical and it was a pleasure to see them in the various pieces he presented.

There is sweetness in his work, which is full of sincerity and simplicity. He seems to have a tender, optimistic, often humorous view of the world. It's a refreshing change from the blaring, bouncing athleticism of so much that is on stage these days. It is even more refreshing to have a sense that there is still sheer beauty in the world that does not have always to be at war with everyone and everything. The work does not challenge the audience; it entertains and delights it.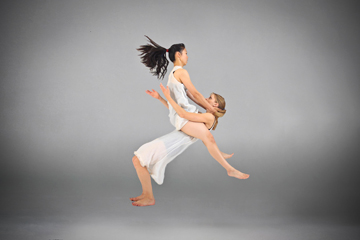 • Anne Bluethenthal and Dancers, an all female troupe, were a sharp contrast to the classic perfection of Scher's dancers. Her body types are far from classic and her approach anything but serene. World events and violence against females are paramount in her work. She choreographs with a conscience and a sense of urgency

The evening began with four dancers of very different sizes and shapes each dancing simultaneously but solo in window frames, stretching, pushing, climbing as if attempting to stretch the boundaries then attempting a tentative step off the frame, as if daring to be free of constraints.

Later dances were all strong on female solidarity and significance. Many of the moves were not beautiful: the spirit inspiring them was. There were strong feminist statements in them all.
• Then there was the dancing in the glitzy, over the top "Sister Act."
Fondly remembering the wit and humor in the film, I eagerly attended the stage adaptation.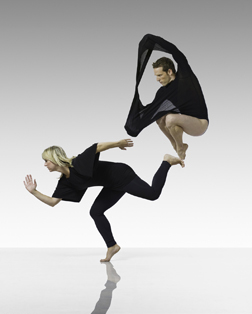 Amy Marshall and Chad Levy clothing by Norma Kamali who is costuming their new dance piece. Photo by Lois Greenfield
The first few tap numbers were exhilarating, until it became apparent that as each new dance came along, there was not much new in it, other than more and more outrageous costumes and irreverent moves. Anthony Van Laast's choreography often depended as much on arm movements as leg movements. They were always energetic and exuberant. They were not always new or exciting. By show's end, they were exhausting to watch after the first laugh at the ever more outrageous and inappropriate to church choral societies costuming.
I love tap, but enough is enough unless there is something more challenging in each dance, as there was to a small extent in his comic male dances. Though this is a dance feature, I must extol the brightest part of this Broadway show for me was the performance of Victoria Clark.
• For a look back at the dance world of the past, I recommend the new book René Blum and the Ballets Russes. In Search of a Lost Life by Judith Chazin-Bennahum. It reveals much of the maneuvering between Colonel de Basil's more aggressive publicity of his Ballet Russes Company and René Blum's more devoted attention to his Ballet Russes de Monte Carlo. Little known details of the former Diaghilev Ballet Company abound. Full of anecdotes on Fokine, Danilova, Massine and other greats of the twentieth century, it is mainly a biography of the lesser known René Blum, brother to French diplomat Léon Blum, and a reminder of how, even during the occupation in France, ballet was an integral part of so many lives. I was fortunate to receive an advance reading copy of this well researched and fascinating account of the wars of the Ballet Russes and World War II that destroyed so many great artists.
In the last twenty or so years, the divergent world of dance has expanded to such a degree that it is impossible to see all the splendid events being offered in any time span, especially for those living in or around New York City.
In the month of June alone, two press agents have announced an impressive array of dance companies performing a wide assortment of dances in various venues and styles.

To name a few — all in Manhattan, and each in a different venue —
Gotham Dance Festival at The Joyce Theater offers Six Programs featuring Ten Choreographers including Brian Brooks, Monica Bill Barnes, Kate Weare and Patrick Corbin June 1 — 12.
360° Dance Company presents the New York Premiere of What Was Still Is in an evening of six works at Dance Theater Workshop 219 W. 19th Street, NYC June 2 — 4, 2011.
Parsons Dance's 11th Annual SUMMER INTENSIVE SHOWCASE The culmination of a two-week intensive for pre-professional and professional dancers is on Friday, June 3, 2011 at 6pm FREE Admission

Amy Marshall Dance Company 11th NY Season June 8-11 at the Ailey Citigroup Theater. West 55th St.@ 9th Ave. Consists of four works, three of which are set to original music by NY composer, Kevin Keller. Amy herself will be performing — always a special treat!
Limón Dance Company New York Season Features Revivals Of Limón's The Emperor Jones And Missa Brevis along with repertory by Limón, Kylián, and Jonathan Fredrickson at Gerald W. Lynch Theater/John Jay College, 889 Tenth Avenue (between 58 & 59 Streets)
Naomi Goldberg Haas' Dances For A Variable Population Premieres "Washington
Square Dances" Celebrating Summer and the opening of the newly renovated Washington Square Park 4 Free Concerts, Wednesday — Saturday, June 22-25 at 6:30 PM Washington Square Park, on the stage at the Eastern End of the Park

Jennifer Muller/The Works presents the World Premiere of The White Room June 22-26, 2011 at Cedar Lake Theater at 547 W. 26th Street, NYC. Incidentally, this previews at Kaatsbaan International Dance Center, 120 Broadway, Tivoli, NY pm June 4th.

The Big Apple is a feast offering even more major dance events and smaller ethnic performances to satisfy every pallet in every section of the town! I can't take advantage of them all — but, like you, must choose what to attend! How lucky we are to have such a vast array of choices. Eat up a smorgasbord of dance this summer — in the park or in the many dance venues.
blog for Francine L. Trevens http://stagesandpages-francine.blogspot.com/